How to turn a THC Strain into a CBD strain
speedgreens
Earn 20 Speed Pass Points by commenting the blog post
What is CBD and why is it so popular right now
In recent years, the popularity of CBD or cannabidiol has simply skyrocketed. As health experts suggest, Google searches for CBD-related queries have nearly eclipsed those for traditional health products and other alternative medicines. Besides using cannabidiol-high marijuana buds, there are a now a variety of ways to consume CBD –oils, vape liquids, sprays, tinctures, topicals, skin creams and lotions, different edibles like confections, gummies, drinks and lots of other innovative CBD infused products are available to the consumers.
With this explosion in the CBD market, a new trend has begun among the marijuana producers – turning a potent THC strain into a CBD strain. To satisfy the demands of their customers, many cannabis growers are coming up with the CBD dominant varieties of their popular strains which have been traditionally THC-heavy. This post explains how they usually do it. How to turn a THC strain into a CBD strain by changing its unique phenotype and genetics? Keep reading this post to know the science behind one of the most popular trends of today's cannabis industry.
Why turn a THC strain into a CBD strain?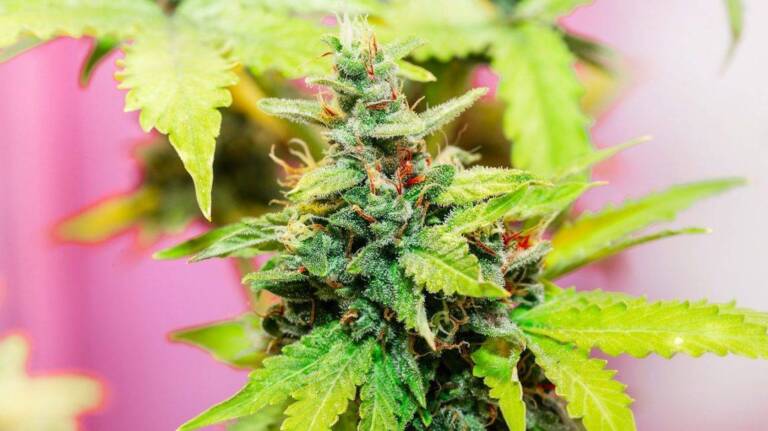 Before we delve any further into the actual process of flipping a THC strain into a CBD strain, let's first understand the reasons for doing it.
• Tetrahydrocannabinol or THC is a psychoactive cannabinoid in marijuana that gives you the cerebral high or the stoner effect. No such effects are produced by CBD or cannabidiol, another cannabinoid present in cannabis plants that is completely non-psychotropic. That means, if you don't want a euphoric high or get stoned from your pot, you'll choose a CBD-high strain.
• However, not all marijuana users use cannabis to achieve a mind-altering, exhilarating head-high. While some hate it, some like it on a moderate level. There are many people who love marijuana strains for their unique aroma, flavors and most importantly, their medicinal effects.
• CBD or cannabidiol, as numerous researches suggest, has lots of healing properties. It can be highly effective in treating a range of health and mental conditions including chronic pain, inflammation, muscle spasms, epileptic seizures, multiple sclerosis, nausea, acne, sleep disorders, insomnia, depression, PTSD and others. For those of you who are using marijuana for therapeutic purposes only and want to avoid getting high, CBD-dominant strains are more preferable than the THC-dominant ones.
• Turning THC-heavy strains into CBD-high strains means providing more options to the customers who have varied and unique purposes for using cannabis. Changing any popular THC strain into a CBD strain doesn't affect the terpene profile of the original breed, so the unique aroma and flavor of the strain are maintained. Moreover, the entourage effect of the reduced THC content and the increased CBD level enhances the healing properties of the strain.
• Take the example of Blue Dream, an extremely popular strain that has an average THC content of 17-25% and a CBD content of about 0.1-02%. An all-time favorite of marijuana smokers around the globe, Blue Dream is very effective in treating a variety of conditions like chronic pain and different mental health issues. It smells and tastes sweet and fruity which reminds you of fresh strawberries. Now, if you don't want to get high from marijuana, you can never experience an amazing strain like Blue Dream. Turning this traditionally THC dominant strain into Blue Dream CBD solves this issue and takes this popular strain to more people who have been previously deprived of its benefits.
How to change a THC strain into a CBD strain?
As cannabis experts suggest, there are a number of ways to flip a high THC strain into a CBD-heavy strain. Before going into the actual methods, you should first realize that particular characteristics of the different plants grown from the same strain, including their THC-CBD or cannabinoid profile, vary heavily. All these plants, though being born from the same source they share similar genetics, have different phenotypes. Now, some of these phenotypes contain more CBD than others. Growers hunt for those favorite flowers from the batch and multiply it further. This is called pheno-hunting in the popular parlance of the cannabis industry.
The most common technique used by the growers to turn a THC strain into a CBD strain is crossbreeding it with a CBD hemp plant that is high yielding. Then they pheno-hunt for the favorite specimen and stabilize it into a new strain.
Another method of phenol-hunting is explained by Lo Friesen, the CEO and founder of the reputed Washington-based cannabis farm Heylo, the proud producers of Blue Dream CBD and Green Crack CBD seeds. Friesen says, 'Occasionally a seed will produce flowers that have expressed a cannabinoid profile with more CBD than normal. A grower could then choose this phenotype and continue to propagate these genetics via clones from the plant'.
Turning more and more popular THC strains into CBD-heavy ones means that more people can use them now without affecting their active lifestyles and daily work routines. It ensures that there is no risk of developing stoner habits and ruining one's social life from regular cannabis use. With their favorite strain available in a high CBD-low THC version, Friesen argues, 'a consumer can pass a vape or bowl around friends multiple times without overdoing the buzz – the equivalent to having a beer opposed to a cocktail, but no hangover'.
This is immensely beneficial for those who use marijuana for strictly medicinal purposes. Now, you can use your favorite strain without getting high in the head and still benefit from all the medicinal properties the strain has to offer. As the support for the therapeutic uses of cannabis is fast-growing all over the world, turning popular THC strains into CBD strains will become more common in the coming days. Lo Friesen agrees: this is indeed the future of the cannabis industry!