A Quick Review of the Rockstar Strain
AlphaDev
Earn 20 Speed Pass Points by commenting the blog post
The Rockstar strain is a fan favourite of the British Columbians and Albertans, winning a solid reputation in Canada's weed market. As one of the best cannabis strains of all time, the Rockstar strain brings a unique flavour and aroma, while staying true to its name and rocking potency expectations.
We have you covered if you want to learn more about the indica dominant hybrid and whether or not you should buy weed online today. Let's get started!
Rockstar Strain Fast Facts
An excellent way to learn about the Rockstar strain is to play a game of facts, which mimics the experience of getting to know a new person.
So, let's get into the facts! Did you know that the Rockstar strain is:
An indica dominant hybrid — being 70% Indica & 30% Sativa.

Canada weed strain! Both the breeder Bonguru Beans and strain originate from Canada. 

An exact 50/50 cross breed of Soma A+'s Rockbud and Paradise Seeds' Sensei Star.

High in THC with a hefty average of 14% – 16%, but a humble 1% of CBG.

The second place winner of

High Times Cannabis Cup

Amsterdam 2012 for the Hybrids category. 

Different from the cannabis strains

Rockstar OG/ BC Rockstar

also known as Rockstar Kush.
Rockstar Strain Appearance
The indica dominant hybrid has densely packed short, fern-green and lime leaves. The Rockstar strain also features thick diamond- and spade-shaped buds. Several wavy blood-orange pistils are present throughout the Rockstar strain with a prominent crust of fuzzy trichomes. Much like other cannabis strains, they all come with a variety of visuals.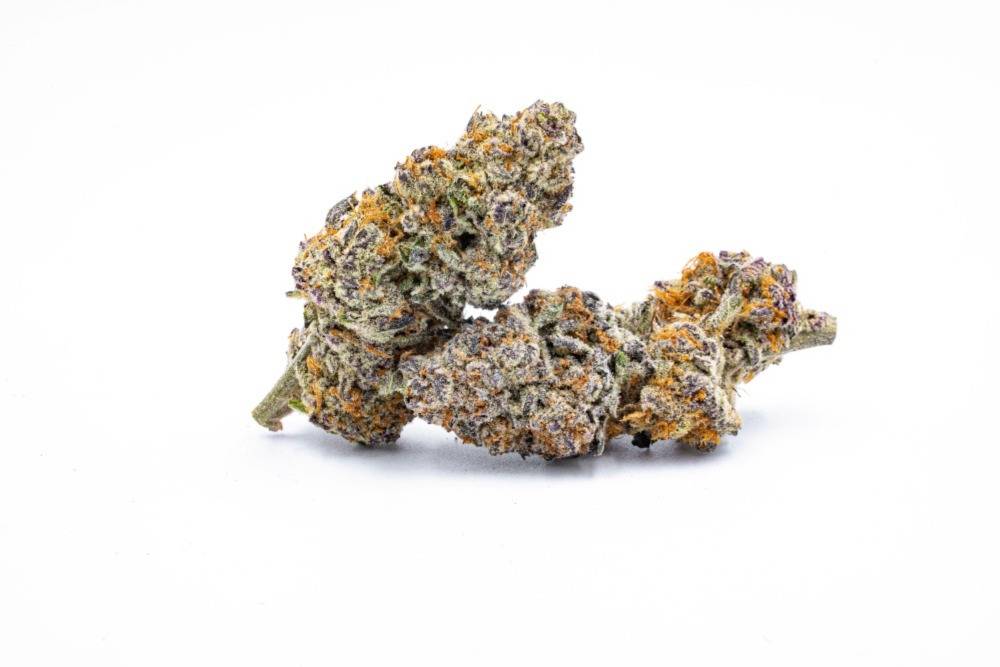 Rockstar Strain Aroma
The indica dominant hybrid is, for better words, an acquired taste. When you first open a jar of the Rockstar strain, the smell is so spicy and smoky that it could cause your eyes to water a little bit. Although the Rockstar strain does have a sweet and earthy undertone, some individuals find the fiery smell to be too overpowering for them to enjoy it.
Rockstar Strain Flavours
The Rockstar strain has a beautiful balance of sweet, spicy, and herbal flavours. In addition to the clean herbal overtones, the indica dominant hybrid possesses a potent trinity of full-bodied flavours that are incredibly enticing. 
The Rockstar strain has a flavour similar to how it smells. Its sweet and skunky tone tempers the spiciness, then it finishes with a faintly lemony note that will make your taste buds do a happy dance.
Rockstar Strain Effects
The first rush you experience from using the Rockstar strain is a sensation of pleasure that improves your feelings and makes you more conscious of your surroundings. The initial wave of emotions from the indica dominant hybrid passes through your body swiftly, and then a wave of calm warmth travels all over you. 
Your muscles will begin to relax from head to toe as you continue to sink further and deeper into the couch. It will feel almost as good as a terrific deep massage. The Rockstar strain will have you undergo an urge to eat very soon. When it does, make sure you have your favourite food or snacks within reach! You will eat until you either explode or fall asleep, depending on which happens first.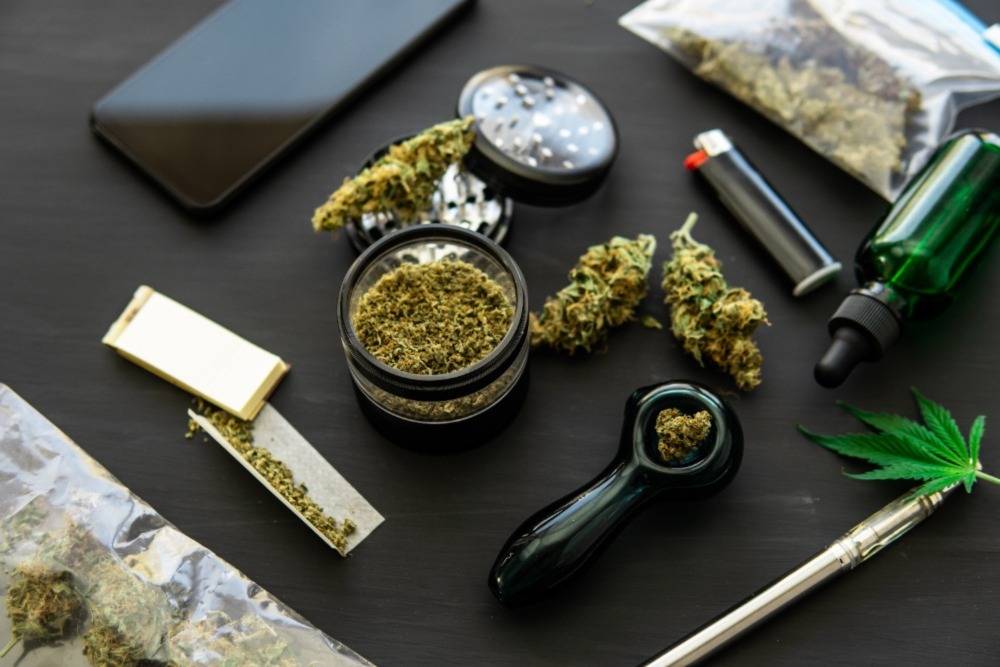 Rockstar Strain Benefits
Many individuals recommend the Rockstar strain to those with a low appetite or unable to sleep. People have claimed that the Rockstar strain is particularly effective at treating mental health issues and mood disorders such as stress, depression, anxiety, post-traumatic stress disorder (PTSD), attention deficit hyperactivity disorder (ADHD), and bipolar disorder. 
Some say the indica dominant hybrid can help with stomach problems. It is also a frequent treatment for muscle spasms and pain that won't go away.
Rockstar Strain Side Effects
Let's get the most critical details out of the way first. Yes, your mouth and probably your eyes may feel dry. Nothing shocking there, as this is what you can typically expect when you smoke cannabis.
An important reason why the Rockstar strain is not a recommended option for novice cannabis users is the additional potential adverse effects. People who smoke this indica dominant hybrid have an increased risk of experiencing feelings of lightheadedness. The wooziness may result from excessive use of the Rockstar strain. This can be smoking a high amount beyond your limits because of the potency.
It's possible that instead of being able to unwind and enjoy yourself, you will find that your anxiety levels escalate to the point where you may experience panic attacks.
If this is your first time trying the Rockstar strain, we suggest you monitor the amount of cannabis you consume. Try other first-time user-friendly medical cannabis products such as our Blue Dream or White Widow cannabis strains.
Rockstar Strain Growing Guide
A rookie grower should begin their cannabis experience with the Rockstar strain because the cannabis plant is straightforward in maintenance. This weed strain grows well in closed environments and open air. 
However, it does give off a pungent odour. If you plan on cultivating this indica dominant hybrid indoors, you should make sure to grow them in a place that has adequate ventilation. Placing the plants in an area with good circulation will prevent you from smelling like a skunk and assist the plant in receiving the necessary air.
Tips for the Rockstar Strain
If you plan on cultivating some of the Rockstar strain, here are some suggestions:
You can increase the abundance of flowers through the soil quality. Using a technique known as Sea of Green or soil mediums such as hydroponics will aid the growth rate and promote a healthier soil grade.

The Rockstar strain enjoys warm and sunny locations. You can imitate a preferable atmosphere at home by maintaining temperatures between 21 and 27 degrees Celsius. Put the plant under a grow lamp. It is important to keep consistent temperatures for the medical cannabis plant to thrive. 

You will need a 16/8 light cycle for optimal results. Once the indica dominant hybrid begins to flower, changing the grow lights specifics is okay. 

You can upgrade the number of colas your Rockstar strain creates by topping. Topping will allow air to circulate through the plant's leaves and branches, which in turn helps the plant receive adequate light in all of its sections. 

During the ninth and tenth weeks of the plant's life is when you can harvest your indica dominant hybrid's buds.
Where to Buy the Rockstar Strain
Has learning all about the Rockstar strain got you wanting to try some? Well, you're in the right place! At the Speed Greens online dispensary, we can hook you up with some top-quality Rockstar for you and your friends.
Here's your chance to find out why this strain is a Rockstar in the cannabis world when you buy weed online. Enjoy fast, convenient, and discreet shipping to your door! Shop now.