FAQ to Buy Online Weeds
Ordering online has become a popular way to buy online weeds. Speed Greens provides a safe way for you to buy recreational and medicinal weed online. We're here to help you throughout the entire process and answer frequently asked questions, from ordering, registering, receiving, verification, and more. If you don't see your question below, contact us!
The most common use of cannabis products in Canada is for pain control. While cannabis isn't strong enough for severe pain (for example, post-surgical pain or a broken bone), it is quite effective for the chronic pain that plagues millions of Canadians, especially as they age. Part of its allure to buy online weeds is that it is clearly safer than opiates (it is impossible to overdose on and far less addictive) and it can take the place of NSAIDs such as Advil or Aleve if people can't take them due to problems with their kidneys or ulcers or GERD.
Some other benefits of marijuana are for people who suffer from:
Severe Arthritis
Multiple Sclerosis
Post Traumatic Stress Disorder
Fibromyalgia
ADD/ADHD
Kidney Failure/Dialysis
Alzheimer's Disease
Epilepsy
Migraines
Hepatitis C
HIV/AIDS
Arthritis
Irritable Bowel Syndrome
Chronic Pain
Back & Neck Problems
Eating Disorders
Brain Injury
Cancer
Sleep Disorders
Muscle Spasms
Anxiety
Crohn's Disease
Colitis
Auto Accident(s)
Chronic Nausea
Muscular Dystrophy
Gastrointestinal Disorders
Parkinson's Disease
Spinal Cord Injury/Disease
There is nothing to worry about. Shatter turning into wax/budder is really not uncommon especially when it is exposed to heat. Circumstances that are not within our control at our online dispensary such as heat, humidity, or even time, increase the chances that the shatter you ordered could turn into wax or budder by the time your order is delivered to you. Rest assured that in the event that this happens, the product you ordered will not be, in any way, less potent or less safe. On the contrary, it has been proven that the aromatics and terpenes will be more evident and it will accentuate the flavor when you buy online weeds.
*Please note that due to circumstances that are out of our control, such as summer heat, humidity, and even time. There is always a risk that the shatter you ordered could turn to wax or budder by the time you receive it. Unfortunately, we do not offer any refunds if your shatter turns to budder or wax when you order weed online in Canada.
We're not medical doctors, and we don't pretend to be at our online dispensary. Unfortunately, the research isn't in place for anyone to give solid advice about mixing psychedelics with antidepressants. Please check with a licensed medical practitioner before combing psilocybin with any medication before you buy online weeds at Speed Greens.
The classic psychedelics including psilocybin, work by affecting the serotonin system, and most antidepressants work by targeting serotonin signalling too. Psilocybin is also classified as a tryptamine. Thus, there's a similar concern that antidepressants could also cause a blunted response in psilocybin.
From anecdotal reports, it looks as if the SSRI class of antidepressants weakens the effects of classic psychedelics – although this absolutely doesn't mean you should take more of the psychedelic substance to compensate.
MAOI medications appear to have effects similar to SSRIs when combined with classic psychedelics.
Many people advise against taking Lithium or other tricyclics with classic psychedelics, as they have been known to put people into comatose states or induce seizures. Avoid this combination until we know for sure about its safety!
Since we know so little about how classic psychedelics and antidepressants interact, we advise against taking them together. Don't risk making things worse for yourself and always check with your physician.
For informational purposes only
Selective Serotonin Reuptake Inhibitors (SSRIs) are the most commonly prescribed medications for depression, OCD, PTSD, and other anxiety disorders. Some of the most well-known SSRIs include:
Citalopram (Celexa, Cipramil)
Escitalopram (Lexapro, Cipralex)
Fluoxetine (Prozac, Sarafem)
Fluvoxamine (Luvox, Faverin)
Paroxetine (Paxil, Seroxat)
Sertraline (Zoloft, Lustral)
Monoamine Oxidase Inhibitors (MAOIs) are a class of substances sometimes used as antidepressants, or in the treatment of anxiety disorders. They work by preventing the breakdown of monoamine neurotransmitters – this includes dopamine, serotonin, and norepinephrine. The result is a boost in the levels of these neurotransmitters in the brain.
Common MAOI medications include:
Bifemelane (Alnert, Celeport)
Caroxazone (Surodil, Timostenil)
Isocarboxazid (Marplan)
Metralindole (Inkazan)
Moclobemide (Aurorix, Manerix)
Phenelzine (Nardil)
Pirlindole (Pirazidol)
Selegiline (Eldepryl, Zelapar, Emsam)
Tranylcypromine (Parnate)
Toloxatone (Humoryl)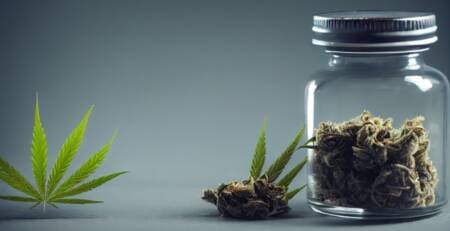 Learning how to properly store weed online is as important as knowing your favourite cannabis strains or consumption methods, regardless... read more