Interested in the Meat Breath Strain? Here's a Closer Look
AlphaDev
Earn 20 Speed Pass Points by commenting the blog post
After sweeping 3rd place for the Indica category in 2017 and 5th place for the Bud – Hybrid category in 2019 at The Karma Cup, Meat Breath strain continues to impact weed lovers that buy weed online. Since then, the Meat Breath strain has been one of the most potent cannabis strains. 
Do you want to try the Meat Breath strain but don't know anything about it? Don't worry, we got your back! Here's an in-depth look into the best cannabis strains of all time.
What does the Meat Breath strain look like
The Meat Breath strain is very memorable among the cannabis strains due to its stunning visuals. From the shape of its buds to their colour, smell, and the way you can see the trichomes, the Meat Breath strain stands out. This cannabis strain has distinct trichomes and rusty orange, deep dark purple, and bright green pistils.
What does the Meat Breath strain taste and smell like
Are you wondering where the Meat Breath strain got its name? Well, you're about to find out why. Although the cannabis strain has an earthy sweet smell, there is also a strong diesel scent. We've confirmed that it definitely smells dank.
In other words, you can't smoke the Meat Breath strain without people noticing. The smell is more pungent in small spaces but still quite strong outside.
Doesn't end there! The Meat Breath strain is an acquired taste but can be one of your go-to weed strains once you get into it. The cannabis strain also has a particular taste due to its cannabis terpene profile. 
The taste of Meat Breath strain is a mixture of spices, citrus, diesel, and upon exhale, meatloaf. The flavour also lingers on the tongue, and it generally lasts a couple of hours.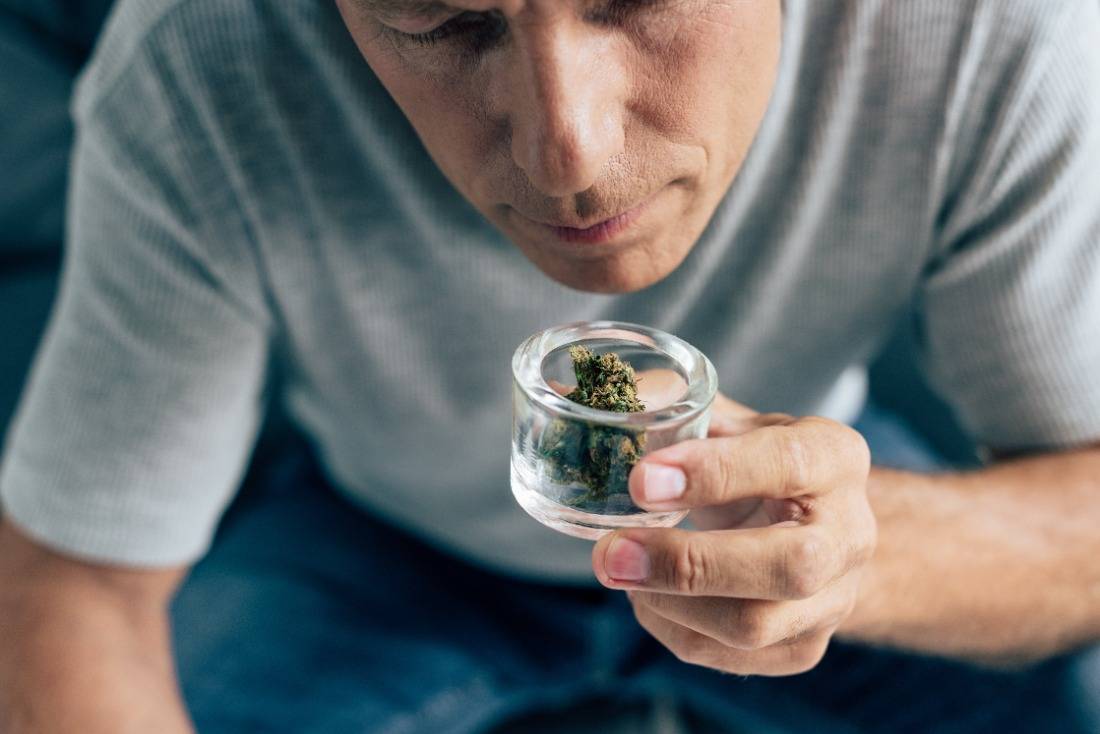 What strain type is the Meat Breath strain?
Meat Breath strain came to life by breeders Thug Pug Genetics. It is an indica-dominant strain from the cross of Meatloaf and Mendo Breath.
Meatloaf is a rare cannabis strain created through a hidden mix of indica hybrids. In comparison, Mendo breath is a cross breed of Mendo Montage and OG Kush Breath. Both cannabis strains are indica-dominant.
What are the Meat Breath strain effects?
Meat Breath is a creeper strain, so it may be slow to hit you. When it does, it's strong and lasts a long time, so you can expect to feel euphoric for hours. The full-body high comes from the 29% THC, which will hit you hard and melt away all the stress and tension of the day.
As the Meat Breath strain encapsulates you with calm energy, you will begin to feel weightless and happier. Users have mentioned that it provides a gentle lullaby to sleep and the sudden urge for the munchies. Make sure to keep your favourite snacks nearby cause getting up will be inconvenient, especially while you're enjoying the hard-hitting effects of the meatbreath strain.
The high from this hybrid strain lasts for several hours. The Meat Breath could be a welcome companion for those who require relief from chronic pain and don't mind the overpowering notes of a meaty, earthy, and diesel fuel aroma. The flavour isn't balanced and it's really intense. 
Meat Breath could be a new addition to your stash if you're not afraid to try a new cannabis strain.
What does the Meat Breath strain help with?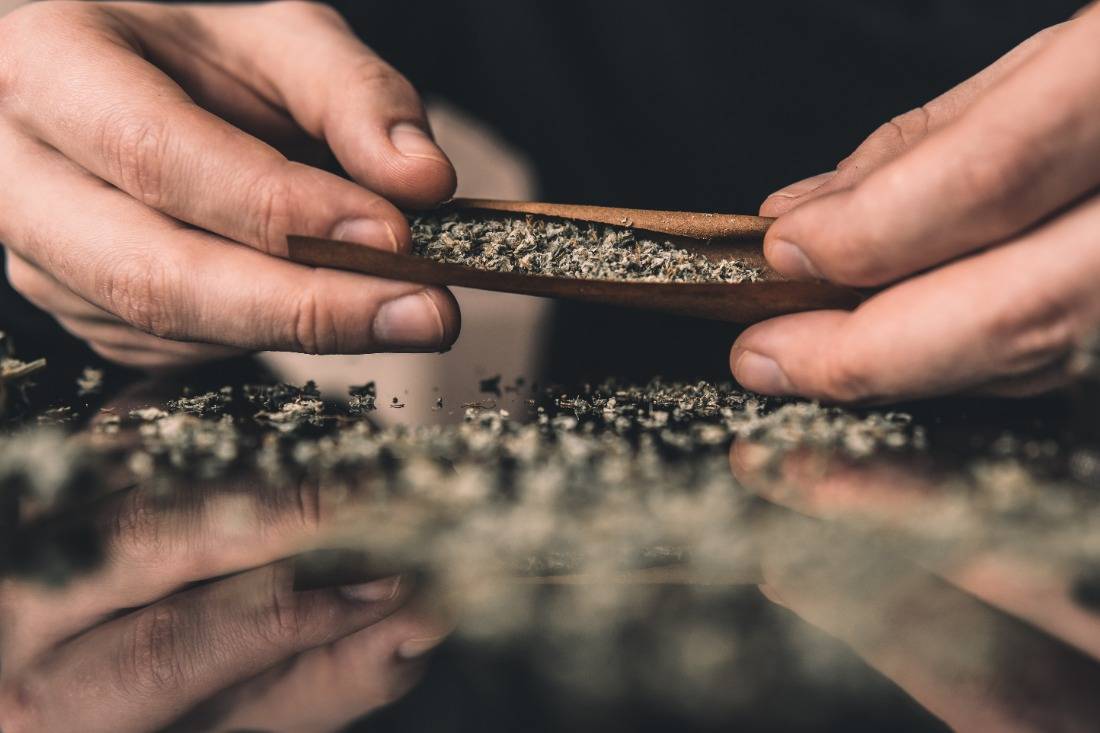 Due to the effects of the Meatbreath strain, as you read earlier, this hybrid weed is often chosen to treat:
Mood Swings

Depression

Anxiety

PTSD

Loss of appetite 

Chronic pain

Fatigue
Of course, with various growers planting the cannabis strain, the strength and how the Meat Breath strain will affect you may vary. 
The Meat Breath strain can be consumed in various ways: inhalation, topicals, edibles, tinctures, capsules, and more based on your needs and preferences.
Where to buy the Meat Breath strain?
Looking for a reliable and trustworthy online dispensary in Canada? Speed Greens is the best place to buy weed online with a wide selection of high-quality products, discreet shipping, and fast weed delivery. Our friendly and welcoming community is here for you! Get the Meat Breath strain delivered to your home today to experience the best cannabis strains of all time! 
Stay updated on exclusive deals and news about upcoming cannabis products by joining our discord!