By purchasing this product, you can earn points based on a percentage of cart total. You will come to know the earn points information once you add the product to cart.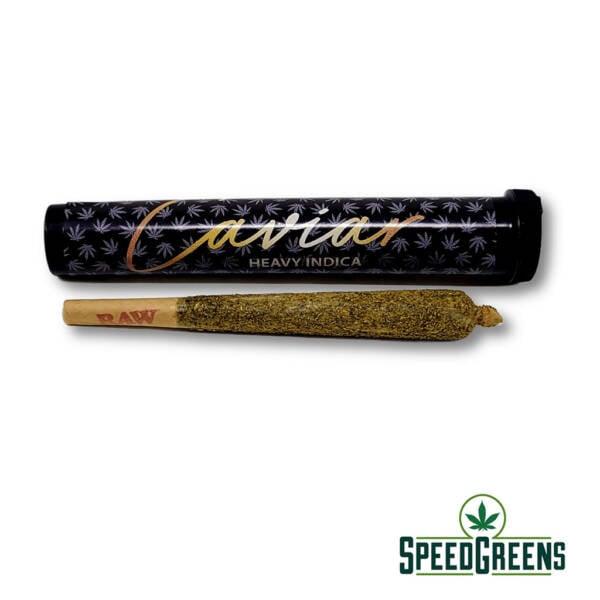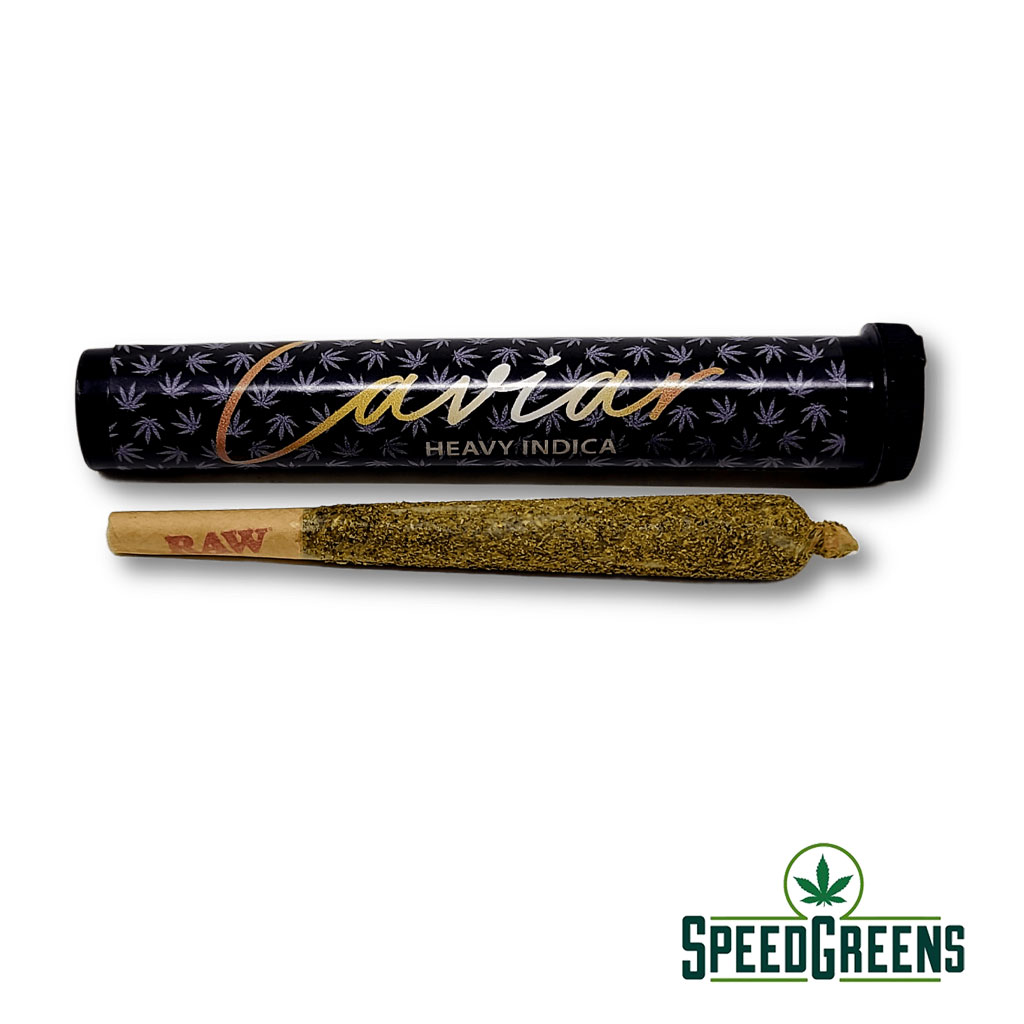 Westcoast Smoke Co. CAVIAR | Heavy Indica (1g Pre-Roll)
BEST PRICE

GUARANTEED SHIPMENT

DISCREET PACKAGING
Westcoast Smoke Co's Signature Caviar Pre-Roll is the be-all and end-all of pre rolled joints. This beauty is hand crafted, brushed with pure THC extract and rolled in the finest AAA kief. This is truly a connoisseurs smoking experience. The Caviar smokes like a fine cigar, smooth long pulls offer a tremendous high while finishing with a beautiful taste on the palate. The Caviar is the ultimate blended Indica high while increasing the mind and body highs due to the oils and kief. Caviar is a smoking experience you won't soon forget.
Experience undeniable luxury with Westcoast Smoke Co's Signature Caviar Pre-rolled joints
Westcoast Smoke Co's Signature Caviar Pre-Roll represents the pinnacle of pre-rolled joints. Meticulously handcrafted, it's delicately coated with pure THC extract and encased in the highest-quality AAA kief. This product offers a truly refined smoking experience for connoisseurs. The Caviar provides a smoking sensation akin to a premium cigar, with effortlessly long draws delivering a potent high and culminating in a delightful flavor on the palate. Combining Indica elements with oils and kief, it elevates both the mental and physical effects, making it an unforgettable smoking encounter. For the best pre-rolls, find them exclusively on Speed Greens, your number one online dispensary.
Experience a piece of luxury right in the palm of your hand with this indica pre-roll
Pre-rolls offer a supremely convenient way to indulge in a hassle-free, consumer-ready cannabis experience when you're looking to unwind. They spare you the effort of grinding, rolling, and sealing the cannabis flowers into a joint. These pre-rolls are particularly appealing when you desire the benefits of an indica-dominant strain, and the best part is, they're readily available when you need them. Just like any indica strain, you can anticipate relief from both physical and psychological discomfort. They're effective in alleviating chronic pain, injury-related aches, insomnia, and appetite loss, as they encourage eating. With their relaxing and psychoactive qualities, they also reduce anxiety and symptoms of depression.
Feel like you're living the high life thanks to this indica pre-roll
Westcoast Smoke Co's Caviar joints are made with high quality kiefs and oils that will please not only the cannabis connoisseurs but the weed newbies as well. The headrush from this luxurious joint will leave your mind buzzing. After it settles, you can expect your body to get enveloped by the soothing sensations of an indica strain. The relaxing buzz will ease your body into a state of bliss that will make anyone feel happy. If you enjoy it with a group of friends, it is sure to turn it into a good time. You will find that these pre rolled joints are a crowd pleaser!
Get the scoop on what makes this indica pre-roll amazing
You've never had a pre-roll this luxurious before. Indica pre-rolls are pre-made joints, typically composed of rolling paper, finely ground Indica cannabis, and a filter or crutch securely placed at the base of the pre-roll. Our pre-rolls are thoughtfully packaged in a tube for your convenience and easy storage. They are carefully handcrafted, containing the finest quality kiefs and oils, ensuring a completely luxurious smoking experience. For the best pre rolls Canada has to offer, look no further. The convenience at the tip of your fingers will be sure to not only please yourself but your friends as well.