By purchasing this product, you can earn points based on a percentage of cart total. You will come to know the earn points information once you add the product to cart.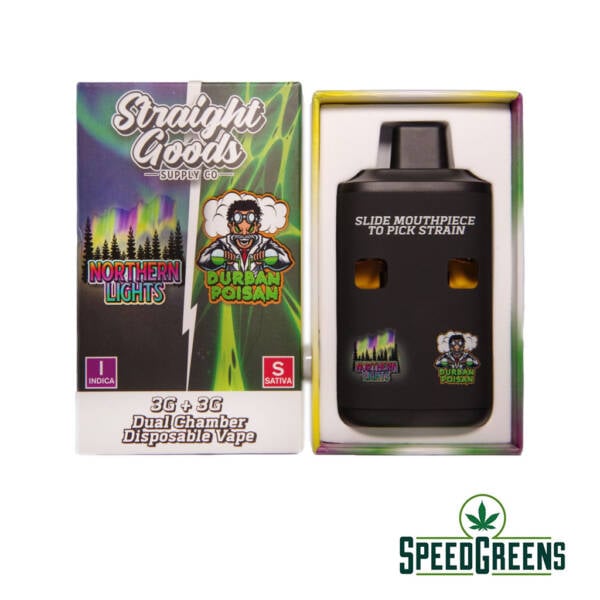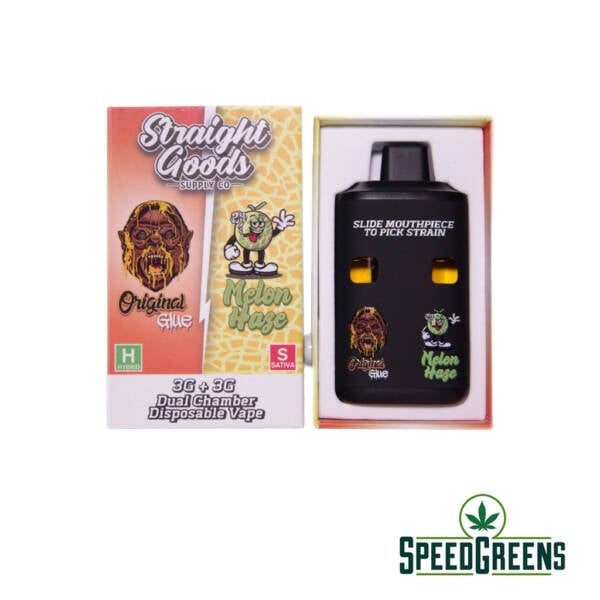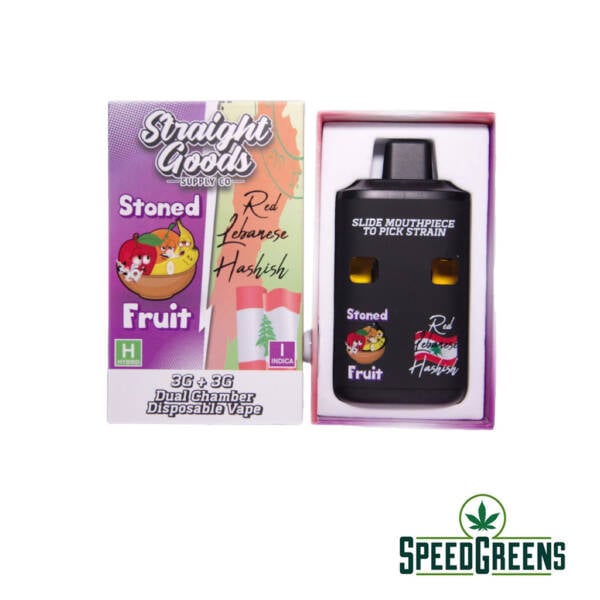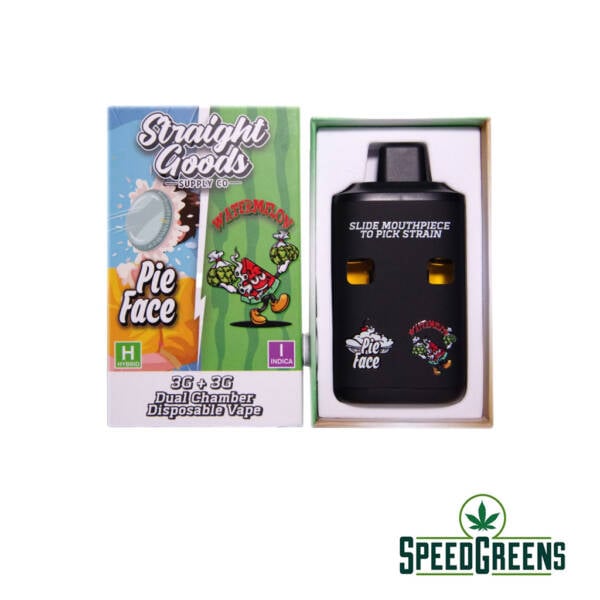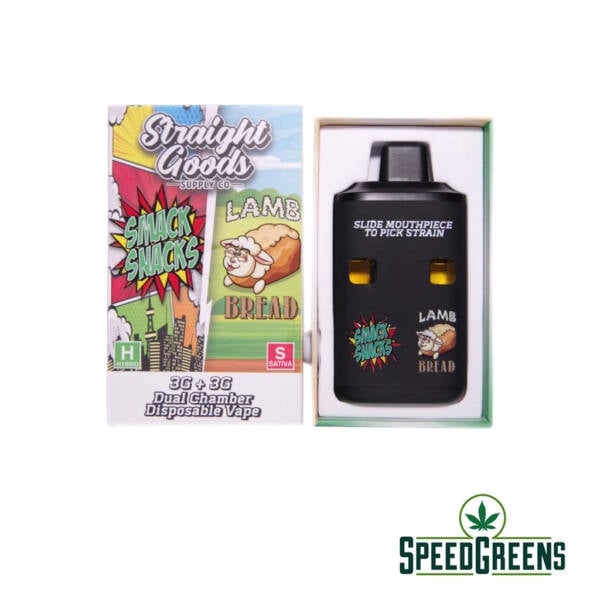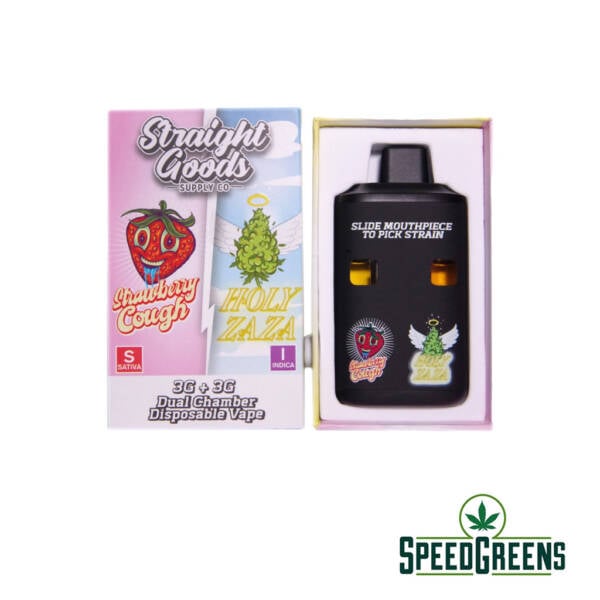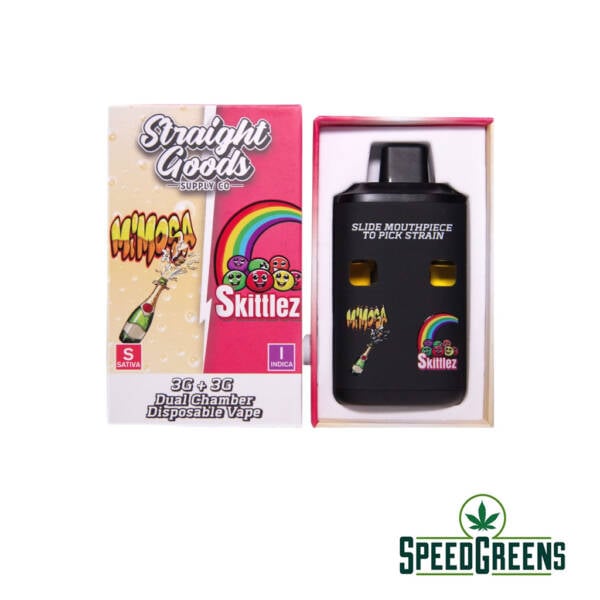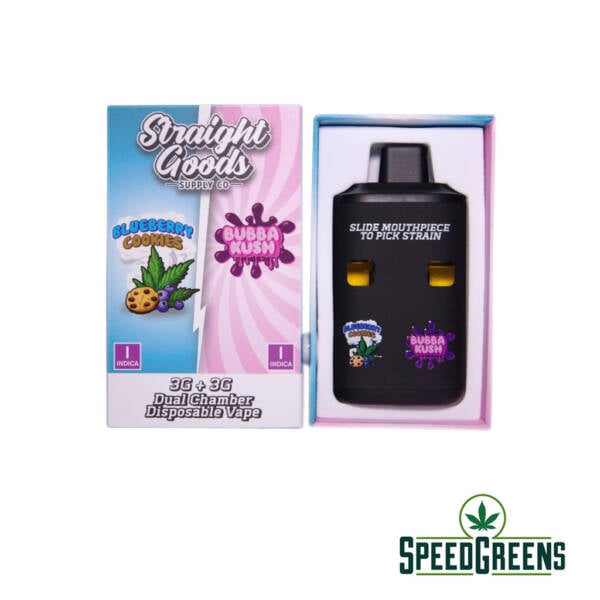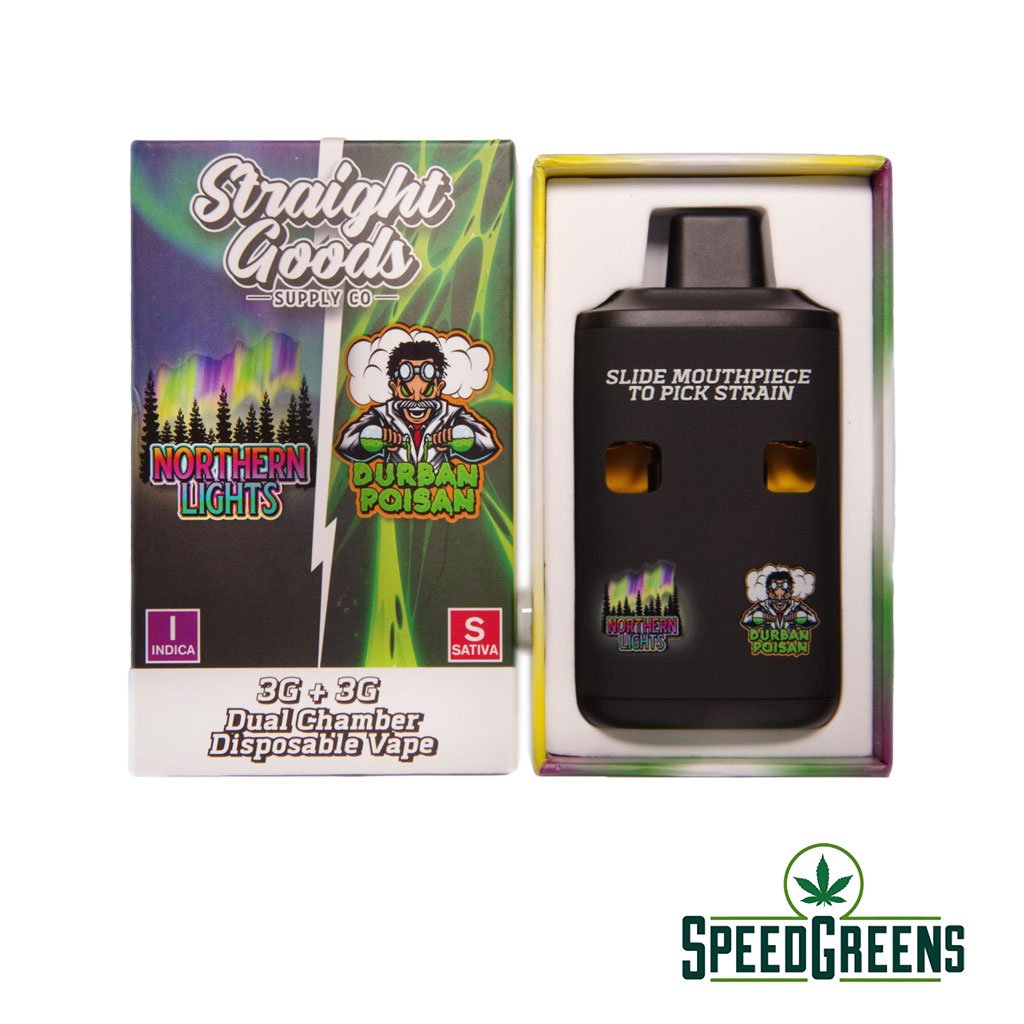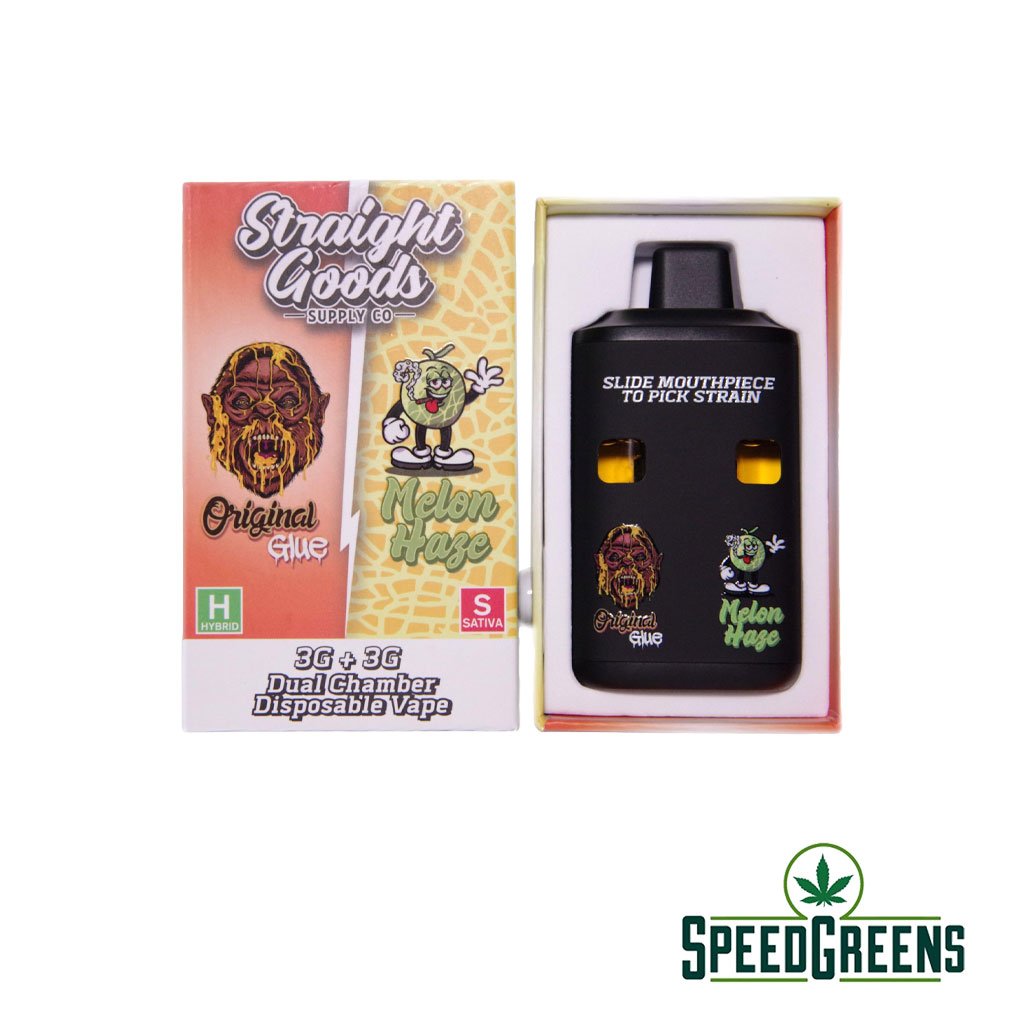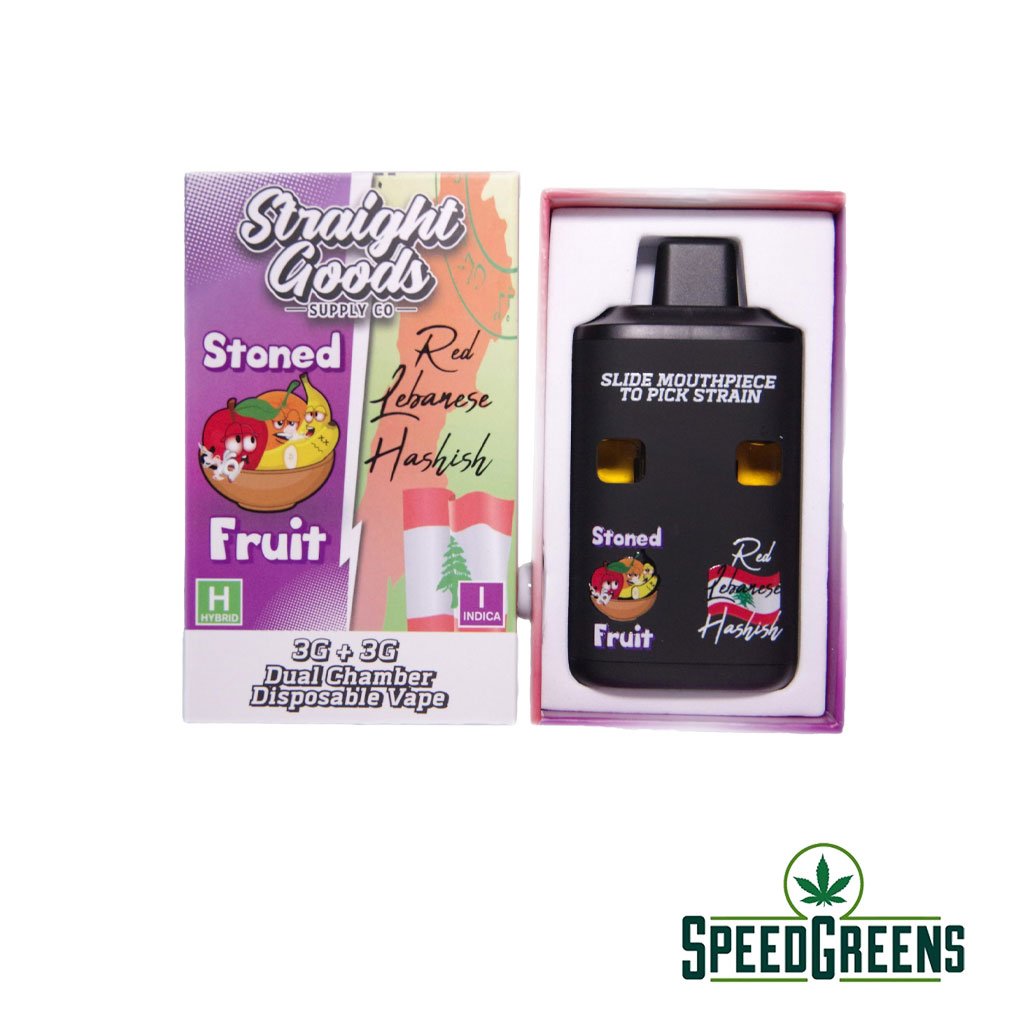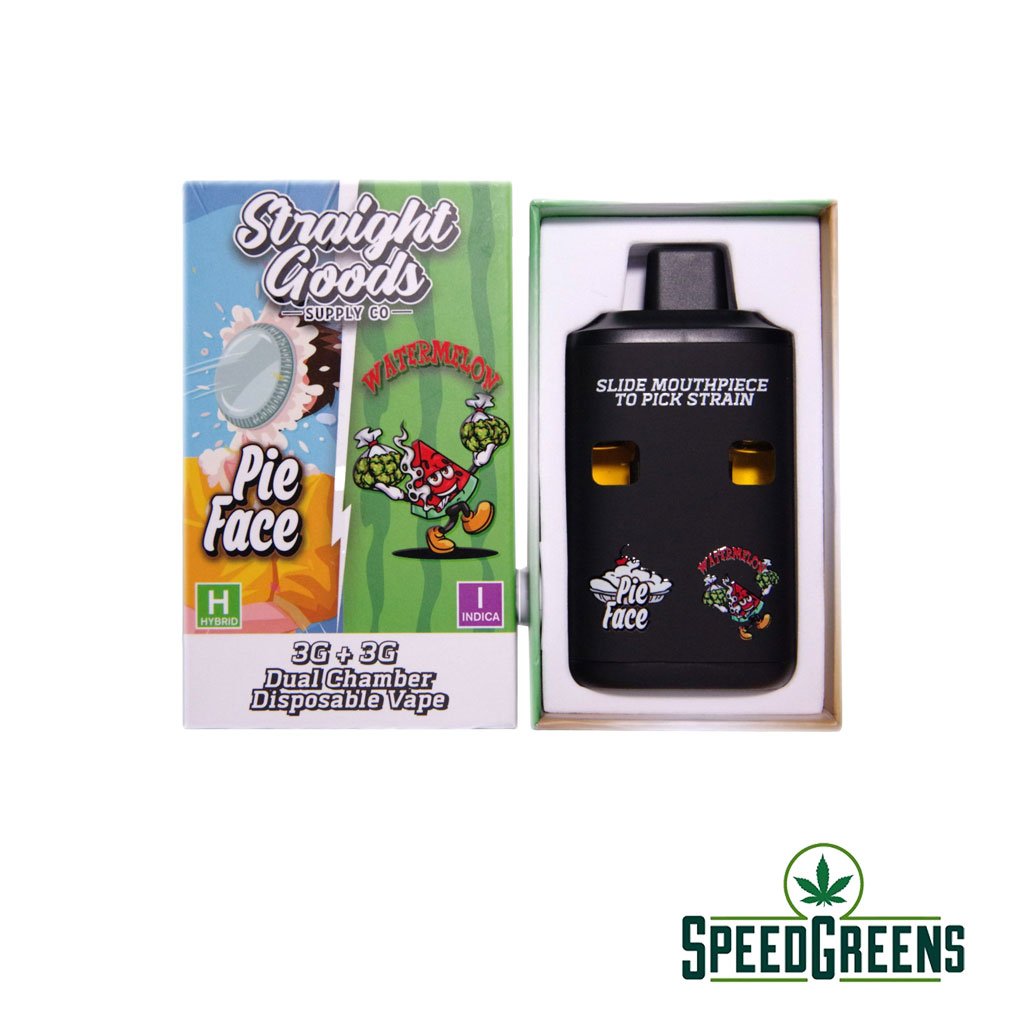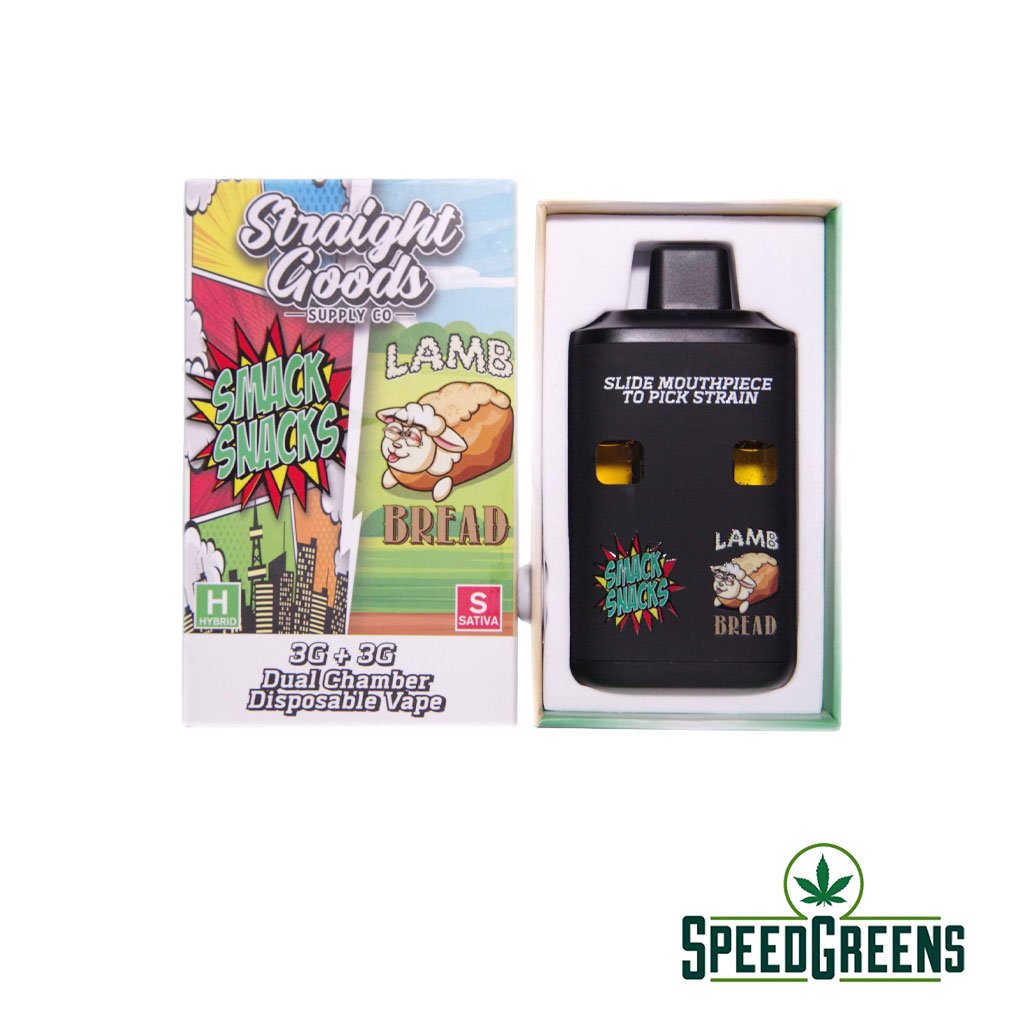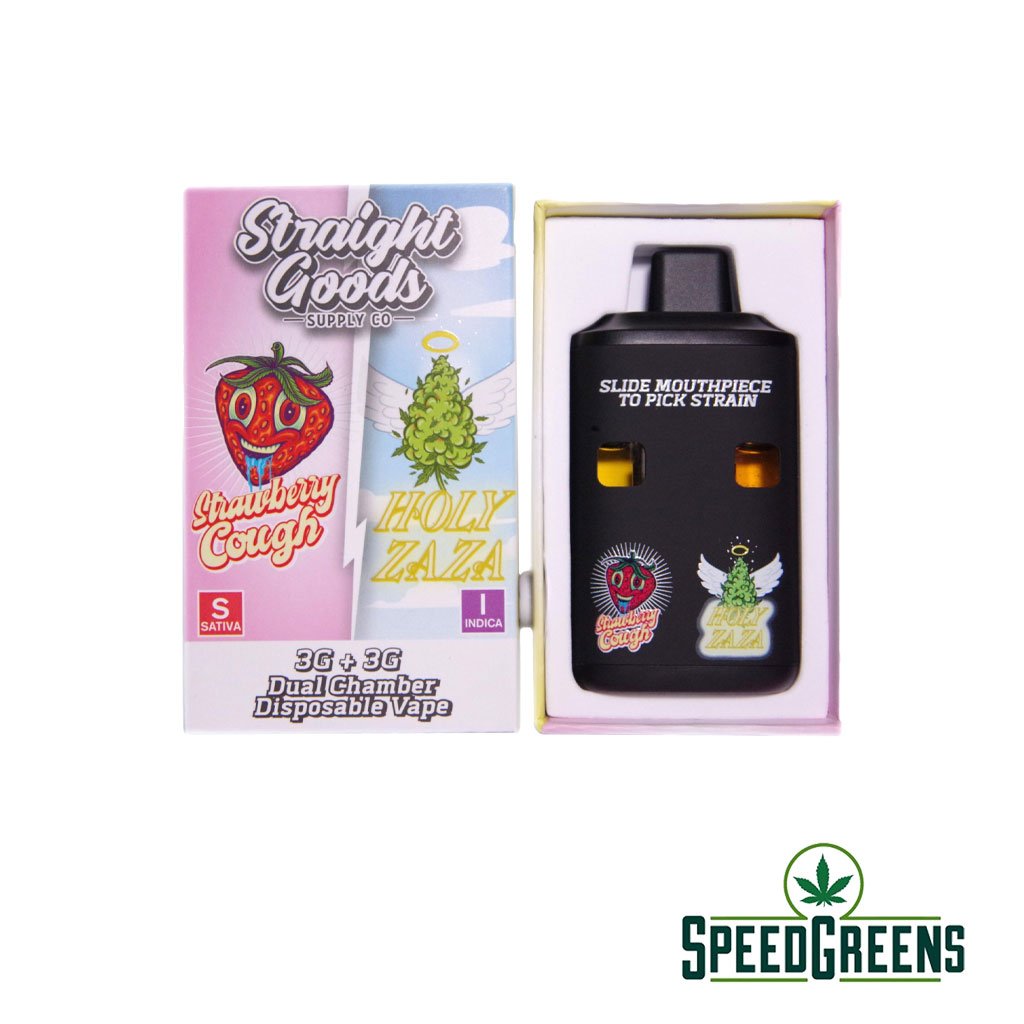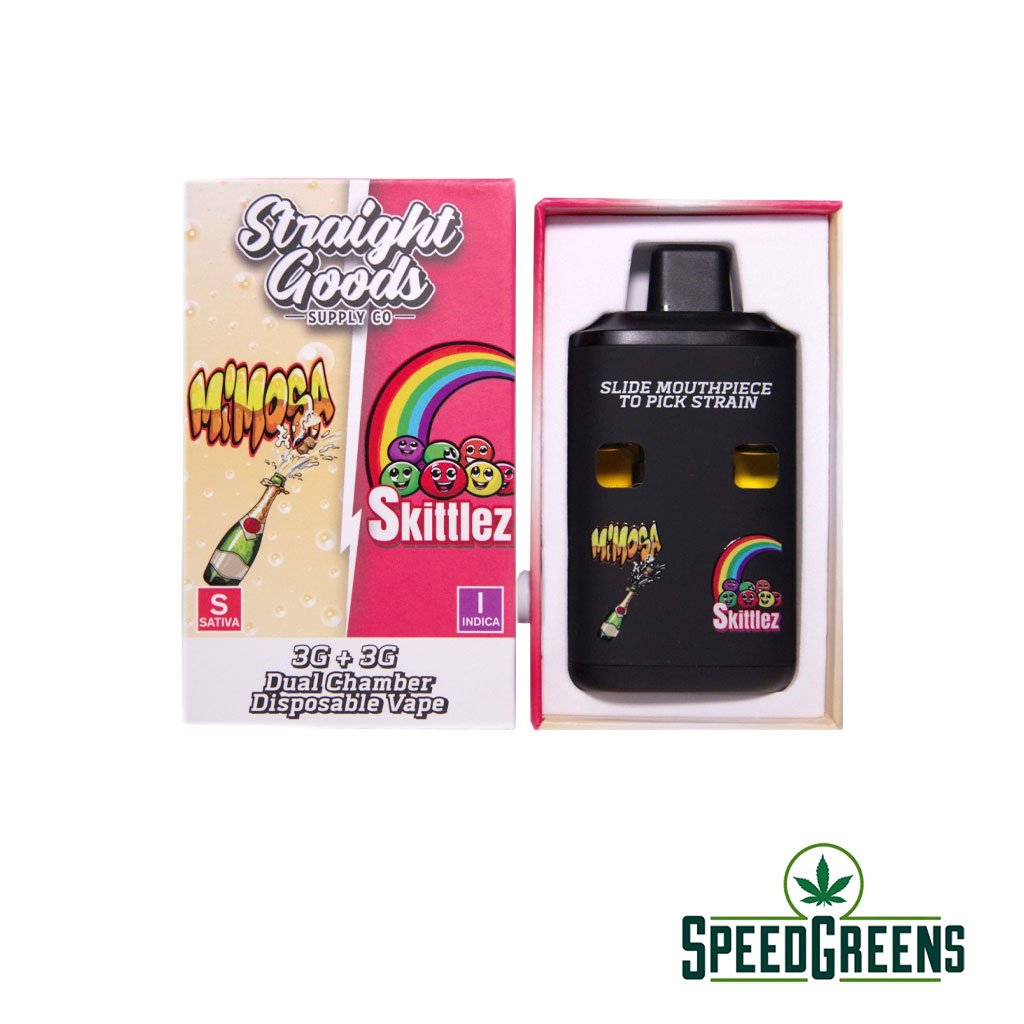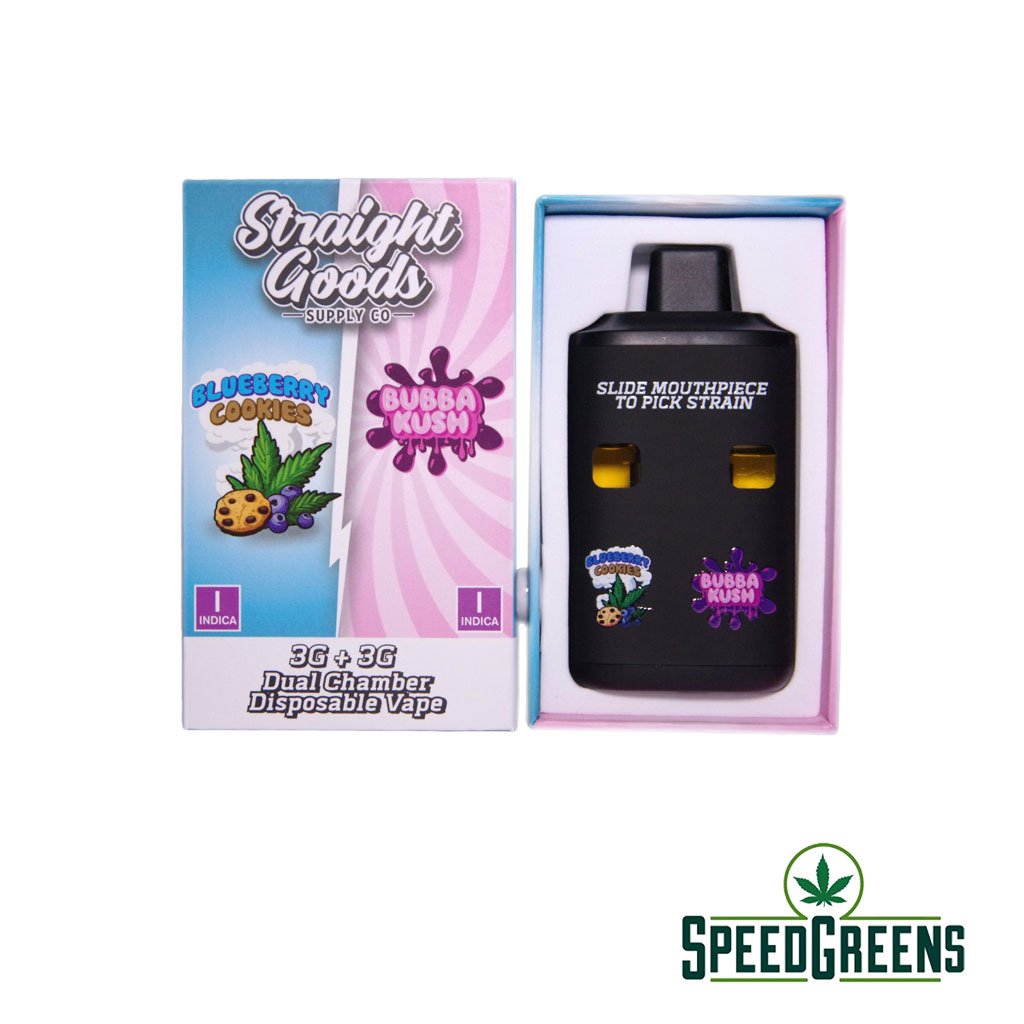 Straight Goods Dual Chamber Vape (6g THC) *NEW STRAIN*
BEST PRICE

GUARANTEED SHIPMENT

DISCREET PACKAGING
We are the exclusive partner for Straight Goods Supply Co., we are the first to carry ALL the NEW strains!
EXCLUSIVE TO SPEED GREENS BRAND NEW 3 Gram + 3 Gram (6g THC) Dual Chamber Vapes by Straight Goods Supply Co.
THE MOST POWERFUL VAPE IN THE WORLD
Our classic blend of 95% solvent-less Delta-9 THC Distillate and 5% Organic Terpenes available in 18 new delicious craft flavors that'll knock your socks right off!
Capacity: 3 GRAM Disposable
Vitamin E Acetate free
Rechargeable Disposable Battery
Leak and Clog Proof Design
No PG, VG, PEG, or MCT – Only Straight Goods!
DOUBLE the strains, DOUBLE the benefits with this NEW Dual Chamber Vape from Straight Goods
The most innovative vape in Canada, STRAIGHT GOODS DUAL CHAMBER
Can't decide which strain you wanna hit? Why choose when you can have both. Brand New Straight Goods  3g + 3g DUAL CHAMBER (6g THC) disposable weed vape pen with 9 combos (18 Flavours) with the same great amazing benefits so that you can have more of what's good.
Speed Greens is your #1 retailer for STRAIGHT GOODS.  We are always FIRST to market and have access to exclusive limited edition flavours from our friends at STRAIGHT GOODS Supply Co.
Be the first to have Straight Goods NEWEST COMBO drop – Dec. 5th, 2023:
NORTHERN LIGHTS (Indica) + DURBAN POISON (Sativa)
Double trouble, double fun is what you'll get from this disposable weed vape
Enjoy a fantastic duo of strains and flavors
Straight Goods 6g THC (3g+3g) disposable weed vape has choices of indica, sativa, and hybrid so it's perfect for users who are looking to target a specific condition or even just looking for a specific type of vibe. Choose from a combo of variations of the indica/sativa/hybrid strains to relax your body and mind or try a sativa to increase your productivity and creativity.  Once you allow the psychotropic effects to fully take effect in your body, they are more intense. Few things have the same impact as this disposable concentrate or marijuana vape pen.
Blueberry Cookies Strain (Indica): A fruity flavor blend featuring a combination of deep berry notes and gentle honey nuances. Enjoy the fruitful results of a cross between Blueberry Tahoe and Thin Mint Girl Scout Cookies strains.
Skittelz Strain (Indica): This award-winning, California-bred strain is a cross between famously fruity strains, producing a unique sensory experience. Skittlez is known for its sweet and candy-like flavor which is characterized by strong fruity notes and ripe strawberry.
Bubba Kush Strain(Indica): This phenotype is considered to be one of the fullest and most desired aromatic profiles on the planet. Bubba Kush is a rich, Indica-dominant strain, famous for its unique calming effects. Its refined aroma has just a hint of coffee and cocoa, while its taste is earthy and nutty with a subtle sweetness.
Mimosa Strain (Sativa): Mimosa is the result of a cross between Purple Punch and Clementine. This Sativa dominant hybrid is known for its uplifting qualities. Its strong citrus scent with gentle berry notes resembling freshly poured mimosa.
Jungle Juice (Sativa): is a rare sativa dominant hybrid strain created through crossing the delicious Animal Cookies X Tangie strains. If you've ever had Jungle Juice in real life, get ready for the same flavor and effects, only tenfold. Jungle Juice packs a juicy sweet and sour citrus flavor with an aftertaste that is surprisingly just like a banana. The smell is of sweet pine and bananas with an earthy pungent effect that's released as the nugs are burned. Jungle Juice buds have round and super tight dark olive green nugs with dark purple undertones, bright amber hairs, and a coating of light lavender colored crystal trichomes. The Jungle Juice high is both energizing and relaxing in nature, perfect for giving you the energy you need on those days where you just can't get going. The high starts with a creative energetic boost that lifts your spirits and leaves you feeling artistically inspired. You'll be euphoric in this soaring state with no real way of coming down Thanks to these powerful effects and its high THC level that bottoms out at 15%, Jungle Juice is said to be perfect for treating conditions such as chronic pain, insomnia, fatigue, and depression.
Peach Rings (Hybrid): Peach Ringz is a strain known for its super sweet and slightly sour peachy flavor and a touch of spicy flowers in its aroma. It delivers a relaxing high that includes a mild cerebral lift and euphoria, without affecting your energy level. This strain also provides a relaxing body high, making it great for unwinding and eventually falling into a deep and peaceful sleep.
Original Glue (Hybrid): Original Glue is renowned for its relaxing effects, making it ideal for sleepless nights. The high begins with a gradual onset, inducing a euphoric uplift in the mind, relieving negative thoughts. This initial mental state transitions into deep physical relaxation, eventually becoming sedative, keeping you glued to your seat for hours. Its flavor profile includes a chemical diesel taste with a chocolatey exhale, accompanied by a pungent aroma characterized by a dank diesel overtone with hints of mocha and spices.
Melon Haze (Sativa): Melon Haze is a sativa strain. It may taste fruity, spicy, earthy, sour, piney. When smoked, this strain can make you feel euphoria, creativity, calm, numbness, appetite gain, and pain relief.
Pie Face (Hybrid): Pie Face offers a sweet cherry hash flavor and a balanced combination of indica relaxation and mental clarity. It provides a focused, euphoric lift, enhancing creativity and awareness while promoting chattiness. As the high intensifies, it may stimulate the appetite, leading to creative culinary experiments to satisfy hunger.
Watermelon (Indica): Watermelon offers a delectable flavor of sweet watermelon and sugary fruits with a slightly skunky, tropical aroma. Its high is both euphoric and calming, providing relaxation for stressful days. It gradually washes over the mind and body, leaving you completely relaxed and sometimes leading to a peaceful, long sleep.
Smacks Snacks (Hybrid): Smack Snacks is a hybrid weed strain made from a genetic cross between Scooby Snacks and MAC (Miracle Alien Cookies). This strain is 50% sativa and 50% indica. Smacks is a rare and exclusive strain from Doghouse, a cannabis company that focuses on organic and sustainable cultivation practices. Smacks is 23.58% THC, making this strain an ideal choice for experienced cannabis consumers who can handle a potent high
Lamb Bread (Sativa): Lamb Bread delivers a fast-acting, clear-headed, and energetic high, promoting intense focus and long-lasting happiness. It is recommended for managing chronic pain, fatigue, headaches, migraines, and chronic stress. The strain features a classic cheesy flavor with spicy woody kush undertones and a hint of skunkiness upon exhale, accompanied by a potent aroma with a spicy overtone and sweet-sour cheesy skunk notes.
Strawberry Cough (Sativa): Strawberry Cough is renowned for its exceptionally delicious sweet strawberry flavor with a hint of spicy pepper upon exhale, as well as a delightful aroma featuring fresh strawberries with spicy herbs and earthy pepper. Its high is cerebral and energizing, promoting creative motivation and sociability, though it may induce coughing. Simultaneously, a soothing body high alleviates muscle discomfort without causing sedation.
Holy ZaZa (Indica): Holy ZaZa also known as "Za Za," is an indica dominant hybrid strain (70% indica/30% sativa) from South Bay Genetic and created by crossing Scotts OG x Gas Station Bob strains. Known for its super sleepy high and long-lasting effects, ZaZa is the perfect dreamy strain for anyone who wants a little extra help to get to sleep at night. The high starts with a slow build of effects, filling your mind with a happy lift that grows and expands after your final exhale. You'll find yourself feeling relaxed mentally and without a care in the world.
Stoned Fruit (Hybrid): Stoned Fruit is an Indica-dominant hybrid that has gained immense popularity due to its fruity, earthy, and cotton candy flavor. It contains over 22% THC and is a fan favorite among Marijuana connoisseurs. This marijuana strain is potent enough to last all day long. It has a strong body buzz. It invokes creativity and euphoria. If you are experiencing pain, nausea or a loss of appetite, then Stoned Fruit is what you need to provide medical relief from your symptoms.
Red Lebanese Hash (Indica): Red Lebanese provides a slow-building high that can be overwhelming for inexperienced users. It begins with a creative boost and gradually transitions into a stony and sedating body effect, often leading to a deep and peaceful sleep. The strain has a classic sour citrus flavor with a nutty herbal exhale, while the aroma features earthy herbs, citrusy woods, and a hint of sour spices when burned.
Northern Lights (Indica): Northern Lights, a renowned pure indica strain, descended from original Afghani landrace strains, is celebrated as one of the most potent with THC levels reaching 16-21%. Its powerful body effects, blending euphoria and relaxation, make it a favorite for alleviating anxiety, pain, and insomnia, despite limited CBD levels. Known for its sweet, earthy flavor and hints of citrus, Northern Lights is widely popular, particularly on the West Coast and in Colorado, offering a go-to option for cannabis enthusiasts seeking potent and effective relief.
Durban Poison (Sativa): Durban Poison, a highly potent pure sativa strain originating from South Africa and brought to the United States by cannabis activist Ed Rosenthal, boasts THC levels of up to 24%, making it one of the world's strongest strains. Recognized for its powerful head high, this strain is favored for creativity and daytime activities, although paranoia and dry mouth may be potential side effects. Ideal for treating depression, anxiety, chronic pain, and nausea, Durban Poison's earthy and sweet flavor, with a subtle pine aroma, enhances its popularity among users seeking a productive and uplifting experience.
DOUBLE the power, DOUBLE the flavour (3g+3g) = 6g VAPE
You're not seeing double, you can have two strains in the palm of your hand
The Straight Goods Disposable works on a draw-activated system. As you inhale from the tip, the device heats the distillate. When you exhale, it takes the vapor form. The device features an easy-to-use adjustable airflow to control the strength of each inhale. This all-in-one disposable vape pen is incredible for traveling, first-time vaping, or if you want to try out a new brand of THC oil. The versatility is second to none with this weed vape pen!
Directions:
Press side button 5 times within 3 seconds to turn on device, press button to vape.