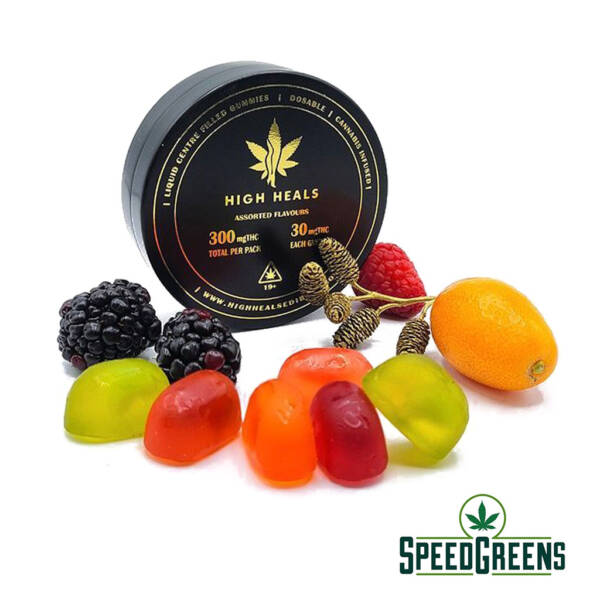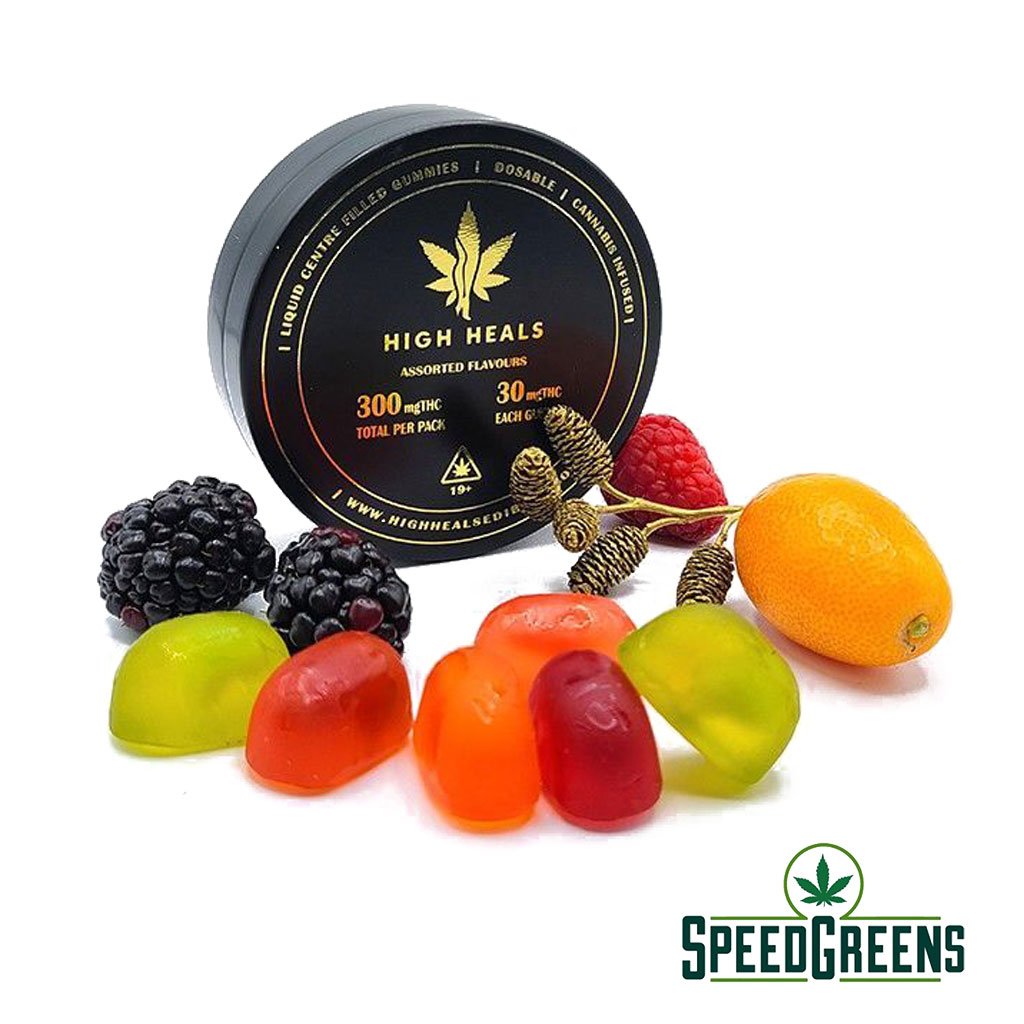 High Heals – Liquid Centre Gummies (300mg THC)
BEST PRICE

GUARANTEED SHIPMENT

DISCREET PACKAGING
Take the vibes to a higher place! Each package of High Heals contains 10 fruit gummies. Every liquid centre gummy is infused with 100 mg lab-tested full spectrum THC distillate.
Fruit Punch Flavours: Grapefruit, Orange, Lemon, Mixed Berry, Cherry, and Blueberry
Dosage:300 mg THC per package
10 x 30 mg THC Fruit Gummies
Always consult a physician for recommended dosage based on your own individual needs.
Description
Refer a friend
Reviews (0)
A Better Kind of High With High Heals THC Gummies!
Gummy bears are boring? Yeah, we know. Hence, why we created something special. Our gummies havea. tasty surprise in the middle – A yummy liquid centre that will melt in your mouth. The gummies are also extremely flavorful without the bad aftertaste that some gummies exhibit. The gummies are packaged in beautiful tin cans for easy storage and as a preventative measure from them getting squished. One tin consist of ten random multi-flavored gummies with flavours like orange, cherry, mixed berry, lemon, blueberry, and grapefuit. For your best selection of THC gummies Canada has to offer, we have what you're craving for!
High Heals THC gummies offers a treat for all your senses
Perfect for users that enjoy consuming their THC in edible form
THC edible gummies offer a discreet and convenient way to consume cannabis. They are a popular choice among cannabis users because they are easy to use and provide a consistent and predictable experience. THC gummies can provide various benefits, such as pain relief, relaxation, and a sense of euphoria. They may also help alleviate symptoms of anxiety, depression, and insomnia. High Heals gummies come in various fan favorite flavors, making them a versatile option for people who prefer edibles over other forms of cannabis consumption. With their long-lasting effects and enjoyable taste, THC gummies are a great option for those looking for a fun and effective way to consume cannabis.
Experience euphoria with High Heals THC gummies
THC gummies made with THC distillates makes for a clean and balanced high
Edible gummies made with full spectrum THC distillates are becoming increasingly popular among cannabis users. These gummies offer a wide range of effects due to the full spectrum THC distillate used in their production. Full spectrum THC distillates contain not only THC but also other beneficial cannabinoids, terpenes, and flavonoids that work together to produce an entourage effect. This means that consuming edible gummies made with full spectrum THC distillates can lead to a more balanced and nuanced high compared to gummies made with pure THC isolate. The effects of these gummies can vary depending on factors such as dosage, metabolism, and tolerance, but they generally provide a relaxing and euphoric experience. Users may also experience pain relief, reduced anxiety, and improved sleep. With their delicious taste and potent effects, edible gummies made with full spectrum THC distillates are an excellent option for anyone looking for a high-quality cannabis experience.
High Heals THC gummies is an edible you want to try
Each tin is packed with amazing features
Indulge in a new and exciting cannabis experience with HIGH HEALS' liquid center cannabis-infused gummies. Our delicious gummies feature a mouthwatering liquid center and come in a variety of flavors, including grapefruit, orange, lemon, mixed berry, sour cherry, and blueberry. Each gummy is precisely dosed with 30mg of lab-tested full spectrum THC distillate to ensure a consistent and potent experience. Please note that our gummies are intended for medical use only and may contain traces of nut products. As a cannabis edibles user, you'll love the unique taste and texture of our HIGH HEALS gummies.
We Value Friendship, and It Starts with Sharing
Are you looking to provide your friends with the same benefits you enjoy?
Look no further! It only requires a simple step-by-step process that takes less than 5 minutes! You earn points that you can use in the shop, and they can benefit from the fantastic selection we provide. It's a win-win situation, so don't hesitate.
Go to "My Account" at the top of the page. If you haven't created an account, we highly suggest it! You can find the referral link section below your profile.

Input a page URL which you want to refer and click "Generate Referral Link."

It will generate a link according to the date of your request. You can also click the social links for Facebook, Twitter, or Whatsapp to create a link to those applications.
Copy the URL (or click on the "Copy Link" box beside the link) and share the link with family, friends, and loved ones!

When your friends and loved ones click the link, you will be awarded 625 Speed Pass Points (after a complete purchase), which you may use towards any of our products! Because your friends are doing you a favor, they can reap more benefits as they will receive a unique coupon code worth $25. This sign-up bonus will help them with more purchases in our shop! If you have any questions or concerns, let us know, and we will be happy to help.