By purchasing this product, you can earn points based on a percentage of cart total. You will come to know the earn points information once you add the product to cart.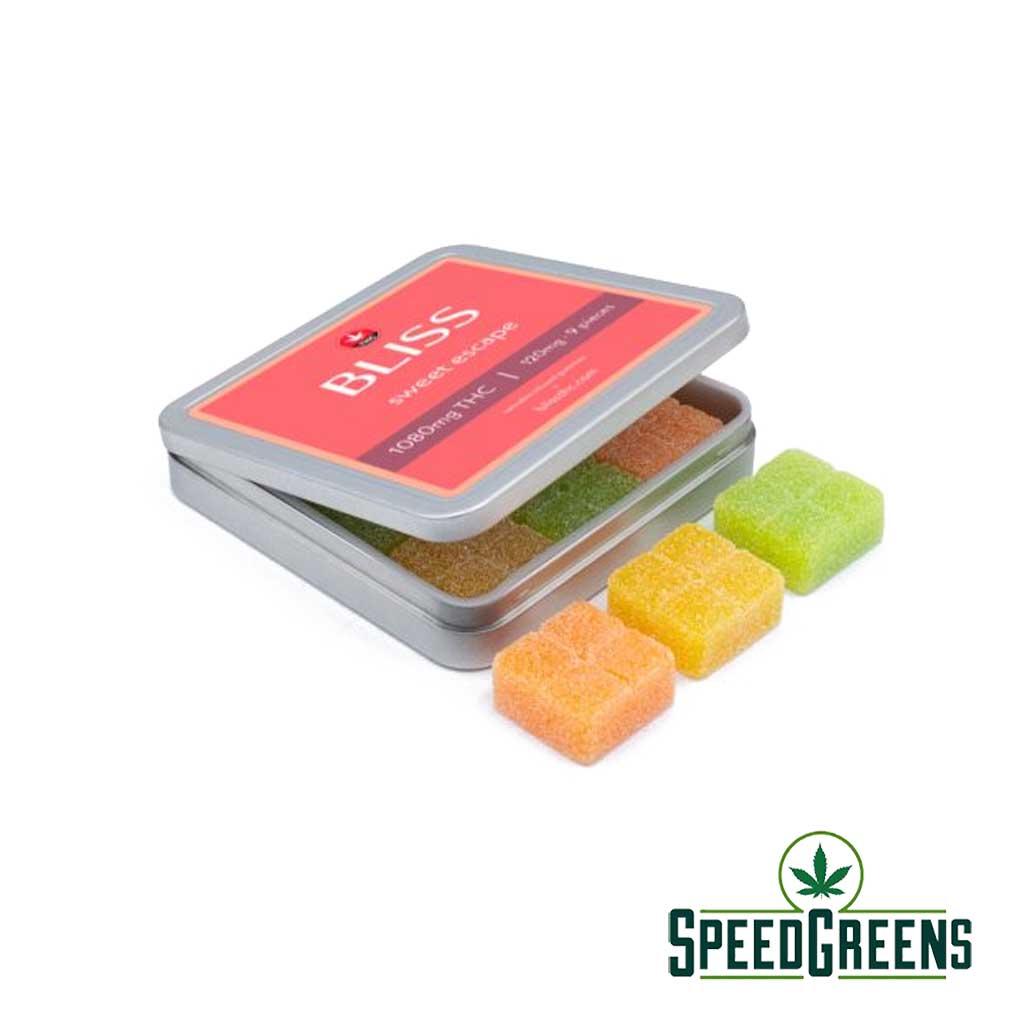 Bliss Edibles SWEET ESCAPE Gummies (1080mg THC)
BEST PRICE

GUARANTEED SHIPMENT

DISCREET PACKAGING
Summer Notice: Speed Greens takes necessary precautions to ensure that your order arrives safely however we cannot be responsible for products that get melted or deformed because of heat during transit.
Close your eyes and imagine what your own getaway looks like. Our Sweet Escapes is no dream though. Infused with 1080mg THC and delicious notes of ripe citrus flavours, our gummies will give you all the right feels.
9 pieces of cannabis-infused gummies
Each piece contains 120mg of THC
Package contains a total of 1080mg THC
Flavours include Kiwi, Mango, and Orange
*please note that some gummies may alter their shape during transport in the summer heat, but the effects will remain the same*
Bring relaxation to a whole new level, consume bliss edibles.
Looking for a fun way to attain euphoria and relieve stress? Consume Bliss Sweet Escape Gummies! Each edible is packed with 120mg THC making every bite you take effective and potent. Every container has 9 pieces of cannabis edibles with 3 delicious fruity flavors. Get bliss edibles from Speed Greens now!
A convenient way to get high, consume Bliss Edibles
Experience cannabis without smelling like it by consuming Bliss Edibles
Smoking dried and cured weed is the most common way to feel the amazing effects of cannabis. But it is not always convenient especially if you live with other people at home. The smell and second-hand smoke can bother those around you. That is why consuming Bliss Sweet Escape Gummies are more popular these days. These Bliss edibles are infused with potent THC extract making every bite effective. They do not leave any smell behind and can be consumed even in public. Bliss edibles are perfect for people who need cannabinoids but have respiratory problems and can't smoke marijuana.
And the best part is, these Bliss Sweet Escape Gummies come in 3 different flavors, namely:
You will never get tired of these delicious fruity flavors!
For good quality and deep sleep, take Bliss Edibles.
Improve your overall mental and physical health for a happier life, consume Bliss Edibles!
Bliss Sweet Escape Gummies are infused with strong and potent cannabis extracts to make sure every time you take them, you will get the desired effects and relief you expected. When you consume these delicious speed weed edibles, the effects will vary and can be one or more of the following:
Feeling relaxed, uplifted, and euphoric
Increase in appetite
Getting sleepy
Lower your stress level
These delicious Bliss Edibles cannabis-infused gummies are ideal for reducing the symptoms of anxiety and depression, easing headaches and migraines, and relieving body pain and muscle spasm. If you consume Bliss Sweet Escape Gummies before going to bed, you will have better sleep quality and enough energy the next morning. As a result, your mental and physical health will greatly improve.
The right and best way to consume Bliss Edibles
Feel the amazing benefits and effects of bliss edibles by starting low and slow
Every resealable, portable tin container of Bliss Sweet Escape Gummies has a total of 1080 mg THC. It contains 9 delicious and sweet cannabis-infused bliss edibles with 120 mg THC each. These THC candies need time before the effects start to kick in. For first timers, start with a small portion of the edible gummy (5mg or less THC) and wait for 15 minutes up to 2 hours to feel the full effects kick in. Remember, cannabis edibles need time before you feel any effects. Do not consume too much, too fast. For safety reasons, wait for at least 1 hour before consuming more tasty Bliss edibles.
Ingredients: Organic Cane Sugar, Glucose Syrup, Gelatin, Sorbitol, Citric Acid, Natural & Artificial Flavours, Tapioca Starch, and Cannabis Extract Infused With Coconut Oil.