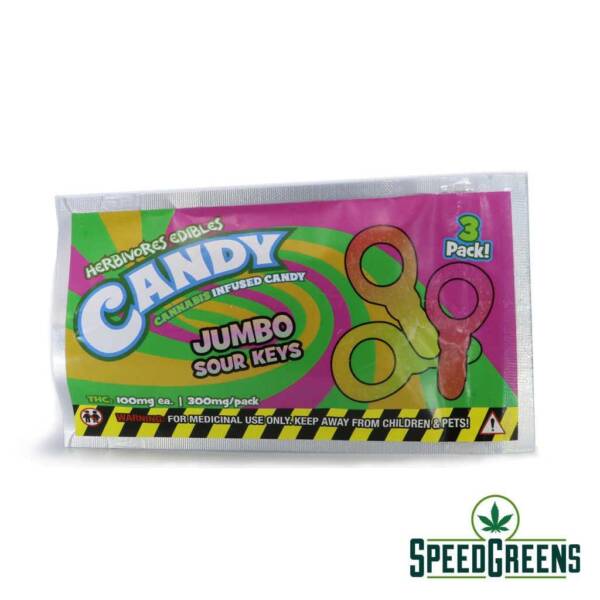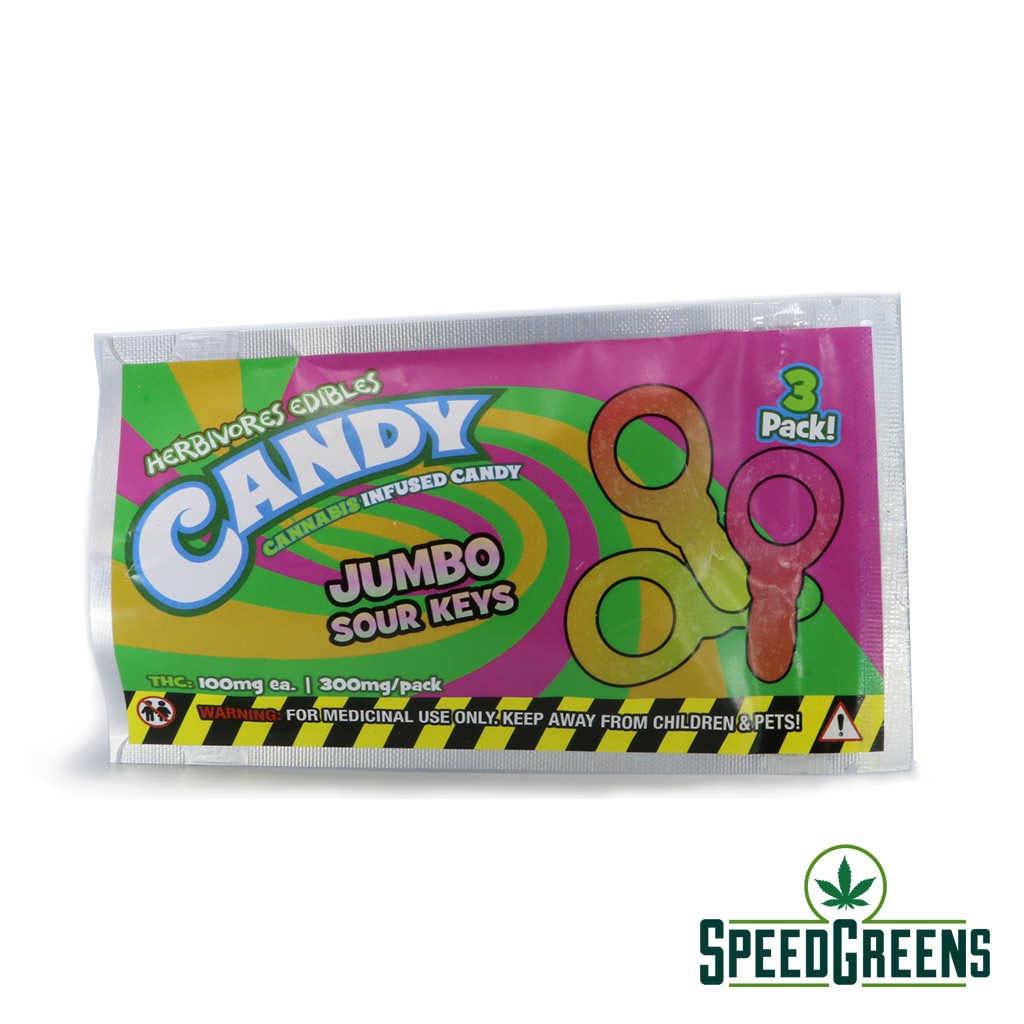 Herbivores Jumbo Sour Keys (300mg THC)
BEST PRICE

GUARANTEED SHIPMENT

DISCREET PACKAGING
Cannabis infused Sour flavoured gummy candy.
*3 candies per pack (THC 100mg each/300mg total)
**Please note that some gummies may melt during transport due to the extreme heat.**
Description
Refer a friend
Reviews (4)
Enjoy these delicious weed edibles
Medicating with marijuana doesn't have to be limited to just smoking weed. You can buy cannabis candy online and consume Herbivores THC Jumbo Sour Keys Gummies. It contains 3 pieces of sour keys infused with potent full-spectrum oils to provide the pain relief and relaxation you need. Jumbo Sour Keys are a familiar treat, so why don't you get some yourself. Are you looking to buy cannabis candy online? Speed Greens is your best bet!
Say goodbye to pain with these weed edibles
Take marijuana in a discreet and convenient way! It even tastes delicious
When you medicate using marijuana, the most common way is to smoke weed. This is problematic if you are in dire need and you are in a public place or live with children or pets. Don't worry, weed edibles are here! You don't have to smoke your marijuana, you can just consume Herbivores THC Jumbo Sour Keys Gummies and wait for the effects to kick in. These edible gummies are also ideal for people with respiratory problems.
Just make sure you are storing them out of reach of children and pets. These Jumbo Sour Keys are pretty easy to mix up with regular candies.
These weed edibles provide daily pain relief and anxiety treatment
One medication to treat many problems like pain, anxiety, insomnia, and low appetite
Herbivores THC Jumbo Sour Keys Gummies are infused with potent THC oil. They are known for their purity and effectiveness. With edibles, you just have to wait for at least a few minutes to hours before you feel any effects because the cannabinoids are absorbed through the liver. Jumbo Sour Keys are a great treat you should get behind due to their wonderful effects.
THC is known to help treat pain, anxiety, nausea, insomnia, low appetite, and muscle spasms. If you feel these problems, Herbivores THC Jumbo Sour Keys Gummies can help you out. Just be mindful of your tolerance for the right dosage and make sure you are taking the right type of cannabis edibles based on your needs.
These weed edibles are as potent and effective treat!
Start low and slow. Feel no pain and be fully relaxed after a few minutes
Each pack of Herbivores THC Jumbo Sour Keys Gummies contains a total of 300mg THC with 3 pieces of gummy, 100mg per piece. It means each piece of edible gummy is potent.
If you are a first-timer or beginner, we highly recommend cutting it into pieces to get the right dosage to avoid greening out. The ideal dose for beginners is 10mg up to 25mg, this depends on your body's metabolism and tolerance level. Wait for at least an hour up to 3 hours before the full effects start to kick in. These Jumbo Sour Keys look exactly like their non-marijuana counterpart – so be careful not to mix them up!
IMPORTANT note: Some edible gummies may melt during transport due to extreme heat.
We Value Friendship, and It Starts with Sharing
Are you looking to provide your friends with the same benefits you enjoy?
Look no further! It only requires a simple step-by-step process that takes less than 5 minutes! You earn points that you can use in the shop, and they can benefit from the fantastic selection we provide. It's a win-win situation, so don't hesitate.
Go to "My Account" at the top of the page. If you haven't created an account, we highly suggest it! You can find the referral link section below your profile.

Input a page URL which you want to refer and click "Generate Referral Link."

It will generate a link according to the date of your request. You can also click the social links for Facebook, Twitter, or Whatsapp to create a link to those applications.
Copy the URL (or click on the "Copy Link" box beside the link) and share the link with family, friends, and loved ones!

When your friends and loved ones click the link, you will be awarded 625 Speed Pass Points (after a complete purchase), which you may use towards any of our products! Because your friends are doing you a favor, they can reap more benefits as they will receive a unique coupon code worth $25. This sign-up bonus will help them with more purchases in our shop! If you have any questions or concerns, let us know, and we will be happy to help.