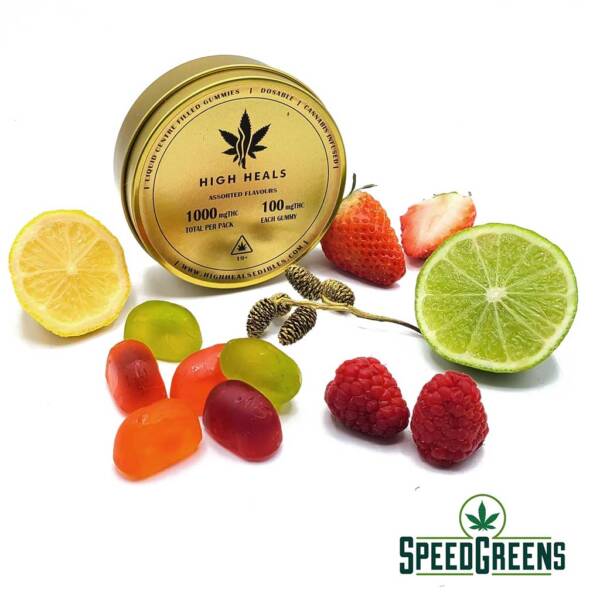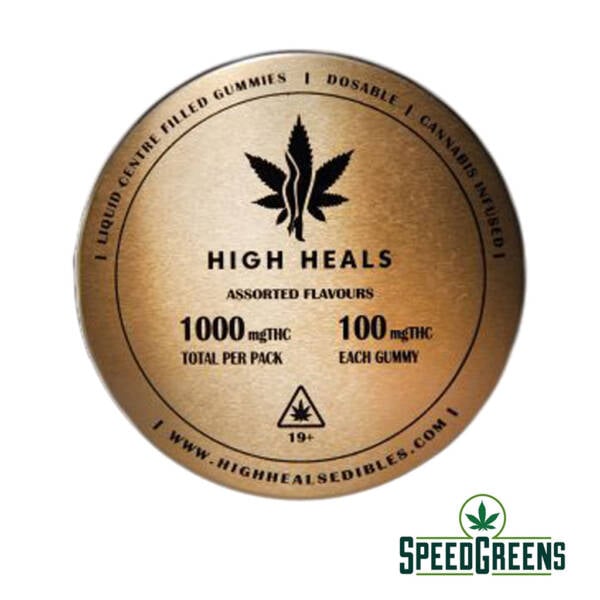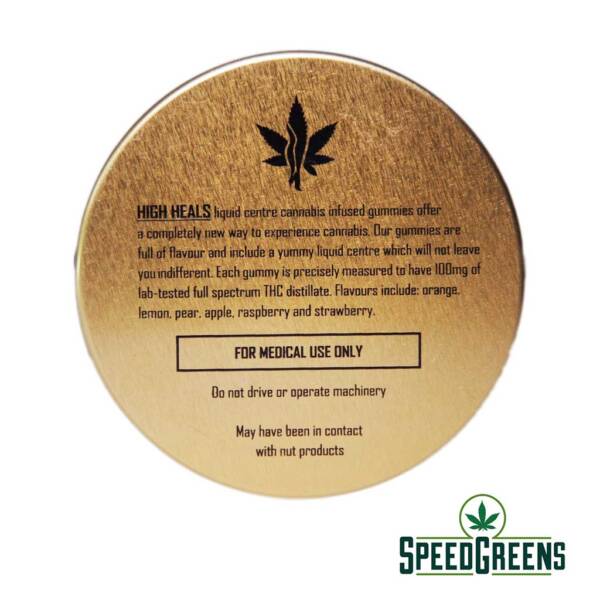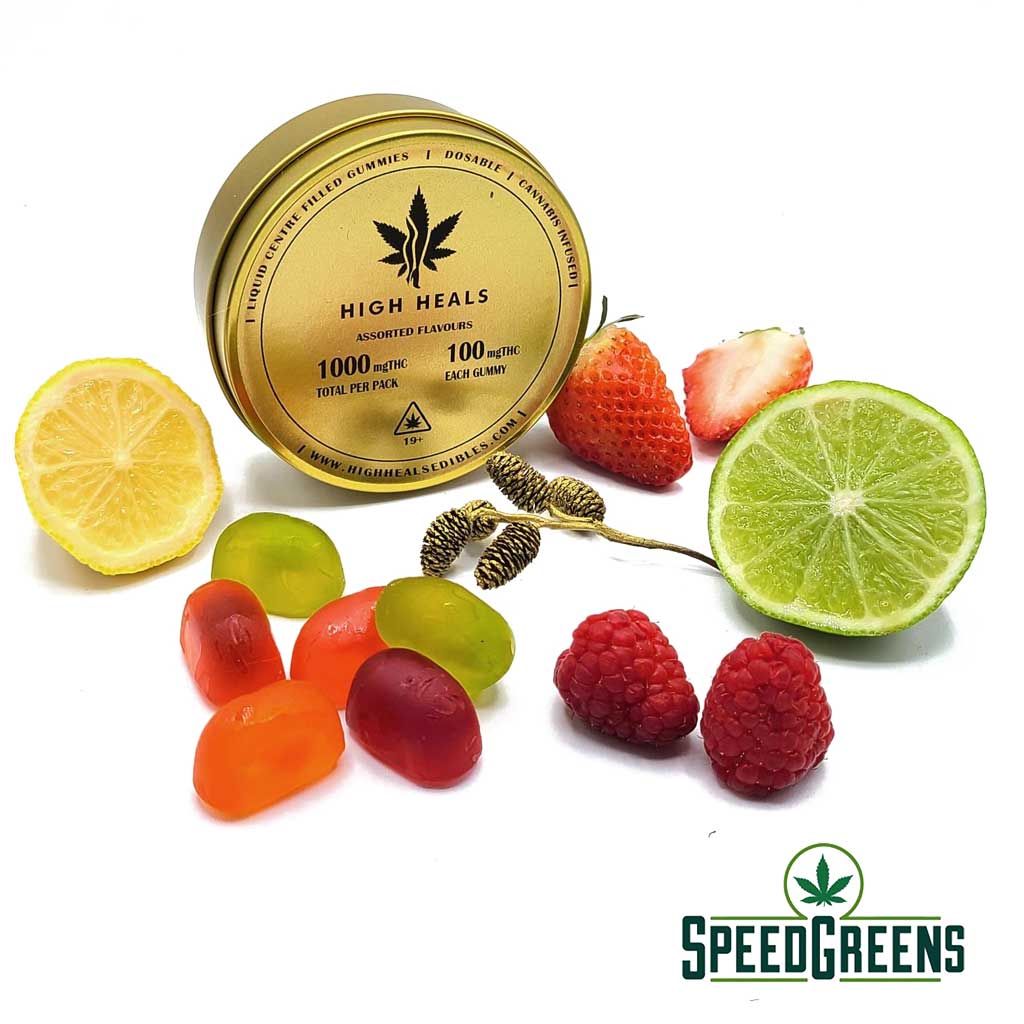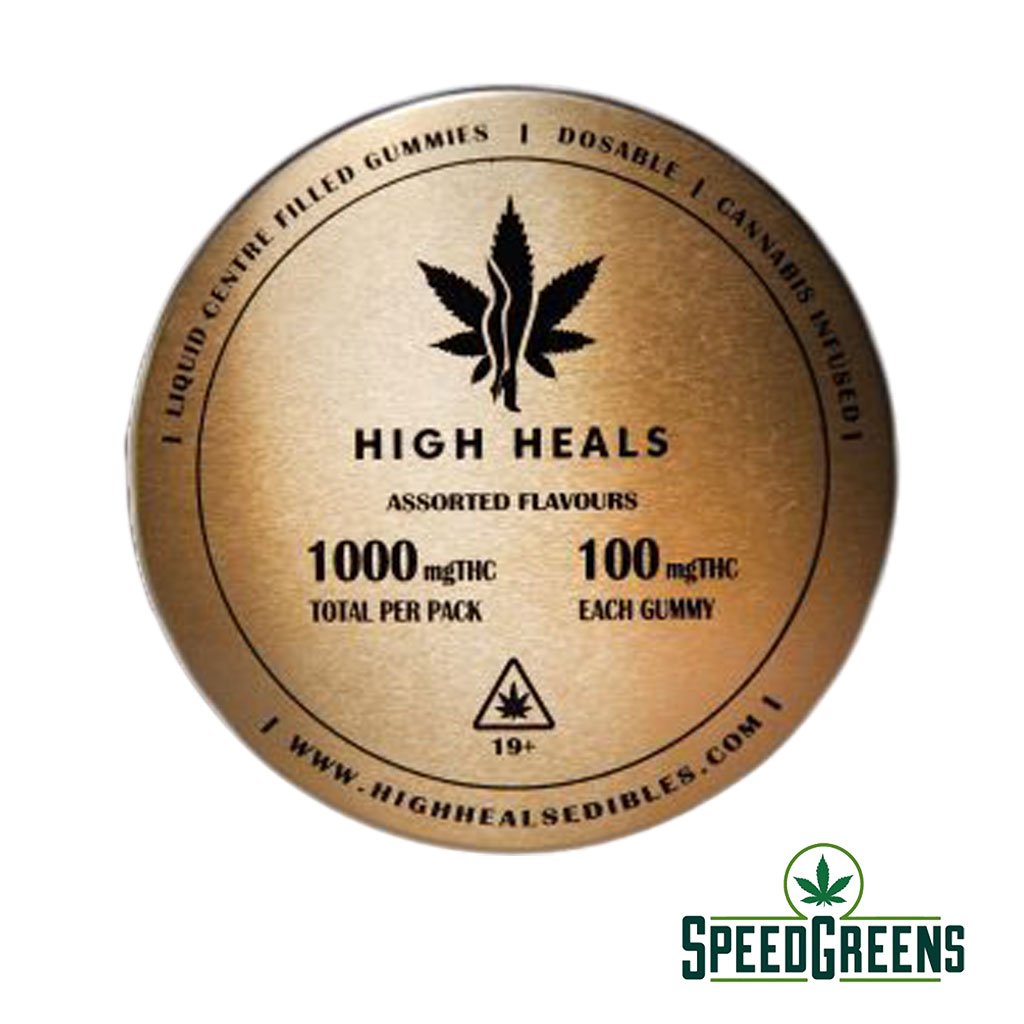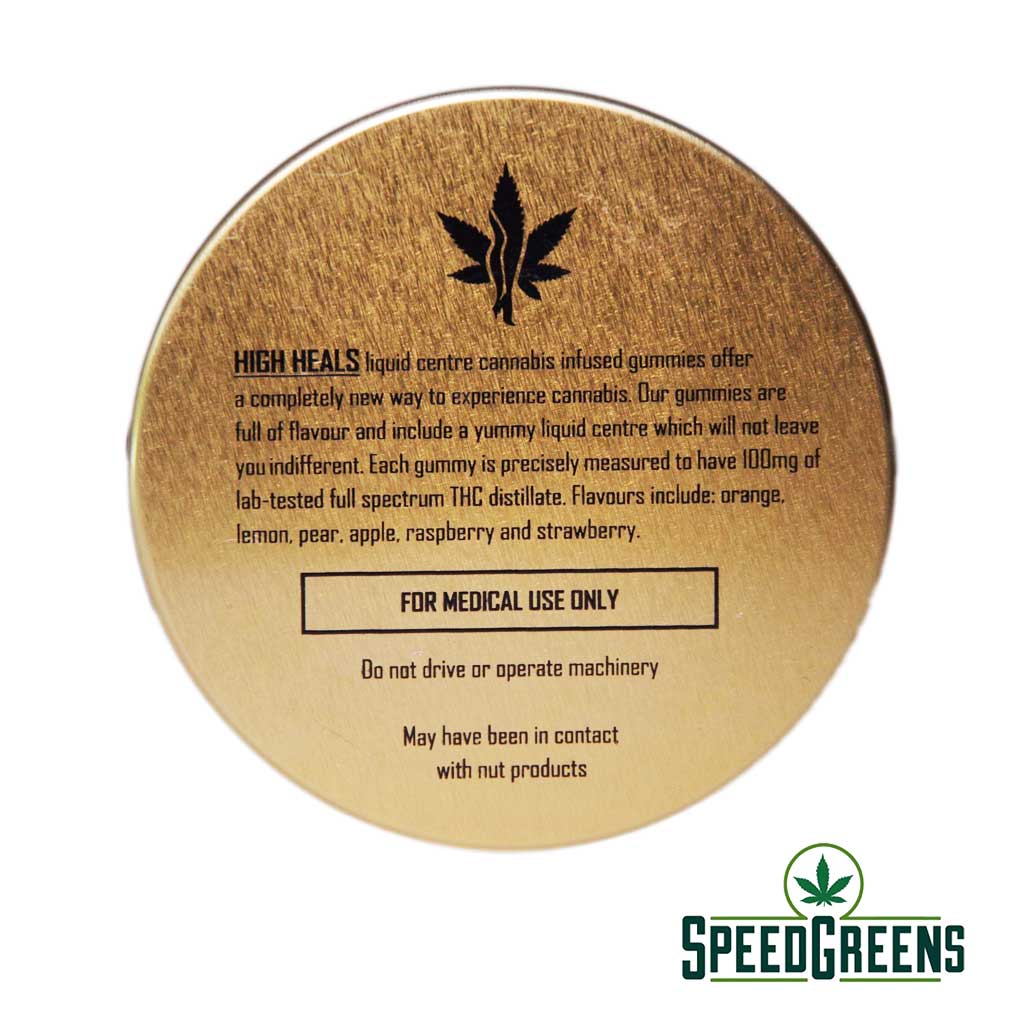 High Heals – Liquid Centre Gummies (1000mg THC)
BEST PRICE

GUARANTEED SHIPMENT

DISCREET PACKAGING
Take the vibes to a higher place! Each package of High Heals contains 10 fruit gummies. Every liquid centre gummy is infused with 100 mg lab-tested full spectrum THC distillate.
Fruit Punch Flavours: Grapefruit, Orange, Lemon, Mixed Berry, Sour Cherry, and Blueberry
Dosage:1000 mg THC per package
10 x 100 mg THC Fruit Gummies
Always consult a physician for recommended dosage based on your own individual needs.
Receive in-stock notifications for this.
A Better Kind of High With High Heals THC Gummies!
Enjoy 6 delicious flavours in one pack! Each tin contains 10 yummy fruit flavored pieces of edible gummies, all infused with pure, potent, and premium THC distillates. This will be a delightful treat for all edibles connoisseurs because of its flavor and texture combo. For your best selection of THC gummies Canada has to offer, we have what you're craving for!
High Heals THC gummies offers a treat for all your senses
Perfect for users that enjoy consuming their THC in edible form
THC edible gummies offer a discreet and convenient way to consume cannabis. They are a popular choice among cannabis users because they are easy to use and provide a consistent and predictable experience. THC gummies can provide various benefits, such as pain relief, relaxation, and a sense of euphoria. They may also help alleviate symptoms of anxiety, depression, and insomnia. High Heals gummies come in various fan favorite flavors, making them a versatile option for people who prefer edibles over other forms of cannabis consumption. With their long-lasting effects and enjoyable taste, THC gummies are a great option for those looking for a fun and effective way to consume cannabis.
Experience euphoria with High Heals THC gummies
THC gummies made with THC distillates makes for a clean and balanced high
Edible gummies made with full spectrum THC distillates are becoming increasingly popular among cannabis users. These gummies offer a wide range of effects due to the full spectrum THC distillate used in their production. Full spectrum THC distillates contain not only THC but also other beneficial cannabinoids, terpenes, and flavonoids that work together to produce an entourage effect. This means that consuming edible gummies made with full spectrum THC distillates can lead to a more balanced and nuanced high compared to gummies made with pure THC isolate. The effects of these gummies can vary depending on factors such as dosage, metabolism, and tolerance, but they generally provide a relaxing and euphoric experience. Users may also experience pain relief, reduced anxiety, and improved sleep. With their delicious taste and potent effects, edible gummies made with full spectrum THC distillates are an excellent option for anyone looking for a high-quality cannabis experience.
High Heals THC gummies is an edible you want to try
Each tin is packed with amazing features
Indulge in a new and exciting cannabis experience with HIGH HEALS' liquid center cannabis-infused gummies. Our delicious gummies feature a mouthwatering liquid center and come in a variety of flavors, including grapefruit, orange, lemon, mixed berry, sour cherry, and blueberry. Each gummy is precisely dosed with 100mg of lab-tested full spectrum THC distillate to ensure a consistent and potent experience. Please note that our gummies are intended for medical use only and may contain traces of nut products. As a cannabis edibles user, you'll love the unique taste and texture of our HIGH HEALS gummies.