By purchasing this product, you can earn points based on a percentage of cart total. You will come to know the earn points information once you add the product to cart.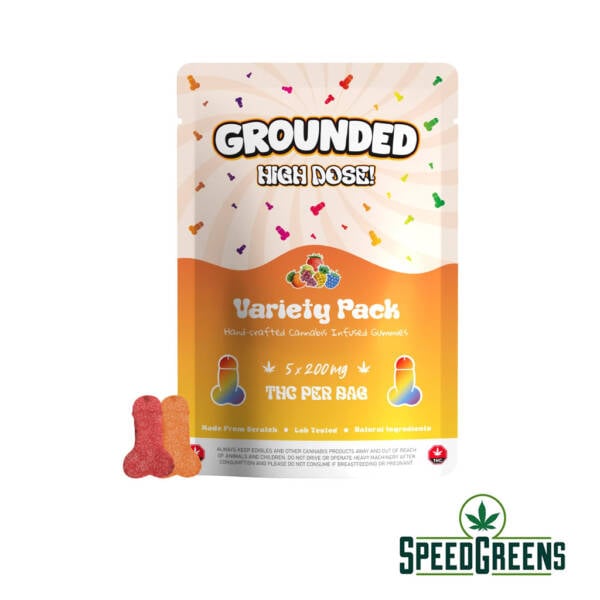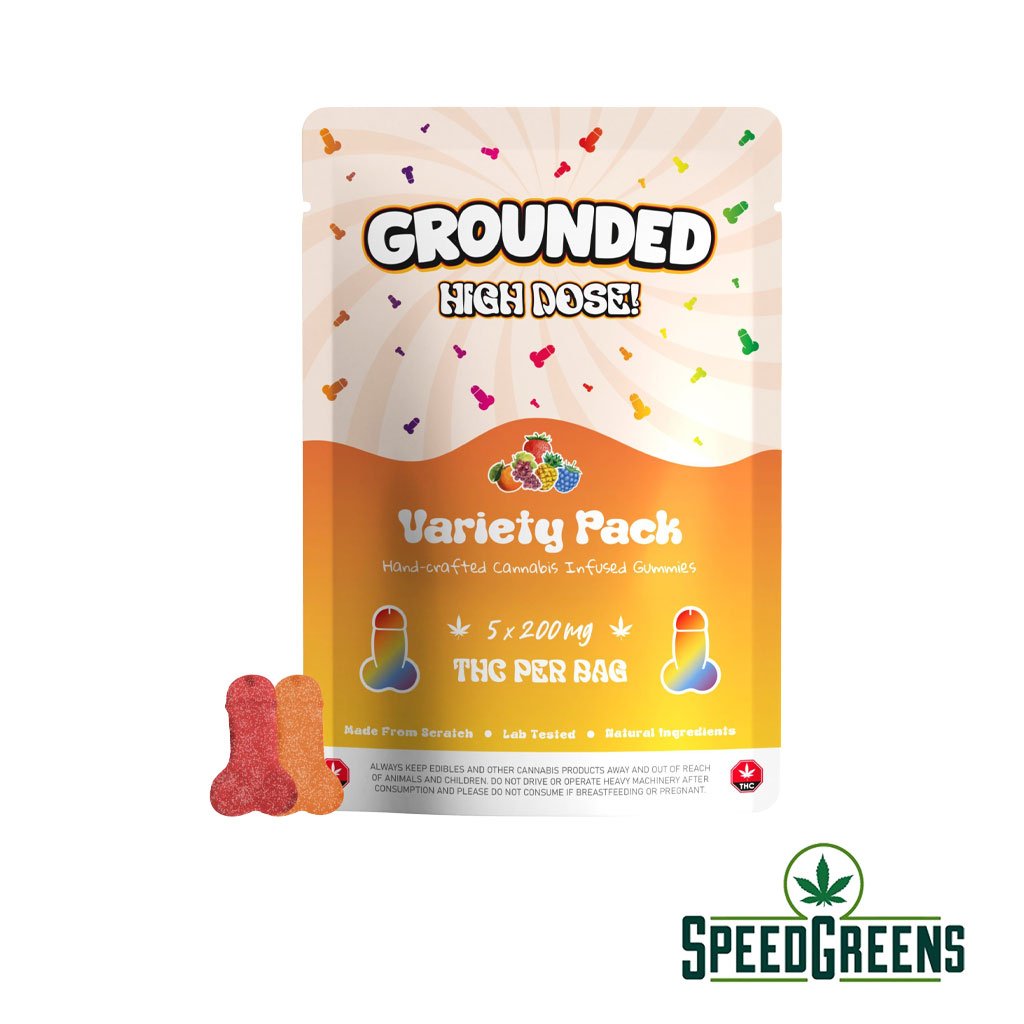 Grounded High Dose Gummy Cocks – Variety Pack (1000mg THC)
BEST PRICE

GUARANTEED SHIPMENT

DISCREET PACKAGING
Explore a spectrum of flavour with Grounded Cocks – Variety Pack and go from the tropical zing of pineapple to the the sweetness of strawberry. This pack is a flavour adventure!
Flavour: Pineapple / Grape / Blue Raspberry / Strawberry / Orange
Pieces: 5 x 200mg
Total Dosage: 1000mg THC
Have a naughty good time with these fun shaped THC Edibles
Who says edibles can't be fun? Each of these NSFW (Not Safe For Work) shaped gummies is infused with a whopping 200mg of THC so it's great for sharing with your friends. Also if you need a little pick me up for yourself, just the tip is all you need to go a long way! Try out Grounded Cocks high dosed hand-crafted cannabis infused gummies that are made with all natural ingredients today. For the latest edibles, Speed Greens online dispensary is your number one source.
Dosage:
1000mg THC
5 pieces per pack x 200mg each
You will be the life of the party with these delicious edibles!
These naughty shaped weed edibles have some really nice benefits
A cheekier alternative to smoking/vaping
High-dose THC gummies offer stronger and more immediate effects, potentially aiding in pain management, sleep improvement, anxiety reduction, and relaxation. They may also enhance creativity and reduce nausea. Due to the high dosage, we recommend starting with a lower dosed weed edible or starting with a smaller portion/smaller bite.
Take a wild ride on these delicious THC edibles
Grounded Cocks THC Gummies are loaded with strong cannabis extract. Among the benefits of indulging in these delicious delicacies are:
Euphoria
Appetite increase
Heightened creativity
Sleepiness
Reduced stress and tension
Try using Grounded Cocks THC Gummies if you're seeking for a strategy to lessen your anxiety and depressive symptoms, as well as your headache and migraines. They can also relieve both acute and chronic pain. You can also achieve the restful, deep sleep you want with the aid of these delectable edible gummies. Better and enhanced general physical and mental health is the outcome.
Accurate consumption and dosing play a critical role in the use of THC-infused edibles
Each pack of Grounded Cocks THC Gummies has a total of 1000mg THC. It contains 5 tasty cannabis-infused edible gummies with 200mg THC each.
These THC candies need time before the effects start to kick in. For first-timers, start with 1 gummy and wait for an hour to feel the full effects kick in before ingesting more gummies. Remember, cannabis edibles need time before you feel any effects. Just like any powerful concentrate, do not consume too much, too fast.