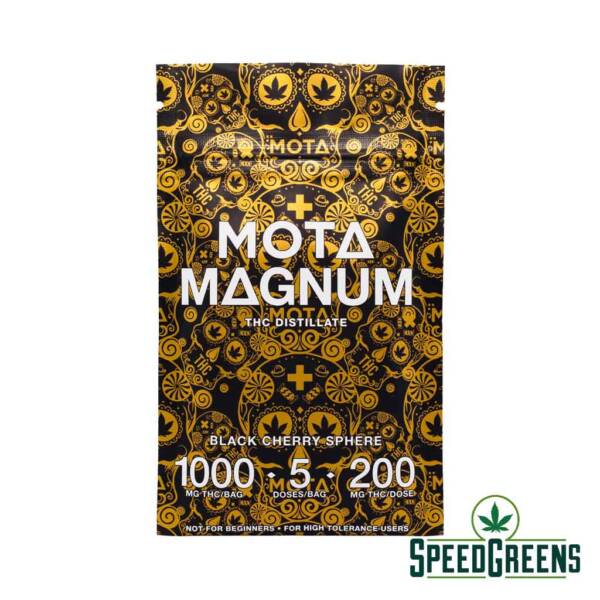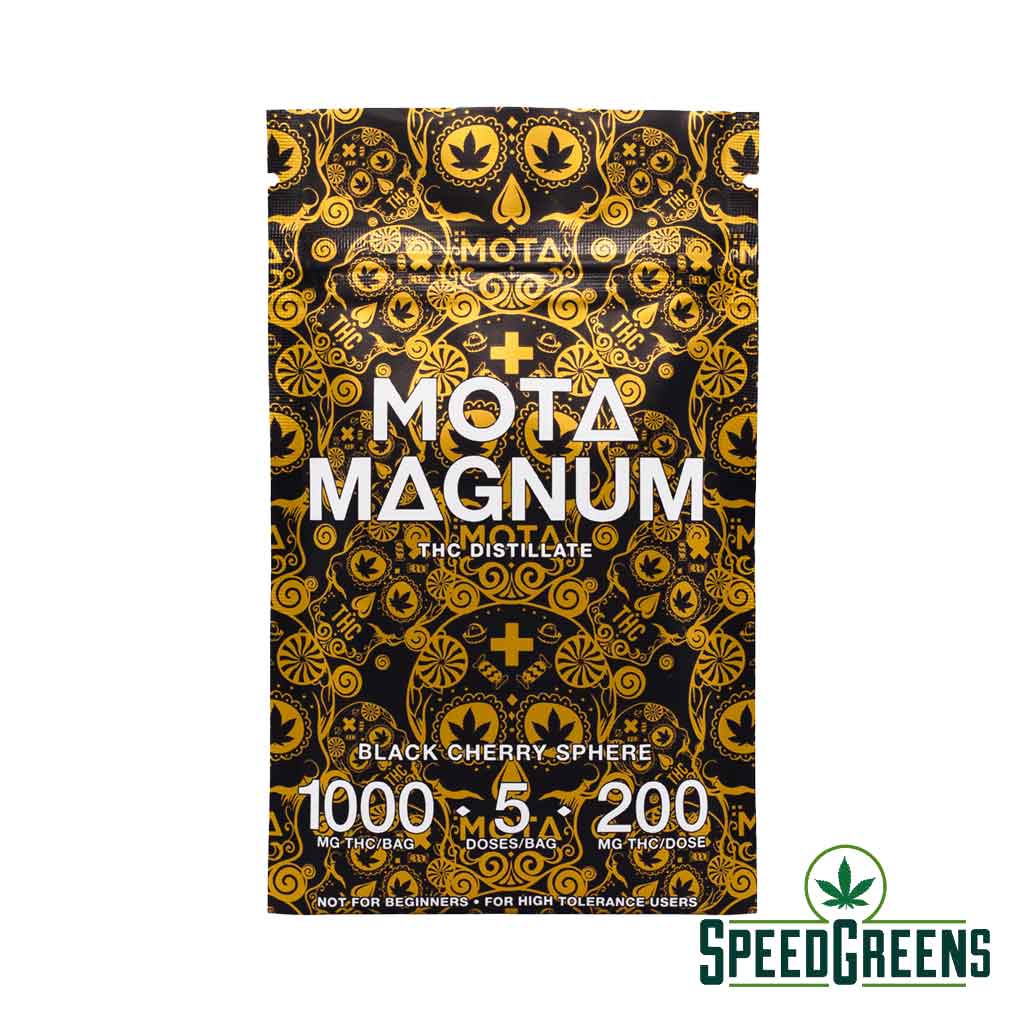 MOTA Edibles Magnum Black Cherry Sphere (1000mg THC)
BEST PRICE

GUARANTEED SHIPMENT

DISCREET PACKAGING
WARNING: Not for beginners. High potency THC Content. Use caution to ensure correct dosage is consumed.
Description
Refer a friend
Reviews (1)
Experience the tastes of MOTA Edibles today!
MOTA Edibles comes back with one of their tastiest edibles to date. Share with friends or keep it to yourself; this magnum size Black Cherry Sphere is a treat everyone will love. The sweet and sour nature of this edible will bring nostalgic feelings. If you're looking for some strong edibles Canada offers, Speed Greens is the place to be.
MOTA Edibles has a product that will help comfort you
This magnum Black Cherry Sphere is loaded with the benefits you need.
If you're looking for a discreet and healthier way to enjoy your cannabis, grab MOTA Edibles. You get 1000mg of THC without the hassle of rolling and preparing your weed. It also means that you still get all the benefits associated with smoking weed. MOTA Edibles will relieve arthritis, pain, headaches, migraines, inflammation, nausea, muscle spasms, nerve damage, and more! In terms of psychological problems, you can expect to tune down any racing thoughts that can contribute to anxiety and depression. Grab this pack of MOTA Edibles today!
MOTA Edibles has a wide range of effects
This Magnum Cherry Sphere has many features that you will love
The Magnum size of these MOTA Edibles will give you an insane experience. Because it's loaded with 1000mg, with 200mg in every piece, you'll need somewhere comfortable to rest. Your mind will sit in a euphoric state that will last throughout your whole experience. The relaxing effects of MOTA edibles will keep you from doing anything, so eat it when you have nothing to do throughout the day or before you go to bed. It'll be fun for the whole party, or you can keep it to yourself for days of THC at the ready!
MOTA Edibles is something you need to try
Edibles provide a better way to enjoy your weed; come check it out
This hefty edible isn't for the faint of heart. If this is one of your first times eating edibles, we recommend that you stay away. It has enough THC to leave you down and out for a while. These MOTA edibles are cut into 5 pieces if you're willing to microdose, but with this size, we would have to put a star on that "micro." It's covered with an irresistible coating of sour sugar that will remind you of when you were younger. This edible comes in the familiar shape of a cherry. If you're looking to shop for some strong edibles Canada offers, there's no place like Speed Greens.
We Value Friendship, and It Starts with Sharing
Are you looking to provide your friends with the same benefits you enjoy?
Look no further! It only requires a simple step-by-step process that takes less than 5 minutes! You earn points that you can use in the shop, and they can benefit from the fantastic selection we provide. It's a win-win situation, so don't hesitate.
Go to "My Account" at the top of the page. If you haven't created an account, we highly suggest it! You can find the referral link section below your profile.

Input a page URL which you want to refer and click "Generate Referral Link."

It will generate a link according to the date of your request. You can also click the social links for Facebook, Twitter, or Whatsapp to create a link to those applications.
Copy the URL (or click on the "Copy Link" box beside the link) and share the link with family, friends, and loved ones!

When your friends and loved ones click the link, you will be awarded 625 Speed Pass Points (after a complete purchase), which you may use towards any of our products! Because your friends are doing you a favor, they can reap more benefits as they will receive a unique coupon code worth $25. This sign-up bonus will help them with more purchases in our shop! If you have any questions or concerns, let us know, and we will be happy to help.