By purchasing this product, you can earn points based on a percentage of cart total. You will come to know the earn points information once you add the product to cart.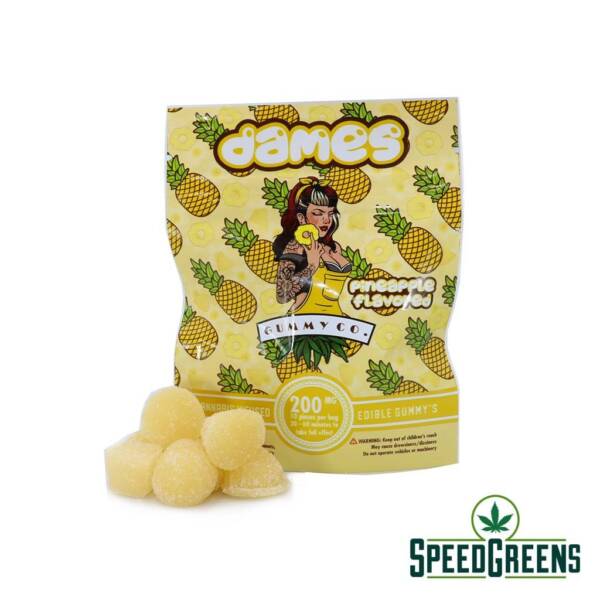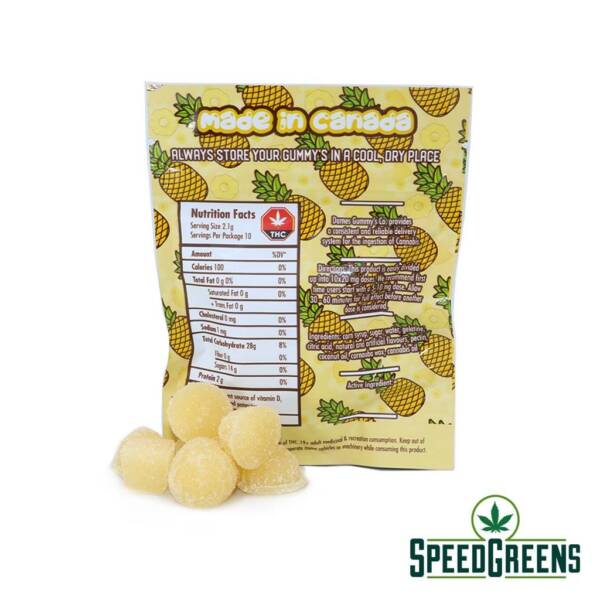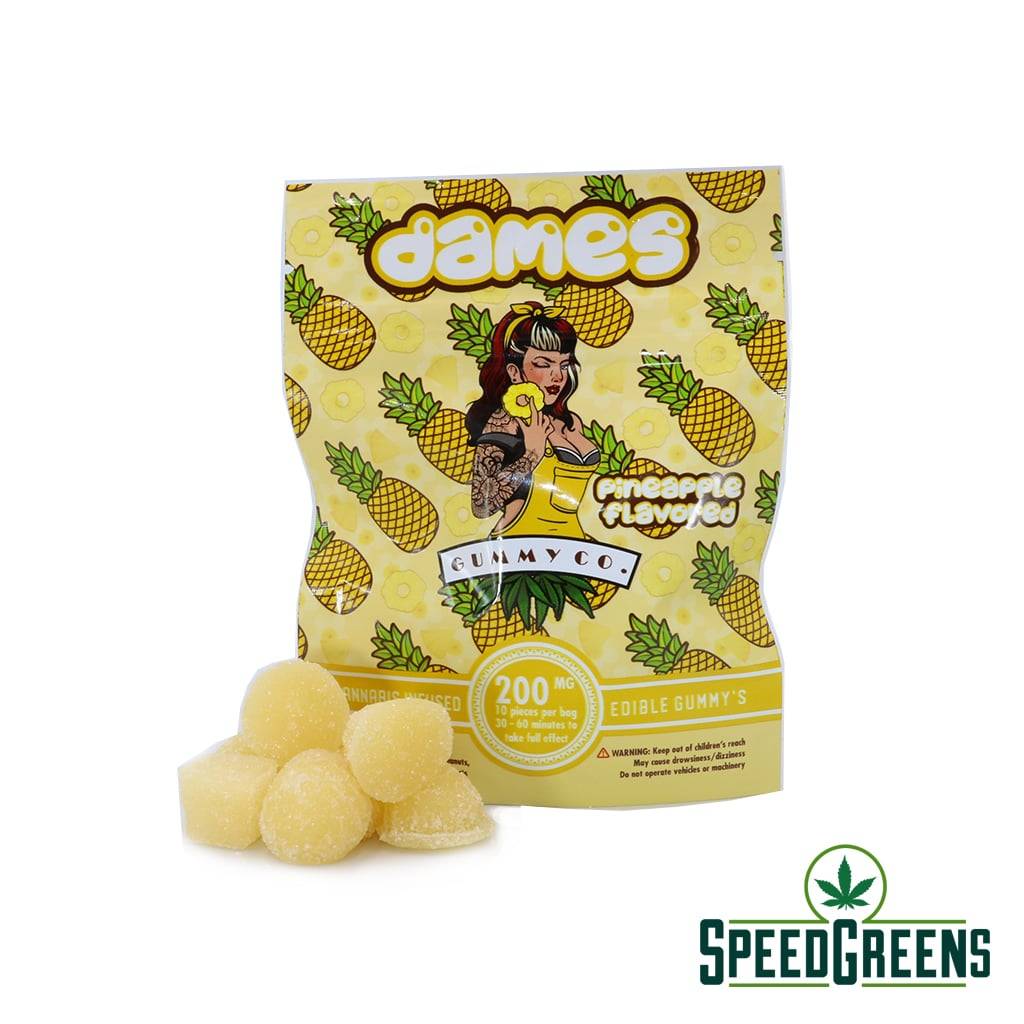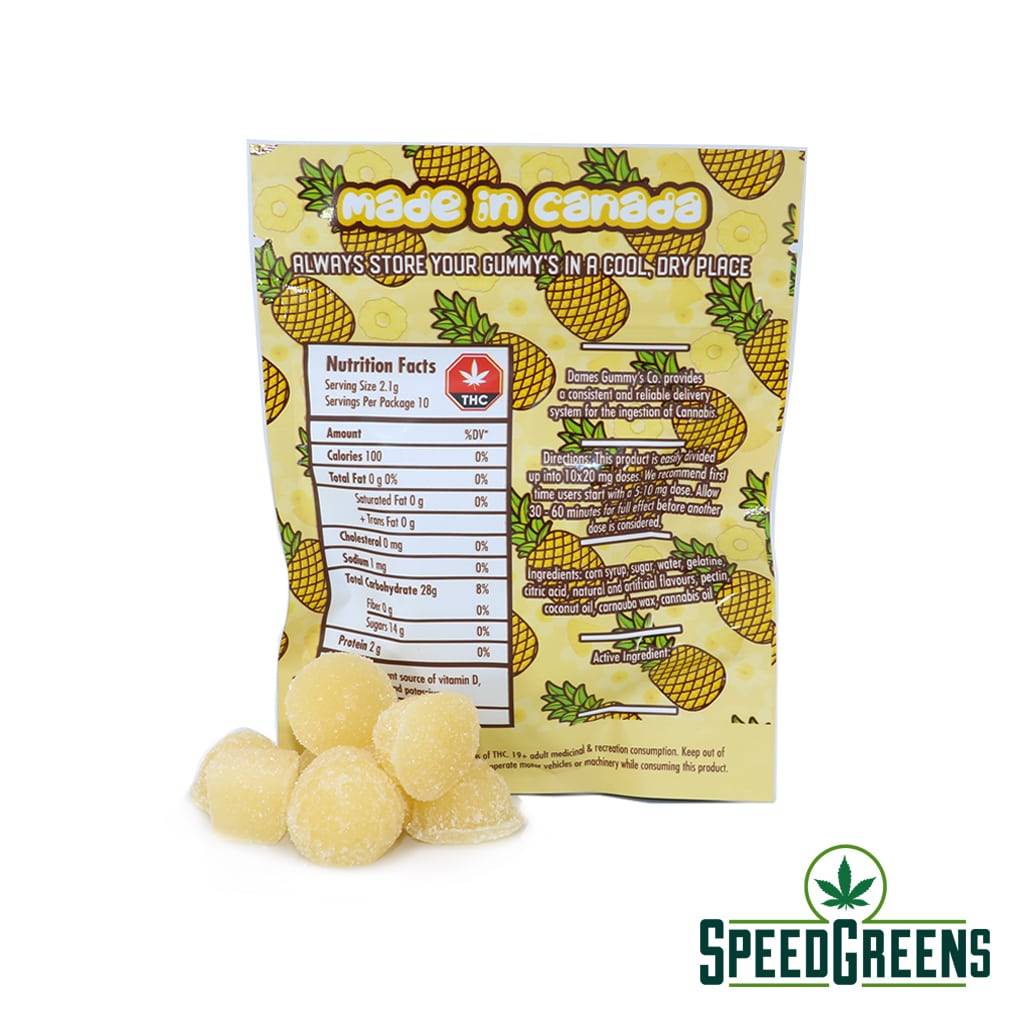 Dames Pineapple Gummies (200mg THC)
BEST PRICE

GUARANTEED SHIPMENT

DISCREET PACKAGING
Summer Notice: Speed Greens takes necessary precautions to ensure that your order arrives safely however we cannot be responsible for products that get melted or deformed because of heat during transit.
DAMES GUMMY CO.
THE MOST COVETED IN THE MARKET
The newest edibles to hit the market comes from the creators of Dames Gummy Co. All we have to say is they are mouthwateringly delicious, don't forget they're infused. The mixed fruit flavoured 200mg pack comes with 10 – 20mg gummy's dusted in sugar in many delectable flavours including -Mango, Pineapple, Orange, Green Watermelon, Coca-Cola, Strawberry, Green Apple, Grapefruit, Cherry, Pina Colada, Blue Raspberry, Grape and Orange Creamsicle. Treat yourself to a soft high-quality THC oil-infused gummy after a long day to relax, unwind and have an uninterrupted night of sleep.
Kick back and have a dank delight with the newest THC oil-infused gummy's from Dames Gummy Co. Once you've tried the confectionery mastered gummy's from Dames Gummy Co. the classic treat will never be the same. Even though they taste divine, they pack a punch leaving you in a euphoric relaxed state. Enjoy a 200mg package of 10x treats each containing 20mg of the highest quality THC cannabis oil ingredients.
Experience the flavourful nature
Who says you can only get high by smoking weeds? You can experience the high and relief cannabis provides by eating Dames Pineapple Gummies! These gummies taste sweet and tart, perfect for consumption. Eating edibles is a discreet way of consuming cannabis products. Are you looking for an amazing selection of THC candy Canada has to offer? Find them here!
Eat these edible gummies, anywhere you want. Even in public.
A discreet and convenient way of consuming marijuana. Go for edible gummies.
After a tiring day at work, we all want to unwind and relax. However, if you are living with children and other people, it can be hard to smoke weed. In addition, when you smoke a joint, bong, or pipe, it leaves a funky smell that sticks to your clothes, furniture, and any cloth material in your home. These are very hard to remove. But with cannabis edibles, you won't have to worry about all these things! You can pop these Dames Pineapple Gummies in your mouth and relax. Just make sure you properly label them and keep them out of reach by children and pets.
Dames Gummies come with a tart and sweet natural pineapple flavor that you will surely love.
Dames make these edible gummies with premium distillates
THC is known to relieve pain, help with insomnia, and soothe anxiety
These gummies are not only all about flavor. They contain 200mg of THC in total. Every pack comes with 10 pieces of gummies, each containing 20mg of pure and potent THC. These flavorful edibles are infused with pure and premium THC distillates. Distillates are known for their purity and potency. They are commonly used to make edibles because of their effectiveness and lack of flavor and aroma. Meaning they don't alter the flavor of your edibles.
THC is ideal for treating pain, anxiety, insomnia, low appetite, nausea, and muscle spasticity. Whenever you consume edibles with high THC levels, such as Dames Pineapple Gummies, at night before going to bed, you will surely have a good night's rest. Nothing beats ending the day feeling happy, contented, and without any pain.
Find the proper way to enjoy these edible gummies!
Start low and go slow. Do not consume too many, too quickly. Patience is key
Each gummy contains 20mg THC which is the ideal dosage for first-timers and beginners. On the other hand, if you want to experience a nice high, you can consume 2 to 3 gummies at the same time. In both cases, you need to wait for 30 minutes up to an hour before you feel any effects. Be careful when you consume candy edibles because the effects are not instant. You might mistake the delay for ineffectiveness. The THC is absorbed through the liver. Your body needs to digest the edibles first before you feel their effects.
Allergy warning: Dames Gummies are made in their secured facility that uses peanuts. If you are allergic to peanuts, look for other edible gummies in your store.
Ingredients: Citric Acid, Corn Syrup, Gelatin, Natural Pineapple Flavor, Potassium Sorbate, and THC Distillate