By purchasing this product, you can earn points based on a percentage of cart total. You will come to know the earn points information once you add the product to cart.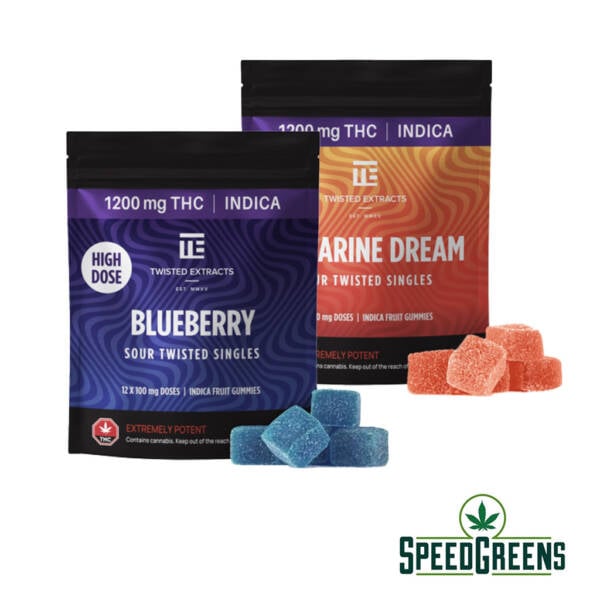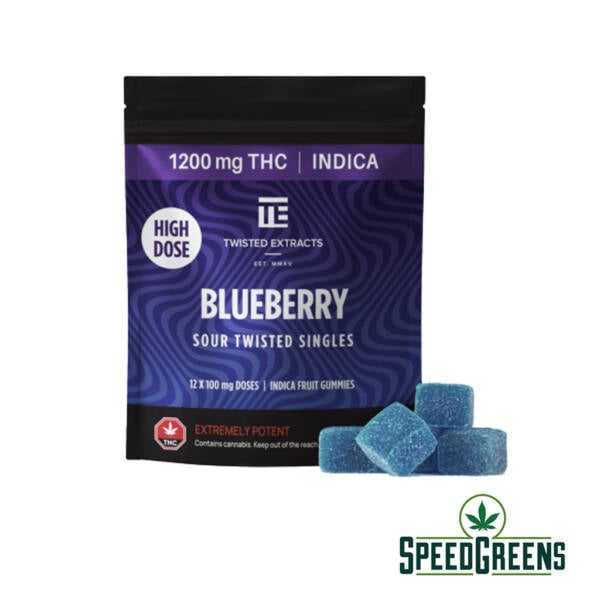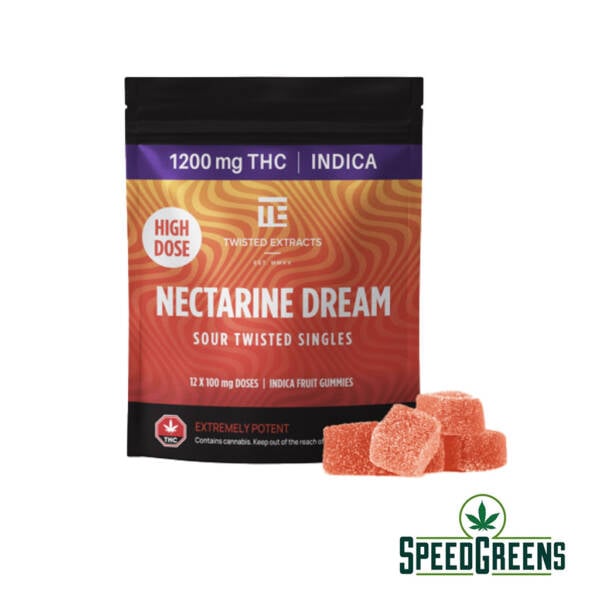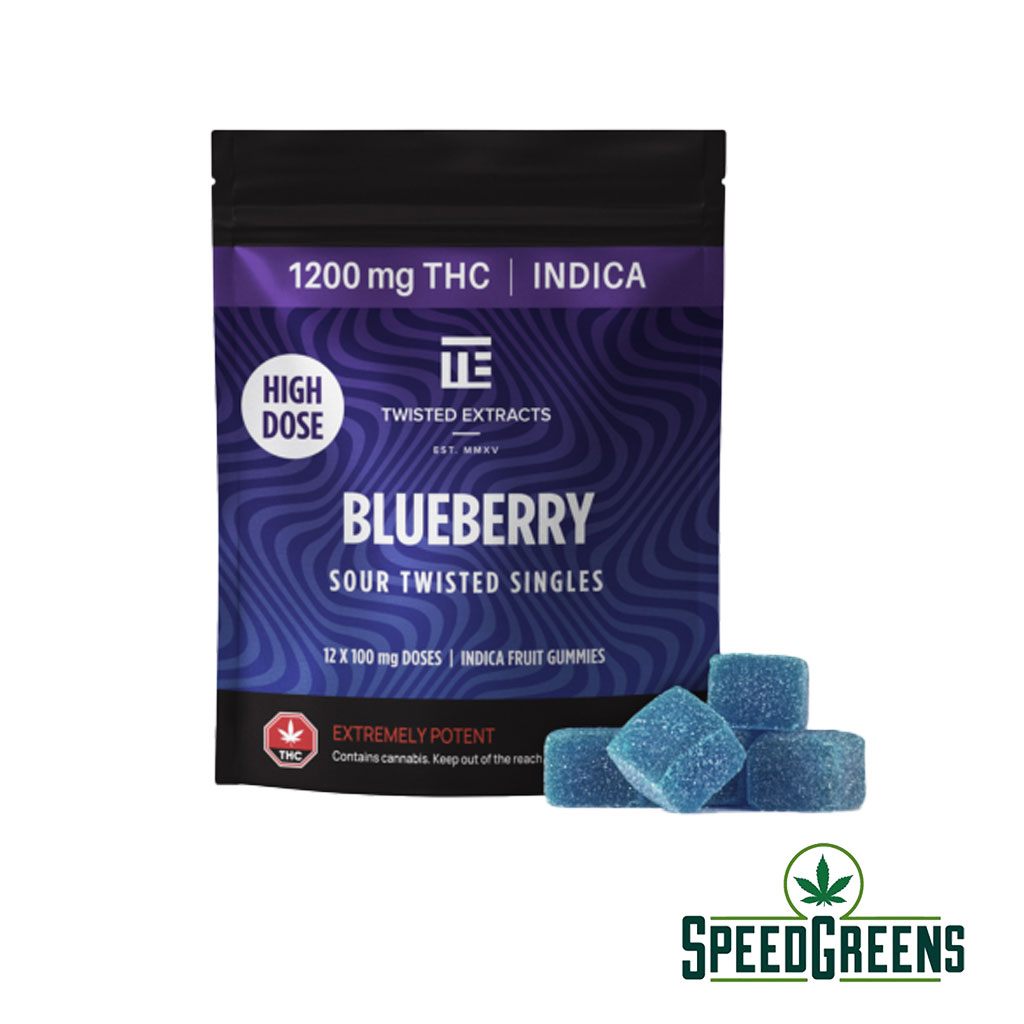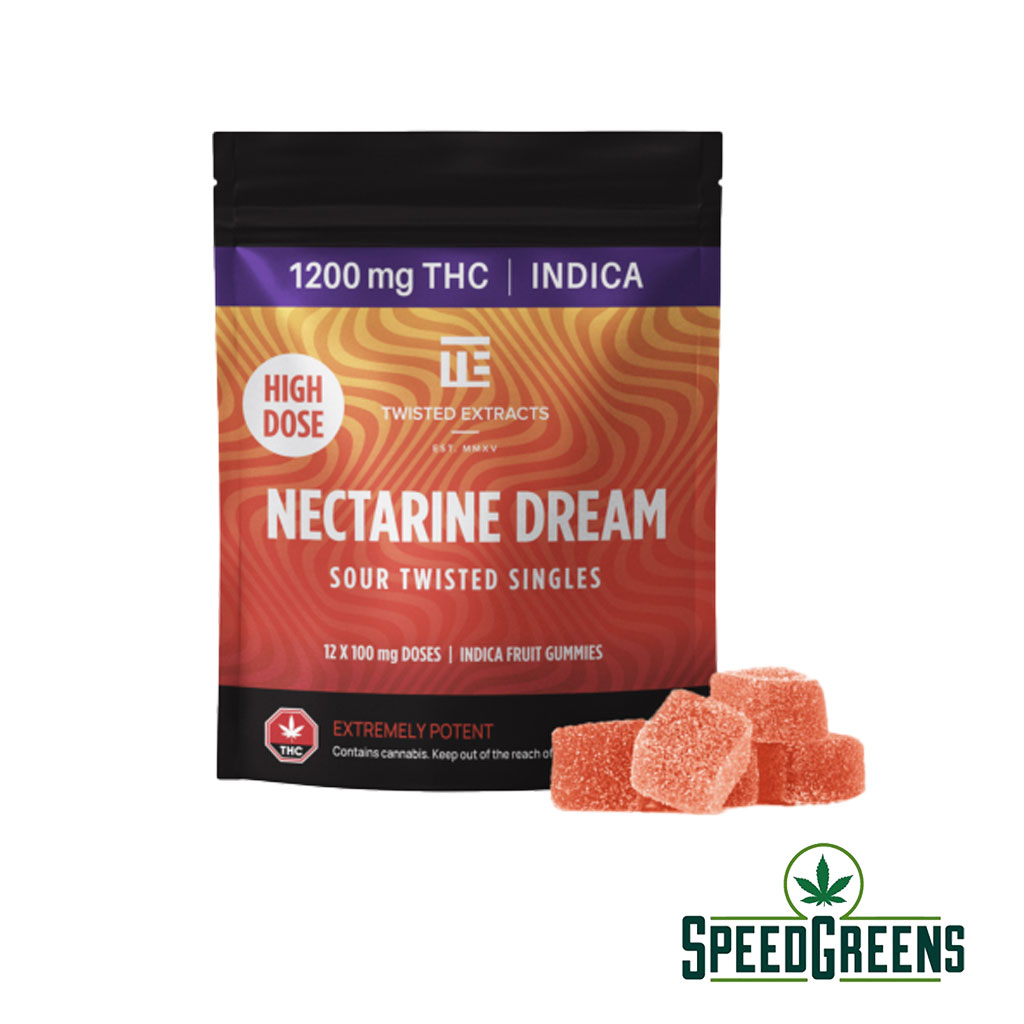 Twisted Extracts – Indica Twisted Singles (1200mg THC)
BEST PRICE

GUARANTEED SHIPMENT

DISCREET PACKAGING
Each bag of Twisted Singles contains 12 x 100mg sour gummies coated in a sweet, sugary dust. Indica and Sativa Twisted Singles are fully infused with the same full spectrum cannabis oil you know and enjoy in the Twisted Singles Jelly Bombs.
Sour Twisted Singles are lab tested and accurately dosed using the same infusion methods used to infuse Twisted Singles Jelly Bombs. These new gummies are gluten and palm oil free as with all Twisted Singles gummy products.
Variations: Nectarine Dream, Blueberry
Description:
Fully Infused | Full Spectrum | Accurately Dosed
Uses: Sleep | Anxiety | Pain | Stress
Dose:1200 mg THC per package (12 x 100 mg THC Fruit Gummies)
Extract Type: Full Spectrum oil
**Please note that some gummies may melt during transport due to the summer heat.**
Description
Refer a friend
Reviews (0)
Powerful indica edibles for pure relaxation and uninterrupted sleep
These edible gummies are a perfect nighttime buddy or for a day of chilling. You'll find 12 x 100mg sour gummies coated in a sugary dust in each bag of High Dose Twisted Singles. These gummies are ultra potent and not intended for the new or inexperienced cannabis consumer. Make sure you start low and go slow. If you're new to edibles and are looking for something more mild, we recommend our original Sour Twisted Singles.
Higher dose indica edibles for more powerful benefits
Prepare for cozier nights with Twisted Extracts
Make a bee-line straight to your bed, turn on your white noise machine (if that's your thing) and get ready for a night of pure bliss and relaxation. If melatonin or sleepy tea is not your preferred method to help you get sleep at night, then you'll want to try these indica gummies. They're packed with a higher dose, so if you're a relatively new user, we suggest starting with the lower dose version of this product. These high dose indica edibles are great for relieving pain and helping you get uninterrupted sleep.
These indica edibles are a fun and discreet way to unwind and relax
A delicious way to enjoy the effects of high dose indica edibles
High-dose indica edibles can induce a range of effects, though the specifics vary among individuals due to factors such as tolerance, metabolism, and product potency. Generally, these edibles intensify the classic indica characteristics. They promote deep relaxation and tranquility, making them ideal for those seeking relief from stress and anxiety. Physical sedation is a hallmark, often causing a pronounced "couch-lock" effect. Pain relief can be robust, which can be particularly beneficial for those with chronic pain conditions. Additionally, heightened appetite, often referred to as the "munchies," might arise. Indica's sleep-inducing properties are amplified, aiding individuals with insomnia.
Indica edibles so powerful, you'll end up dreaming about them
Enjoy familiar flavors combined with potent and premium THC goodness
Twisted Extracts Twisted Singles contains a total of 1200mg THC. Each bite sized square gummy is dosed with 10mg THC each. It is available in 2 different flavors:
Blueberry
Nectarine Dream
For first-time consumers, we recommend starting with 10mg THC. Wait 45 to 90 minutes to feel the effects before consuming more. For best results, take a Twisted Extracts Jelly Bomb with a full stomach. Eat before ingesting. The effects will vary depending on your body's metabolism and tolerance level. If you want another discreet way, try our baked goods!
To ensure freshness and effectiveness, store these indica cannabis edibles in a cool, dry place. Keep away from children and pets.
Ingredients: Sugars (Corn Syrup, Sugar from Beets), Water, Gelatin, Fruit Pectin, Citric Acid, Artificial Flavours,
Coconut Oil, Canola Oil, Cannabis Extract, Carnauba Wax, Beeswax, FD&C Blue #1
We Value Friendship, and It Starts with Sharing
Are you looking to provide your friends with the same benefits you enjoy?
Look no further! It only requires a simple step-by-step process that takes less than 5 minutes! You earn points that you can use in the shop, and they can benefit from the fantastic selection we provide. It's a win-win situation, so don't hesitate.
Go to "My Account" at the top of the page. If you haven't created an account, we highly suggest it! You can find the referral link section below your profile.

Input a page URL which you want to refer and click "Generate Referral Link."

It will generate a link according to the date of your request. You can also click the social links for Facebook, Twitter, or Whatsapp to create a link to those applications.
Copy the URL (or click on the "Copy Link" box beside the link) and share the link with family, friends, and loved ones!

When your friends and loved ones click the link, you will be awarded 625 Speed Pass Points (after a complete purchase), which you may use towards any of our products! Because your friends are doing you a favor, they can reap more benefits as they will receive a unique coupon code worth $25. This sign-up bonus will help them with more purchases in our shop! If you have any questions or concerns, let us know, and we will be happy to help.