By purchasing this product, you can earn points based on a percentage of cart total. You will come to know the earn points information once you add the product to cart.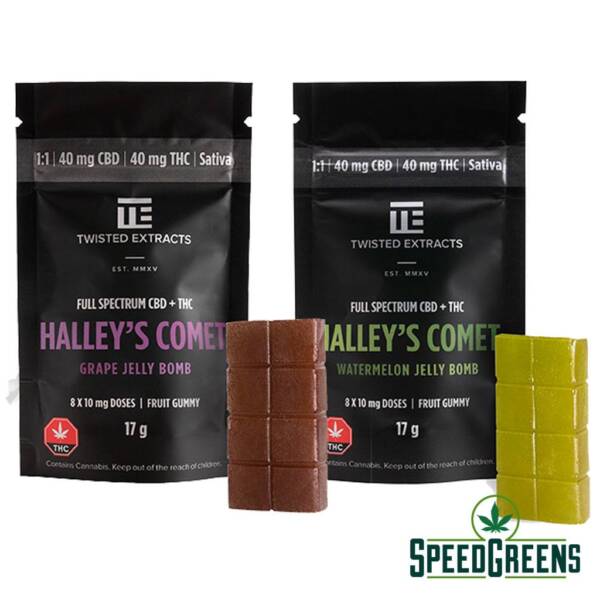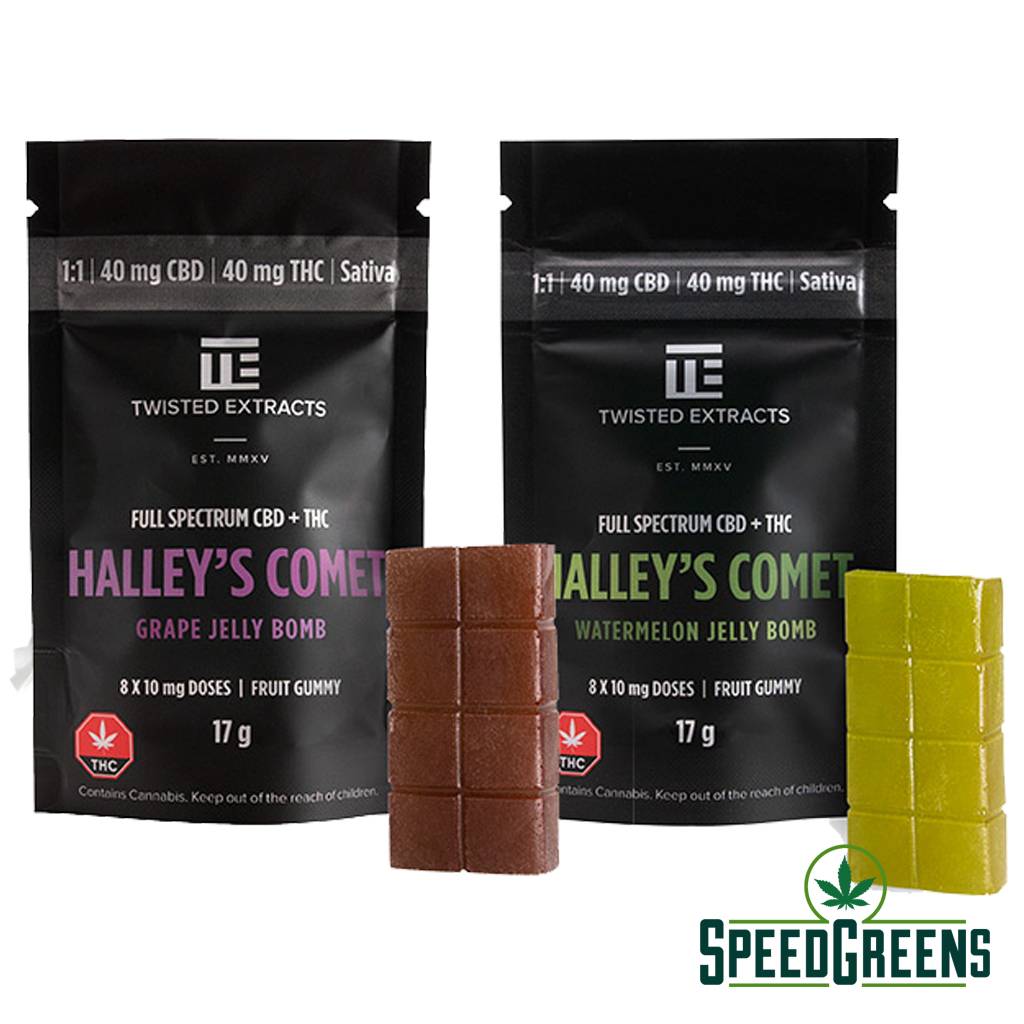 Twisted Extracts Halley's Comet 1:1 Jelly Bombs (40mg THC: 40mg CBD)
BEST PRICE

GUARANTEED SHIPMENT

DISCREET PACKAGING
HALLEY'S COMET 1:1 JELLY BOMBS
Not the fiery space ball, but our newest full spectrum CBD edible. These gummies pack a powerful punch so make sure you start low and go slow (seriously, take it easy Cheech and Chong). They're naturally high in CBD so they're great for kicking that chronic pain in the a**, helping you relax, and have an overall great time no matter what you're doing (or not doing, couch potato days are okay too).
Uses: Anxiety | Inflammation | Pain | Fun
Effects: Happy | Uplifted | Calm
Each Halley's Comet 1:1 Jelly Bomb is infused with 40 mg THC + 40 mg CBD derived from the Halley's Comet cannabis strain (8 x 5mg THC + 5mg CBD servings each).
All of our gummies are lab tested and hand wrapped for quality assurance purposes.
Well-balanced edible gummies with natural flavours
Twisted Extracts delivers a fantastic product that eases your THC and CBD cravings. These all-in-one edible gummies are convenient when you need them most. Looking to get your daily dose of cannabis? Well, you're in the right spot. Twisted Extracts Halley's Comet is an experience out of this world!
Live every day pain-free, anxiety-free with these edible gummies
No more sudden anxiety attacks or chronic pains! Welcome the relaxing and uplifting vibe
The 1:1 ratio of THC to CBD of these edible gummies makes them the perfect candidate for your aches and pains. The fantastic combination helps relieve your stubborn conditions, whether inflammation or anxiety. It leaves a calm and uplifting feel whenever you consume them.
The benefit is that it's there when you need it most. If you're looking for quick relief, these Jelly Bombs can be found where you need them the most! Because of their small size, you can carry them wherever you need to go!
Are you curious about the effects of these edible gummies?
Ease yourself into the amazing highs you will experience; take it low and slow
Just like any cannabis product, Twisted Extracts Jelly Bombs delivers a euphoric high that will leave you happy and content. Some of the effects of consuming these edible gummies include:
A state of bliss that your body will love
Becoming pretty creative and logical
Pretty friendly and talkative
However, the effects may vary. It will depend on how your body reacts to the cannabinoids. Your lifestyle, genetics, and physiology can also affect what you feel. The right amount of these marijuana edibles will help you relax, uplift your mood, and leave you feeling happy and satisfied.
Twisted Extracts edible gummies have so much to offer!
Get to know more about these amazing jelly bombs, you won't regret it!
Twisted Extracts Halley's Comet Jelly Bombs contain a 1:1 ratio of CBD to THC. This particular product packs a potent 40mg THC and CBD value. You'll love that each gummy contains 5mg of CBD and 5mg of THC – which is the perfect value if you're looking to take it slow and easy!
You need to wait for a few minutes up to a few hours before you feel its full effects. Do not consume too much, too soon. Each piece is properly proportioned and divided to provide an appropriate dosage for one consumption. These edible gummies are ideal for beginners or microdosing. Eat them with food for better results. To prolong their use, store in a cool, dry place.
Ingredients: Artificial flavours, Sugars (corn syrup, sugar from beets), Water, Gelatin, Citric acid, Pectin, Coconut oil, Canola oil, Cannabis extract, Carnauba wax, FD&C Red #40.