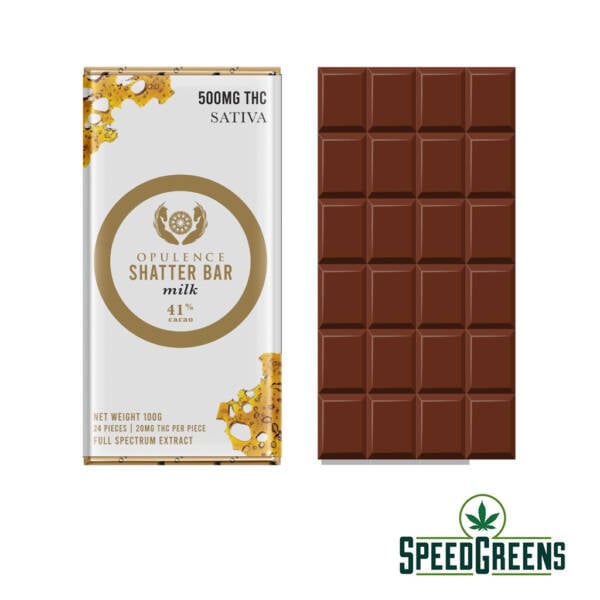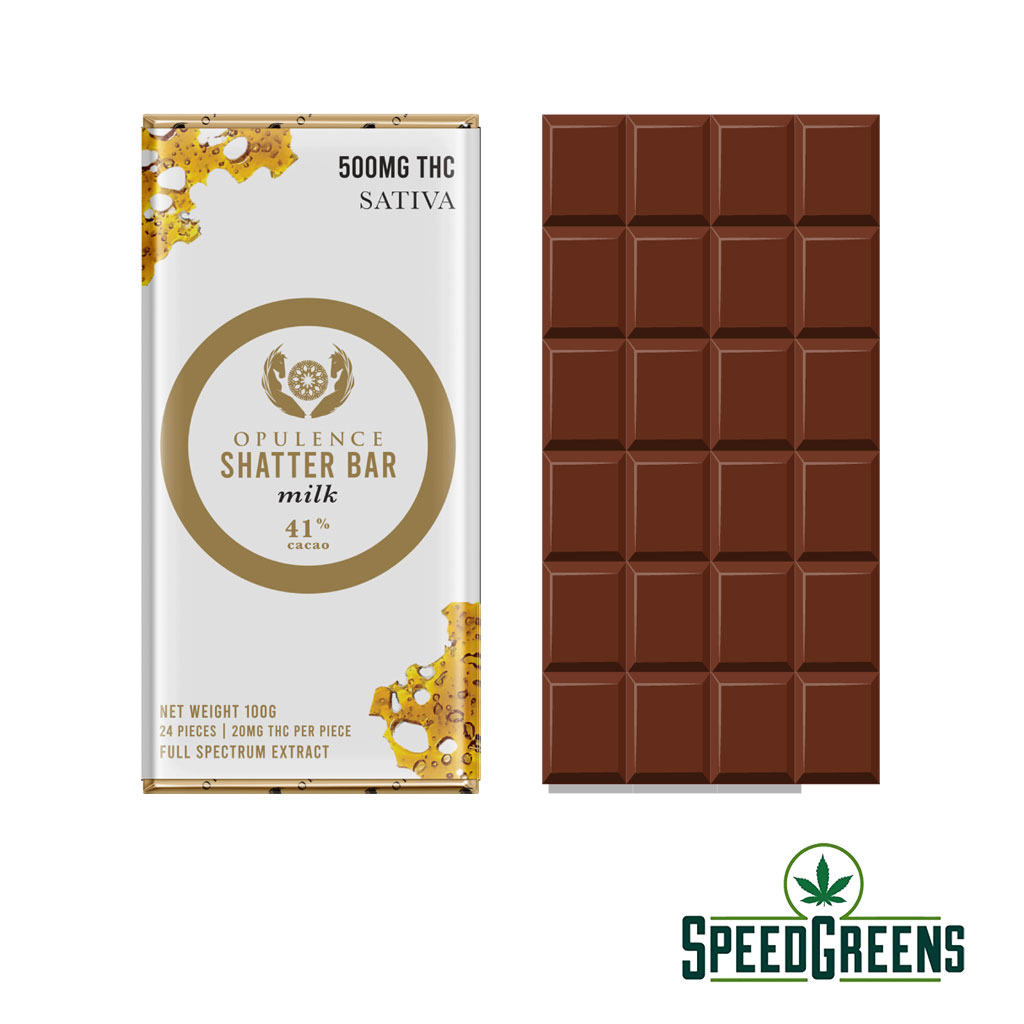 Opulence SHATTER Bar | MILK (500mg THC) SATIVA
BEST PRICE

GUARANTEED SHIPMENT

DISCREET PACKAGING
With a true appreciation for the finer things you settle for nothing less than Opulence. Combining the world's most premium cannabis into our proprietary blends of full spectrum extracts & using the world's most premium chocolate with classic & luxurious flavours you have something very special. Experience true Opulence with cannabis & chocolate.
Description
Refer a friend
Reviews (0)
Enjoy the finer things in life with Opulence Shatter Bars
Unlock the power of terpenes for predicting your ideal cannabis experience. With our expertly infused chocolate bars, we have mastered the art of delivering the desired effects of Sativa and Indica strains. By carefully incorporating the perfect balance of terpenes, we guarantee a tailored high that meets your expectations. Explore the remarkable world of terpenes and indulge in our delicious selection of Sativa and Indica shatter bars for an optimized cannabis experience.
Premium THC chocolate bars with premium benefits
This bar is made with full spectrum extract
Experience the extraordinary benefits of THC chocolate bars crafted with premium Sativa shatter. These delightful treats offer a range of advantages that elevate your cannabis journey to new heights. By infusing our chocolate bars with top-quality Sativa shatter, we ensure a potent and uplifting experience. Sativa strains are renowned for their energizing and mood-enhancing effects, making them ideal for daytime use and creative endeavors.
Upgrade your high to first class with Opulence Shatter bars
You deserve to treat yourself
Indulging in our THC chocolate bars will ignite your creativity, enhance focus, and promote a euphoric state of mind. With each delectable bite, experience the harmonious fusion of premium ingredients and carefully selected Sativa shatter. Elevate your cannabis journey with our premium THC chocolate bars, designed to awaken your senses, boost your spirits, and unlock your full potential.
Learn more about this high profile THC chocolate bar
Get a taste of luxury and quality
500mg THC per bar / 20mg THC per piece / 24 pieces
INGREDIENTS
MILK – Sugar; unsweetened chocolate; cocoa butter; whole milk powder; nonfat dry milk;
soy lecithin (an emulsifier); natural vanilla flavour.
SUGGESTED DOSAGE / DIRECTIONS:
This product contains THC. Keep out of reach of children and pets.
We Value Friendship, and It Starts with Sharing
Are you looking to provide your friends with the same benefits you enjoy?
Look no further! It only requires a simple step-by-step process that takes less than 5 minutes! You earn points that you can use in the shop, and they can benefit from the fantastic selection we provide. It's a win-win situation, so don't hesitate.
Go to "My Account" at the top of the page. If you haven't created an account, we highly suggest it! You can find the referral link section below your profile.

Input a page URL which you want to refer and click "Generate Referral Link."

It will generate a link according to the date of your request. You can also click the social links for Facebook, Twitter, or Whatsapp to create a link to those applications.
Copy the URL (or click on the "Copy Link" box beside the link) and share the link with family, friends, and loved ones!

When your friends and loved ones click the link, you will be awarded 625 Speed Pass Points (after a complete purchase), which you may use towards any of our products! Because your friends are doing you a favor, they can reap more benefits as they will receive a unique coupon code worth $25. This sign-up bonus will help them with more purchases in our shop! If you have any questions or concerns, let us know, and we will be happy to help.