By purchasing this product, you can earn points based on a percentage of cart total. You will come to know the earn points information once you add the product to cart.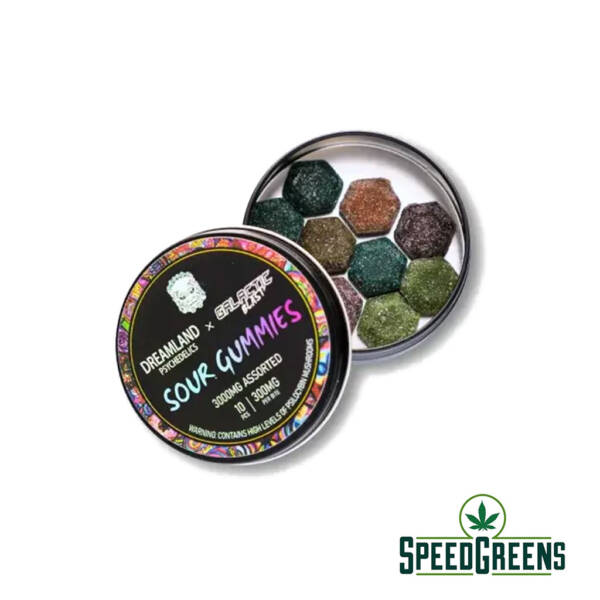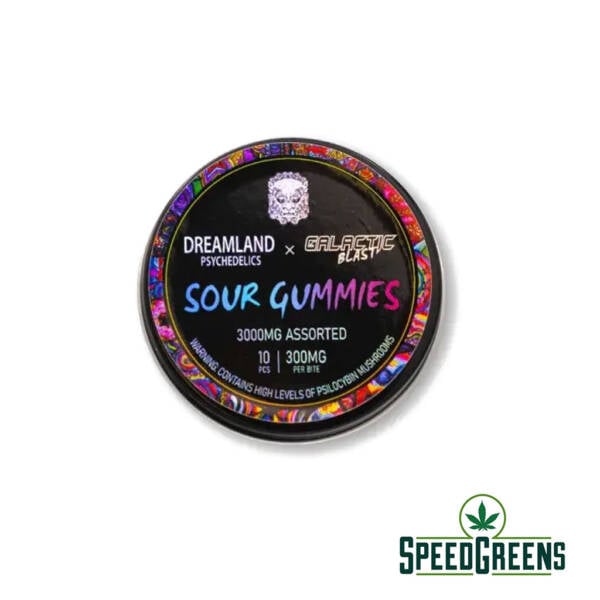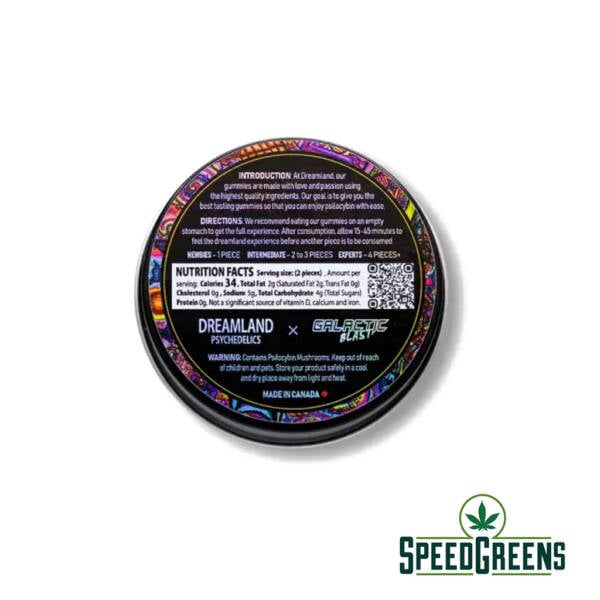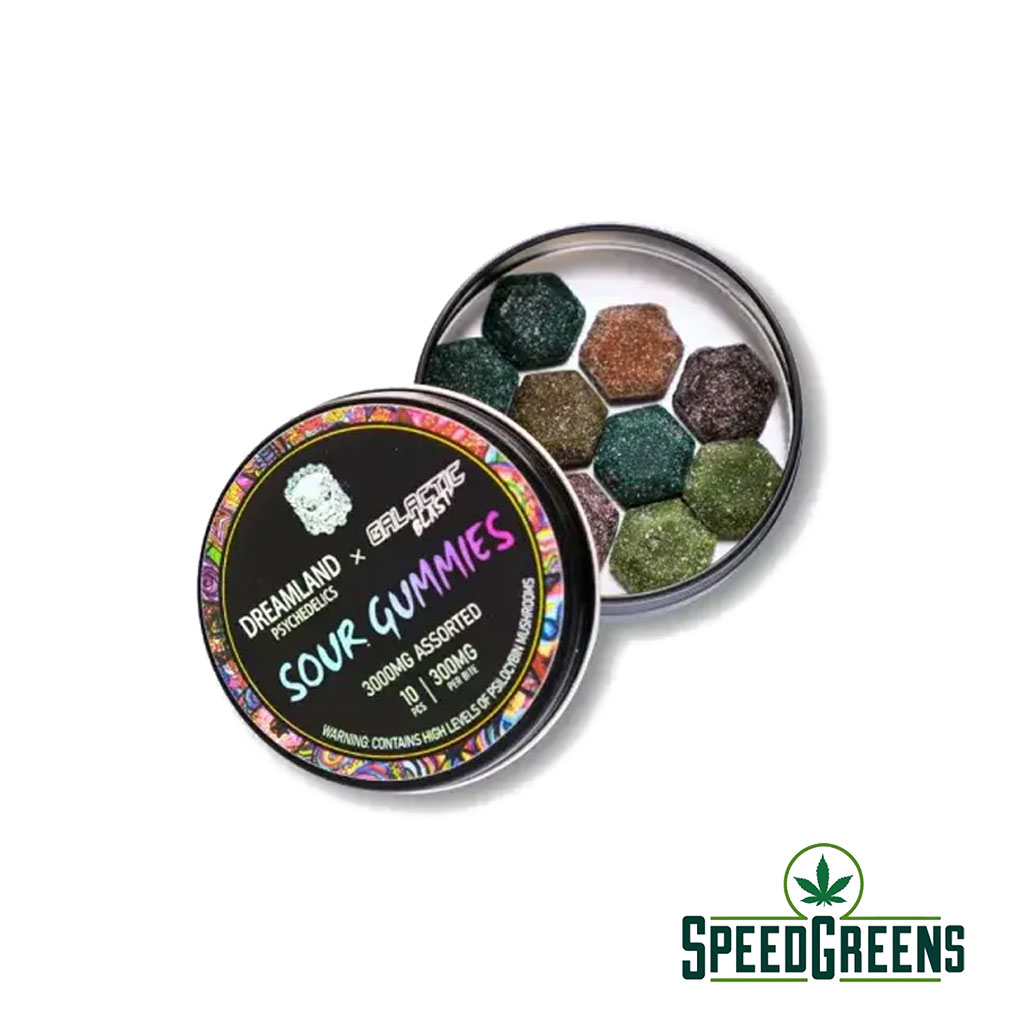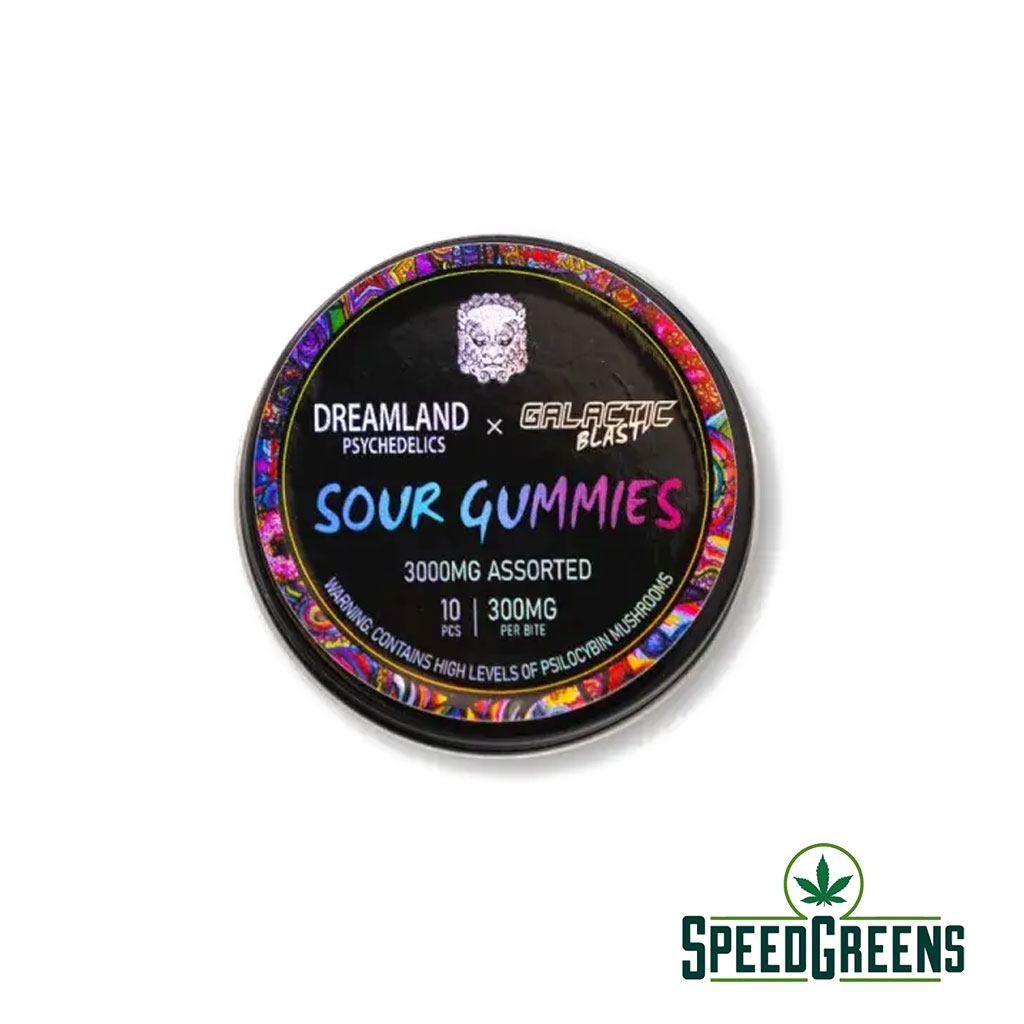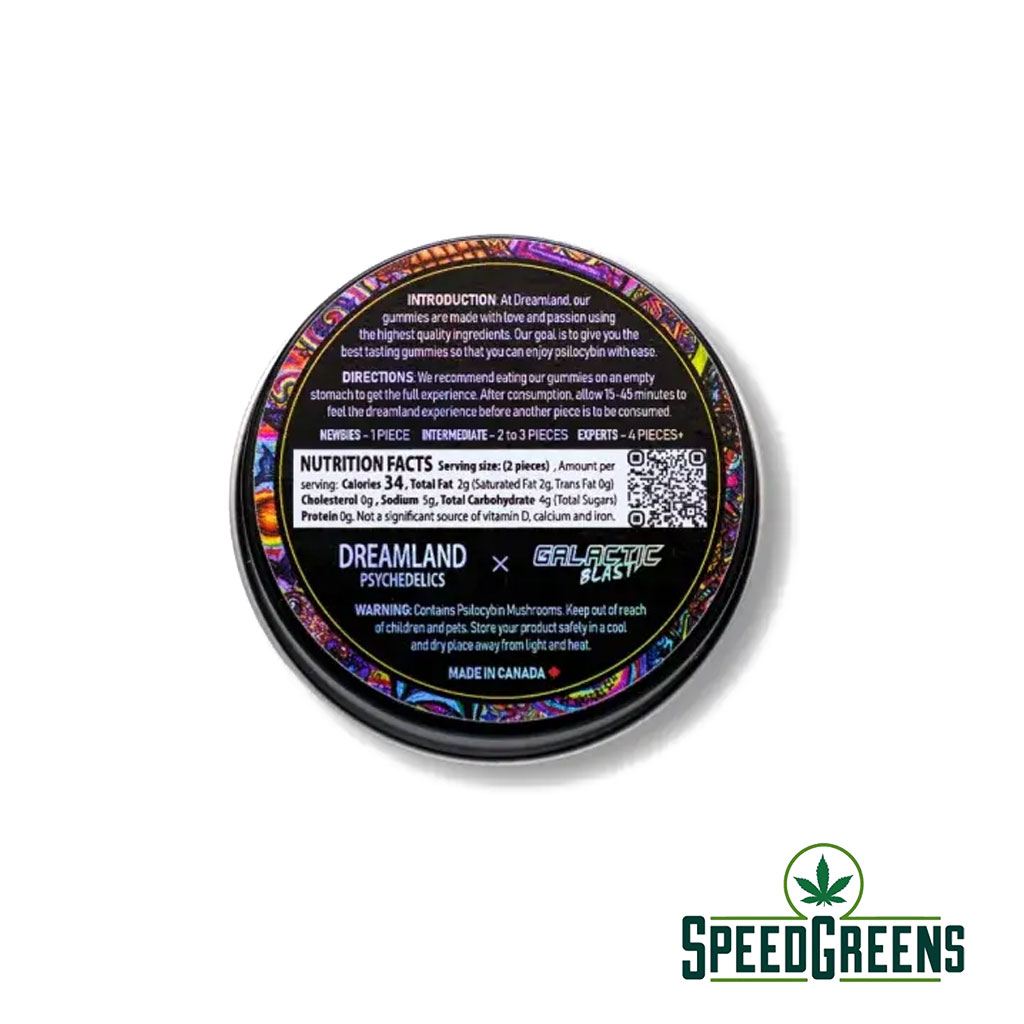 Dreamland x Galactic Blast Assorted Sour Psilocybin Gummies (3000mg)
BEST PRICE

GUARANTEED SHIPMENT

DISCREET PACKAGING
In collaboration with our partners GALACTIC BLAST. Introducing our Assorted Sour Psilocybin Gummies, the perfect addition to your psychedelic experience! Each tin can contains 10 pieces of gummies, with a total of 3000mg of psilocybin per tin, making each gummy packed with 300mg of psilocybin. The gummies come in four mouth-watering flavours that will tantalize your taste buds: Grape, Green Apple, Blue Raspberry, and Peach. Each flavour is uniquely crafted to provide a tangy and sour experience that will leave you craving for more. The tin can is designed with a sleek and stylish black screw top, ensuring that your gummies remain fresh and secure. It is also portable, making it easy to bring it with you on-the-go, whether you're heading to a festival or a camping trip with friends.
Fruit Punch Flavours: Grape, Green Apple, Blue Raspberry, and Peach
Dosage:3000 mg psilocybin per package
10 x 300 mg psilocybin
Always consult a physician for recommended dosage based on your own individual needs.
Description
Refer a friend
Reviews (0)
The magical benefits of psilocybin edibles will have you walking on a dream!
Our Assorted Sour Psilocybin Gummies are perfect for those seeking a fun and enjoyable psychedelic experience. So go ahead and indulge in our delicious gummies, and experience the wonders of psilocybin in a whole new way!In addition to its irresistible flavour and high psilocybin content, our Assorted Sour Psilocybin Gummies are also a fantastic option for microdosing. Psilocybin has been shown to have a variety of therapeutic benefits, including reduced anxiety, improved mood, and increased creativity. Microdosing, or taking small doses of psilocybin over an extended period, has become increasingly popular among individuals seeking these benefits without the intense psychedelic experience. Our gummies make it easy to microdose, with each gummy containing precisely 300mg of psilocybin, the perfect amount for a microdosing regimen. Our gummies also come in a convenient tin can, allowing you to take them with you wherever you go. Whether you're at work, school, or traveling, you can easily fit a few gummies in your pocket or bag, making it simple to stick to your microdosing routine. Incorporating our Assorted Sour Psilocybin Gummies into your microdosing regimen is an excellent way to enjoy the benefits of psilocybin without the overwhelming effects of a full psychedelic experience. With our delicious flavours, high psilocybin content, and convenient packaging, our gummies are the perfect choice for anyone looking to improve their mental and emotional wellbeing. Try them today and discover the benefits of microdosing for yourself!
Psilycbin edibles perfect for microdosing or a psychedelic trip
A delicious way to experience the benefits of psilocybin
Some individuals who microdose psilocybin claim to experience improved focus, concentration, and productivity. It is believed that microdosing might help individuals enter a flow state where they are fully engaged and immersed in their tasks. For users who partake for a psychedelic trip experience altered perceptions of time, space, and reality. This altered state of consciousness can provide a unique opportunity for individuals to better understand their mind-body connection, leading to greater mindfulness and self-awareness.
Get a mental boost from microdosing psilocybin edibles
The effects of psilocybin feel like a dream
Psilocybin microdosing is frequently linked to mood elevation and greater sensations of happiness. Microdosing is thought to have the potential to assist people in reaching a state of flow, where they are totally focused on what they are doing. Anxiolytic (anxiety-reducing) effects of microdosing are possible. Without the intensity of a complete psychedelic experience, users have reported feeling more at ease in social situations and better able to manage stress and anxiety. Anecdotal evidence suggests that microdosing can improve cognitive function and problem-solving abilities. Users occasionally mention having better memory recall and the capacity to think creatively. For those who struggle with lethargy or lack of enthusiasm, microdosing might offer a small energy boost and greater motivation. Psilocybin is believed to have an impact on neuroplasticity – the brain's ability to reorganize itself. Microdosing might support brain health and resilience.
Psilocybin edibles that's great for microdosing comes in great flavors
Enjoy a wide selection of flavors and take it with you on the go
The ideal accompaniment to your psychedelic experience is our Assorted Sour Psilocybin Gummies! Each of the 10 pieces of gummies in each tin can has 300 mg of psilocybin, for a total of 3000 mg in each tin. The candies are available in the four tantalising flavours of Grape, Green Apple, Blue Raspberry, and Peach. Each flavour is specially created to offer a tart and sour taste that will leave you wanting more. Your gummies will stay safe and fresh thanks to the tin can's elegant and fashionable black screw top. Its portability makes it simple to take with you wherever you go, whether you're going to a concert or going camping with pals.
We Value Friendship, and It Starts with Sharing
Are you looking to provide your friends with the same benefits you enjoy?
Look no further! It only requires a simple step-by-step process that takes less than 5 minutes! You earn points that you can use in the shop, and they can benefit from the fantastic selection we provide. It's a win-win situation, so don't hesitate.
Go to "My Account" at the top of the page. If you haven't created an account, we highly suggest it! You can find the referral link section below your profile.

Input a page URL which you want to refer and click "Generate Referral Link."

It will generate a link according to the date of your request. You can also click the social links for Facebook, Twitter, or Whatsapp to create a link to those applications.
Copy the URL (or click on the "Copy Link" box beside the link) and share the link with family, friends, and loved ones!

When your friends and loved ones click the link, you will be awarded 625 Speed Pass Points (after a complete purchase), which you may use towards any of our products! Because your friends are doing you a favor, they can reap more benefits as they will receive a unique coupon code worth $25. This sign-up bonus will help them with more purchases in our shop! If you have any questions or concerns, let us know, and we will be happy to help.