By purchasing this product, you can earn points based on a percentage of cart total. You will come to know the earn points information once you add the product to cart.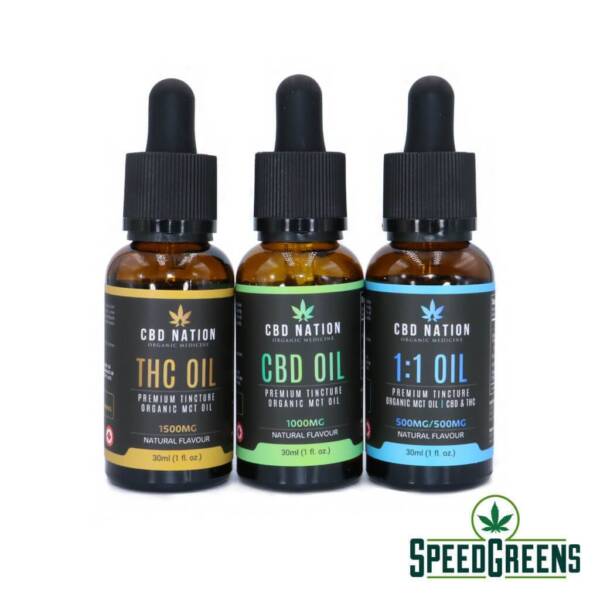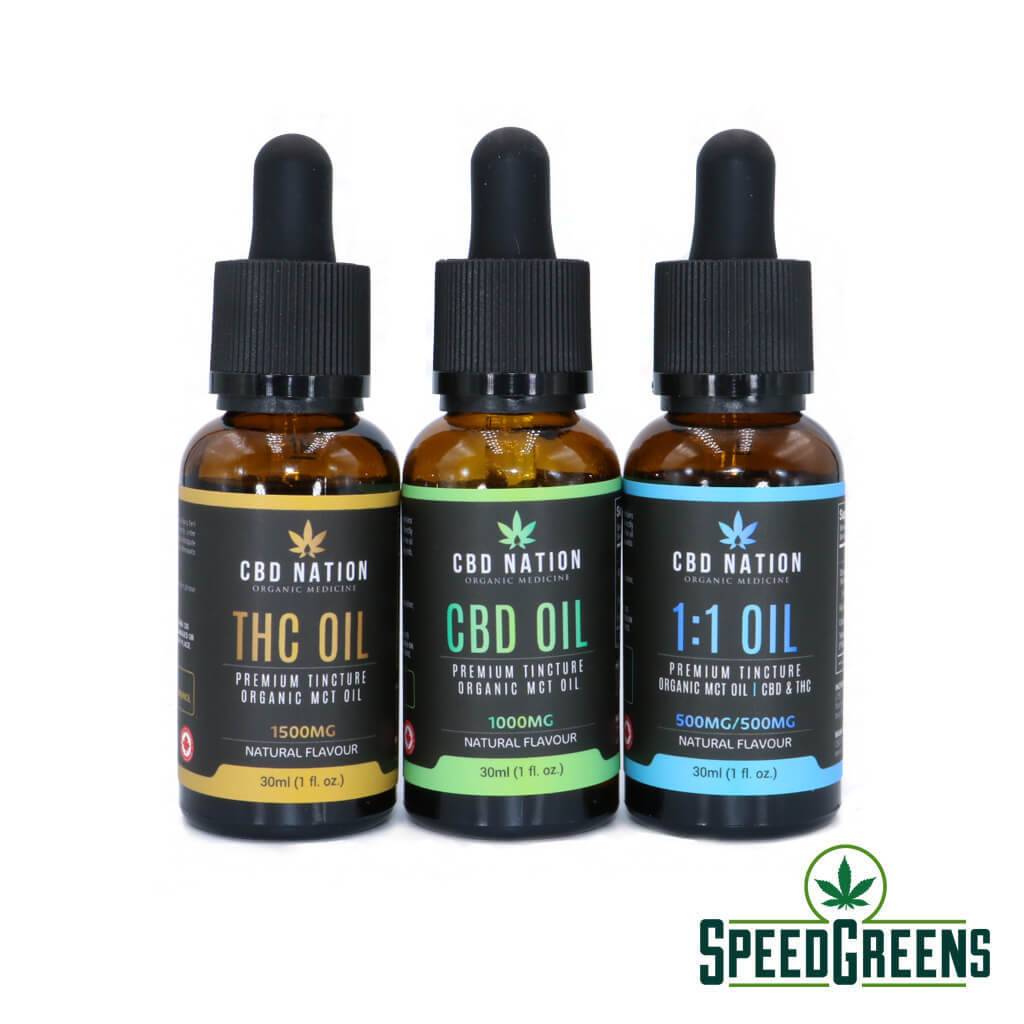 CBD Nation Organic Full Spectrum Tincture (THC, 1:1, CBD)
BEST PRICE

GUARANTEED SHIPMENT

DISCREET PACKAGING
CBD Nation is a Canadian extracted, high quality and high potency tincture. Made with 100% organic MCT oil.
Choose from:
THC: 1500mg
CBD: 1000mg
THC/CBD: 500mg
CBD Nation Premium Full Spectrum Tinctures are made from all natural and certified organic cannabis, no added harmful flavouring or chemicals.
Canadian extracted organic CBD tincture
No matter what your daily needs, the CBD Nation Premium Full Spectrum Tincture can help! This organic and natural CBD tincture is here to offer you relief from anxiety or pain with no artificial flavors or added chemicals. Speed Greens has CBD and cannabis online at your convenience!
A CBD tincture perfect for relieving mild pains and anxiety
Say hello to a fast-acting CBD tincture for even the highest tolerance users
We all have days where we need a little extra to relax. The good news is, our high dose THC and CBD tincture give even seasoned users a quality, potent product where their tolerance may have built up over time! This 1:1 CBD tincture is perfect for fast, easy, and discreet use anytime. Not only is it easy to use, but it works wonders when combined with our other products like edibles. Take it anywhere with you and use it without drawing attention to yourself!
Need a little extra push from a CBD tincture with potent effects?
Get to know some effects THC and CBD can give you without the psychoactive effects
This 1:1 THC and CBD tincture is the best cannabis online product you can come across with. It has pain-relieving, anti-anxiety, and hunger-increasing properties that are similar to those of marijuana but without any psychoactive effects! This full-spectrum CBD tincture provides relief from stress, pain, anxiety, inflammation, and insomnia. So if your looking for relief on a daily basis this may be just what you need!
CBD tincture with cannabis extracts for a powerful kick
A potent extract with precise dosing for full mind and body relaxation
Unlike other any CBD tincture on the market, this product is made with high-quality MCT oil. It's specially formulated to provide accurate dosing and be used for both oral and topical treatments. This makes it perfect whether you're looking to ease mild pain as well as combat anxiety!
How to use:
Use a quarter dropper full of the tincture for the best results. But, you may take more if needed.
Get the best cannabis online from Speed Greens today!