By purchasing this product, you can earn points based on a percentage of cart total. You will come to know the earn points information once you add the product to cart.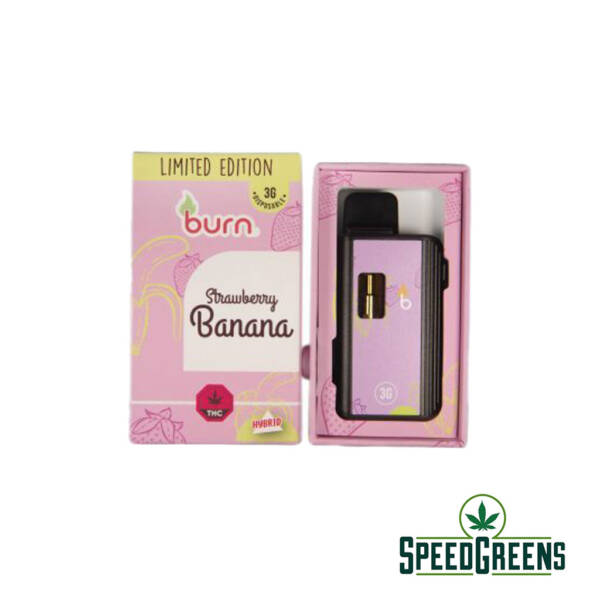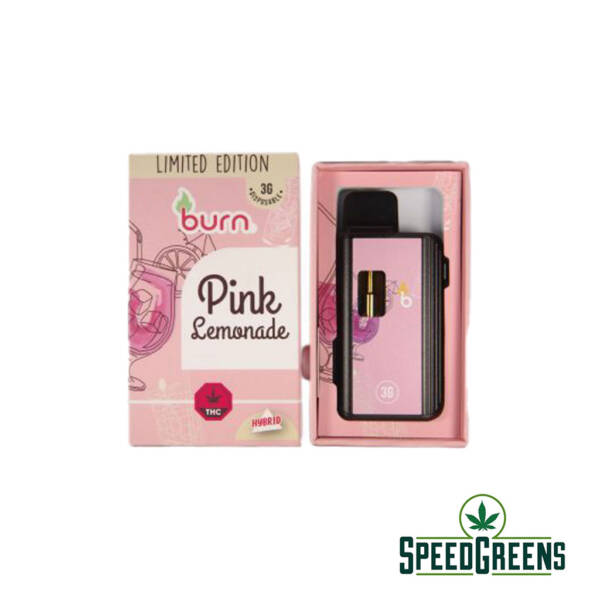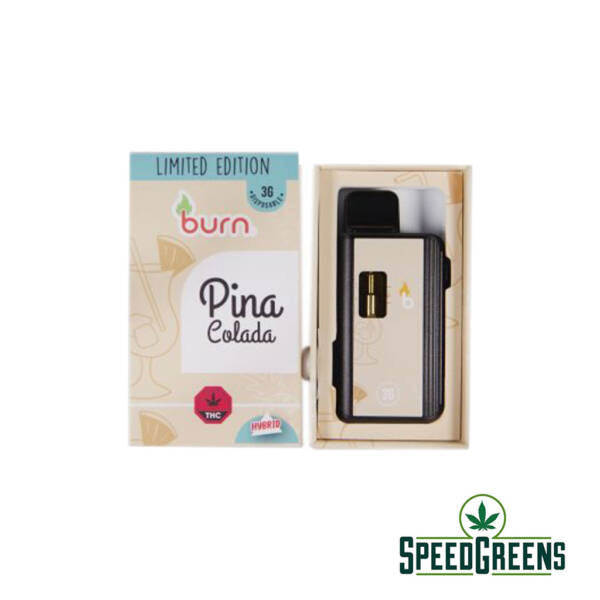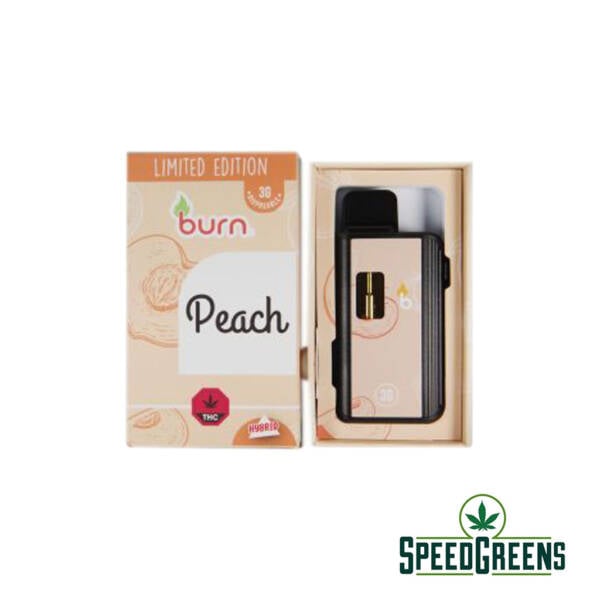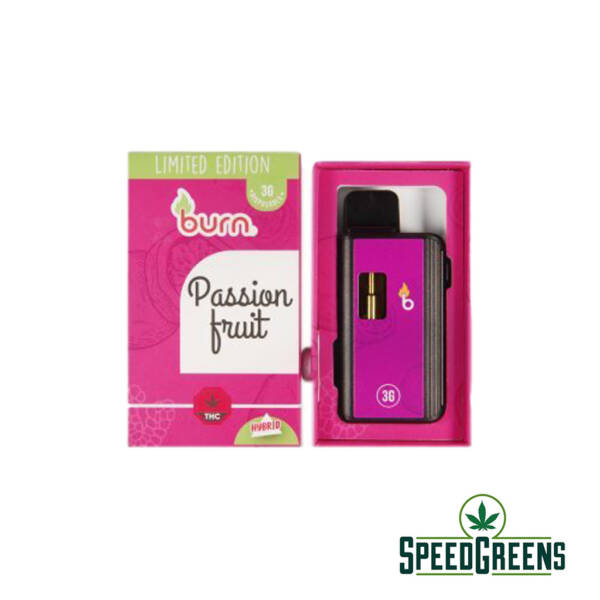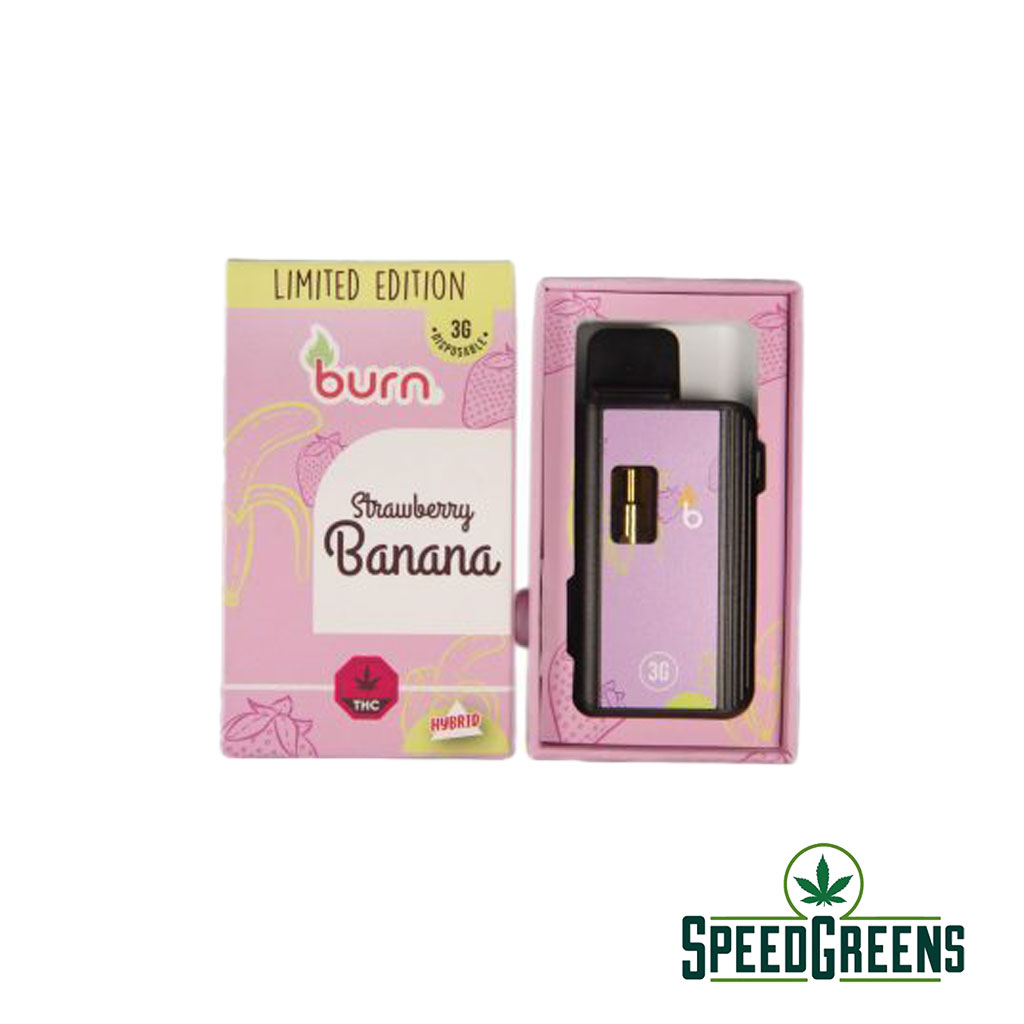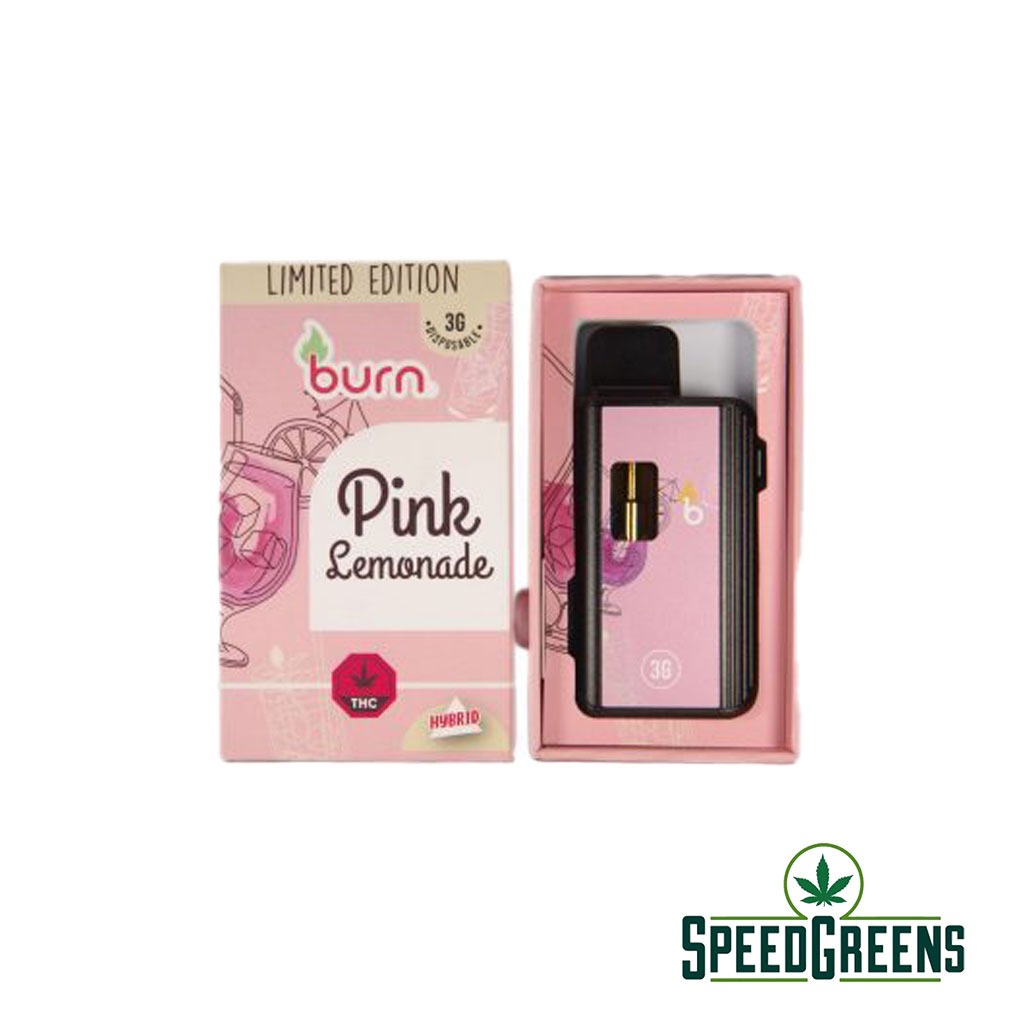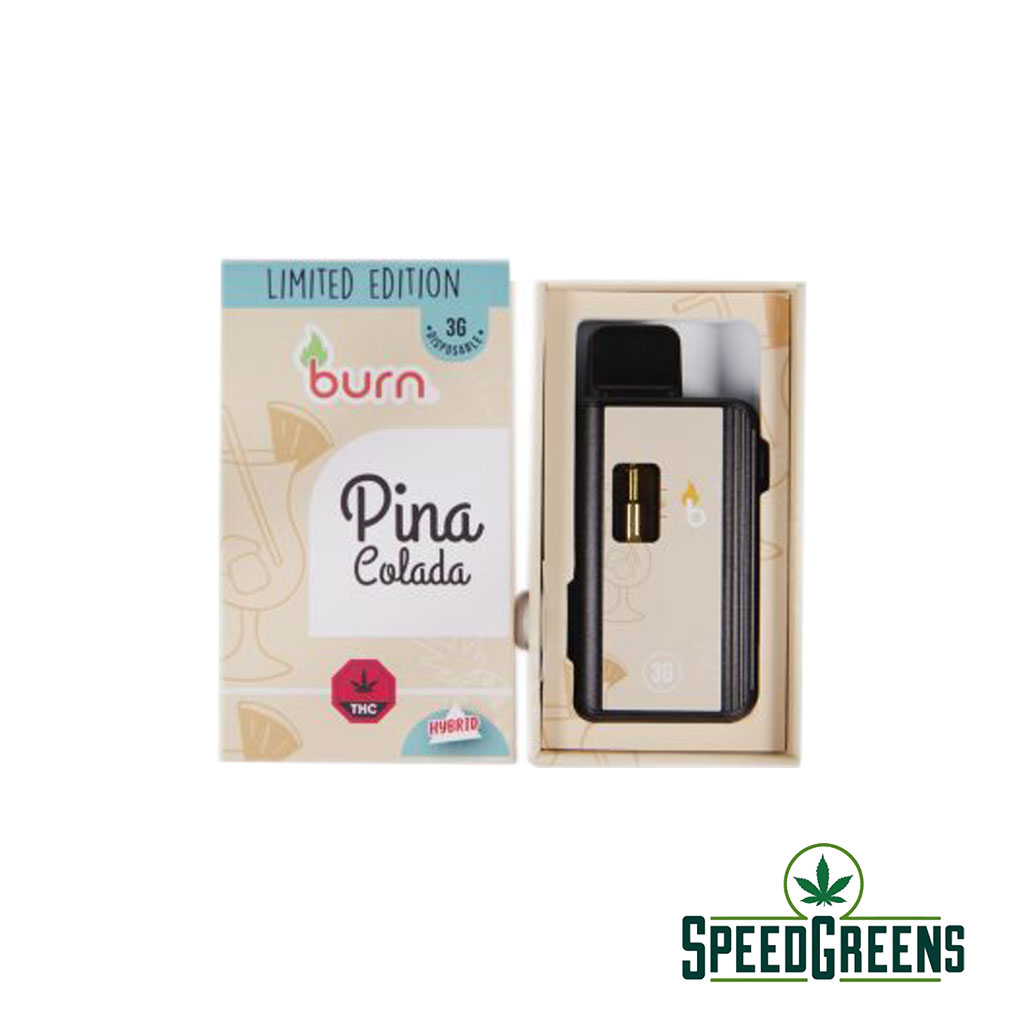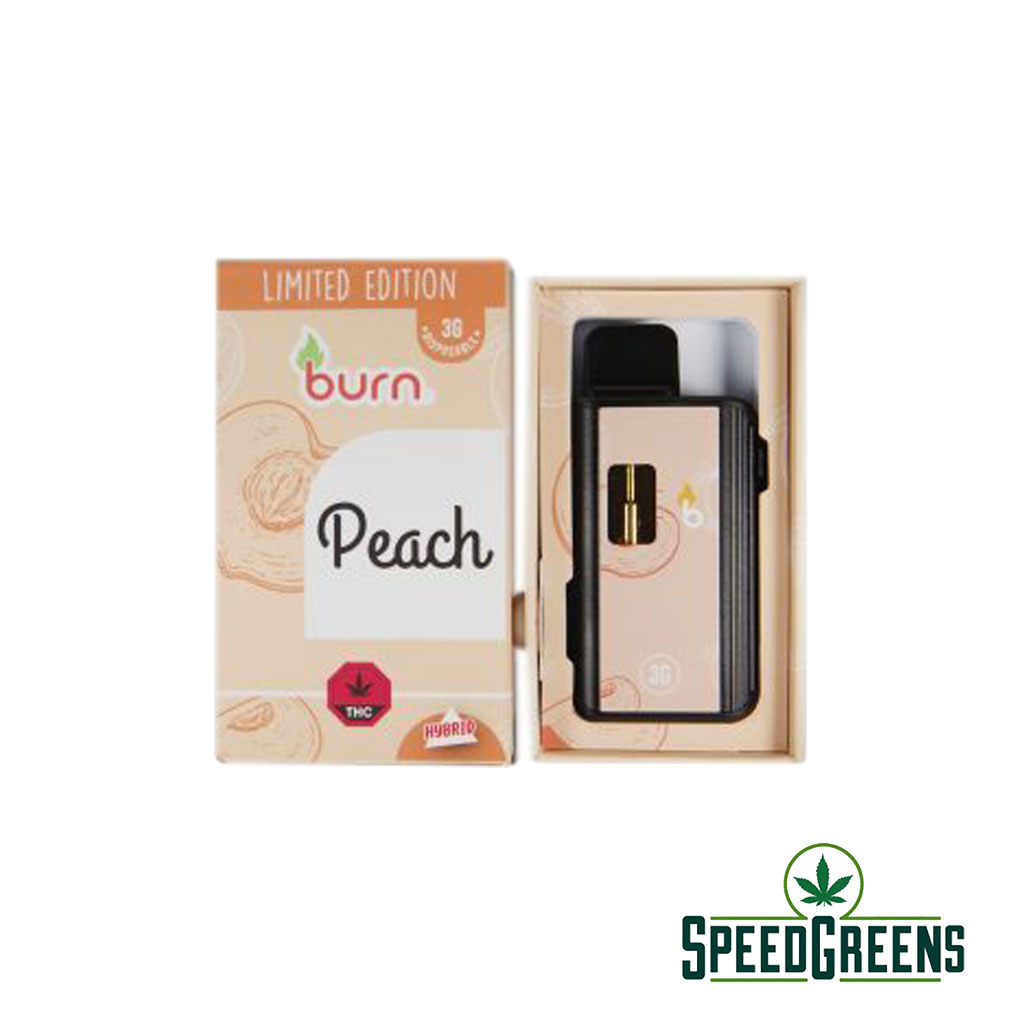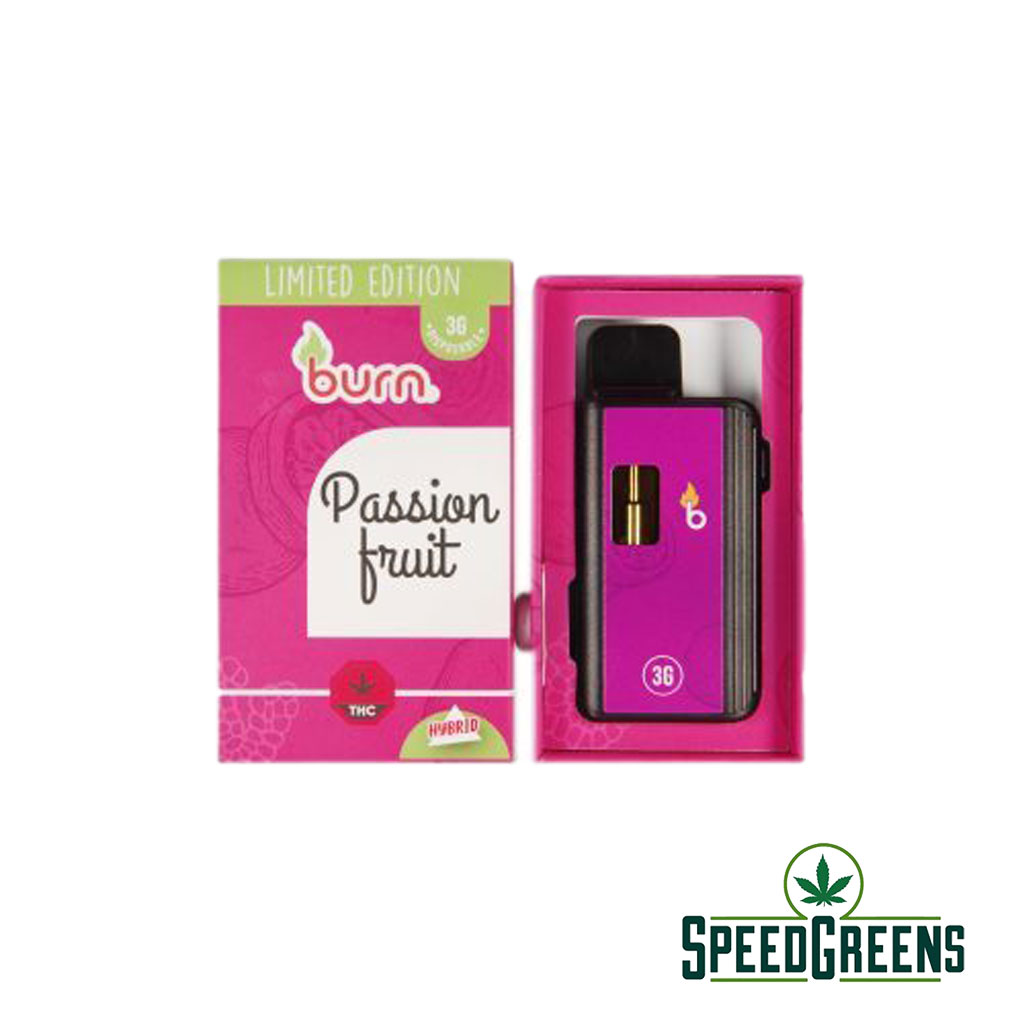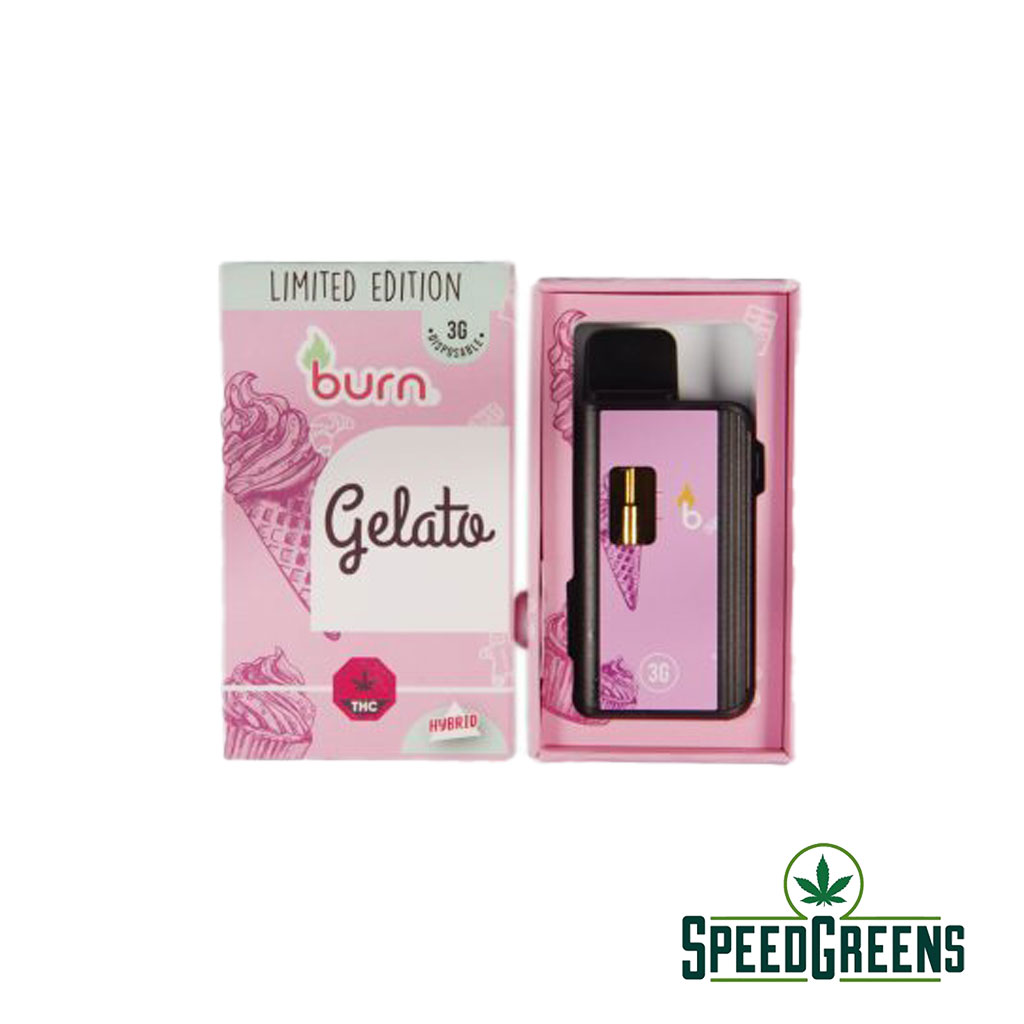 BURN Disposable Vapes (3g THC) *NEW LIMITED EDITION*
BEST PRICE

GUARANTEED SHIPMENT

DISCREET PACKAGING
Capacity: 3 Gram
Vitamin E Acetate free
Rechargeable Disposable battery
No PG, VG, PEG, or MCT!
Description
Refer a friend
Reviews (0)
Burn Disposable Vapes is back with a new look and new strains for a limited time only
Your favorite disposable vape brand is back with 6 summery strains that you're sure to enjoy. Unlike their regular vapes that come with a black body, these vape come covered their respective strain for a better more aesthetic look. Burn Disposable has been in the industry for 25 years, so you can be sure that you're getting the best smoking experience. It sources the best and most natural terpenes while keeping all the cannabinoids. If you want the best limited edition distillate cartridge selection in Canada, choose Speed Greens!
Disposable weed vapes are a faster way to experience the benefits of your favorite strains
Put those grinders away, because this disposable weed vape is all you need
Weed vaporizers are a convenient alternative to your rolled joints. Like rolled joints, you'll find that you still get all the physical and psychological comfort as usual. You can use it on temporary or chronic conditions; there's no stopping its potential. Instead of putting all the work into grinding your herb and rolling it into a joint, you can simply just puff and go. It works on inflammation, chronic pain, headaches, and migraines. If you have any rushing thoughts that cloud your judgment, you can use them for moments of anxiety, depression, and stress. Depending on the strain you purchase, you can get a boost of energy or use it to wind down for the night.
Enjoy the effects of 6 different strains from this disposable weed vape
You'll love the quality and convenience Burn Disposable has to offer
*LIMITED EDITION* Strawberry Banana: an indica dominant hybrid (70% indica/30% sativa) strain created by breeders at the infamous Serious Seeds farms as potent cross between the popular Strawberry Bubblegum X Crocket's Banana Kush strains. This dank bud boasts an average THC level ranging from 22-26% and a myriad of surprisingly well-balanced indica and sativa effects. Users describe the Strawberry Banana high as one that starts with a mild head buzz and then slowly builds into an intense euphoric and uplifted cerebral head high, leaving you relaxed and focused. This is accompanied by full-body relief and a warming body buzz that leaves you slightly sedated and couch-locked with a moderate case of the munchies. Due to these potent effects, Strawberry Banana is an ideal strain for treating patients suffering from conditions such as chronic pain, stress, depression, and appetite loss. Strawberry Banana has a memorable aroma of sweet tropical strawberry and a taste of tropical strawberry with a sweet banana exhale. Sweet Banana buds have oversized fluffy popcorn-shaped bright neon green nugs that are spattered with long and twisty dark orange hairs. These nugs are caked in a thick layer of huge crystal white trichomes and sweet sticky resin.
*LIMITED EDITION* Pink Lemonade: an indica dominant hybrid (80% indica/20% sativa) strain created through crossing Purple Kush X Lemon Skunk X an unknown strain. Even with the secrecy about its exact heritage, Pink Lemonade is one tasty bud that's a favorite of indica lovers all over. Pink Lemonade has a flavor that's just like its name suggests – sweet sugary fruits accented by lemon candy and a touch of mild earth. The aroma is of sour earth accented by sharp citrus and a touch of berry fruitiness. The Pink Lemonade high is just as amazing as its flavor, with uplifting effects that are surprisingly cerebral given its indica dominance. The high starts with an energetic boost that leaves you feeling euphoric and slightly focused, although easily distracted at times. As your mood builds, you energy may begin to wane, lulling you into a lazy introspective state filled with dreamy visions and a heightened sense of creativity. With these effects and its high 17-22% THC level, Pink Lemonade is said to be perfect for treating conditions such as chronic fatigue, headaches or migraines, and chronic stress. Pink Lemonade buds have bright light minty green spade-shaped nugs with light orange hairs and a thick blanket of frosty golden colored crystal trichomes.
*LIMITED EDITION* Pina Colada: an evenly balanced hybrid strain (50% indica/50% sativa) created through crossing the classic Banana Kush X Starburst Bubba strains. If you love a pina colada and are a fan of getting caught in the rain, you'll totally be head over heels for this new iteration. Pina Colada packs a super delicious flavor into each and every toke for a mouthwateringly delicious experience from start to finish. This lovely lady brings rich flavors of fresh sweet citrus, sour pineapple, and creamy banana into the game, leaving you practically begging for more. The aroma follows the same delicious effect, with hints of earth and herbs to it, too. The Pina Colada high is just as amazing as the flavor, with lifting energized effects that will get you up and moving in no time flat. You'll feel an almost immediate influx of cerebral euphoria, boosting your mood and leaving you feel energized and almost frenzied, like you could take on the world. With these effects and its high 15-23% average THC level and 1-2% CBD level, Pina Colada is often said to be perfect for treating conditions such has inflammation, depression, headaches or migraines, muscle spasms or cramps, and chronic fatigue. This bud has loose light green airy spade-shaped nugs with pink undertones, matching hairs, and a coating of clear milky crystal trichomes.
*LIMITED EDITION* Passion Fruit: a rare sativa dominant hybrid strain created through crossing the infamous Burmese Kush with the delicious Grapefruit strain. This bud has a tangy and delicious flavor that is much like an actual passion fruit, with a tangy fruity overtone accented by fresh lemons and citrus. The aroma is very sweet and citrusy with a sour earthy overtone that's accented by fresh kush and spices as the nugs are burned. The Passion Fruit high comes on almost immediately after you exhale, launching your mind into a lifted state of motivation and focus that's accompanied by a building sense of creativity. As this effect grows, you'll feel a building sense of tingly energy that manifests in both mind and body, making it perfect for when you need a boost of energy during the day or early afternoon to get mental or physical tasks done. This lifted state is long-lasting and won't cause anxiety or paranoia even in the novice user. Thanks to these effects and its high 19-24% average THC level, Passion Fruit is said to be perfect for treating conditions such as chronic fatigue, depression, migraines or headaches, chronic pain, and chronic stress.
*LIMITED EDITION* Gelato: a slightly indica dominant hybrid (55% indica/45% sativa) strain created through a cross of the infamous Sunset Sherbet X Thin Mint Girl Scout Cookies strains. This dank bud is infamous for its insanely delicious flavor and hugely powerful effects that are fueled by a THC level that hits its low point at 20% on average. Gelato has a flavor that's said to be much like a sweet sherbet, with fruity blueberry and orange flavors. The aroma is just as sickly sweet, with a lavender citrus berry bouquet that has a woody effect as the nugs are broken apart and smoked. Although it has a tasty flavor, Gelato is definitely best loved for its effects. Even with its slight indica dominance, the high is head heavy in nature and won't leave you sedated or couch-locked. It starts with a cerebral head rush that hits you in the forehead with an uplifted euphoria and a sense of slightly focused energy. As this head high blissfully builds, a creeping body buzz will slowly wash over you, leaving you completely relaxed and calm with a sense of peace and well being. These powerful and surprisingly well balanced effects make Gelato the perfect choice for patients suffering from muscle spasms, chronic pain, inflammation, chronic fatigue, and headaches or migraines. Gelato buds have large and lumpy super dense grape-shaped dark forest green nugs with rich purple and orange hairs and a super sticky coating of visible resin droplets.
*LIMITED EDITION* Peach OG: an incredibly rare indica dominant hybrid (85% indica/15% sativa) strain with relatively unknown genetics, although it is commonly agreed among cannabis users that it is a cross between OG Kush and another unknown strain. This dank bud boasts a moderate THC level that has never been tested, although it is likely between 15-20% based on user guesses and reviews. Users describe the Peach OG high as having an immediate onset of a mildly uplifting euphoria that leaves you slightly energized with a sense of focus and motivation. This head high fades into a relaxing warming body buzz that slowly ebbs throughout your body, leaving you slightly sedated yet relaxed and happy. In all, these effects are very mellow, making Peach OG ideal for all levels of users. Due to these effects, Peach OG is said to be an ideal strain for treating patients suffering from conditions such as chronic pain, nerve damage, mild depression, and muscle spasms. Peach OG is famous among cannabis users for its delicious aroma of peach cobbler and taste of spicy peach that sweetens upon exhale. These buds have long dense pepper-shaped dark olive green nugs with light minty green patches and a spattering of furry fiery orange hairs and fine milky trichomes.
There's so much more to love about disposable weed vapes
These limited edition strains are here for a good time not a long time so order yours today
BURN Disposable 3g THC vaporizers are ideal for consumers looking to experience the immediate and quick onset of effects. Compared to other forms of cannabis enjoyment, such as edibles or tinctures, inhaling sends the cannabinoids straight into your bloodstream with little to no downtime. You can take a couple of hits if you need a little energizing boost to feel focused and alert. Or you can toke a bunch before you go to sleep if you want a good night's rest. It's no surprise that weed vaporizers provide a sense of relaxation and comfort that many people enjoy.
We Value Friendship, and It Starts with Sharing
Are you looking to provide your friends with the same benefits you enjoy?
Look no further! It only requires a simple step-by-step process that takes less than 5 minutes! You earn points that you can use in the shop, and they can benefit from the fantastic selection we provide. It's a win-win situation, so don't hesitate.
Go to "My Account" at the top of the page. If you haven't created an account, we highly suggest it! You can find the referral link section below your profile.

Input a page URL which you want to refer and click "Generate Referral Link."

It will generate a link according to the date of your request. You can also click the social links for Facebook, Twitter, or Whatsapp to create a link to those applications.
Copy the URL (or click on the "Copy Link" box beside the link) and share the link with family, friends, and loved ones!

When your friends and loved ones click the link, you will be awarded 625 Speed Pass Points (after a complete purchase), which you may use towards any of our products! Because your friends are doing you a favor, they can reap more benefits as they will receive a unique coupon code worth $25. This sign-up bonus will help them with more purchases in our shop! If you have any questions or concerns, let us know, and we will be happy to help.