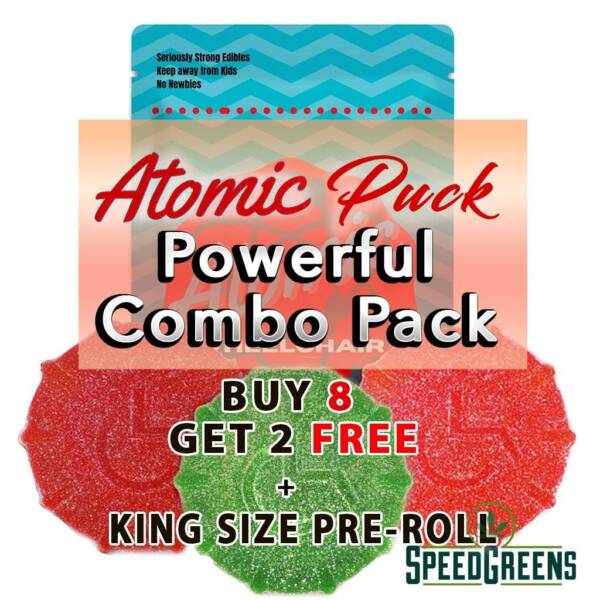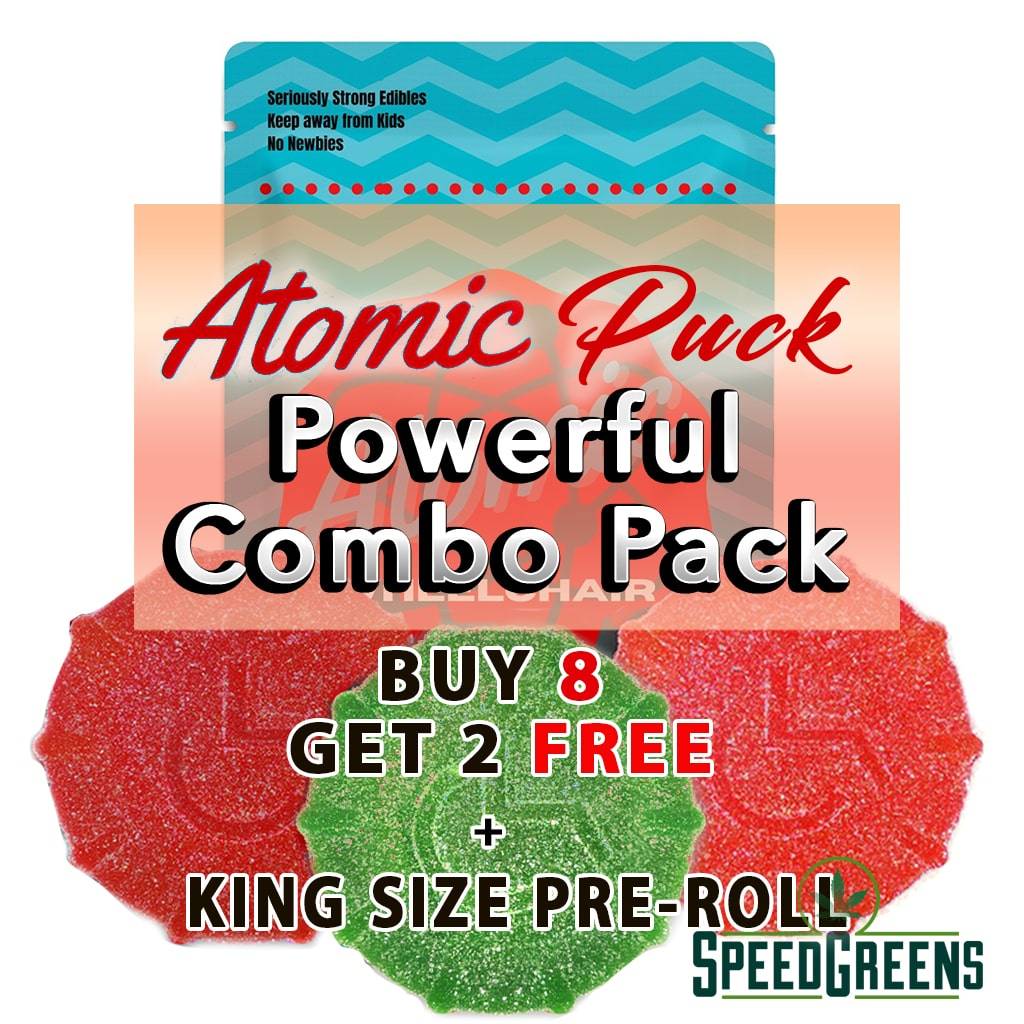 Atomic Puck POWERPLAY COMBO PACK (10,000mg THC)
BEST PRICE

GUARANTEED SHIPMENT

DISCREET PACKAGING
This ATOMIC PUCKS Combo Pack is for the weekend warrior or for someone who wants to party the night away with their bestfriends.
Buy 8 Atomic Pucks and receive FREE 2 more Atomic Pucks and King Size Preroll as a bonus.
From the creators of Bliss Edibles we are proud to bring you…
ATOMIC WHEELCHAIR PUCK (1000 mg)
Available in two flavors: Grapefruit, Green Apple and Strawberry Kiwi.
Our pucks are made to be enjoyed whole or portioned as needed. All of our THC gummy pucks are scored around the edge at even intervals, creating ten (10) triangular pieces with equal doses. Please read our consumption tips before beginning any edible journey.
Our cannabis edibles are crafted with a highly concentrated dose of full-spectrum cannabis oil, pairing maximum impact with fantastic flavor. Our obsessions for consistency, potency and effectiveness, ensures our edibles products have dependable effects every time.
How much should I take? Your body mass, fitness level, and your individual body chemistry are all contributing factors when evaluating tolerance. For an experienced user, 100 mg is a good starting point, which is why all of our packaging is designed to help you divvy out the portions in these specific increments. Wait a good amount of time, up to 60 to 90 minutes, after consumption for the "high" to set in.
*Please note: This combo pack is a bulk-deal product and the freebie gift promotion is not applicable when ordering this combo.*
Description
Refer a friend
Reviews (6)
Enjoy tasty weed edibles PLUS get FREE gifts!
Who doesn't want FREE gifts right? When you purchase Atomic Puck Powerplay Combo Pack, you will get 8 Atomic Pucks and receive 2 FREE Atomic Pucks and King Size Preroll as a bonus! This combo pack will help you get through your whole week and still have leftovers for the next.
Weed edibles brought to you by the creators of Bliss Edibles
Tasty and delicious cannabis edibles that will make you feel like you are in heaven
Atomic Puck POWERPLAY edibles are crafted with care and infused with a highly concentrated dose of full-spectrum cannabis oil. To make it more appealing for consumers and easy to eat, tasty natural flavorings are added. If you are looking for tasty, consistent, potent, and effective cheap edibles Canada, get this Atomic Puck POWERPLAY COMBO PACK!
Whenever you consume this weed edible, you will get a consistent high every time. However, this will vary depending on your body and how it reacts.
Get 10 Atomic Puck weed edibles for the price of 8! FREEBIES.
Party all night long. End your day, every day, feeling happy and relaxed.
When you purchase Atomic Puck POWERPLAY COMBO PACK from us, an online dispensary that provides amazing deals, you will get:
4 x Green Apple
4 x Grapefruit
2 x Strawberry Kiwi (FREE) $90 value
1 x King Size Preroll (FREE) $10 value
A total of $100 of FREEBIES!
With these many cannabis edibles , you can party all night for the whole week and still have 1 spare to get you through for a few more days. Every day will be a fun and enjoyable day for you.
Find out the proper consumption of these weed edibles
Start low and slow for beginners. Be patient to feel its full effects.
The whole combo pack comes with a total of 10,000 mg THC. Each Atomic Wheelchair Puck comes with 1000mg of THC. This is highly potent and concentrated. You need to be careful when consuming this edible. Make sure not to consume the whole piece especially if you are a beginner.
The effects of weed edible depend on a person's body, metabolism, and tolerance. For experienced users, 100mg is a good portion, to begin with. Wait at least 60 minutes and up to 2 hours before feeling the full effects. Do not consume too much, too fast or you will green out and not have a fun day.
We Value Friendship, and It Starts with Sharing
Are you looking to provide your friends with the same benefits you enjoy?
Look no further! It only requires a simple step-by-step process that takes less than 5 minutes! You earn points that you can use in the shop, and they can benefit from the fantastic selection we provide. It's a win-win situation, so don't hesitate.
Go to "My Account" at the top of the page. If you haven't created an account, we highly suggest it! You can find the referral link section below your profile.

Input a page URL which you want to refer and click "Generate Referral Link."

It will generate a link according to the date of your request. You can also click the social links for Facebook, Twitter, or Whatsapp to create a link to those applications.
Copy the URL (or click on the "Copy Link" box beside the link) and share the link with family, friends, and loved ones!

When your friends and loved ones click the link, you will be awarded 625 Speed Pass Points (after a complete purchase), which you may use towards any of our products! Because your friends are doing you a favor, they can reap more benefits as they will receive a unique coupon code worth $25. This sign-up bonus will help them with more purchases in our shop! If you have any questions or concerns, let us know, and we will be happy to help.