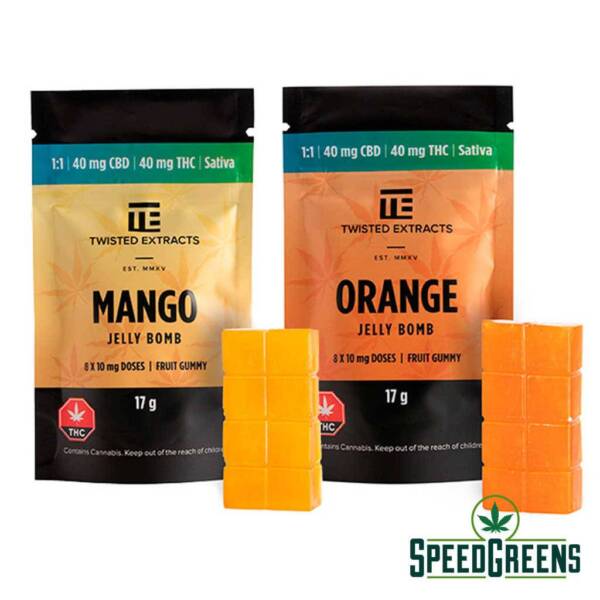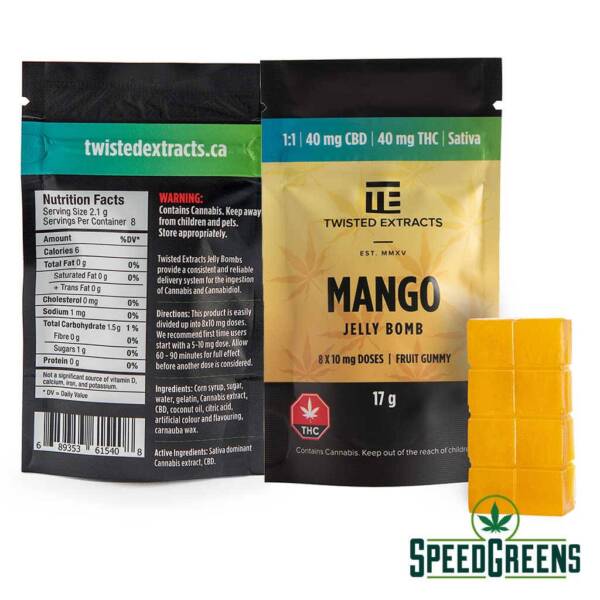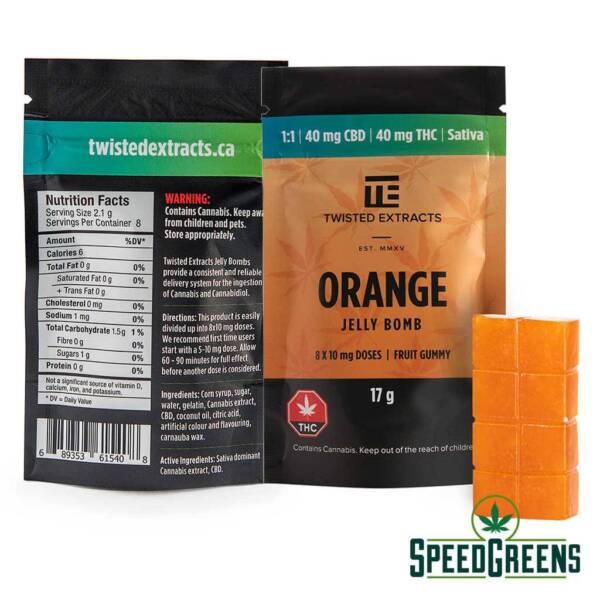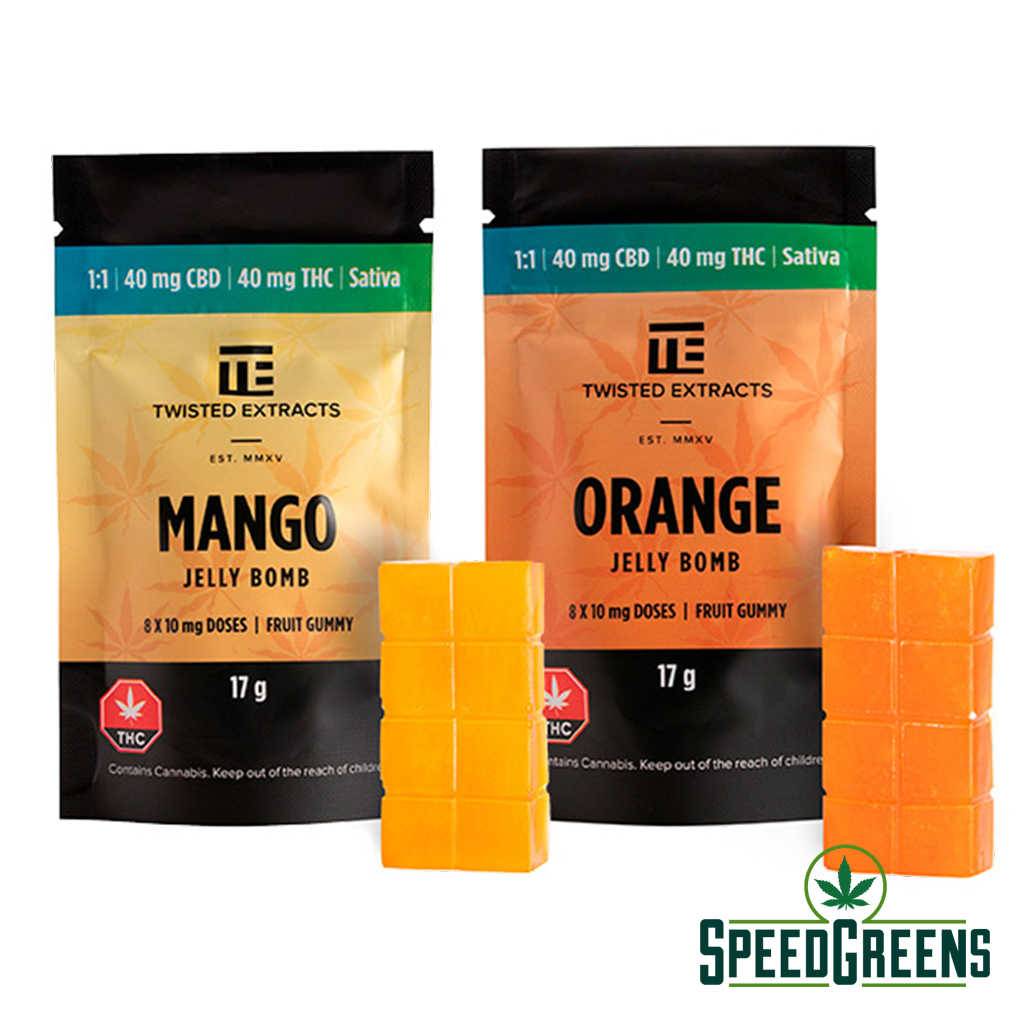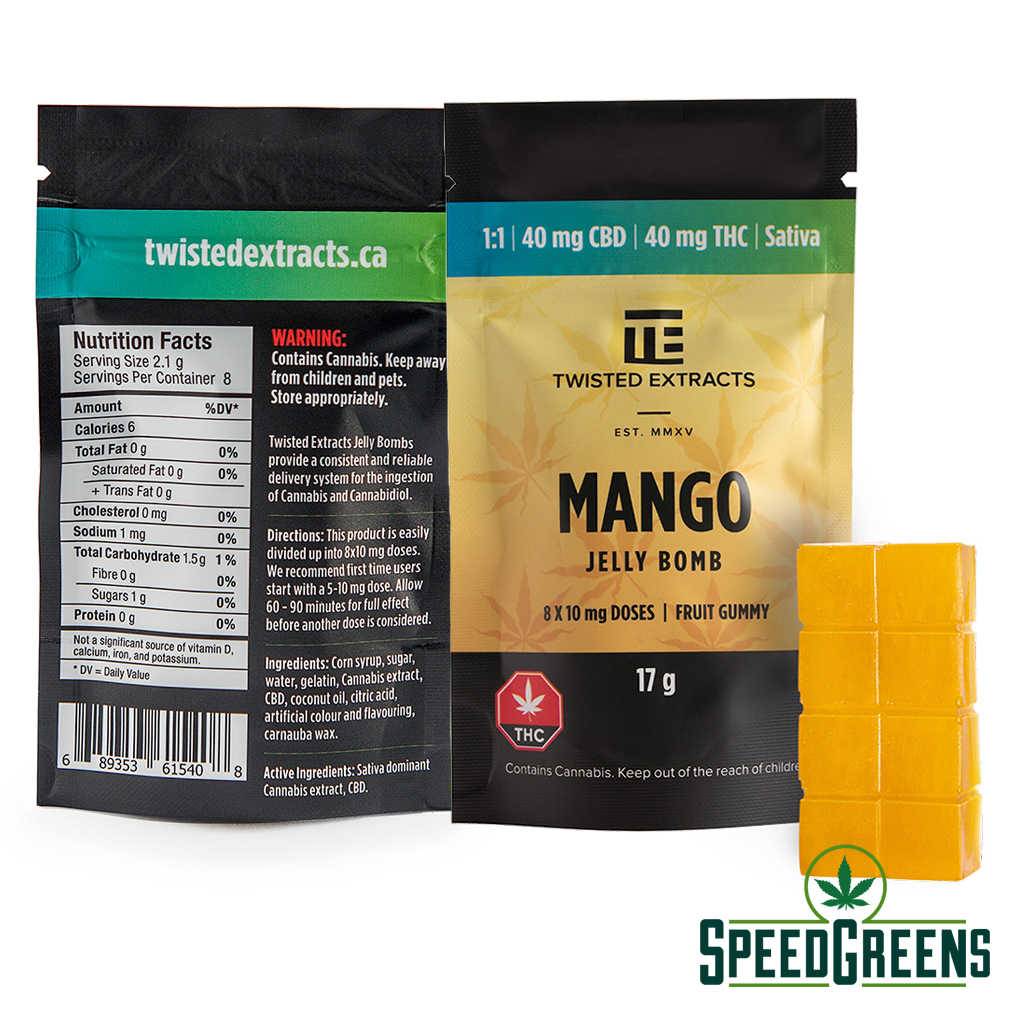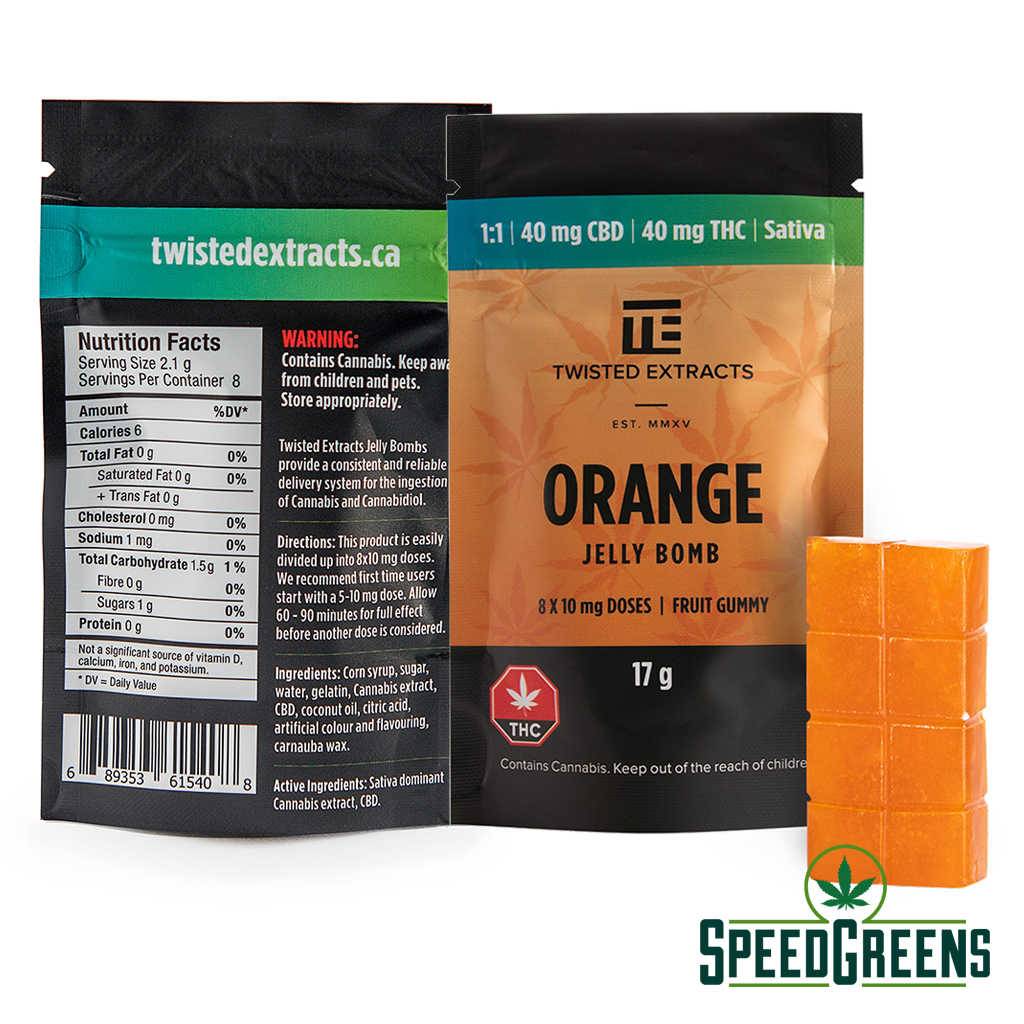 Twisted Extracts Sativa 1:1 Jelly Bombs CBD Edibles (40mg THC: 40mg CBD)
BEST PRICE

GUARANTEED SHIPMENT

DISCREET PACKAGING
Each Jelly Bomb is infused with 40 mg of THC derived from a sativa dominant cannabis strain, and 40 mg of CBD (8 x 5mg CBD + 5mg THC servings each).
All of our gummies are lab tested and hand wrapped for quality assurance purposes.
Enhance your experience with these THC and CBD Edibles
Sweet and sour is a classic combination to describe the Twisted Extacts Jelly Bomb. Each jelly bomb contains THC and CBD, which is derived from a sativa-dominant cannabis extract. This Jelly Bomb design provides a constant, reliable delivery system for cannabis intake in the most unobtrusive manner possible.
Ease your complicated symptoms with THC and CBD edibles
These Jelly Bombs are enhanced with sativa to boost your mood and relieve pain
Tuesdays and tacos go well together, and cannabinoids are no exception. With our Sativa 1:1 Jelly Bombs, you can get the most out of both THC and CBD. These CBD edibles are fantastic for things like boosting your mood, relieving aches and pains, and providing a general sensation of calm (otherwise known as feeling zen AF). The Jelly Bomb series can help you ease mild pains, stress, and even give you anti-inflammatory benefits. This is also a great way for you to enjoy THC-infused products without its harsh flavour.
Enjoy a relaxing high with these THC and CBD edibles
These Sativa Jelly Bomb has diverse effects that leave you in a lighter mood and more
Each Jelly Bomb contains 40 milligrams of THC and 40 mg of CBD, both sourced from a sativa dominant cannabis strain (8 x 5mg CBD + 5mg THC doses each). For quality assurance, all of our gummies are lab tested and hand wrapped. Cannabis has diverse effects on different people depending on their genetics, physiology, and lifestyle. It's possible that how an edible affects others won't have the same effect on you. A more light-hearted mood, a more upbeat outlook on life, and spontaneous spurts of energy to carry you through your workout.
See if you're compatible with these THC/CBD edibles
THC and CBD are both present in the Sativa Jelly Bomb, so be aware!
THC (tetrahydrocannabinol) is the psychoactive component in cannabis that causes the high feeling. It is possible to consume it through smoking cannabis. Oils, foods, tinctures, pills, and other forms are also available. Both substances interact with the endocannabinoid system in your body, but their effects are vastly different. CBD and THC have different psychotropic effects despite their comparable chemical makeup. CBD has a psychoactive effect, but not in the same way as THC does. It does not create the same high as THC. CBD has been demonstrated to aid in the treatment of anxiety, depression, and seizures. THC binds to the brain's cannabinoid 1 (CB1) receptors. It generates a high or sense of exhilaration. Choose Speed Greens if you want to buy edibles online, legally and safe!