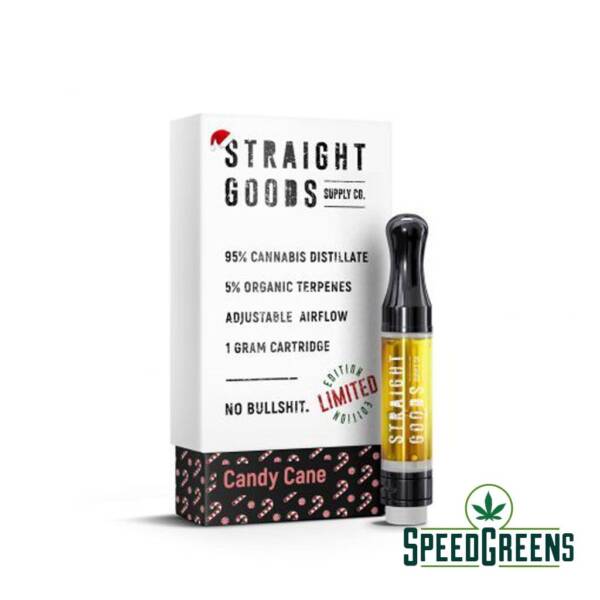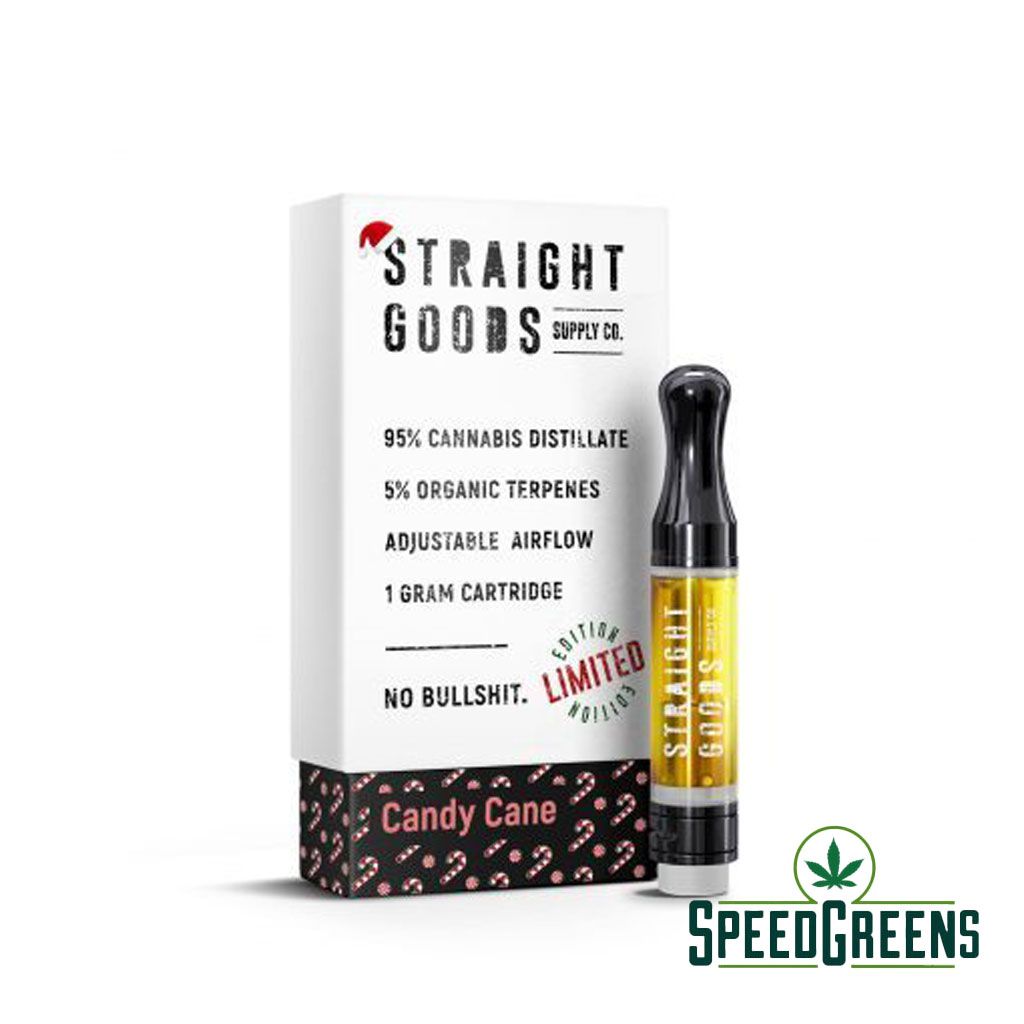 (Limited XMAS Edition) Straight Goods 1 Gram Carts – Candy Cane
BEST PRICE

GUARANTEED SHIPMENT

DISCREET PACKAGING
Straight Goods Supply Co. Disposable Vape pens are the real deal:
1 Gram (1000mg) Vape Pens: 95% solventless distillate, 5% organic plant-based terpenes
Draw-activated
Adjustable airflow
Modern metal design
Strains: Blueberry OG, Cantaloupe Haze, Gorilla Glue, Grape Ape, Lime Sorbet, Mango Haze, Maui Wowie, Strawberry Cough, Master Kush
Propylene Glycol-Free, Vegetable Glycerin-Free, MCT Oil Free, Solvent Free, Organic Base
Receive in-stock notifications for this.
Get ready to go ho-ho-ho with this disposable vape pen!
Experience a smooth and refreshing minty taste with our limited edition Candy Cane cartridges. These are a limited run, so get them while quantities last!
Straight Goods vape pen offers a top-quality smoking experience from one of the best disposable vape pens in the industry. It is available as a sleek-looking vape pen filled with only the best cannabis distillate and organic aroma. You will enjoy a smooth, delicious smoke that will fill your lungs with joy and euphoria.
Need a quick pick me up for the holiday season?
Feel the Christmas miracle in a small yet powerful weed vape pen
Smoking with this weed vape pen delivers an organic dose of pure weed and yuletide cheer straight to your lungs. It can relieve anxiety, depression, appetite loss, chronic pain, and chronic fatigue. If you suffer from nausea or migraines, this disposable vape pen is for you. The whiff of prime-quality cannabis will fill the room and your lungs with the holiday spirit.
Yule love the healing effects of the disposable vape pen
Let your body float like snow on Christmas morning
Taking a puff out of this is like taking a sip of the most comforting peppermint hot chocolate. Its healing and joyful experience will turn into quick relaxation. When your body feels calm, that's when the therapy begins. The psychotropic effects reach higher levels once you let it completely set in your system. This disposable weed vape pen or concentrate vaporizer is truly a gift you'd want to receive.
Take advantage of the draw-activated system and smooth intake
Every puff will be gas straight from the first puff to the last
Straight Goods Distillate Cartridges contain only two simple ingredients: High-grade solvent-less Delta-9 THC distillate and organic plant-based terpenes. No VG, PG, PEG, MCT or any other diluent. Our 1ml 510 threading cartridges employ the latest in ceramic core technology ensuring a clean, tasty pull with a unique controlled airflow feature. Our hardware also passes the strictest tests for heavy metals. Vape with confidence. Vape Straight Goods!
Capacity: 1 Gram per cartridge
Vitamin E Acetate free
Standard 510 Thread
Adjustable Airflow Cartridge – Delivering smooth vaping, with a leakproof design
No PG, VG, PEG, or MCT!