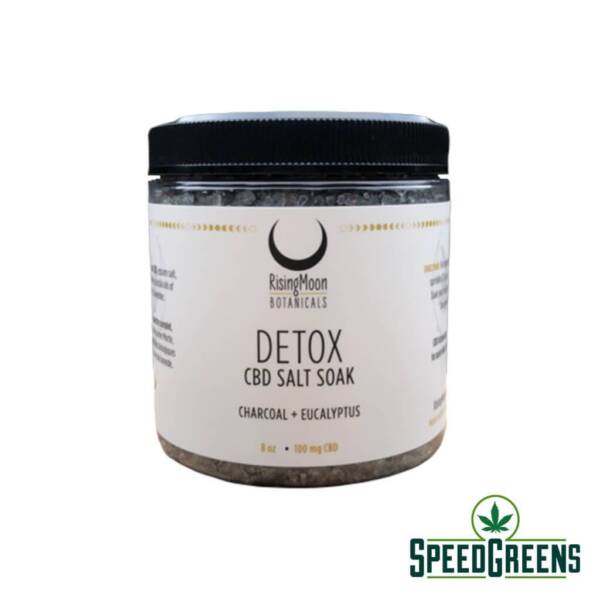 Rising Moon Detox CBD Salt Soak (100mg CBD)
BEST PRICE

GUARANTEED SHIPMENT

DISCREET PACKAGING
Detox CBD Salt Soak
100mg CBD
Infused with CBD and organic therapeutic grade essential oils of Eucalyptus, Black Spruce and Lavender. This salt soak is great for detoxifying physically and energetically. Cannabinoids help to reduce chronic pain and inflammation by impacting endocannabinoid receptor activity. Soaking in CBD provides a steady infusion that aids in healing muscles and bones.
Description
INGREDIENTS: 100 mg Solvent-Free Full Spectrum CBD, Epsom salt, Dead sea salt, Charcoal, Organic Eucalyptus, Black Spruce and Lavender Essential Oils + LOVE
Add ¼ Cup or more of Bath Salts to your bathwater. Soak and enjoy for 20 minutes or longer as the nourishing, revitalizing benefits of cannabinoids, vitamins and minerals absorb into your body and flush out stress and toxins.
Description
Refer a friend
Reviews (6)
Rising Moon Salt Soak contains CBD for pain
CBD and organic therapeutic grade essential oils such as eucalyptus, black spruce, and lavender are combined in this product. This salt immersion is excellent for both physical and energetic detoxification. By influencing endocannabinoid receptor activation, cannabinoids aid in the reduction of chronic pain and inflammation. Soaking in CBD delivers a consistent infusion that benefits muscle and bone mending.
Clear up your worries with CBD for pain relief
This salt soak has the wonders to moisturize skin and ease skin and muscle issues
CBD oil is a diluted version of the chemical component cannabidiol, which comes from the cannabis plant. CBD oil is created by diluting CBD with a carrier oil. Bath bombs or bath salts can be made by combining this with other components. There has been very little scientific research done on the effects of CBD bath bombs and bath salts. However, studies into the possible advantages of CBD on the skin can help to explain, in part, the potential benefits of bath bombs and salts. CBD oil has been used as an element in bath bombs and salts because some studies suggests it might moisturize and cure the skin.
The Salt Soak CBD for pain has faster effects on your body
CBD Salt Soaks interact with your body to greatly affect your overall mood
While further research into CBD's many impacts is needed, the medical community agrees that CBD is relatively safe. When compared to ingesting a few drops of CBD tincture orally (for example, under your tongue), allowing it to penetrate topically produces faster, and more direct results. Consider a CBD bath as an alternative to soaking in a tub of chemicals. CBD interacts with the therapeutic components in your bath product in a natural and subtle way.
Understand why you should get CBD for pain
CBD easily interacts with your body and can stimulate physiological functions that you won't even expect
According to a study published in January 2019 in The Permanente Journal, CBD is one of more than 80 active components called cannabinoids found naturally in the cannabis sativa plant. (2) Extraction yields a thick oily paste, which is then blended with a carrier oil, such as hemp oil or coconut oil, to create a CBD-rich product with a specified concentration. In a nutshell, CBD interacts with your body's endocannabinoid system, a huge message network that regulates a variety of physiological functions. In fact, cannabinoids are so important to your health that your brain manufactures them on its own. If you need to find CBD online in Canada, choose Speed Greens!
Note: Add ¼ Cup or more of Bath Salts to your bathwater. Soak and enjoy for 20 minutes or longer as the nourishing, revitalizing benefits of cannabinoids, vitamins and minerals absorb into your body and flush out stress and toxins.
We Value Friendship, and It Starts with Sharing
Are you looking to provide your friends with the same benefits you enjoy?
Look no further! It only requires a simple step-by-step process that takes less than 5 minutes! You earn points that you can use in the shop, and they can benefit from the fantastic selection we provide. It's a win-win situation, so don't hesitate.
Go to "My Account" at the top of the page. If you haven't created an account, we highly suggest it! You can find the referral link section below your profile.

Input a page URL which you want to refer and click "Generate Referral Link."

It will generate a link according to the date of your request. You can also click the social links for Facebook, Twitter, or Whatsapp to create a link to those applications.
Copy the URL (or click on the "Copy Link" box beside the link) and share the link with family, friends, and loved ones!

When your friends and loved ones click the link, you will be awarded 625 Speed Pass Points (after a complete purchase), which you may use towards any of our products! Because your friends are doing you a favor, they can reap more benefits as they will receive a unique coupon code worth $25. This sign-up bonus will help them with more purchases in our shop! If you have any questions or concerns, let us know, and we will be happy to help.