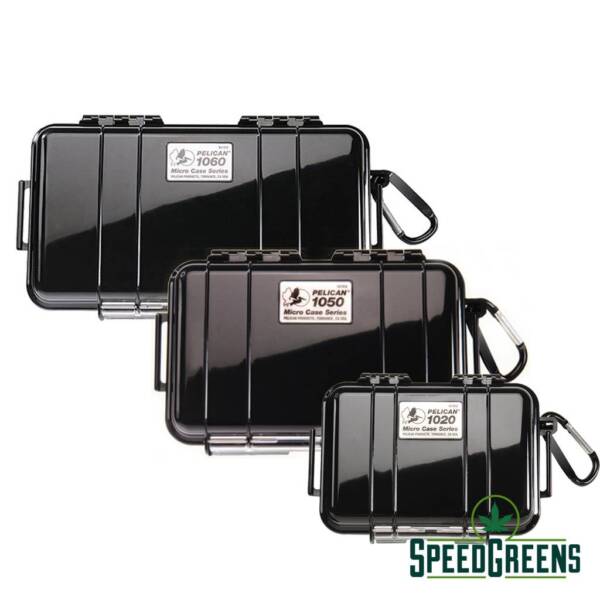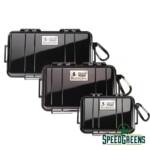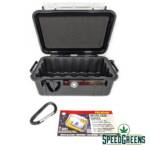 Pelican Case
$35.00 – $45.00
A pelican case is known to be a strong and very popular and recommended case for storing and transporting around cannabis and cannabis related products. They come in a variety of shapes and sizes and are said to be sturdy and nearly indestructible by some. Cannabis users will enjoy a pelican case because they eliminate a fair amount of the aroma the cannabis can give off.
They don't eliminate odor to the point that you would want to haul a pelican case past a drug sniffing dog, but if you're just carrying around a bunch of potent smelling weed, they will conceal it compared to other cases. Some pelican cases contain foam inserts and these are beneficial if a cannabis user has a bunch of glassware like bongs, pipes, and dab rigs. Many of the foam inserts are customizable as well, so you can cut them in a shape that will fit many different objects.
Pelican cases are ideal for users that have expensive glassware and don't want to risk breaking it. The cases are also known to be waterproof and airtight. If cannabis is stored inside, it will most likely stay fresh for a longer period of time. Many consumers of pelican cases have reported that they are great for holding their weed stashes and that the foam inside of it traps the smell very well. Pelican cases can also be seen as discreet in the way that they somewhat resemble a case that is typically used to carry valuable goods around such as videography and photograpy gear.
Description
Additional information
Reviews (4)
Description
Use of term
A cannabis consumer's glass collection can comprise of some of the most valuable items they own – not to mention the sentimental value a piece brings. That's why safety is imperative for on-the-go consumers looking to travel with a glass piece. Pelican Cases have taken the cannabis industry by storm as a reliable way to transport glass. Whether you have a $10 piece or a $10,000 piece, you can rest easy knowing it'll stay safe in a Pelican Case. Don't believe us? Check out the durability tests conducted by The Pelican Project then go buy one for the perfect holiday gift!
Case sizes and models:
1020 (small)
Exterior Dimensions
6.4 x 4.8 x 2.1″ / 16.3 x 12.2 x 5.3 cm
Interior Dimensions
5.3 x 3.6 x 1.7″ / 13.5 x 9.1 x 4.3 cm
1050 (Medium)
Exterior Dimensions
7.5 x 5.1 x 3.1″ / 19.1 x 13 x 7.9 cm
Interior Dimensions
6.3 x 3.7 x 2.8″ / 16 x 9.4 x 7.1 cm
1060 (Large)
Exterior Dimensions
9.4 x 5.6 x 2.6″ / 23.9 x 14.2 x 6.6 cm
Interior Dimensions
8.2 x 4.3 x 2.3″ / 20.8 x 10.9 x 5.8 cm
Additional information
| | |
| --- | --- |
| Select Size | 1020 (small), 1050 (medium), 1060 (large) |