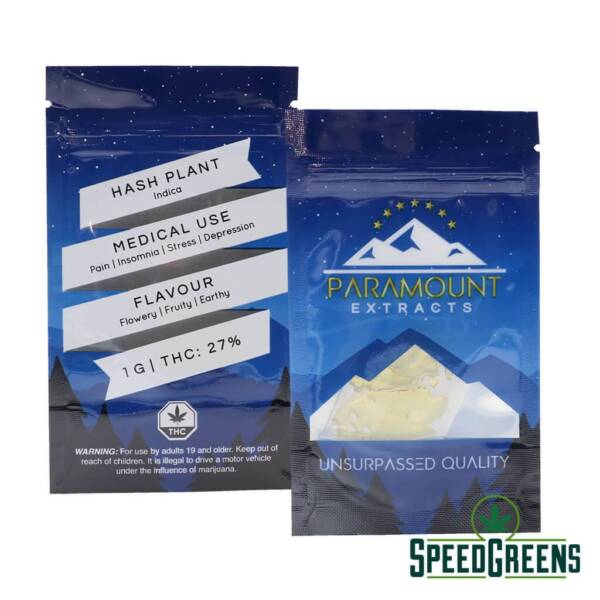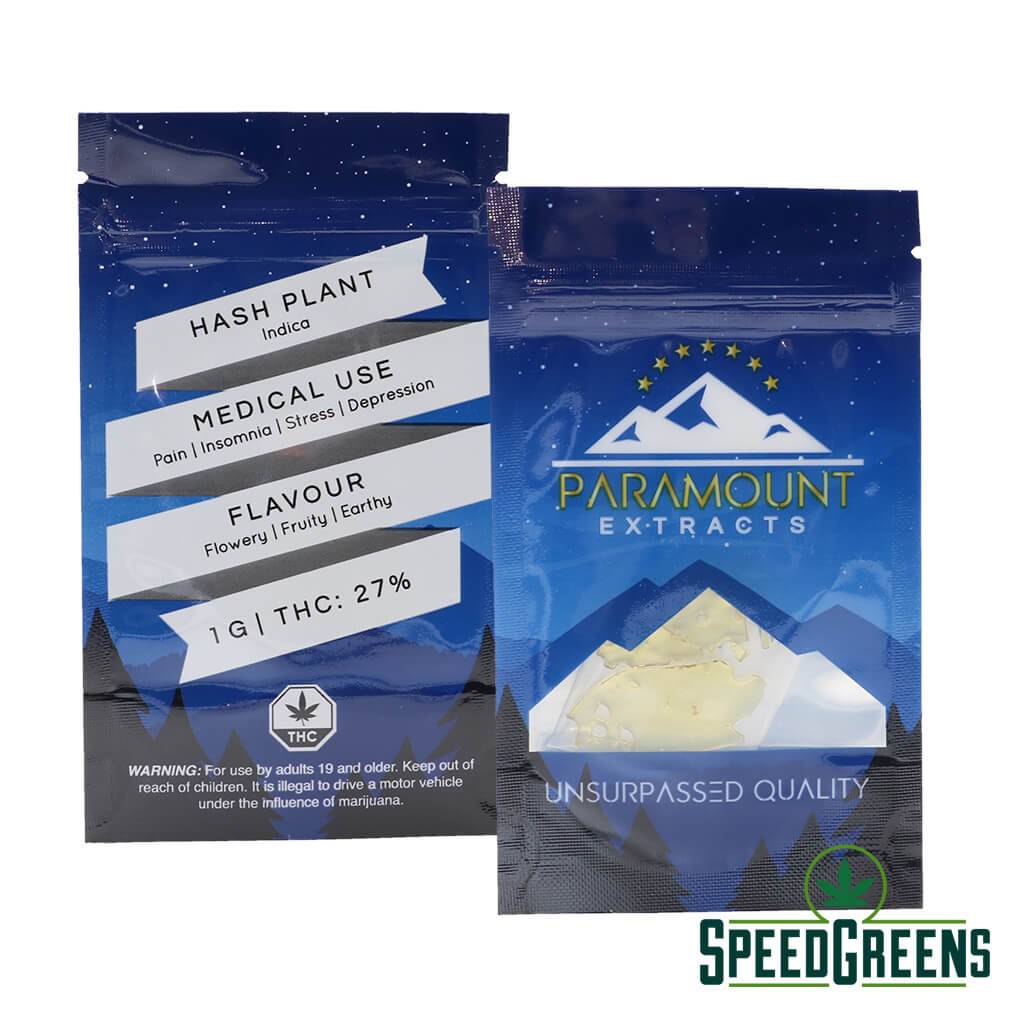 Paramount Extracts Shatter – Hash Plant (Indica) – Smoking Shatter
BEST PRICE

GUARANTEED SHIPMENT

DISCREET PACKAGING
Hash Plant, with an 80:20 indica/sativa ratio, the strain is an indica dominant hybrid with a bit of history of its own. It began its journey from Holland in the early 1980s and made its way to the United States. It has grown immensely popular and is a cross between Hash Plant strains along with Northern Lights #1, or so they say. Each nugget holds a woody, earthy aroma, which is sweet at the same time. The smell can easily be identified but is not as potent as you would expect it to be. The strain has a spicy and delicious taste to it that will most definitely send a chill down your spine, out of excitement that is. The buds are tight and are completely covered by resin along with green leaves with red hairs. After smoking the strain, you will feel exceptionally relaxed. However, do not be surprised if you feel sleepy and are locked to your couch. What is really interesting about the strain is that it has numerous medical applications at the same time. Essentially, it is used by patients suffering from insomnia. But considering its pain fighting effects it can also be used to treat chronic pains, aches and even migraines if the situation demands it.
Description
Refer a friend
Reviews (5)
Give yourself the break your body deserves
Let this indica shatter deliver a rich experience you won't forget. Paramount Extracts ensure their cannabis concentrates go through the best process for your best interests. Speed Greens is your place if you're looking for the best weed online Canada can offer!
Get the benefits of smoking shatter!
Smoking shatter provides a quick dose of relief that your body needs
Smoking shatter helps you calm down your stubborn problems without issue. Because of its potency, you can find that it supports both physical and psychological conditions. It eases any nagging issues you have. It can be chronic problems such as arthritis or nerve damage. It mostly has psychoactive properties that help with anxiety, depression, ADD/ADHD, bipolar disorder, and stress. If you have trouble sleeping at night, you will benefit from smoking shatter for its lulling effects.
Don't doubt the powerful effects of smoking shatter
Enjoy Paramount Extract's fascinating features that keep you back for more.
Take in the relaxing effects of this potent shatter. You get the full indica properties of Hash Plant to give you a mellow high that is sure to last. The high THC content (comparable to powerful edibles) produces a high that immediately settles throughout your body. After smoking shatter, be sure to have a relaxing place to wind down. Take it at night time or if you don't have any responsibilities. A couple of dabs will cause you to fall asleep slowly. If you haven't passed out from its effects, you might get the urge to eat something delicious.
Smoking shatter will always be this satisfying; take a hit!
Speed Greens is your place to get the best weed online Canada can offer!
Hash Plant is an indica dominant hybrid popularly believed to cross Hash Plant strains and Northern Lights #1. The smell is just the same taste: flowery and fruity, with earthy tones. Each package contains 1G of shatter and has a high THC concentration of 27%. Use it with your favourite vape for a quick hit for relaxing effects! Mix it with your favourite weed strains! The possibilities are endless! To ensure that your product is safe, keep it out of high temperatures, moisture, oxygen, and direct sunlight. Smoking shatter has never been this fun! For all your cannabis needs, visit Speed Greens for weed online Canada!
We Value Friendship, and It Starts with Sharing
Are you looking to provide your friends with the same benefits you enjoy?
Look no further! It only requires a simple step-by-step process that takes less than 5 minutes! You earn points that you can use in the shop, and they can benefit from the fantastic selection we provide. It's a win-win situation, so don't hesitate.
Go to "My Account" at the top of the page. If you haven't created an account, we highly suggest it! You can find the referral link section below your profile.

Input a page URL which you want to refer and click "Generate Referral Link."

It will generate a link according to the date of your request. You can also click the social links for Facebook, Twitter, or Whatsapp to create a link to those applications.
Copy the URL (or click on the "Copy Link" box beside the link) and share the link with family, friends, and loved ones!

When your friends and loved ones click the link, you will be awarded 625 Speed Pass Points (after a complete purchase), which you may use towards any of our products! Because your friends are doing you a favor, they can reap more benefits as they will receive a unique coupon code worth $25. This sign-up bonus will help them with more purchases in our shop! If you have any questions or concerns, let us know, and we will be happy to help.