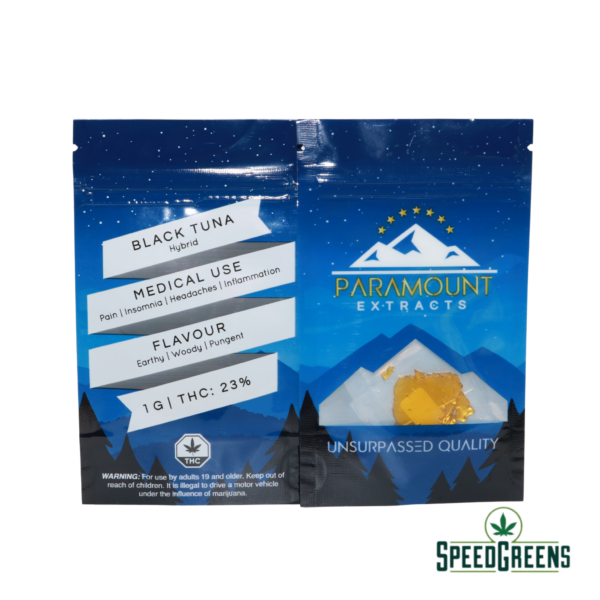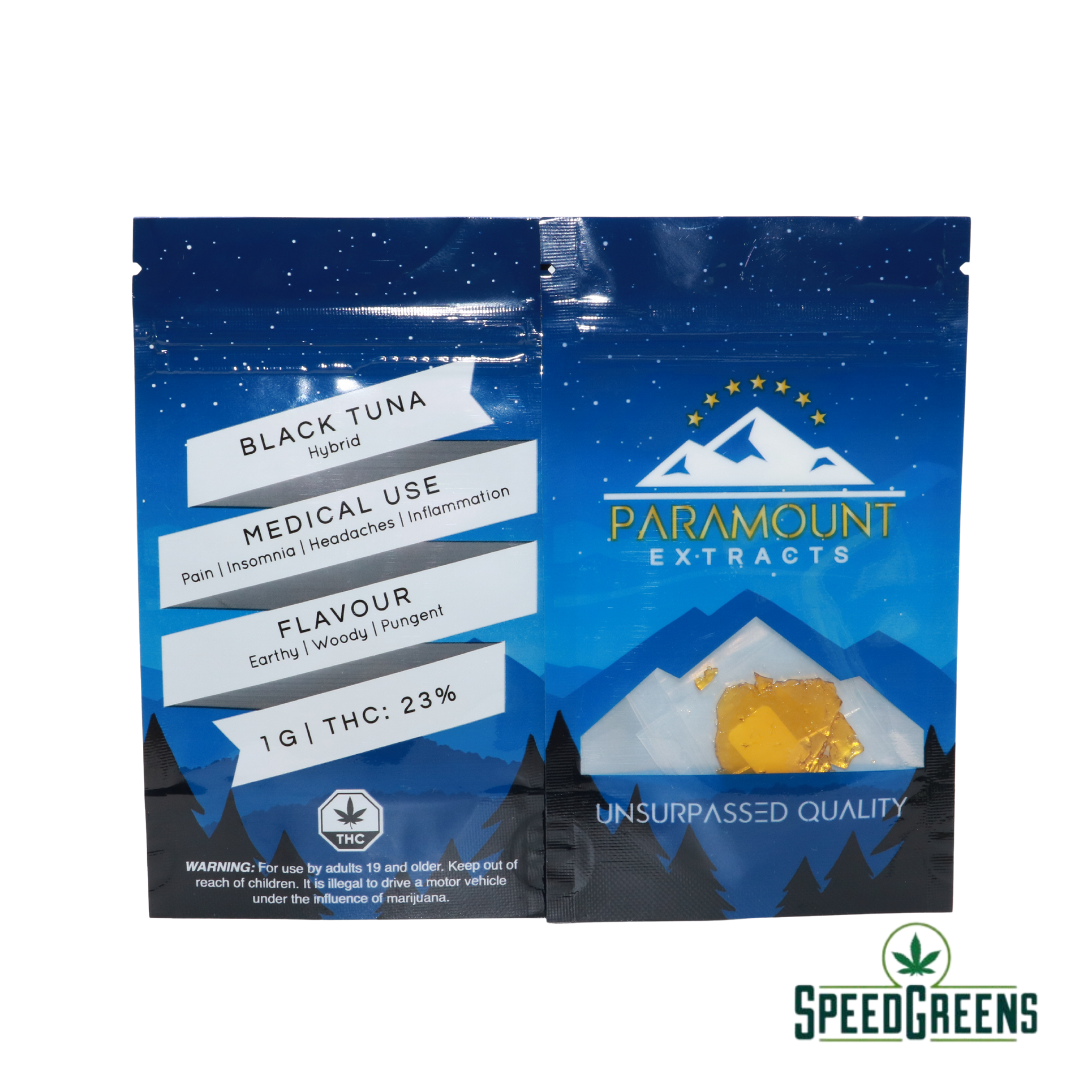 Paramount Extracts – Black Tuna (Hybrid)
BEST PRICE

GUARANTEED SHIPMENT

DISCREET PACKAGING
Black Tuna is a heavy sedative and therefore is beneficial for sufferers of chronic pain, pain due to injury, inflammation, and insomnia. In some cases, a user's appetite is greatly increased and as a result makes this strain great for the treatment of anorexia, lack of appetite, and other diseases, disorders, or syndromes where hunger is decreased dramatically. Mental health issues and other mood disorders such as depression, anxiety, stress, bipolar, and some mild cases of PTSD are also manageable with Black Tuna, however, it should not be used as primary treatment.
A premium indica shatter for your needs
Paramount Extracts offers quick delivery of feel-good sensations. This Canadian shatter company strives to deliver quality products to your benefit! The delicious flavours and smells will keep you on your toes. Buy shatter here at Speed Greens, your #1 online cannabis dispensary for indica shatter!
Paramount makes your need for indica shatter come true
Let your body fall in love with the benefits you get from this shatter
British Columbia – the land of sweeping views, crisp minty air, and some of the better organic strains in Canada. Thanks to 5 Star Organic there is another delicious and extremely potent strain to add to that legacy. Black Tuna is an evenly balanced strain comprised of Lamb's Bread and Herojuana. This popular Northern strain may be hard to find outside of the region, but if you happen to get your hands on some, don't be surprised by their whimsical packaging, as this bud sometimes comes in a sealed tuna can!
See what this indica shatter has to offer
Why not wind down after a long day with this fantastic product
The potent effects of indica shatter deliver a straight dose of euphoria straight to your body. The creeping feeling you feel will start to take over suddenly. You might feel a boost of creativity to help you get certain tasks done. The high of this potent concentrate will start to move to your eyes and neck. The experience will start to settle through the rest of your body. At this point, the relaxing effects will cause you to become couch-locked or start to develop a nagging appetite.
Speed Greens is your #1 spot for indica shatter
Get more information about this shatter's excellent qualities
Paramount Extracts create quality assured products for your enjoyment. The strength of this bud is largely described as narcotic, and because of this, it is not recommended for beginners and even some intermediate smokers. The high begins relatively easy going, then quickly dives into a hard and loopy state. It will be nearly impossible to keep your eyes open, or even steady for that matter, after just a few minutes. This cerebral rush ebbs and flows through the high that can sometimes last for hours.