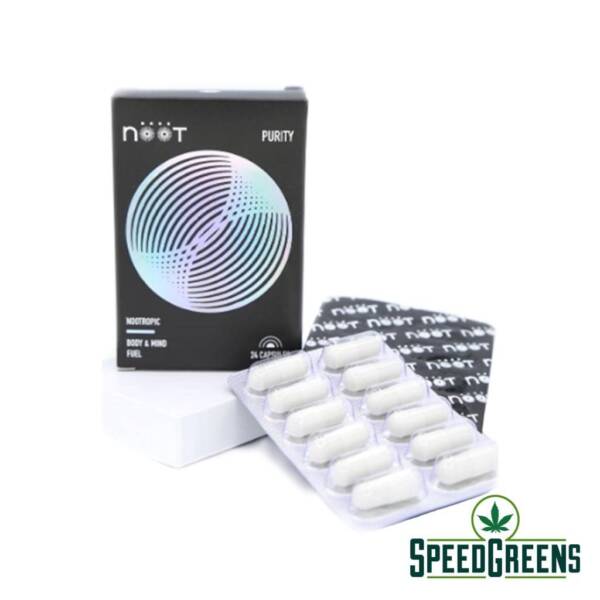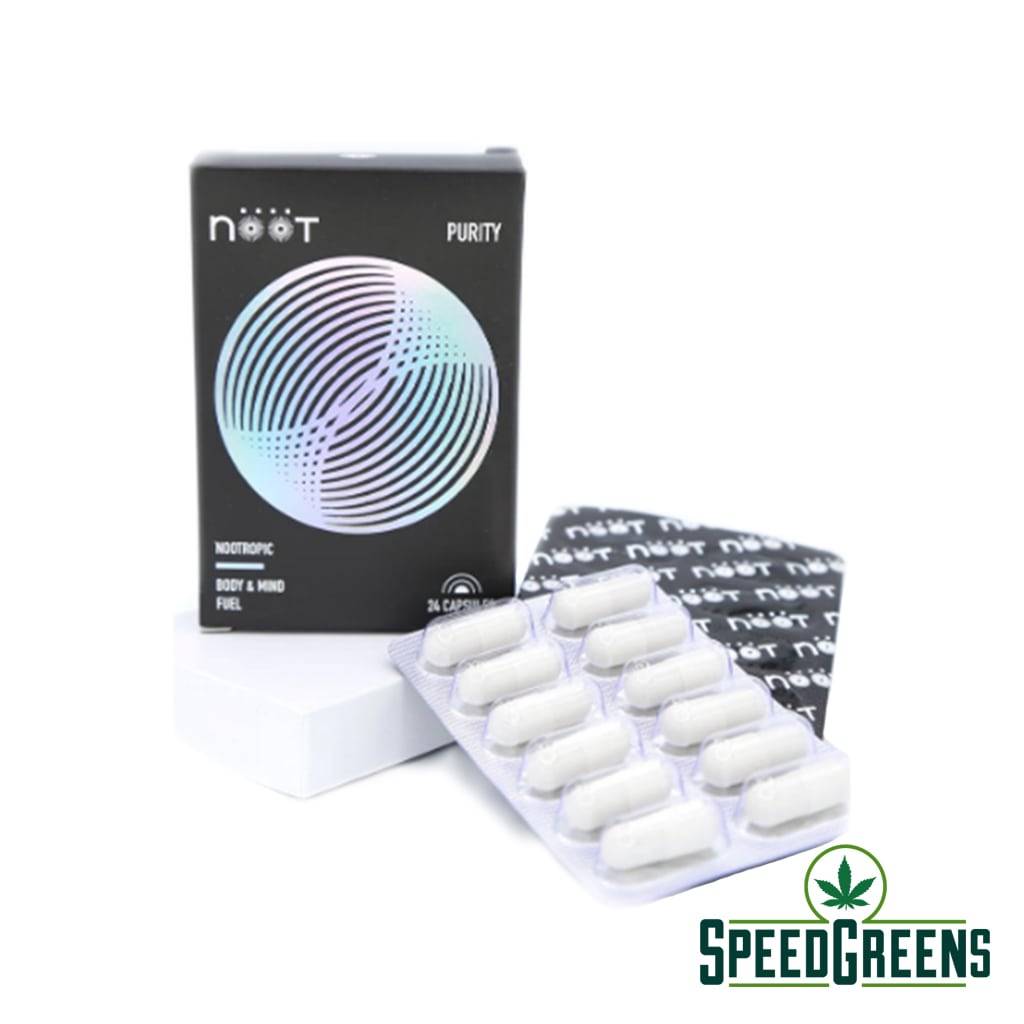 NOOT – Purity Shroom Capsules (24 x 100mg Psilocybin)
BEST PRICE

GUARANTEED SHIPMENT

DISCREET PACKAGING
Purity
Body and Mind Fuel
24 capsules |  100mg per capsule | 2400mg 
Feel uplifted, energetic and healthy with NOOT Purity. It is specially formulated to improve your body's metabolic function and calm your nerves. Great for users looking for an all natural aid in weight-management, increased daily productivity, and an overall healthier lifestyle. Cayenne and ALA help to balance blood sugar levels and support liver function.
Description
Refer a friend
Reviews (4)
High-quality shroom capsules for you and your friends
With NOOT Purity, you'll feel energised and healthy. It's been designed to boost your body's metabolic performance while also calming your nerves. Great for anyone searching for a natural way to lose weight, enhance everyday productivity, and live a healthy life. Cayenne and ALA both aid in blood sugar regulation and liver function.
Fuel your mind and your mental disposition with shroom capsules!
The Purity shroom capsules purify your mind from any emotional imbalance
Fuel for the mind and body. By increasing metabolic function, this miraculous mixture will enhance energy, emotional balance, and weight management. Cayenne pepper and alpha-lipoic acid (ALA) aid to control blood sugar levels and promote liver function. Peppermint, ginseng, and ginger all aid to strengthen the immune system.
These shroom capsules are great for getting rid of stress
The Purity shrooms are the go-to choice for easing stress and anxiety no matter where you are or what you're doing
With Psilocybin mushrooms, you'll experience weight management. The recipe is designed to aid in the management of weight and energy under stressful situations. The all-natural substances will boost the immune system of the individual, reducing disease and exhaustion. If you're having a bad day, you might want to take in the Purity shroom capsule to help you ease the stressors around your body and inside your mind.
The rich discovery of psilocybin shroom capsules we know today
These psilocybin shroom capsules are scientifically discovered with passion that translates into a source of innovation
Albert Hofmann discovered psilocybin from the Central American fungus Psilocybe mexicana in 1957. Shortly after, in 1958, the first synthetic psilocybin product was developed, and it is still extensively used today, both recreationally and in spiritual or religious rites. It has now been discovered in over 100 mushroom species throughout the world, with varied degrees of strength. With a slightly different molecular structure than lysergic acid diethylamide (LSD) and mescaline, psilocybin, a classic tryptamine hallucinogen, exhibits similar characteristics.
We Value Friendship, and It Starts with Sharing
Are you looking to provide your friends with the same benefits you enjoy?
Look no further! It only requires a simple step-by-step process that takes less than 5 minutes! You earn points that you can use in the shop, and they can benefit from the fantastic selection we provide. It's a win-win situation, so don't hesitate.
Go to "My Account" at the top of the page. If you haven't created an account, we highly suggest it! You can find the referral link section below your profile.

Input a page URL which you want to refer and click "Generate Referral Link."

It will generate a link according to the date of your request. You can also click the social links for Facebook, Twitter, or Whatsapp to create a link to those applications.
Copy the URL (or click on the "Copy Link" box beside the link) and share the link with family, friends, and loved ones!

When your friends and loved ones click the link, you will be awarded 625 Speed Pass Points (after a complete purchase), which you may use towards any of our products! Because your friends are doing you a favor, they can reap more benefits as they will receive a unique coupon code worth $25. This sign-up bonus will help them with more purchases in our shop! If you have any questions or concerns, let us know, and we will be happy to help.