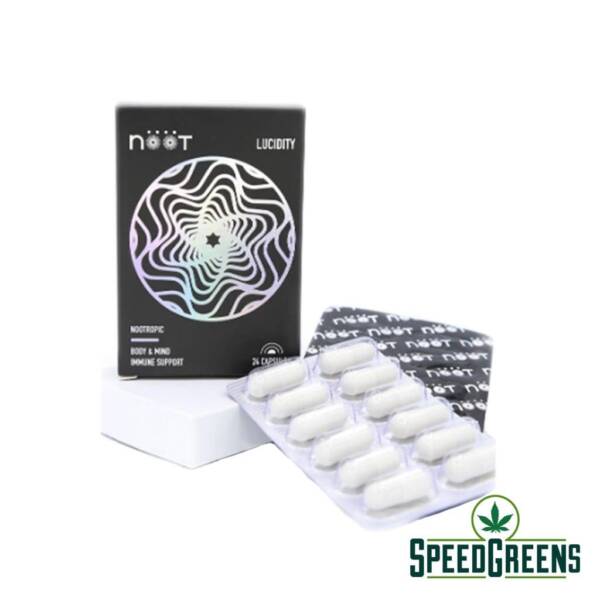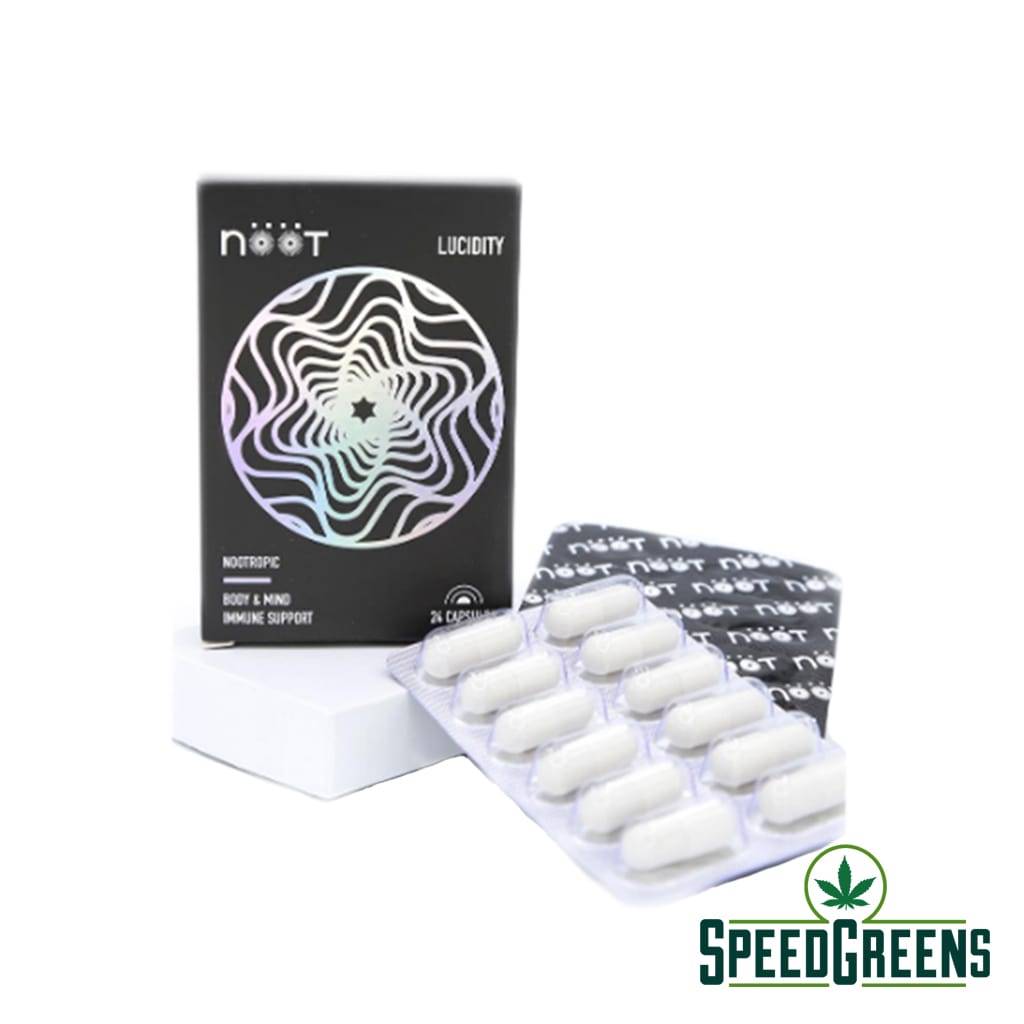 NOOT – Lucidity Shroom Pills (24 × 150mg Psilocybin)
BEST PRICE

GUARANTEED SHIPMENT

DISCREET PACKAGING
Lucidity
Body, Mind & Immune Support
24 capsules |  150mg per capsule | 3600mg 
Designed with nutrient-rich ingredients to support mental health and boost your body's immunity, Lucidity contains a blend of vitamins and antioxidants that keeps your energy and immune system optimized for maximized daily functioning. Magnesium glycinate promotes muscle relaxation and the psilocybin calms nerves and anxiety. Perfect for users looking for an everyday health aid.
Description
Refer a friend
Reviews (4)
A lucid rich disposition to combat negative emotions
Lucidity has a combination of vitamins and antioxidants that maintains your energy and immune system tuned for optimal everyday functioning. It was created with nutrient-rich components to enhance mental health and increase your body's immunity. Psilocybin mushrooms reduce nerves and anxiety, while magnesium glycinate improves muscular relaxation. It's ideal for people who need health assistance on a regular basis.
Lucidity shroom pills keep your immune system in check!
Noot Lucidity pills are a great way to balance your immune system and mental health
Immune boosting. Our carefully crafted body and mind mix keeps us healthy, happy, and at ease. Our energies and immune systems are kept in peak shape thanks to the vitamin combination. The magnesium glycinate helps to relax muscles, while the psilocybin helps to keep our minds in check! Active and healthy living. The formula is designed for people who are concerned about their general health. The daily multivitamin of the future will be the mind-body combination!
Shroom pills offer psychedelic effects to ease your mind and body
Noot Lucidity pills have effects like those of LSD to increase energy and serotonin
The exact mechanism by which psilocybin affects the brain to cause changes in mood and behavior is unknown, but we do know that when someone takes a psychedelic substance, their brain communicates in a very different way than it was "trained" to. These chemicals are misused for their hallucinogenic and euphoric properties to induce a "trip," and they have a structure comparable to lysergic acid diethylamide (LSD). Disorientation, tiredness, giddiness, euphoria, and pleasure, are some of the subjective symptoms that might occur after consuming psilocybin mushrooms. It is worth noting that the impact on serotonin in the central nervous system causes hallucinogenic (psychedelic) effects.
A closer look at Psilocybin in Lucidity shroom pills
Lucidity is made with psilocybin, the main psychoactive ingredient in shrooms
Psilocybin, sometimes known as magic Psilocybin mushrooms, is a naturally occurring substance that is ingested for its hallucinogenic properties. They are part of the psychedelic drug class, which causes changes in perception, emotion, and thinking. The compounds psilocybin or psilocin are found in approximately 180 types of mushrooms. Hallucinogenic mushrooms, including peyote (mescaline), have been utilized in native or religious ceremonies for generations. Both psilocybin and psilocin may be synthesized in the laboratory. There have been claims that psilocybin sold on the street is really LSD-laced mushrooms from different species. You can also find this compound in mushroom edibles!
We Value Friendship, and It Starts with Sharing
Are you looking to provide your friends with the same benefits you enjoy?
Look no further! It only requires a simple step-by-step process that takes less than 5 minutes! You earn points that you can use in the shop, and they can benefit from the fantastic selection we provide. It's a win-win situation, so don't hesitate.
Go to "My Account" at the top of the page. If you haven't created an account, we highly suggest it! You can find the referral link section below your profile.

Input a page URL which you want to refer and click "Generate Referral Link."

It will generate a link according to the date of your request. You can also click the social links for Facebook, Twitter, or Whatsapp to create a link to those applications.
Copy the URL (or click on the "Copy Link" box beside the link) and share the link with family, friends, and loved ones!

When your friends and loved ones click the link, you will be awarded 625 Speed Pass Points (after a complete purchase), which you may use towards any of our products! Because your friends are doing you a favor, they can reap more benefits as they will receive a unique coupon code worth $25. This sign-up bonus will help them with more purchases in our shop! If you have any questions or concerns, let us know, and we will be happy to help.