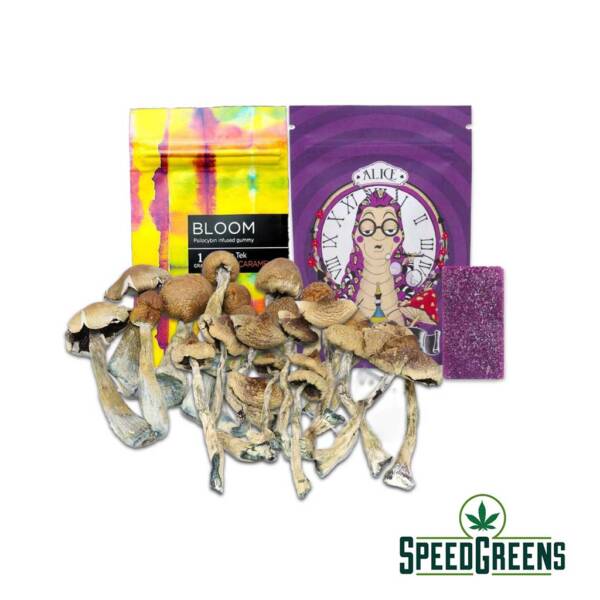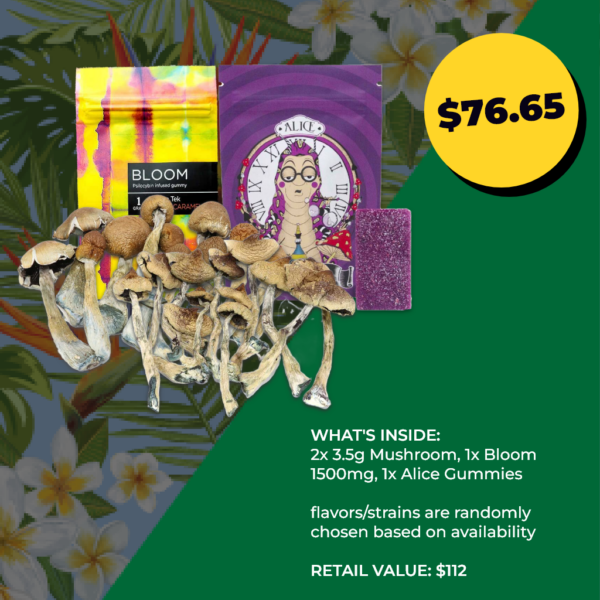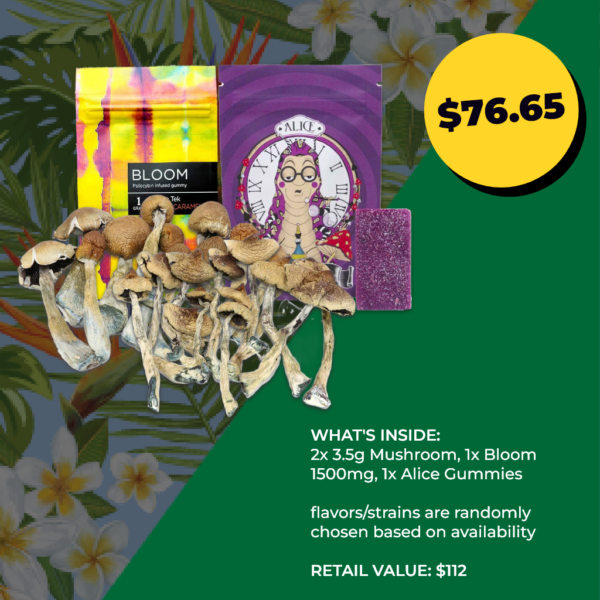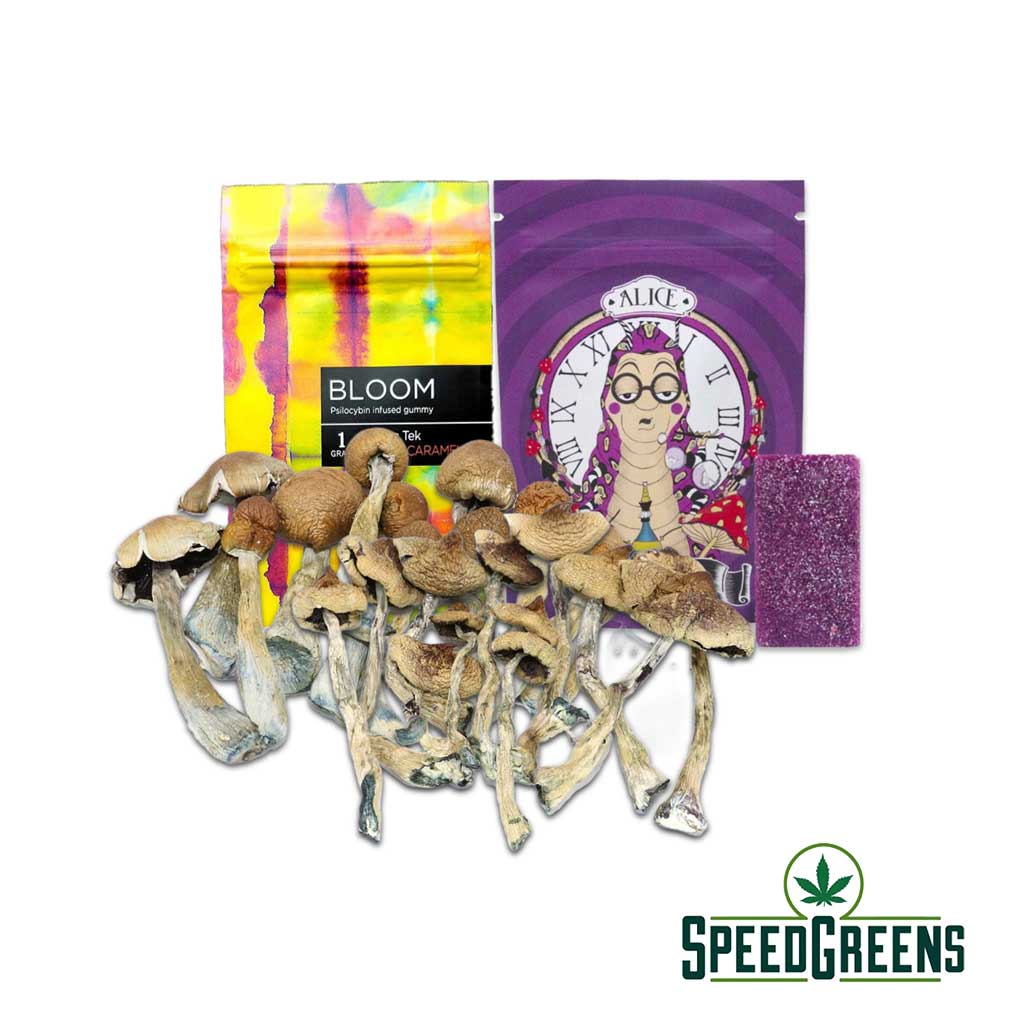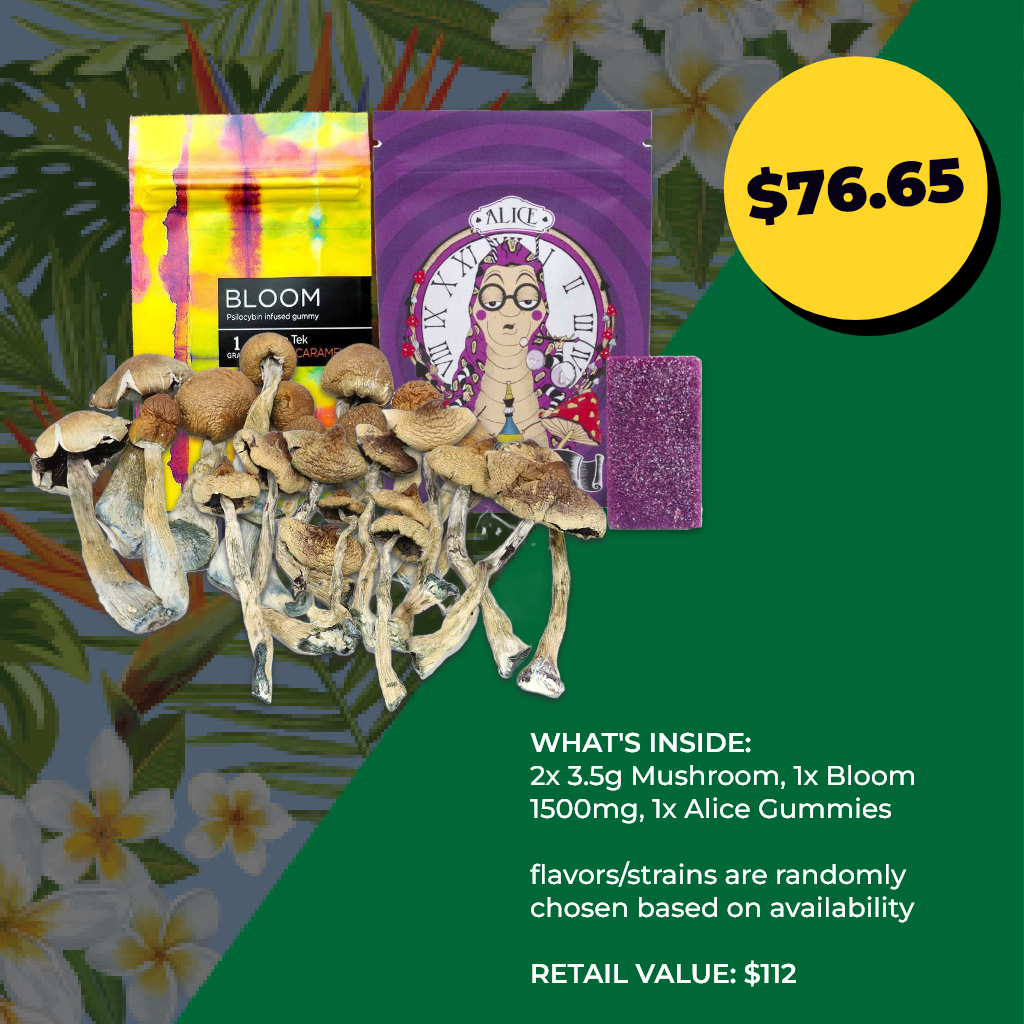 Magic Mushrooms Pack – Spring Break Edition
BEST PRICE

GUARANTEED SHIPMENT

DISCREET PACKAGING
What's Included:
2x 3.5g Mushroom
1x Bloom 1500mg
1x Alice Gummies
RETAIL VALUE: $112
Receive in-stock notifications for this.
Magic mushrooms offer that altered state of mind
The Magic Mushrooms Starter Pack is just what you need if you want to get introduced into the world of shrooms. Its unique properties help you escape reality. If you're looking for an alternative to the high cannabis provides, you'll love what mushrooms can give you. Enjoy the spontaneous, free-flowing, and wavy thinking. Find the best selection to buy shrooms online here at Speed Greens!
Magic mushrooms help you escape your troubles
Shrooms have a wide range of benefits that you'll love to try over and over again
Magic mushrooms are known for their profound benefits on consciousness and perception. The sensory experience will usually offer more psychological benefits but does have some physical benefits as well. It helps with depression, anxiety, addiction, PTSD, and other mental issues. You can use magic mushrooms, either in dried form or edibles, to ease your physical problems as it alters your consciousness away from those debilitating problems. It can help with inflammation, muscle spasms, headaches, migraines, and chronic pain. Magic Mushrooms are just the thing you need for mental stimulation if you have too much on your plate.
Discover what magic mushrooms can do for you
Let your body surrender to the mind-altering properties of shrooms
Magic mushrooms give users intense mental stimulation. For many people, the experience touches on feelings of unity, interconnections with the surrounding world, peace, joy, and an altered sense of time. You'll get spontaneous bursts of ideas, and many people experience a range of intense feelings going from happiness to enthusiasm to sluggishness. The extrasensory excitement of magic mushrooms will alter your senses of smell, taste, and touch. You will feel the world change around you, and you might even find a new-found perspective on your life or problems. If this is what you're looking for, you better buy shrooms online!
The Magic Mushrooms Pack is what you need
Try out our specially curated selection of shroom products
Our Magic Mushroom Starter Pack is just what you need to fall in love with the world of shrooms. If you're looking for the perfect selection of products to get your shroom on, this pack has your back. Here's what you'll find:
2x 3.5g Mushroom
1x Bloom 1500mg
1x Alice Gummies
*contents of the pack can change anytime due to the high order volume. flavors/strains are randomly chosen based on availability.
These products will help you test out whether or not shrooms are right for you. These magic mushrooms include the proper dosage instructions if it's your first time or if you've been doing it for a while. We want people to enjoy that safe consumption of shrooms. If you're looking to buy shrooms online, Speed Greens is the #1 place!
LIMIT ONE PER CUSTOMER