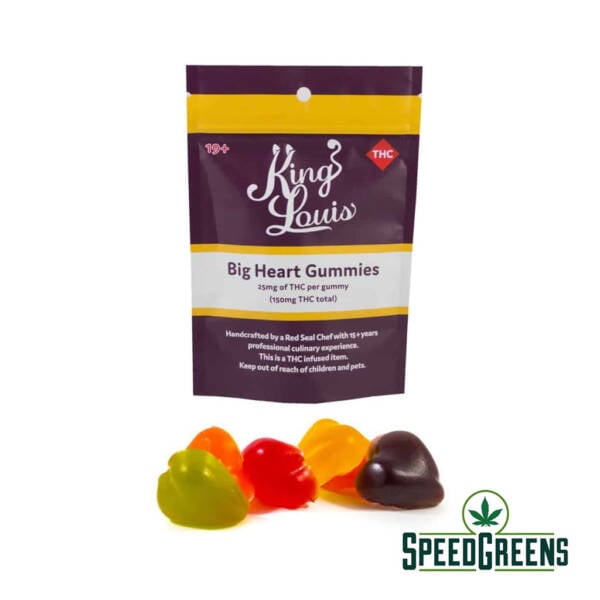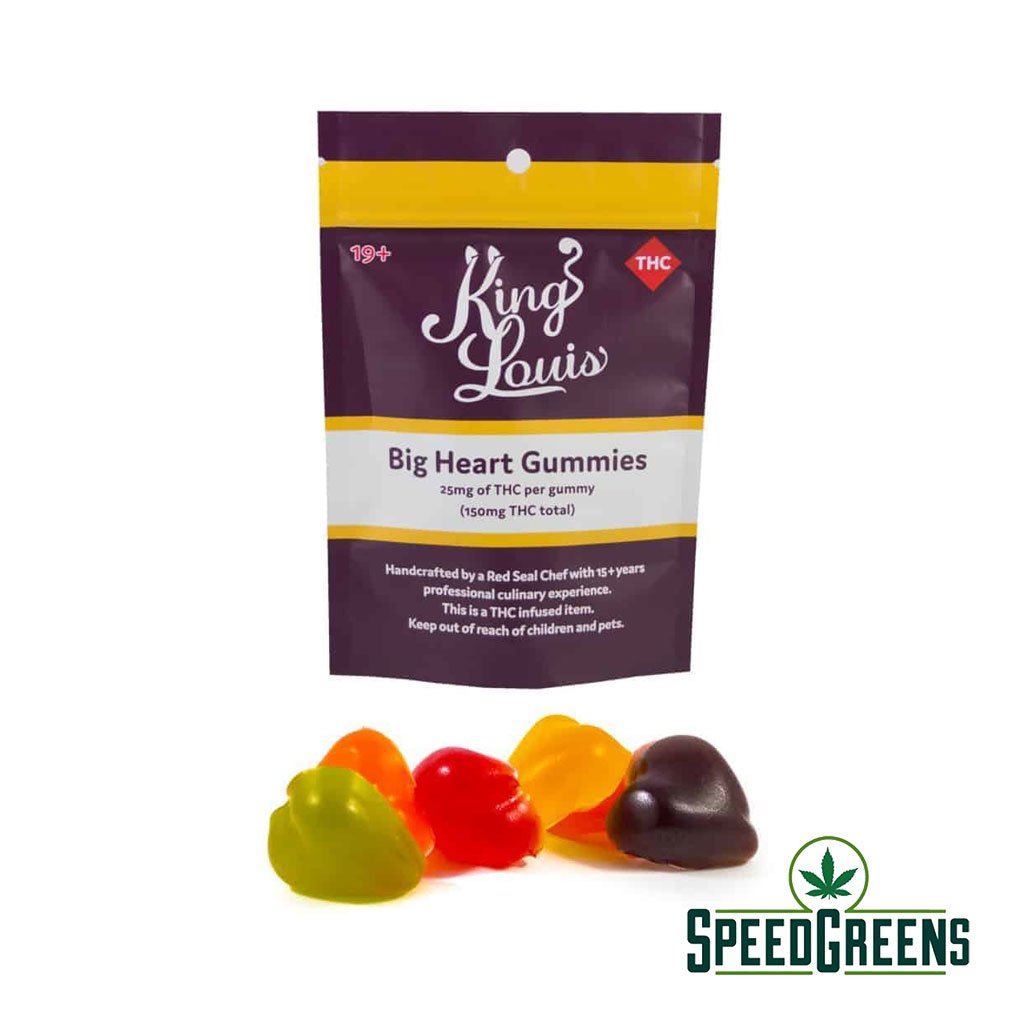 King Louis Big Heart Gummies (150mg THC)
$18.00
Earn 18.00 Reward Points
BEST PRICE

GUARANTEED SHIPMENT

DISCREET PACKAGING
King Louis gummies won runner up for best edible at The Grass Roots Cup!  Small batch home made products.
Fruit Punch Flavours: lemon, grape, apple, raspberry, strawberry and watermelon
Dosage: 150 mg THC per package
6 x 25 mg THC Fruit Gummies
Made with RSO | Comes in a resealable bag | Handcrafted
Ingredients: Sugar, Corn Syrup, Water, Gelatin, Pectin, Citric Acid, Food Coloring, Artificial Flavoring, THC
Always consult a physician for recommended dosage based on your own individual needs.
Description
Refer a friend
Reviews (0)
Edible Gummies with royally excellent benefits!
Enjoy your favorite flavours in one pack! Each pack contains 6 delicious fruit flavored pieces of edible gummies, all infused with pure, potent, and premium THC distillates. For your best selection of marijuana edibles Canada has to offer, Speedgreens got it all for you! Get your hands on these edibles today.
Edible gummies are a convenient way to get the benefits of cannabis
A delicious solution to your stubborn aches and pains that is convenient and hassle-free
If you're looking for a way to enjoy all the benefits of cannabis without having to smoke it, then these edible gummies are perfect for you! If you don't want to smoke weed but still want to consume THC, edibles are a great option. They're also great for people with respiratory issues. And since consuming edibles is much more discreet than smoking marijuana, you don't have to worry about anyone knowing.
Edibles are a convenient way to medicate with THC. THC can also help with treating insomnia, anxiety, nausea, muscle spasticity and low appetite. For those looking for an effective way to help with these issues, try King Louis Big Heart Gummies. If you're searching for the best marijuana edibles in Canada, look no further!
These punchy gummies are packed with THC distillates, promising a powerful dose of cannabis in every bite.
These delicious gummies are easy to consume and a great way to enjoy the effects of THC
The effects of cannabis edible gummies can vary depending on the dosage and the individual consuming them. Generally, edibles take longer to take effect than inhaled methods of cannabis consumption, as they need to be digested before the active compounds reach the bloodstream. Once they take effect, the effects can last longer than inhaled methods, typically around 4-6 hours. Some common effects include:
Relaxation and stress relief
Increased appetite
Pain relief
Sedation
Euphoria
If you're looking for an edible that will give you long-lasting effects, these gummies are perfect for you.
Discover the power of premium THC-infused fruit flavors.
These King Louis' Big Hearts are made with RSO Oil (Hybrid)
King Louis gummies WON runner up for best edible at The Grass Roots Cup!
Each pack has 6 heart shaped gummies that are 25mg of THC
Made with RSO
Comes in a resealable bag.
Handcrafted, Small Batch
Each gummy has a different flavour (lemon, grape, apple, raspberry, strawberry and watermelon).
RSO Oil:  By soaking the cannabis in pure naphtha or isopropyl alcohol, the therapeutic compounds are drawn out of the plant, leaving behind a tar-like liquid after the solvent fully evaporates. Also known as Phoenix Tears, Rick Simpson Oil (RSO) can be orally administered or applied directly to the skin. Many other businesses now sell their own renditions of the Rick Simpson Oil, some of which are high in THC while others contain only non-psychoactive compounds like CBD.
We Value Friendship, and It Starts with Sharing
Are you looking to provide your friends with the same benefits you enjoy?
Look no further! It only requires a simple step-by-step process that takes less than 5 minutes! You earn points that you can use in the shop, and they can benefit from the fantastic selection we provide. It's a win-win situation, so don't hesitate.
Go to "My Account" at the top of the page. If you haven't created an account, we highly suggest it! You can find the referral link section below your profile.

Input a page URL which you want to refer and click "Generate Referral Link."

It will generate a link according to the date of your request. You can also click the social links for Facebook, Twitter, or Whatsapp to create a link to those applications.
Copy the URL (or click on the "Copy Link" box beside the link) and share the link with family, friends, and loved ones!

When your friends and loved ones click the link, you will be awarded 625 Speed Pass Points (after a complete purchase), which you may use towards any of our products! Because your friends are doing you a favor, they can reap more benefits as they will receive a unique coupon code worth $25. This sign-up bonus will help them with more purchases in our shop! If you have any questions or concerns, let us know, and we will be happy to help.