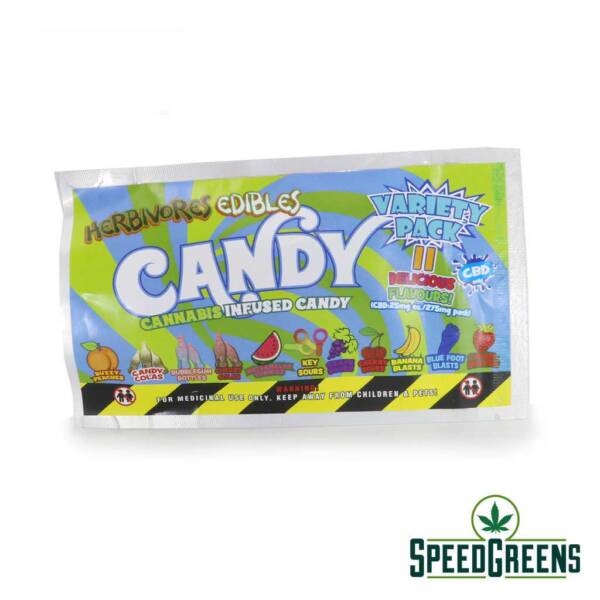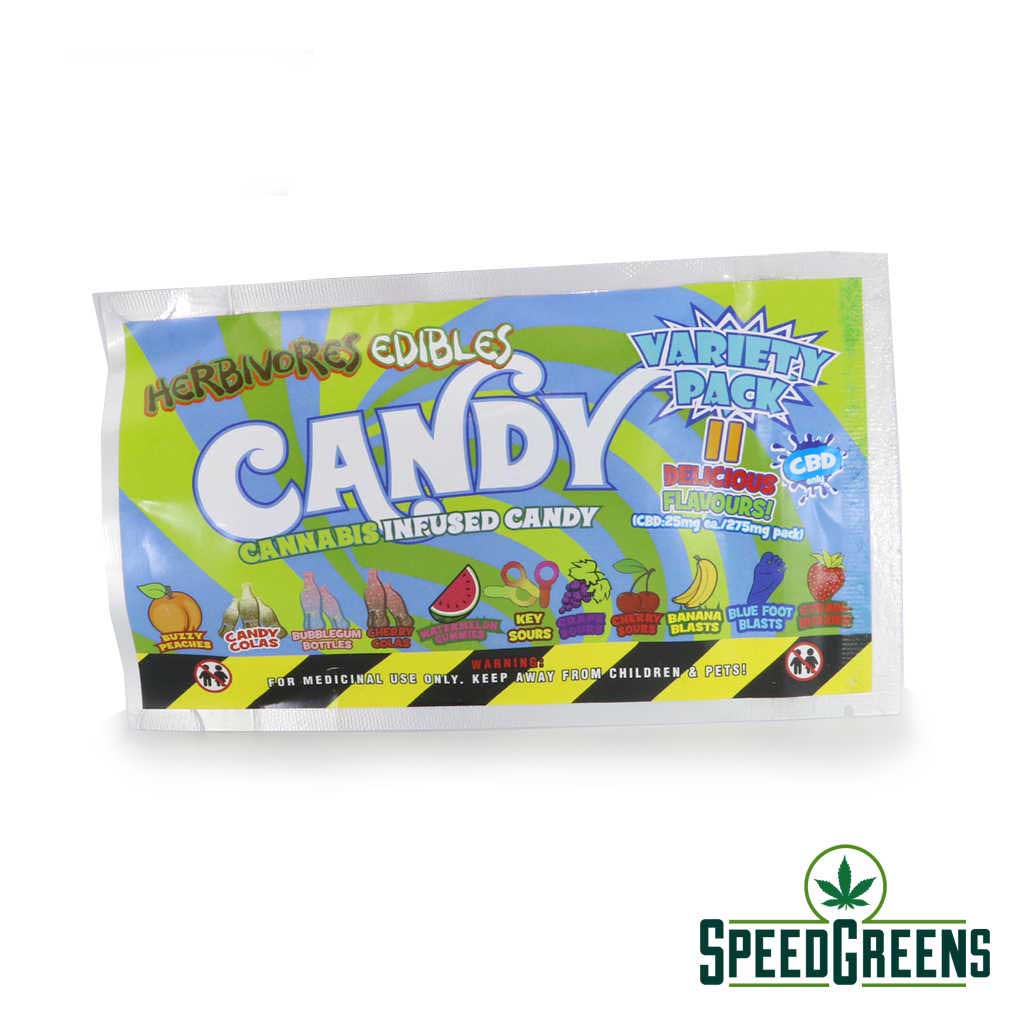 Herbivores Variety Gummies (275mg CBD)
BEST PRICE

GUARANTEED SHIPMENT

DISCREET PACKAGING
Herbivore Variety Gummies are the bomb! Chocolates not your thing? That's all right! Not too many people can resist sour candies. Especially these ones. With a great selection Herbivore Edibles has done it again. Have a busy day? No time to medicate? Pop a pack of these in your pocket and head out for the day. Convenient, discreet and so tasty with flavours that will bring back memories. Each candy is loaded with 25 mg of flavourless CBD distillate, so it's best to take one at a time, even though it's oh so tempting to eat the whole bag. Check out all the Herbivore Edible products here!
CBD Content: Variety pack 25mg per piece/275mg per package (11 x Pieces)
Delicious Flavours: Banana, Strawberry, Watermelon, Cherry, Grape, Blue Foot, Keys Sours, Peach, Coca Cola, Cherry Cola & Bubble Gum Cola
Dosage: Always consult a physician for recommended dosage based on your own individual needs.
**Please note that some gummies may melt during transport due to the extreme heat.**
Send your senses on an adventure with these CBD edibles
These Herbivores Variety Gummies are a must-have! Don't wait for these CBD edibles to fall out of the sky; try them out yourself. You can spice up your day or ease yourself for the night – the possibilities are endless. If you're looking to buy edibles online, you've come to the right place!
These CBD edibles solve your most stubborn problems
Improve your physical and mental health. Feel more relaxed and calm even under pressure
These CBD edibles are just what you need to improve the pain and aches you experience. If you're looking for quick relief, Herbivores is what you need. After a long stressful day, wind down, pop one in your mouth and let these CBD edibles do their job.
CBD is an amazing cannabinoid that helps treat pain, anxiety, depression, inflammation, migraines, nausea, seizures, and psychosis.Clear your mind from any racing thoughts and ease your mood.
These CBD edibles are infused with potent distillates.
Discreet way to relieve pain, depression, anxiety, and migraines without getting high
Are you having trouble calming your state of mind? CBD edibles are the perfect way to start floating in a sea of sensations. These gummies are infused with only flavourless distillates for a clean delivery of cannabinoids and tastes that you'll love. You'll notice that you'll experience the relieving qualities associated with cannabinoids just without the high you're expecting. Let the uplifting sensations erase any negative thoughts you have. Get the new mindset that you've always been looking for. What's stopping you?
These CBD edibles come in a variety of delicious flavours!
Enjoy the delicious goodness in each gummy. 11 nostalgic flavors in 1 pack!
This sweet treat won't get boring! Each pack comes with 11 different flavored gummy, including:
Banana
Strawberry
Watermelon
Cherry
Grape
Blue Foot
Keys Sours
Peach
Coca Cola
Cherry Cola
Bubble Gum Cola
Herbivores choose flavours that everyone knows. Get a nostalgic kick as you chew into these CBD edibles. Each pack contains 275mg CBD with 11 pieces of gummies in each Herbivores CBD Gummies Variety Pack. Every gummy contains 25mg CBD if you're looking for a potent dose. However, this will still vary depending on how your body reacts. You can cut it in half to cut down the CBD you consume.