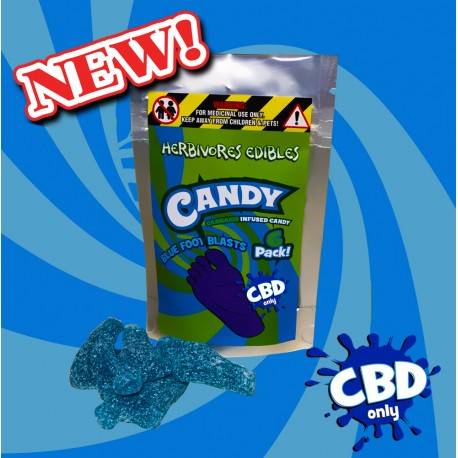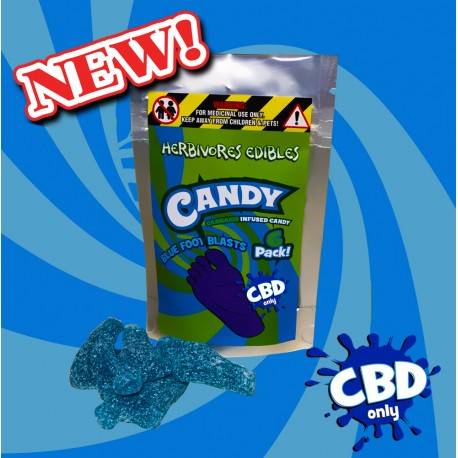 Herbivores Blue Foot Blasts (150mg CBD)
BEST PRICE

GUARANTEED SHIPMENT

DISCREET PACKAGING
Herbivores Edibles is thrilled to offer a wide range of cannabis infused edibles & food product without the harsh cannabis flavor! Just the great taste of your favorite snack!
Flavours: Strawbuzzies, Banana Blasts, Blue Foot Blasts, Candy Colas, Cherry Sour, Watermelon Sour, Key Sour, Peach and Grape Sour.
*6 candies per pack (25mg each/150mg total)
**Please note that some gummies may melt during transport due to the extreme heat.**
Description
Refer a friend
Reviews (3)
Treat your senses with our CBD edibles
Herbivores Candies is excited to provide a variety of cannabis-infused edibles and food products that don't have a strong cannabis flavor! Its blueberry flavouring is something you're sure to enjoy! These Blue Foot CBD edibles are just the thing you need on the day.
Take a step into the CBD edibles benefits and more
CBD gummies are giving users a sense of calm and relaxation that are easily enjoyed and experienced in one go
Do CBD gummies provide any health benefits? CBD candies' makers claim that the substance can help with anxiety, sadness, pain, inflammation, and sleep. The FDA has authorized Epidiolex, a CBD medication for treating epilepsy. In addition, unlike THC, you'll get a sense of serenity and relaxation without having to go "high." The Blue Foot Blasts are a wonderful way to enjoy a calmer mind and better sleep without having to cope with the unpleasant taste of CBD.
A better way as an option than THC
CBD edibles are safer when it comes to giving you signature effects such as relaxation and an improved awareness
CBD edibles are non-intoxicating, as we already know. While CBD is said to provide treatment from a variety of illnesses via non-ECS receptors, THC's medicinal effects are centered on its intoxication qualities. THC, however, has some disadvantages. Many people use it to treat the same problems that have drawn so much attention to CBD. However, the sensation is quite different – and occasionally terrible. CBD can be calming or stimulating, depending on the needs of your brain and body. Regardless, you won't experience any of the physical or mental effects that THC does.
CBD gummies aren't psychoactive. That implies you won't get high from them. You'll never get your world to go psychedelic, no matter how many you consume. That necessitates the use of THC. Because of the way the cannabinoid interacts with your brain, no CBD products will get you high. So, whether you go with CBD gummies, CBD oil, or CBD cream, you shouldn't ever feel like you're about to pass out. If that happens, whatever you took contained more than simply CBD.
The CBD edibles as we know it – and more!
Dosing facts are a great way to understand how to enjoy CBD edibles in a more efficient manner
When it comes to dosing, CBD follows a "bell curve" or "u-shaped" pattern. Its effects are biphasic, which means there's a negative relationship between dose and potency — as the dose goes up, the effectiveness goes down. To put it another way, too much CBD is just as ineffective as not enough. The daily dosage might range from tens to hundreds of milligrams. The effects will lessen and finally stop if you surpass the "sweet spot" dose. Because these products act in 10 to 20 minutes, pain alleviation might feel virtually instantaneous. When it comes to problems like inflammation, though, you may need to give the gummy some time to work.
We Value Friendship, and It Starts with Sharing
Are you looking to provide your friends with the same benefits you enjoy?
Look no further! It only requires a simple step-by-step process that takes less than 5 minutes! You earn points that you can use in the shop, and they can benefit from the fantastic selection we provide. It's a win-win situation, so don't hesitate.
Go to "My Account" at the top of the page. If you haven't created an account, we highly suggest it! You can find the referral link section below your profile.

Input a page URL which you want to refer and click "Generate Referral Link."

It will generate a link according to the date of your request. You can also click the social links for Facebook, Twitter, or Whatsapp to create a link to those applications.
Copy the URL (or click on the "Copy Link" box beside the link) and share the link with family, friends, and loved ones!

When your friends and loved ones click the link, you will be awarded 625 Speed Pass Points (after a complete purchase), which you may use towards any of our products! Because your friends are doing you a favor, they can reap more benefits as they will receive a unique coupon code worth $25. This sign-up bonus will help them with more purchases in our shop! If you have any questions or concerns, let us know, and we will be happy to help.