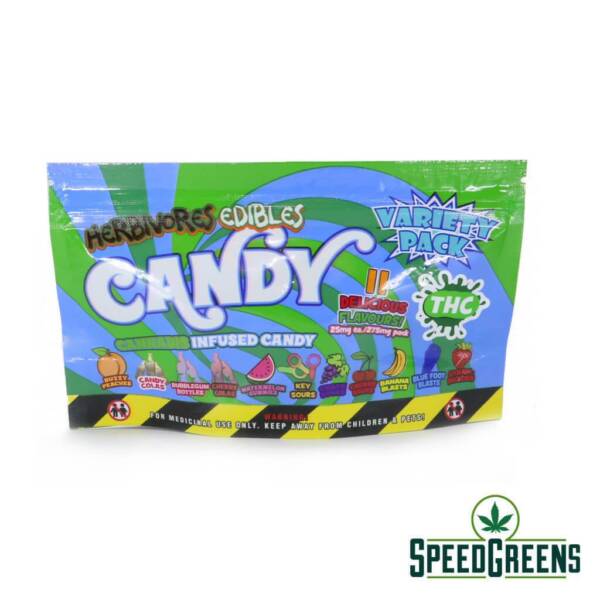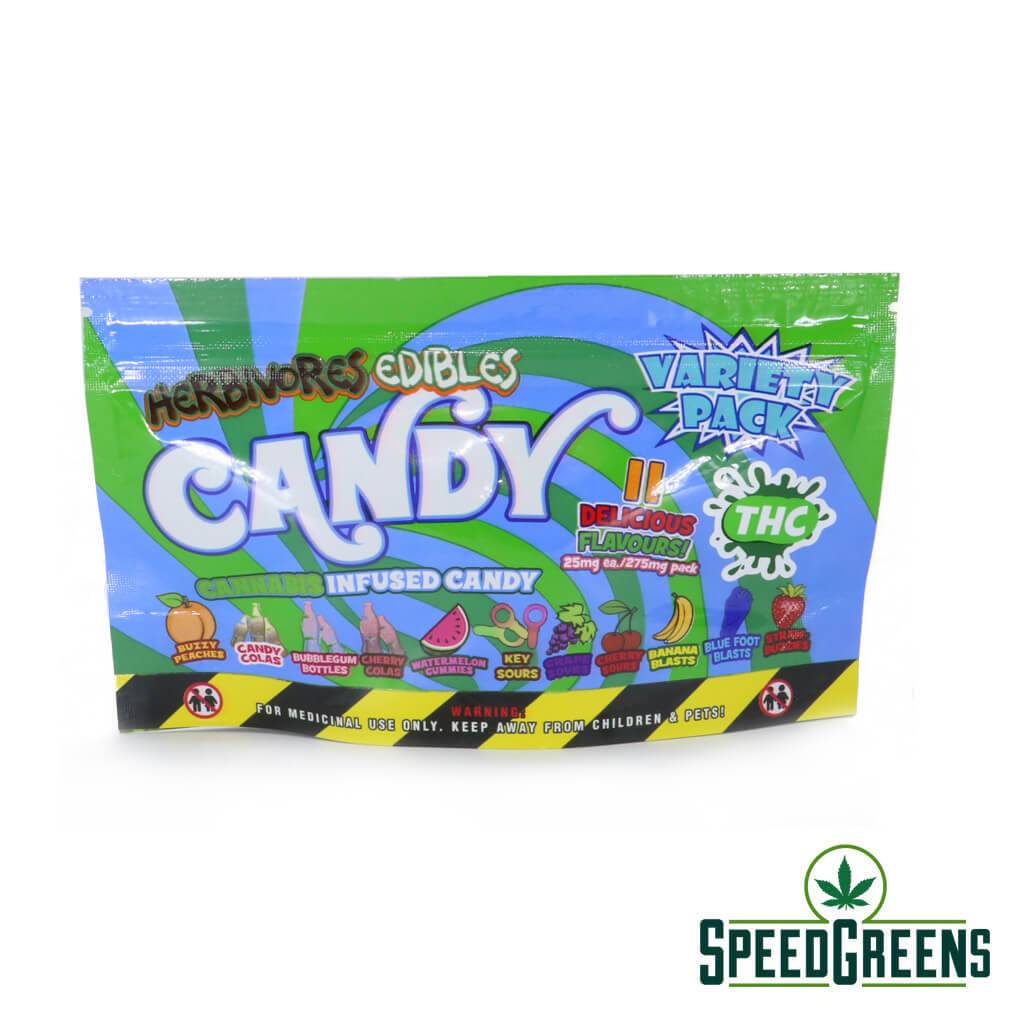 Herbivores Variety Gummies (275mg THC)
BEST PRICE

GUARANTEED SHIPMENT

DISCREET PACKAGING
Herbivores Variety Gummies are the bomb! Chocolates not your thing? That's all right! Not too many people can resist sour candies. Especially these ones. With a great selection Herbivore Edibles has done it again. Have a busy day? No time to medicate? Pop a pack of these in your pocket and head out for the day. Convenient, discreet and so tasty with flavours that will bring back memories. Each candy is loaded with 25 mg of flavourless THC distillate, so its best to take one at a time, even though it's oh so tempting to eat the whole bag. Check out all the Herbivore Edible products here!
THC Content: Variety pack 25mg per piece/275mg per package (11 x Pieces)
Delicious Flavours: Banana, Strawberry, Watermelon, Cherry, Grape, Blue Foot, Keys Sours, Peach, Coca Cola, Cherry Cola & Bubble Gum Cola
Dosage: Always consult a physician for recommended dosage based on your own individual needs.
Description
Refer a friend
Reviews (21)
Explore the 11 fruity flavours of these edible gummies
Surprise your senses with these amazing edible gummies of Herbivores. They are a tasty alternative to medicating, making for weed treats you can't resist. You're sure to get curious about what's next because every piece has a different flavour! What are you waiting for? Each piece has a little acidic kick that you will love.
Relieve pain and sleep better with these edible gummies
Convenient and discreet way to treat anxiety, pain, and insomnia for better sleep at night
Herbivores Variety Gummies are just what you need for a quick and discreet way to fill cannabis cravings. Find ways to treat your anxiety, pain and insomnia with these edible gummies! Pull them out at the right time if any situation or emotion gets too overwhelming! You don't need to use a bong, joint, or pipe to get the high you want. It's all packed in a delicious gummy! They contain a powerful dose of THC to relieve stubborn symptoms of chronic pain and stress. What are you waiting for?
Herbivores Variety Pack are the edible gummies you want!
A highly effective and discreet way of getting high. A great alternative to smoking weed
After a stressful day, we all want to unwind and relax. These edible gummies are just what you need for quick and delicious delivery of THC to your body. It's hard to resist a good sour candy! These weed treats are just the thing you want. Each candy is loaded with flavourless THC distillate, so you're only getting the taste of a delicious gummy with all the benefits that THC can offer!
Your body may get a more intense and euphoric high than you're used to. A wave of relaxation will keep you locked onto whatever you're resting on. Start winding down and get the relief that you deserve!
These edible gummies come in such a wide range of flavours
Taste the 11 different delicious flavors! They are packed with a potent dose of THC!
With its 11 different flavors, Herbivores Variety Pack will not bore you. You might find a flavour that you might fall in love with!
Banana
Strawberry
Watermelon
Cherry
Grape
Blue Foot
Keys Sours
Peach
Coca Cola
Cherry Cola
Bubble Gum Cola
Bring back the nostalgic taste of gummies with this Herbivores Variety Pack. These convenient weed treats will send you back in time. The whole pack contains 275mg THC with 11 pieces of gummies. The edibles contain 25mg THC, which is the optimal dosage if you're curious. However, how long it takes to feel the effects will vary from person to person. It will depend on your body's metabolism and reaction to the cannabinoids. If you need to mix up the dosage, feel free to experiment. The edible gummies are small enough where you can find that perfect amount! Microdosing will be the way to go!
We Value Friendship, and It Starts with Sharing
Are you looking to provide your friends with the same benefits you enjoy?
Look no further! It only requires a simple step-by-step process that takes less than 5 minutes! You earn points that you can use in the shop, and they can benefit from the fantastic selection we provide. It's a win-win situation, so don't hesitate.
Go to "My Account" at the top of the page. If you haven't created an account, we highly suggest it! You can find the referral link section below your profile.

Input a page URL which you want to refer and click "Generate Referral Link."

It will generate a link according to the date of your request. You can also click the social links for Facebook, Twitter, or Whatsapp to create a link to those applications.
Copy the URL (or click on the "Copy Link" box beside the link) and share the link with family, friends, and loved ones!

When your friends and loved ones click the link, you will be awarded 625 Speed Pass Points (after a complete purchase), which you may use towards any of our products! Because your friends are doing you a favor, they can reap more benefits as they will receive a unique coupon code worth $25. This sign-up bonus will help them with more purchases in our shop! If you have any questions or concerns, let us know, and we will be happy to help.