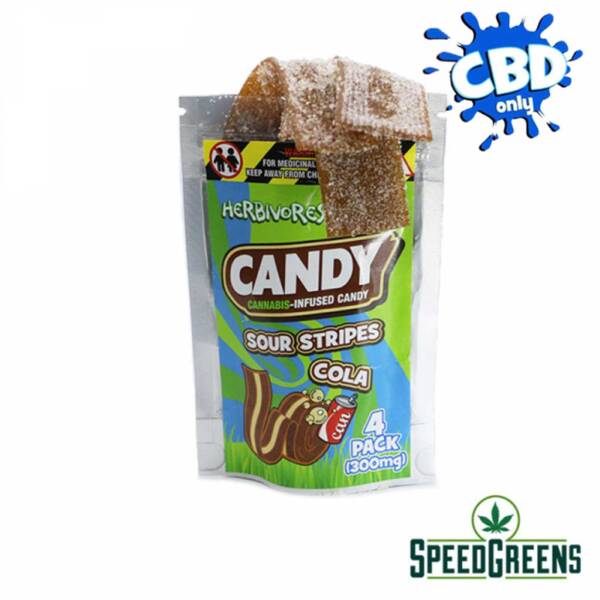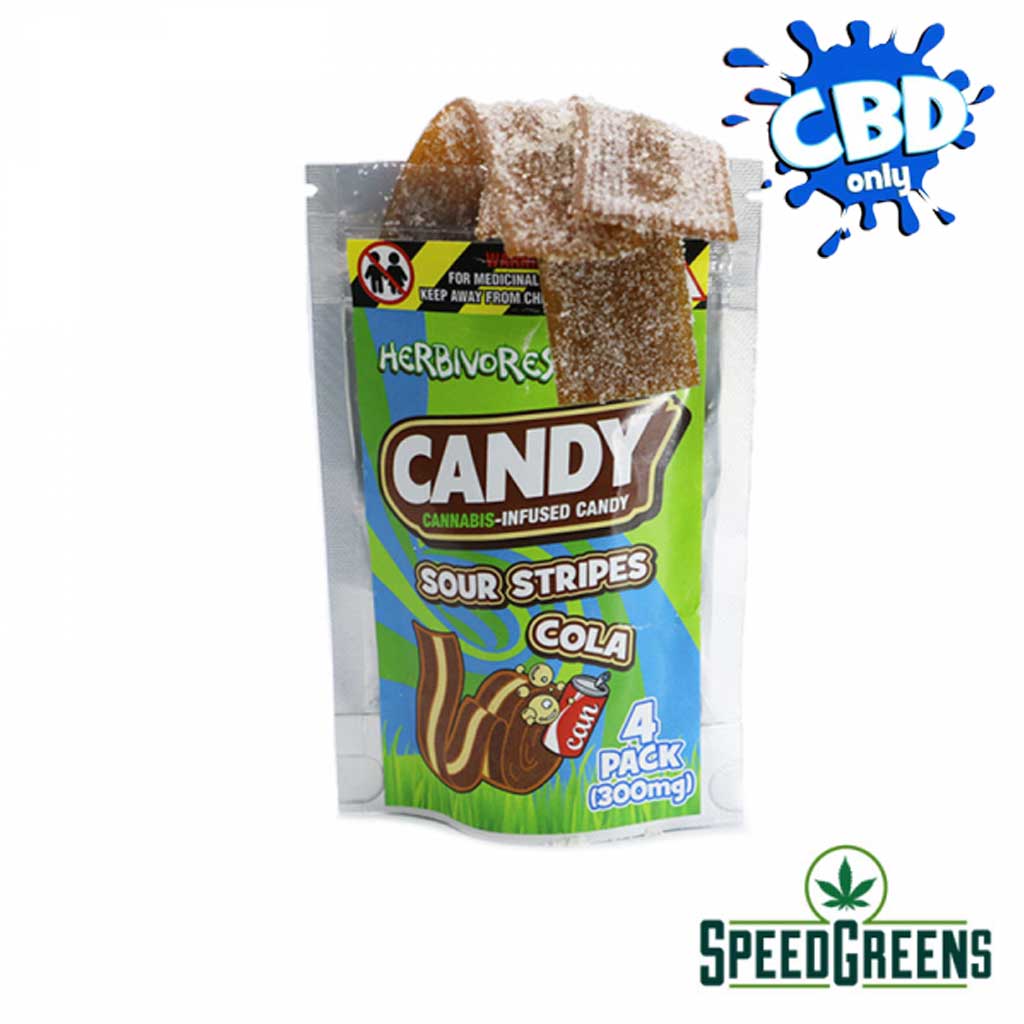 Herbivores Sour Candy Stripes Cola 300mg CBD
BEST PRICE

GUARANTEED SHIPMENT

DISCREET PACKAGING
CBD infused sour flavoured gummy candy.
(300mg CBD total)
**Please note that some gummies may melt during transport due to the extreme heat.**
Receive in-stock notifications for this.
Experience CBD-infused sour candy
Herbivores Sour Candy Stripes are an amazing treat that you try. Get all the benefits of smoking cannabis discreetly and with the nostalgic taste of sour cola stripes. Herbivores Sour Stripes Cola is packed with 300mg of CBD for your enjoyment. For the best edibles around, you've come to the right place.
These sour candy benefits are no joke
Give your body and mind the sense of comfort that it deserves
Herbivores Sour Candy Stripes help you ease a range of problems that can be physical or psychological. After a long day, you need a little bit of a break. These sour candy edibles provide quick relief from temporary or chronic issues. If you have trouble with inflammation, headaches, migraines, and chronic pain, these sour cola stripes have got your back. You might even have some when your mind gets clouded with racing thoughts. You can calm moments of anxiety, stress, and depression. CBD is also great when you lose your appetite or have trouble sleeping at night.
This sour candy has plenty of effects
Herbivores Edible is no joke in making amazing edibles
Load up on CBD and get a new frame of mind with the effects of Herbivores Sour Candy. CBD helps ease your mind from its problems without experiencing the high that THC brings. You'll find that your overall mood is uplifted. It helps restore your body and mindset to a more focused and emotionally stable state. Because CBD works on the serotonin system, you will feel less anxious and stressed. It also helps that this sour candy looks like a familiar treat with flavours and tastes that you will love!
Learn more about this sour candy
Herbivores Edibles are the answer to your prayers
This sour candy has a nostalgic flavour and look that you'll recognize. It offers a sweet escape without stepping out to smoke or vape. Herbivores Edibles are an amazing way to curb your cannabis cravings no matter the time of day. You'll get 300mg of CBD split between 4 sour stripes with the familiar cola flavour. These sugary treats can be easily tucked away when needed, and you can pull them out whenever since they don't raise any red flags. You'll want to shop through our inventory at Speed Greens for the best edibles!