By purchasing this product, you can earn points based on a percentage of cart total. You will come to know the earn points information once you add the product to cart.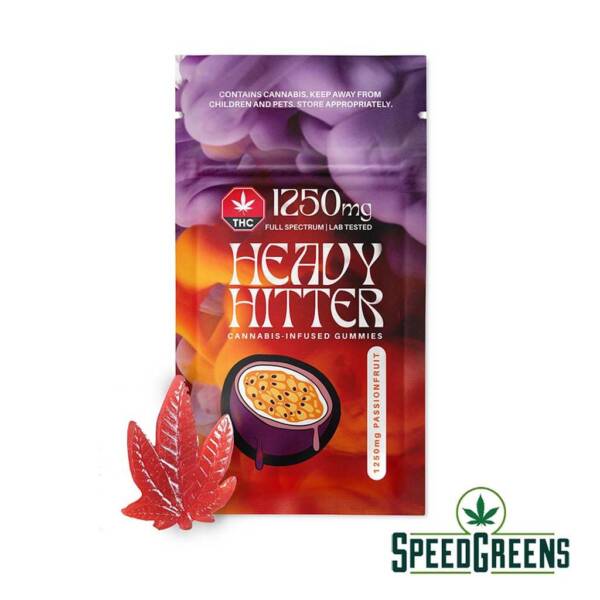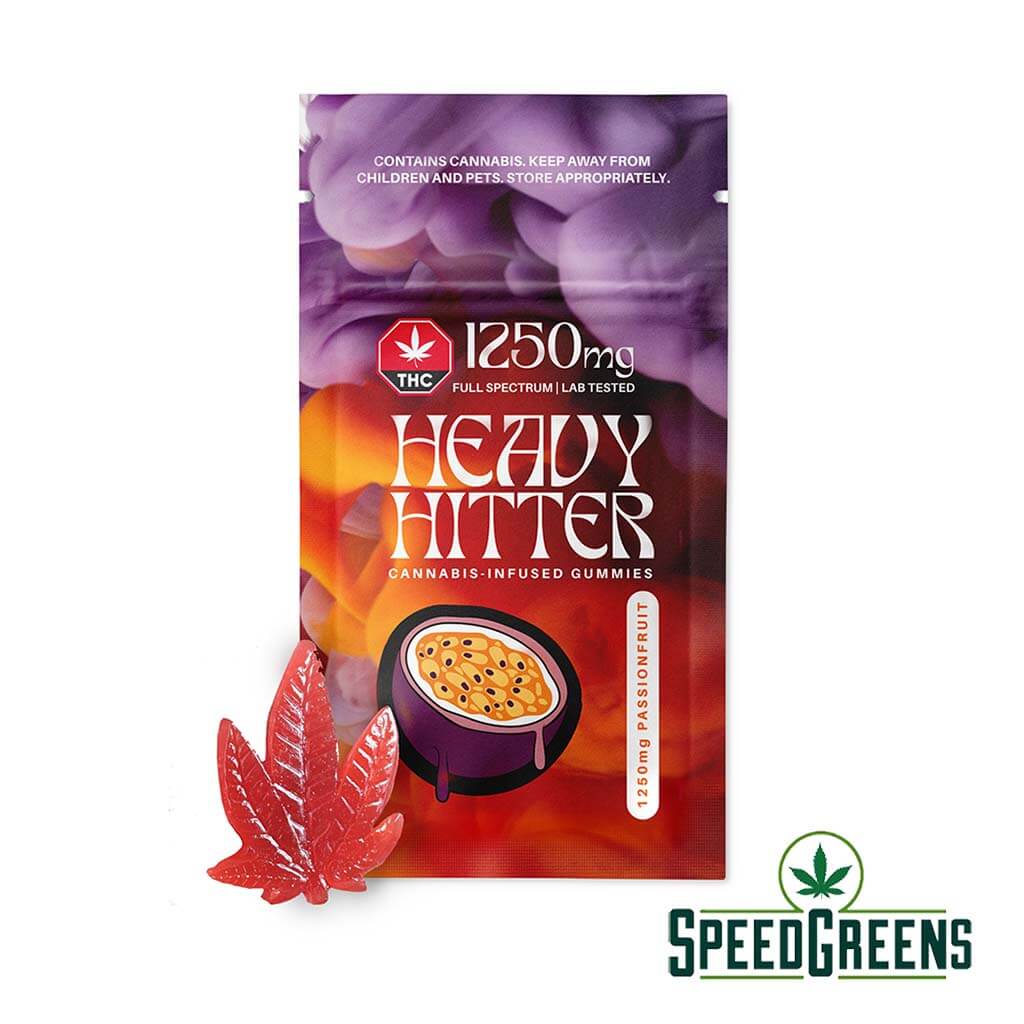 Heavy Hitters – Passionfruit (1250mg THC)
BEST PRICE

GUARANTEED SHIPMENT

DISCREET PACKAGING
Pure. Potent. Perfect.
Each Gummies are infused with Heavy Hitter's Ultra cannabis oil.
Crafted with delicious real fruit flavors and perfect texture to make your mouth water. These 1250mg gummies are meant for experienced users.
Available in Black Cherry, Watermelon and Passion Fruit
WARNING: Not for beginners. High potency THC Content. Use caution to ensure correct dosage is consumed.
Get a hefty dose of feel-good weed edibles
Let your body go on a THC adventure you won't forget. These weed edibles will take you on a euphoric journey that you deserve. It comes with the delicious and sweet flavour of passionfruit to keep you coming back for more. Good thing you've come to the right place. Speed Greens is Canada's #1 online dispensary!
Ease the stresses of the day with weed edibles!
Find fast relief for stubborn aches and pains when you take a bite
Weed edibles are popular for both pleasure and their medicinal value. Heavy Hitter is a delicious treat if you want a fast and strong hit of THC straight into your system. This large dose will help you calm down your most stubborn problems. In terms of physical benefits, you can wind down and find relief from inflammation, cramps, headaches, nausea, and nerve damage. Its uplifting qualities will ease ADD/ADHD, bipolar disorder, depression, anxiety, and chronic stress. Enjoy it on the go or when you need it most. These weed edibles are always at the ready!
Discover the rich effects of these weed edibles
It's all in the name; Heavy Hitter will knock you on your feet!
Heavy Hitter's incredibly potent THC concentration will hit on all cylinders. You get a wave of relaxation and euphoria that sweeps throughout your whole body. You know you're going to be chair-locked, wondering what your next move is. The tingling sensations will numb any worrying thoughts. These weed edibles will envelop you in a blanket of bliss. Make sure you take these THC edibles if you have nothing to do or treat any nagging conditions. There might be instances where your hunger will strike. So have some snacks ready and a comfortable place to rest; you're in for a long one!
Weed edibles are just what you're looking for!
Make sure you know what you're getting yourself into with Heavy Hitter
These weed edibles have an ungodly amount of THC. 1250mg THC is enough for a large amount of people or for a considerable amount for yourself. The amazing flavour makes taking these a breeze. They are crafted with delicious flavours and perfect texture. These edibles are infused with Heavy Hitter's Ultra cannabis oil for that potent THC content. They contain organic sugar and organic tapioca syrup and enhanced with natural flavours and colours. These mouth-watering gummies are to die for! Be careful, these high-dose weed edibles are not intended for any novice user! Experience the potency of Heavy Hitter available at our online dispensary.