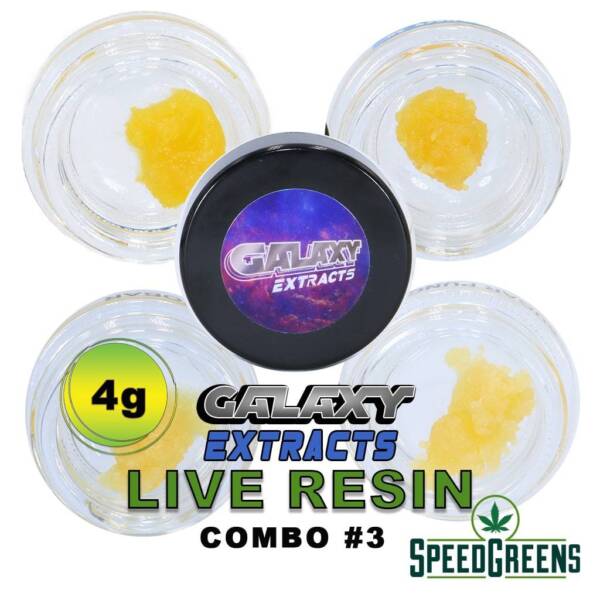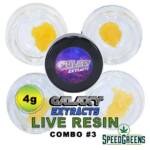 Galaxy Extracts Live Resin Combo #3 (4g)
Buy 3g and get 1g FREE with this limited time offer Galaxy Extracts Combo Set!
Sundae Driver
Super Lemon Haze
Juicy Fruit
Bruce Banner
Galaxy Extracts ™ is proud to bring you the highest quality, most flavorful premium concentrates on Earth.  Get ready to blast off into outer space.
To create our Galaxy Live Resin, we use small batches of single-origin genetics.  Like all Galaxy Extract products, these are grown naturally right here in Beautiful British Columbia without the use of any harmful pesticides.  While Live Resin is similar to wax or shatter, the robust terpene profile gives it a much more flavorful, authentic marijuana experience.
To guarantee the quality of the terpene profile, we use fresh, whole cannabis plants instead of dried or decarboxylated plant material. That's why our Galaxy Resin is "Live".  Using live plants produces an end product with richer aromas, exceptional flavors, and the specific high you expect from your favorite marijuana strains.
You won't find an extract that so perfectly captures the taste, smell, and feel of your favorite Galaxy Extract strains. Our Live Resin is available in sativa, indica, and hybrid varieties, so we have the right Resin for your specific needs and preferences.
 BLAST OFF into outer SPACE.