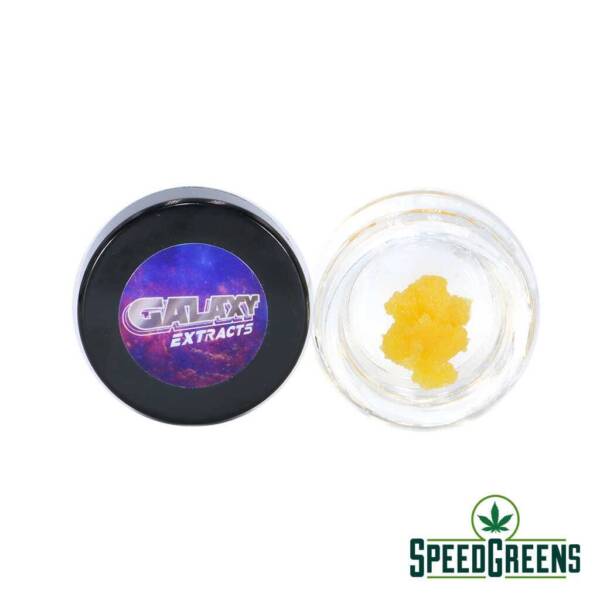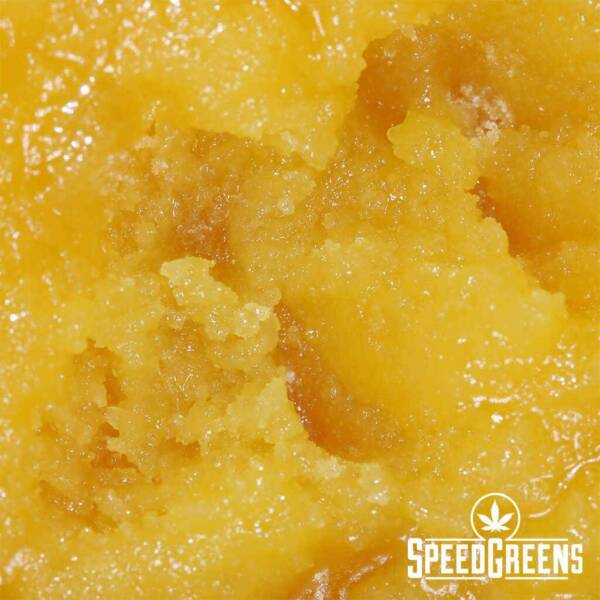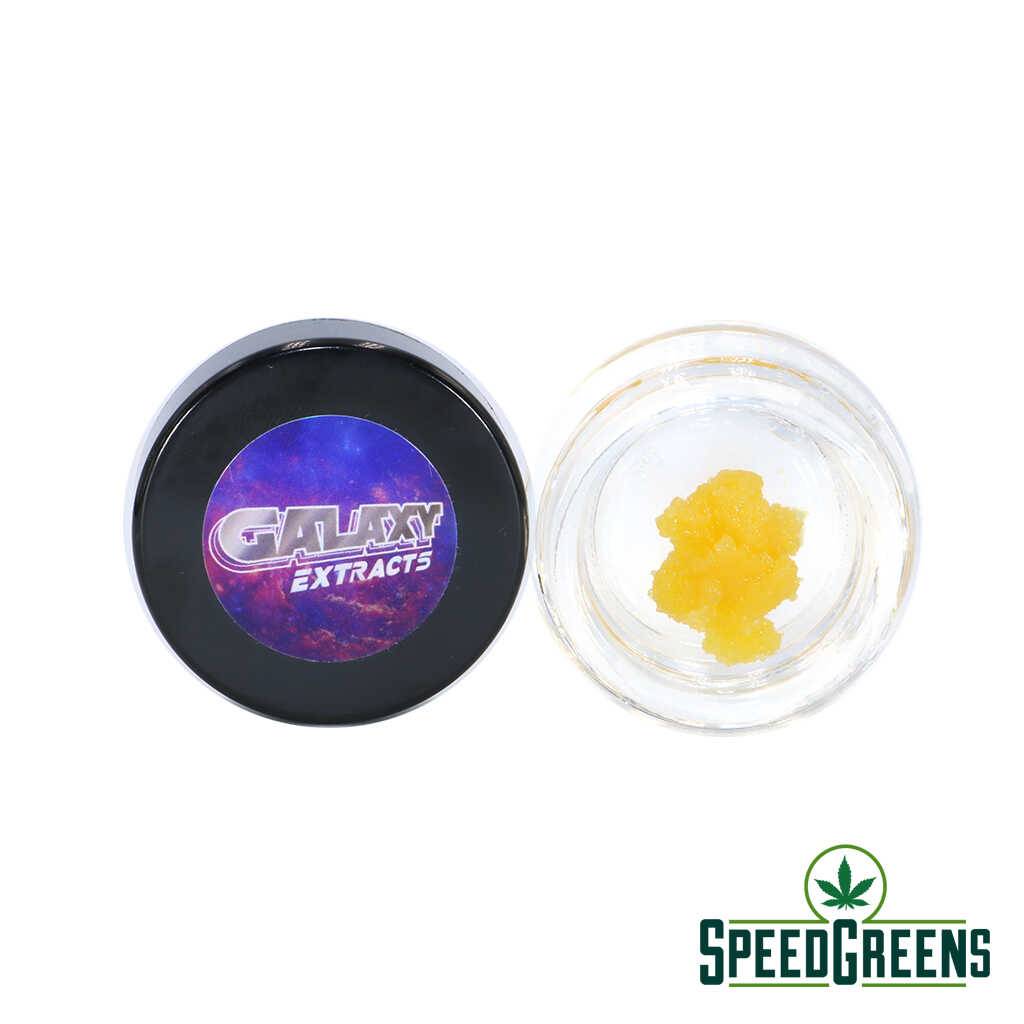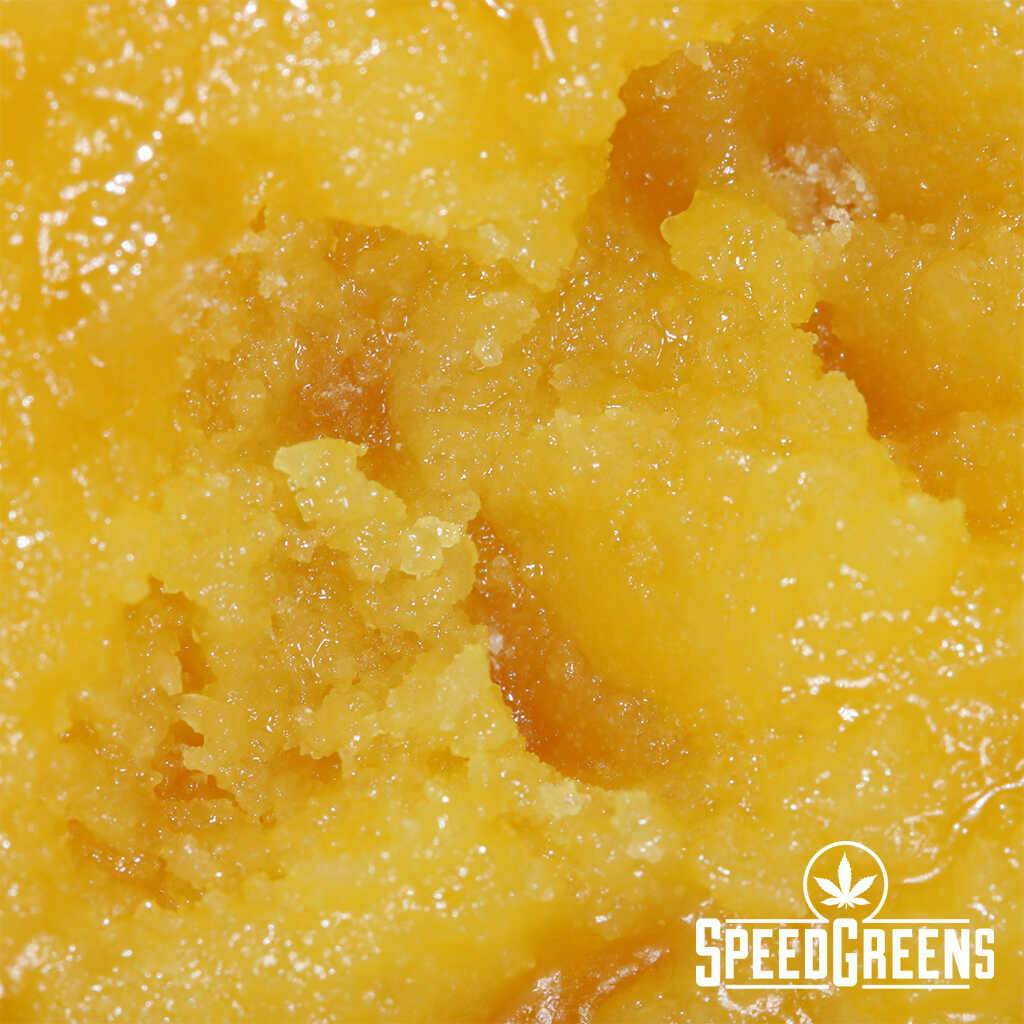 Galaxy Extracts – Lemon Meringue Live Resin
BEST PRICE

GUARANTEED SHIPMENT

DISCREET PACKAGING
Galaxy Extracts Live Resin Lemon Meringue, not to be confused with the like-named "Lemon Meringue Pie," is a sativa dominant hybrid strain (70% sativa/30% indica) created through crossing the infamous Lemon Skunk x Cookies 'N Cream strains. Named for its delectable lemony flavor, Lemon Meringue brings on the creamy delicious tastes alongside a focused and long-lasting high that will have you feeling lifted for hours on end before fading away into a sleepy comedown. You'll feel a cerebral onset a few minutes after your final toke, filling you with a sense of focus and creative energy that soon fades into a super sedative comedown that almost always ends in sleep.  Lemon Meringue is often chosen to treat those suffering from conditions such as chronic fatigue, depression, chronic stress, insomnia, chronic pain and headaches or migraines. Lemon Meringue has a delicious nutty fruity flavor with a light creamy lemon exhale. The aroma is earthy and spicy with a sweet lemony overtone that turns pungent and skunky as the nugs are broken apart and burned. Lemon Meringue buds have small airy minty green nugs with yellow-orange hairs and a thick blanketed coating of tiny golden white crystal trichomes.
Description
Refer a friend
Reviews (3)
This live resin is exactly what you need for your problems
Use it to treat a wide variety of conditions that you're suffering from
The delectable profile of this strain makes this live resin all the more better. This strain is ued to treat a whole slew of conditions that you need comfort from. Lemon Meringue is frequently used to treat illnesses including chronic tiredness, depression, chronic stress, insomnia, chronic pain, and headaches or migraines. Get the relief you were looking for with Lemon Meringue Live Resin
This live resin has an earthy and lemony smoke for a calm high
Lemon Meringue has a bright, minty flavour with a lemony undertone
The quality of the plants used to make live resin is only as excellent as the quality of the plants used to make it. In terms of medicinal advantages, living resin may have an advantage than dried flower because it keeps more of the whole plant ingredients, including a higher concentration of naturally occurring terpenes.
Lemon Meringue has a nutty fruity taste with a soft creamy lemon. The aroma is earthy and spicy, with a pleasant lemony undertone. Lemon Meringue, named for its wonderful lemony flavor, combines creamy sweet flavors. As a concentrated resin, it has a long-lasting high that will leave you feeling elevated for hours before fading away into a drowsy comedown.
Find out if Lemon Meringue live resin is for you
There is so much in store for you once its cannabinoids reach your system
Live resin is a much more concentrated alternative to smoking dry leaves. The high THC content of resin makes it an incredible way to get your cannabis fix. Lemon Meringue Is a sativa dominant hybrid strain that crosses Lemon Skunk and Cookies 'N Cream strains. It has a sativa to indica ratio of 70:30. The delicious flavours and aromas release a nutty and fruity tones that you will enjoy. As it burns slowly, you can enjoy the spicy and lemony overtones. Get quality live resin products from the best online dispensary!
We Value Friendship, and It Starts with Sharing
Are you looking to provide your friends with the same benefits you enjoy?
Look no further! It only requires a simple step-by-step process that takes less than 5 minutes! You earn points that you can use in the shop, and they can benefit from the fantastic selection we provide. It's a win-win situation, so don't hesitate.
Go to "My Account" at the top of the page. If you haven't created an account, we highly suggest it! You can find the referral link section below your profile.

Input a page URL which you want to refer and click "Generate Referral Link."

It will generate a link according to the date of your request. You can also click the social links for Facebook, Twitter, or Whatsapp to create a link to those applications.
Copy the URL (or click on the "Copy Link" box beside the link) and share the link with family, friends, and loved ones!

When your friends and loved ones click the link, you will be awarded 625 Speed Pass Points (after a complete purchase), which you may use towards any of our products! Because your friends are doing you a favor, they can reap more benefits as they will receive a unique coupon code worth $25. This sign-up bonus will help them with more purchases in our shop! If you have any questions or concerns, let us know, and we will be happy to help.