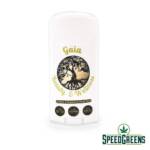 Gaia Beauty & Wellness Extra Strength Pain Bar (75g )
$75.00
75 grams (2.64 oz) Extra strength pain relief balm to relieve muscle aches and pains.
800 mg CBD / 400 mg THC total per container.
DIRECTIONS: Turn dial to raise product. Apply to skin on affected area and massage liberally by hand.
WARNING: Do not use on broken skin. Avoid eyes. Do not ingest.Rub on application. Not for facial use.
Get an alert when the product is in stock: