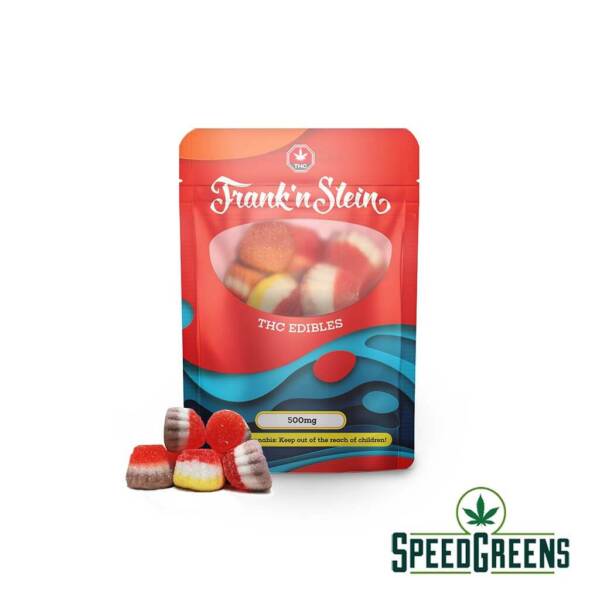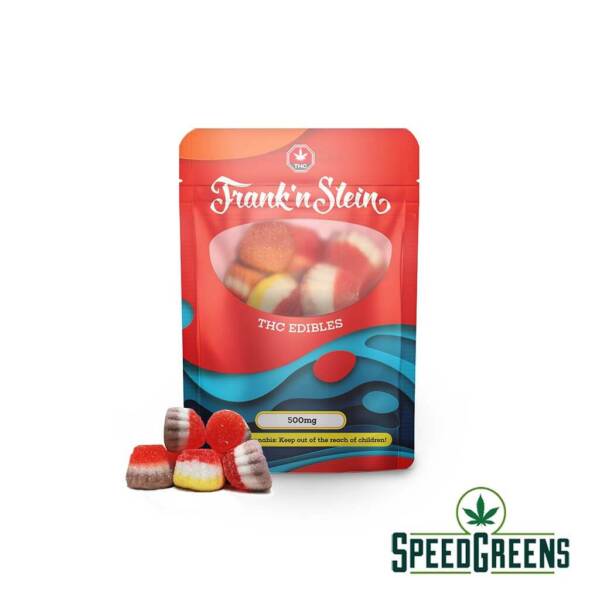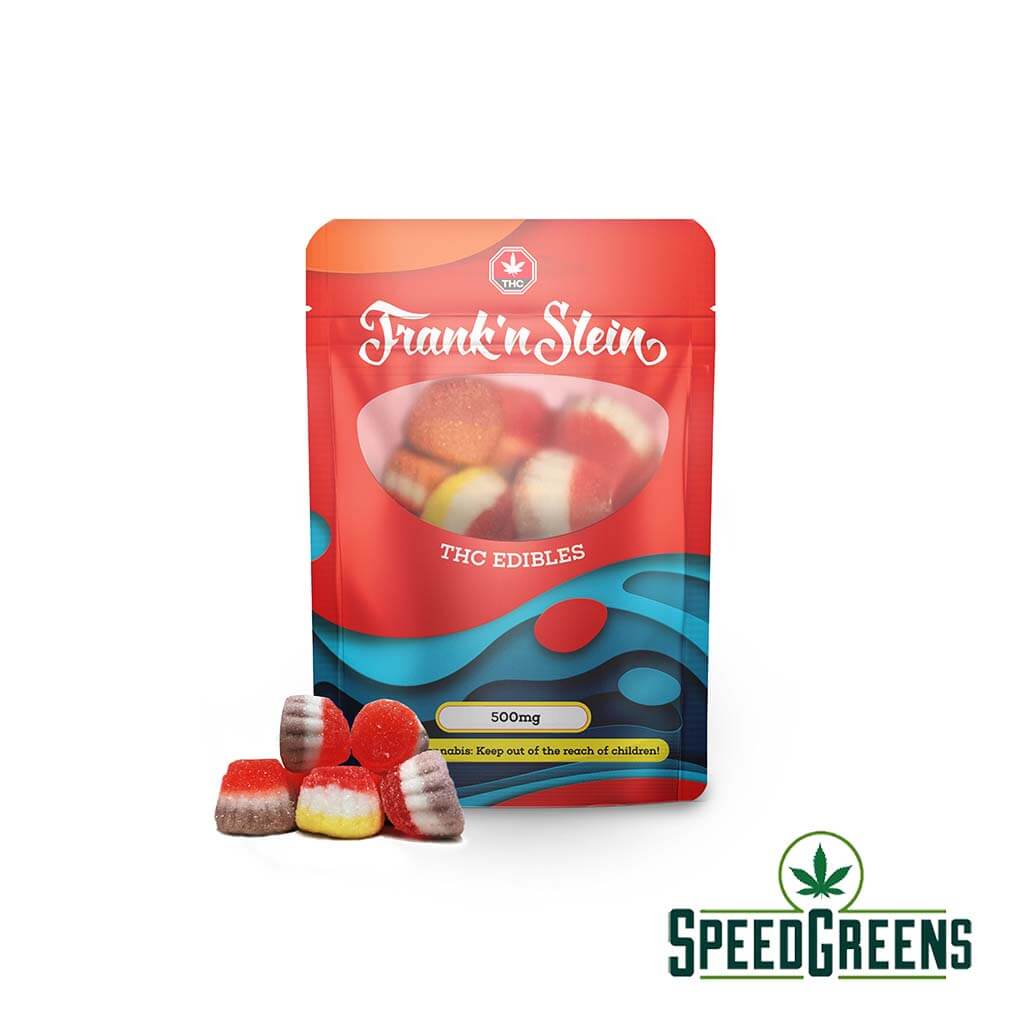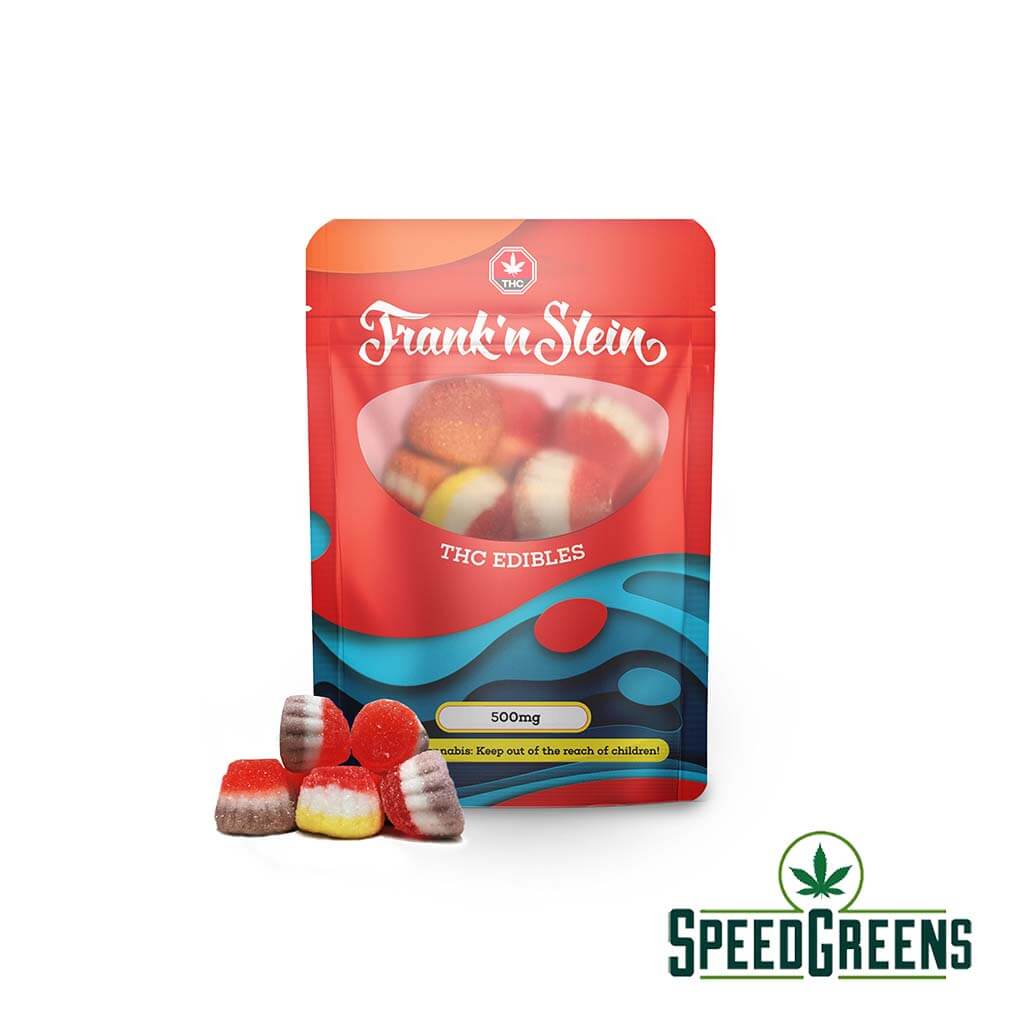 Frank'n Stein Cannabis Edibles | Cupcakes (500mg THC)
$28.00
Earn 28.00 Reward Points
BEST PRICE

GUARANTEED SHIPMENT

DISCREET PACKAGING
These delicious gummies pack a flavourful punch – and then some. All the nostalgic flavors with a playful twist – whether you want your dose of CBD or a good time with THC. – Frank'n'Stein's got you covered.
20 Candies per pack, 25mg THC per piece. Total 500mg THC.
Made with Premium Distillate.
Description
Refer a friend
Reviews (3)
Cannabis edibles that are a delight to the senses!
Frank'n Stein comes at you with these flavourful cannabis edibles. Packed with delicious flavours and potent cannabinoids, you know you're in for a good time! You get the nostalgic sensation of the cupcake flavored candy, but they will fill your cannabis cravings! Find more here at Speed Greens, your #1 place to buy edibles online!
Reap the benefits of these amazing cannabis edibles
Find relief from your aches and pains without any worry!
Frank'n Stein's cupcake edibles contain a wealth of medicinal properties to help tackle your most stubborn symptoms. Leave it to these cannabis edibles to provide quick relief from a wide variety of conditions. Use it to medicate against inflammation, bruising, headaches, nausea, cramps, migraines, or joint pain. Due to the potency, the uplifting sensations will help against bouts of depression, anxiety, and stress. If you want a good night's rest, pop one before you go to bed! You might even want to reignite your hunger if you've lost your appetite. These cannabis edibles provide an easy way to get your dose of THC discreetly!
Discover the monstrous sensations of cannabis edibles
Let Frank n' Stein deliver feel-good sensations that you won't forget!
These THC-infused edibles do quick work of your cannabis cravings. Each cupcake gummy contains a concentrated dose of cannabinoids where a couple of them might do the trick. You will find a wave of relaxation running through your body. As it settles, you will find that you're more creative, focused, friendly, and happy. These cannabis edibles help move your mind away from negative thoughts. As your body focuses on the euphoric sensations, you'll sink further into whatever you're resting on. If you haven't passed out from the effects, be sure to have some snacks at the ready! The munchies are no joke!
Find out if Frank'n Stein cannabis edibles are right for you!
Share with friends or enjoy it by yourself for a fun high that never ends
Frank'n Stein takes its roots in beautiful British Columbia. With plenty of different flavours and ways they infuse cannabinoids into their gummies, you can find the perfect product for you. These cupcake cannabis edibles are a flavourful treat perfect for any occasion. When your cravings kick in, they are ready to help you adjust to your wants and needs. This whole pack contains 500mg of THC, divided amongst all the gummies! For your best shot at finding the right cannabis edibles, look at the rest of our inventory! Speed Greens makes shopping easy. We are your spot to buy edibles online!
We Value Friendship, and It Starts with Sharing
Are you looking to provide your friends with the same benefits you enjoy?
Look no further! It only requires a simple step-by-step process that takes less than 5 minutes! You earn points that you can use in the shop, and they can benefit from the fantastic selection we provide. It's a win-win situation, so don't hesitate.
Go to "My Account" at the top of the page. If you haven't created an account, we highly suggest it! You can find the referral link section below your profile.

Input a page URL which you want to refer and click "Generate Referral Link."

It will generate a link according to the date of your request. You can also click the social links for Facebook, Twitter, or Whatsapp to create a link to those applications.
Copy the URL (or click on the "Copy Link" box beside the link) and share the link with family, friends, and loved ones!

When your friends and loved ones click the link, you will be awarded 625 Speed Pass Points (after a complete purchase), which you may use towards any of our products! Because your friends are doing you a favor, they can reap more benefits as they will receive a unique coupon code worth $25. This sign-up bonus will help them with more purchases in our shop! If you have any questions or concerns, let us know, and we will be happy to help.