By purchasing this product, you can earn points based on a percentage of cart total. You will come to know the earn points information once you add the product to cart.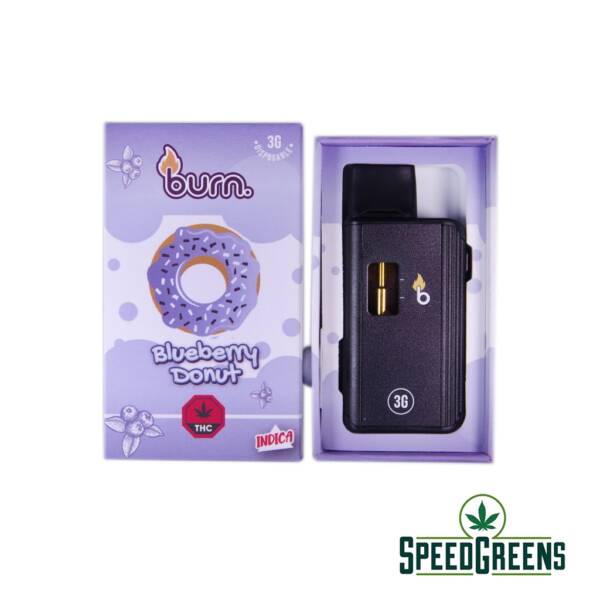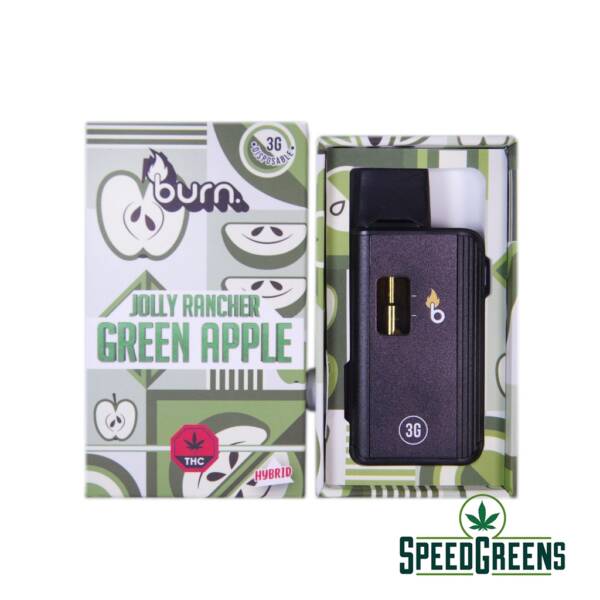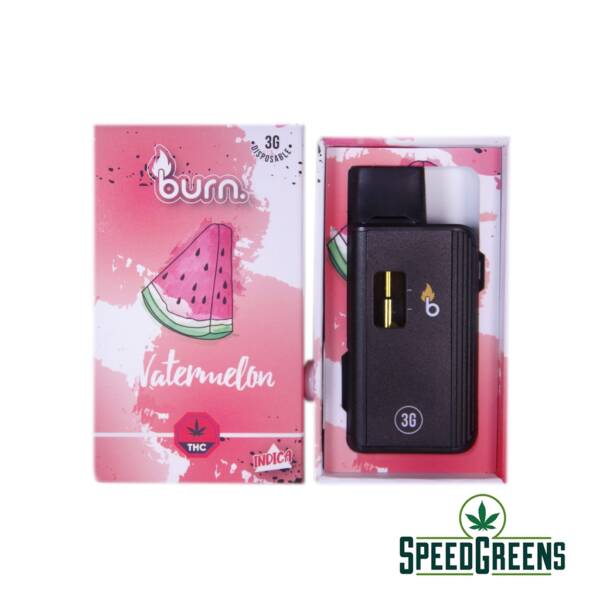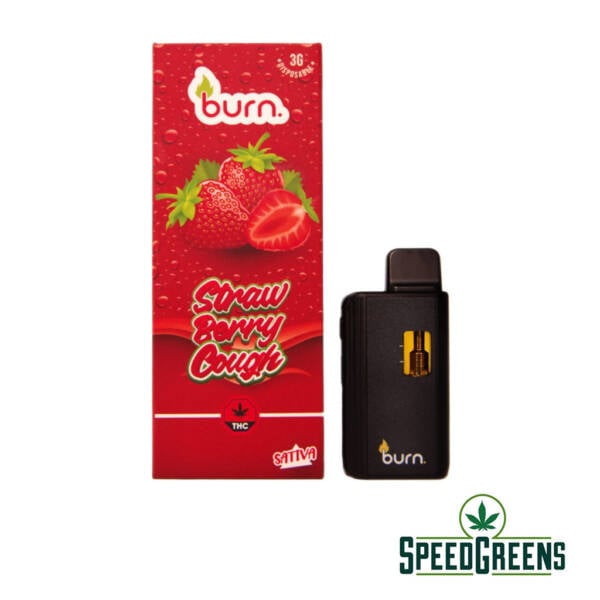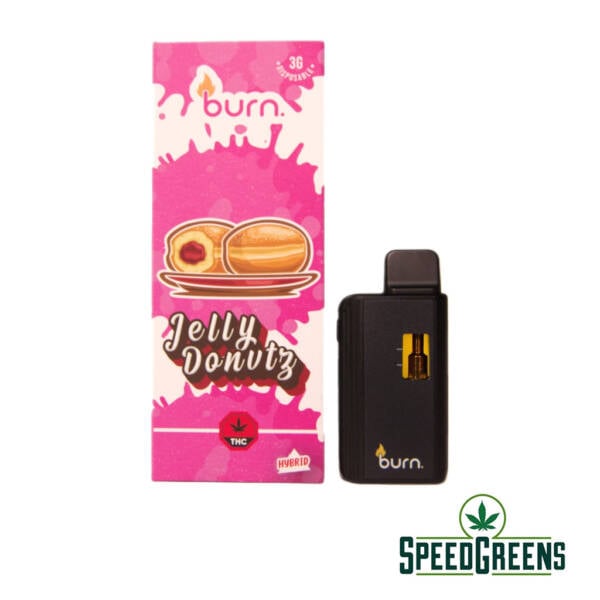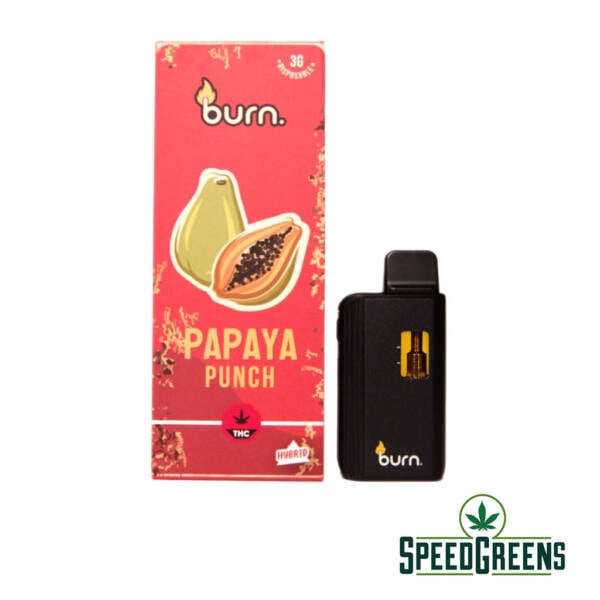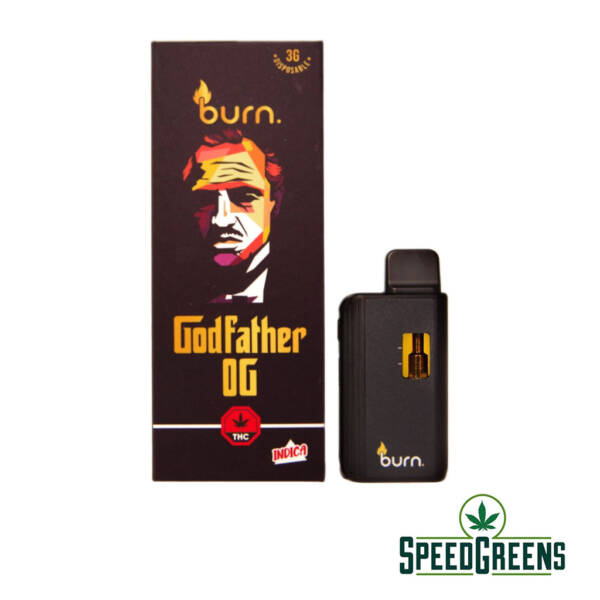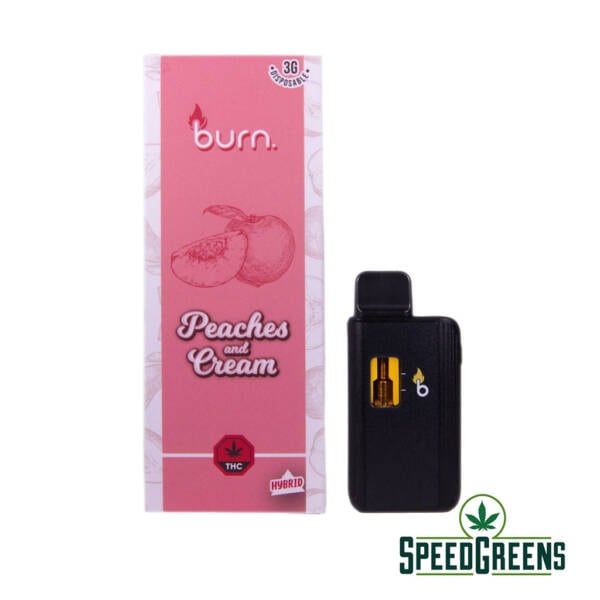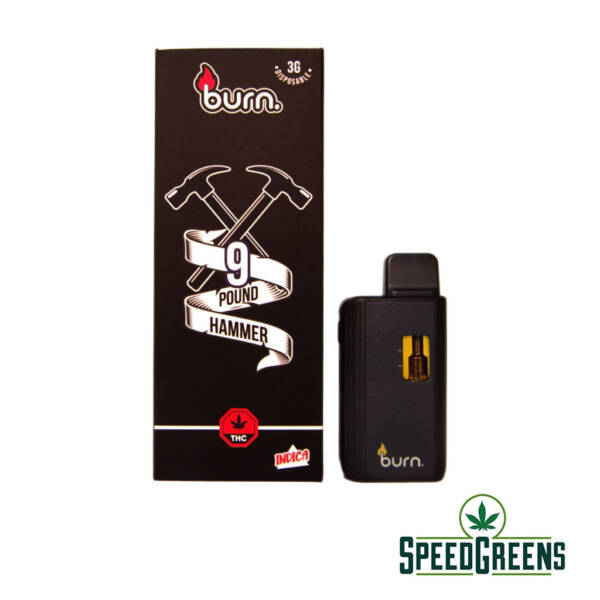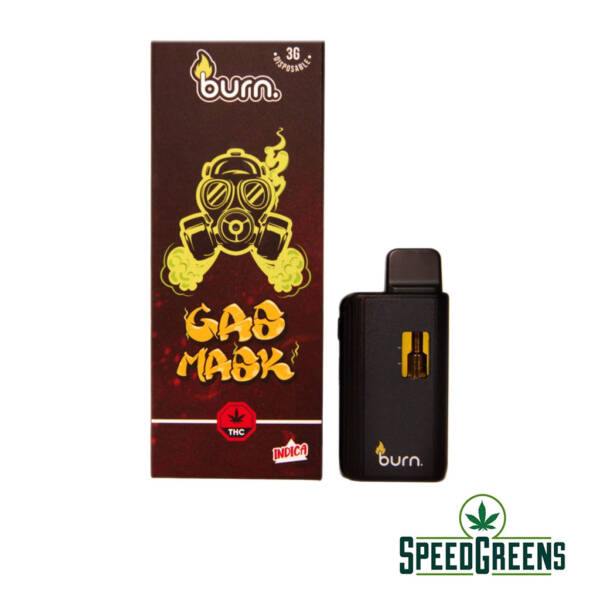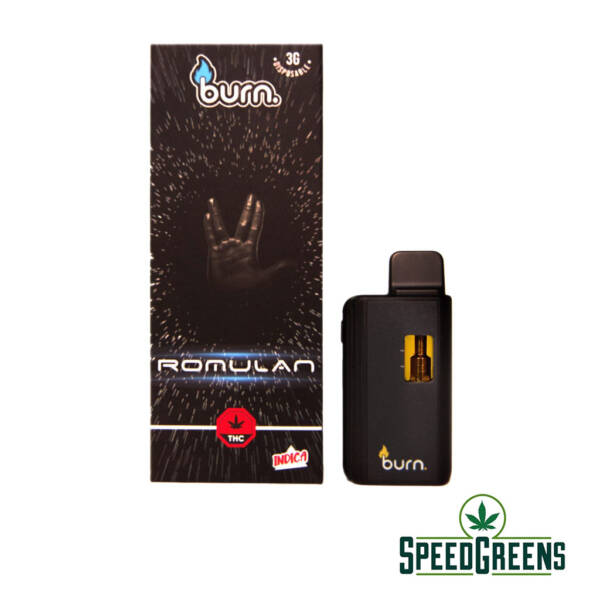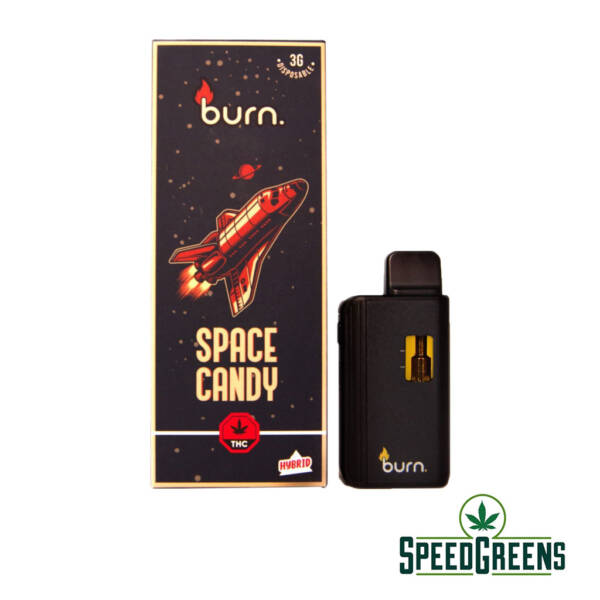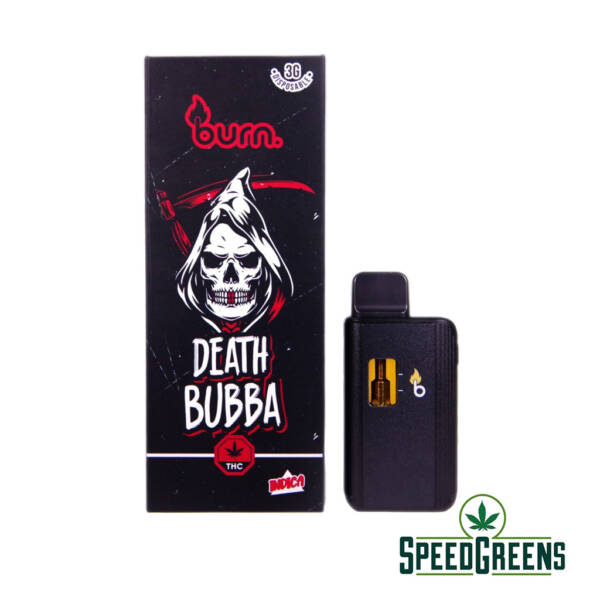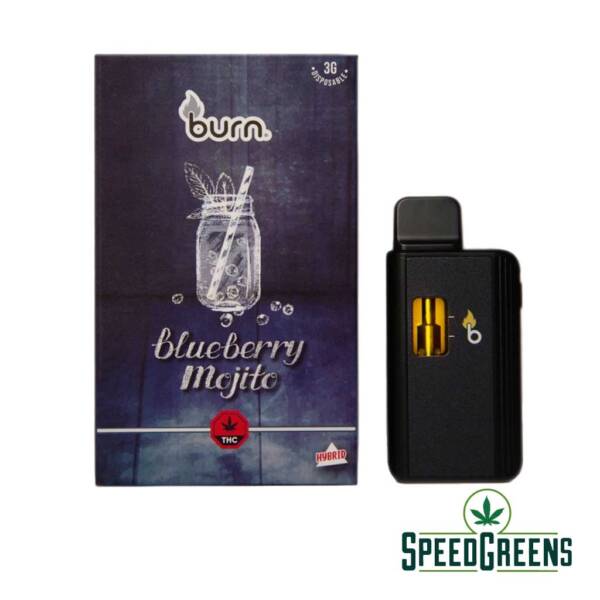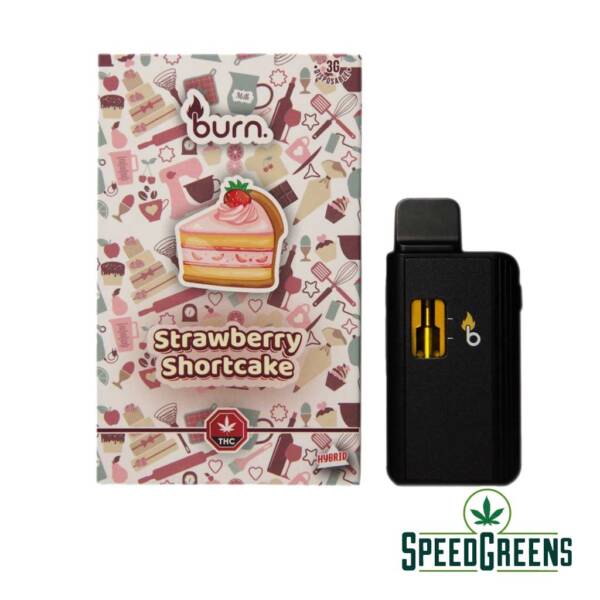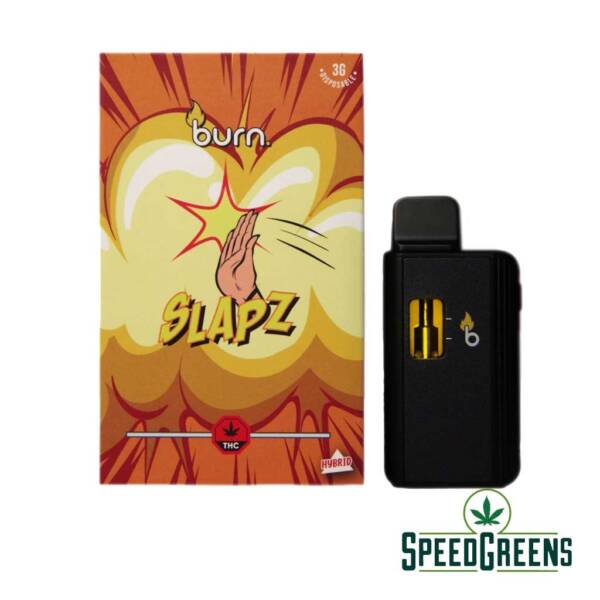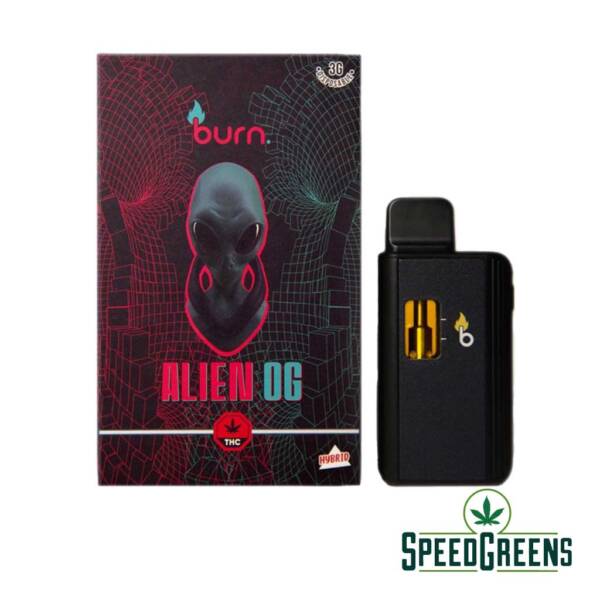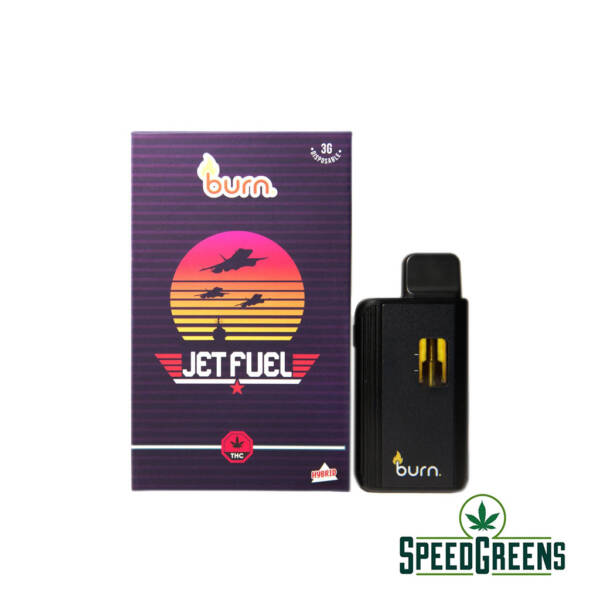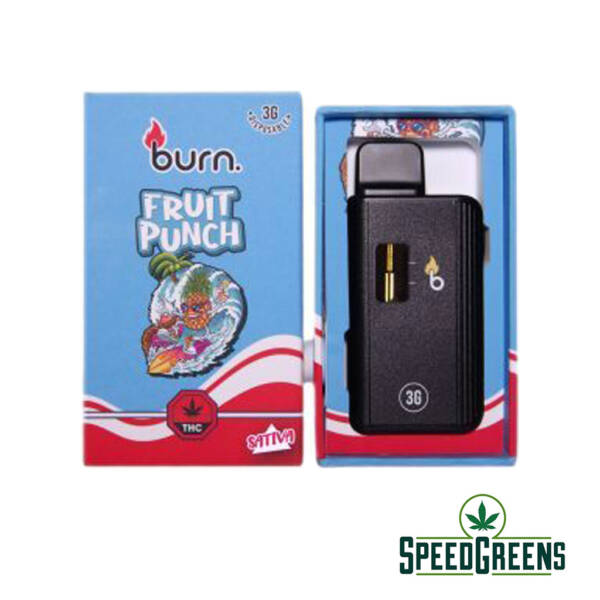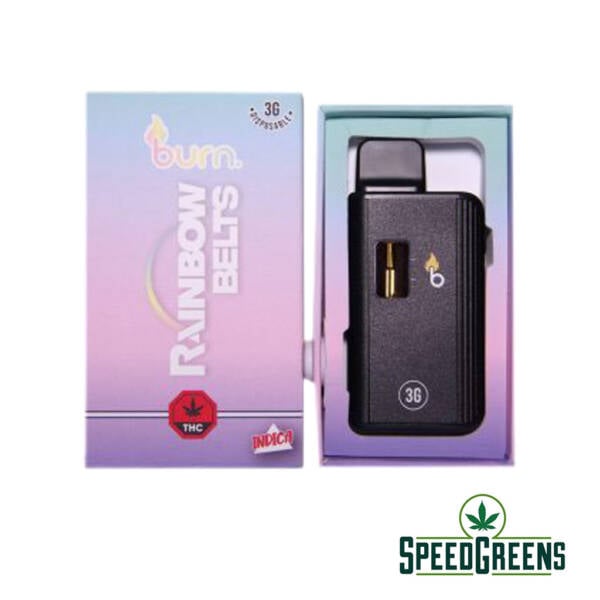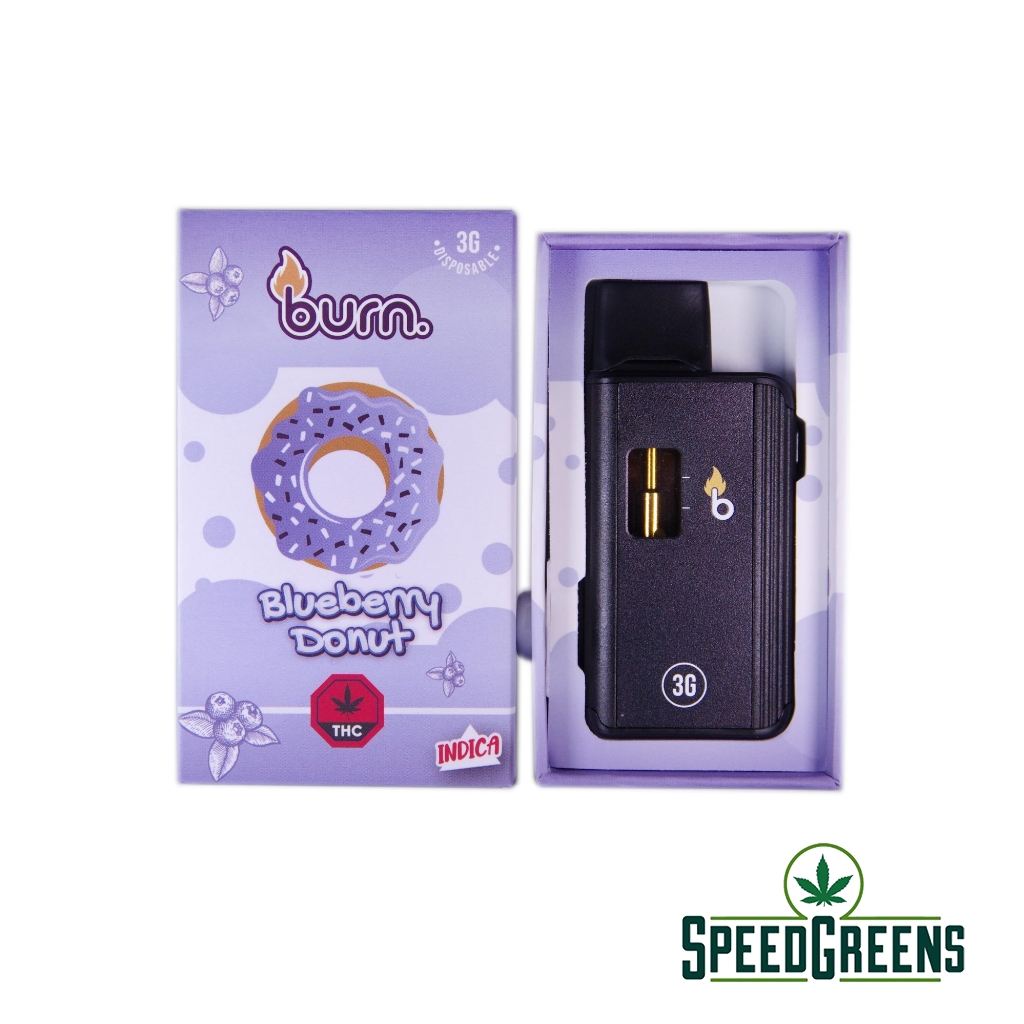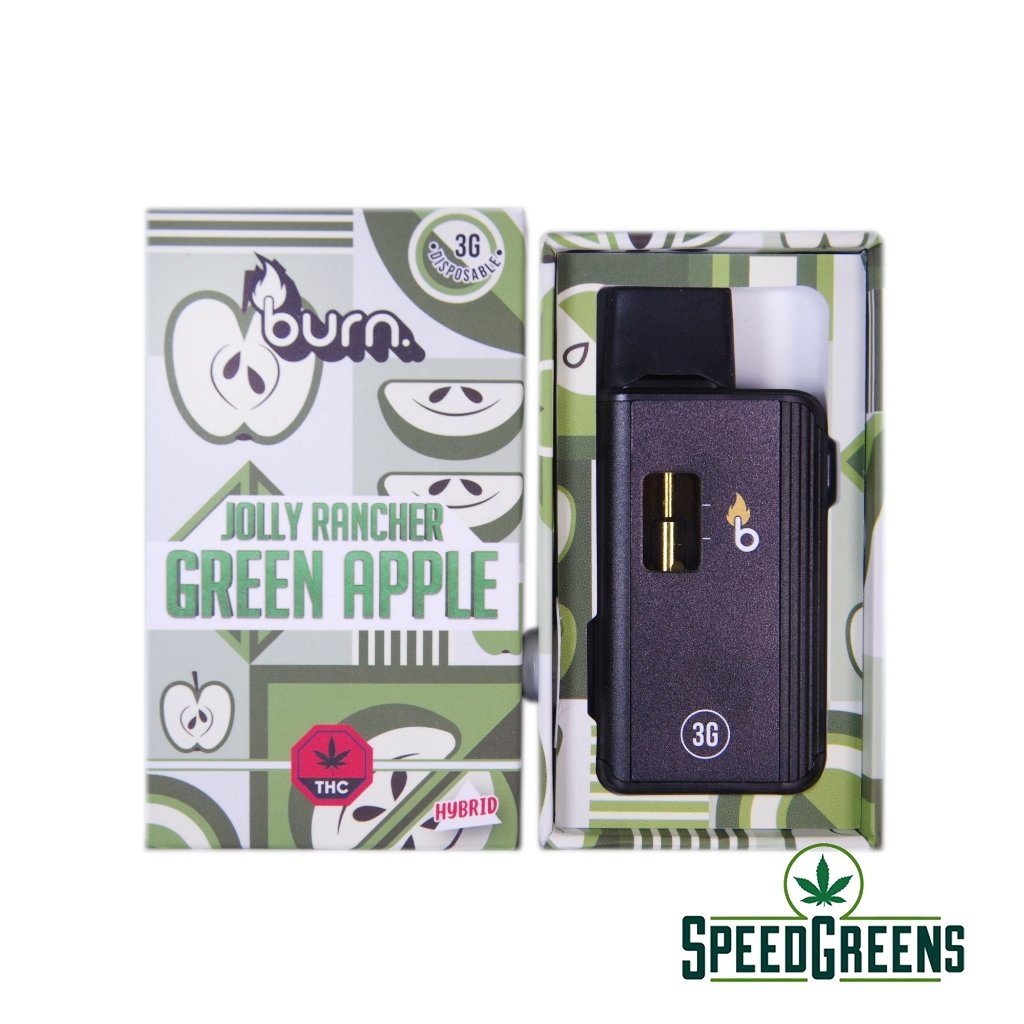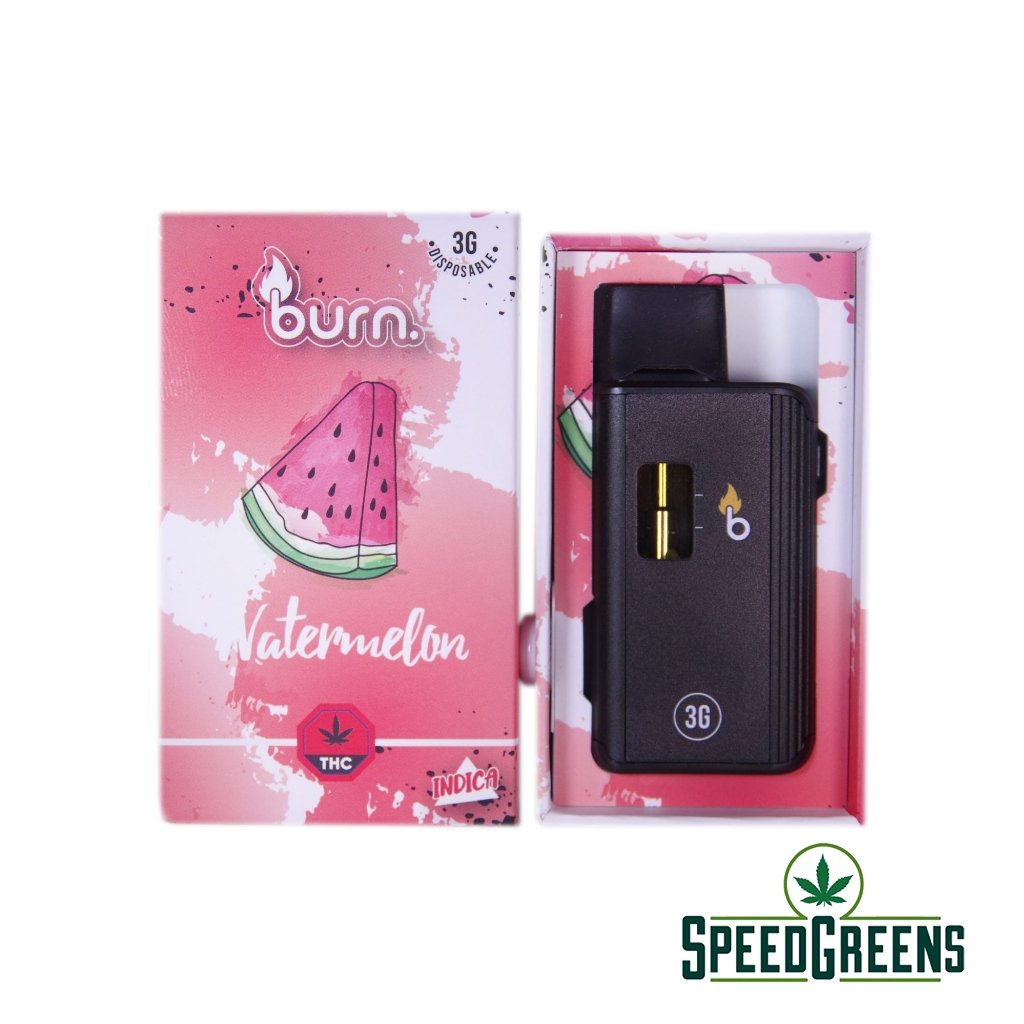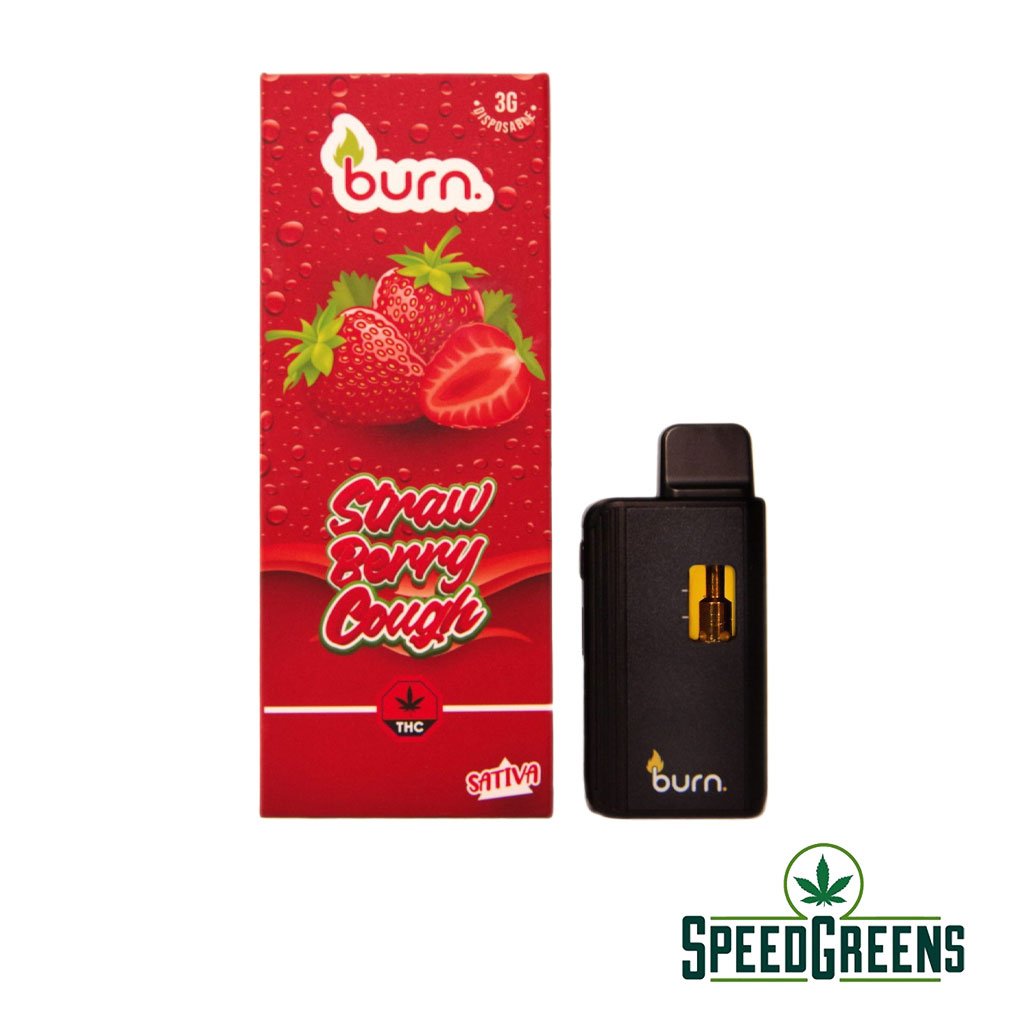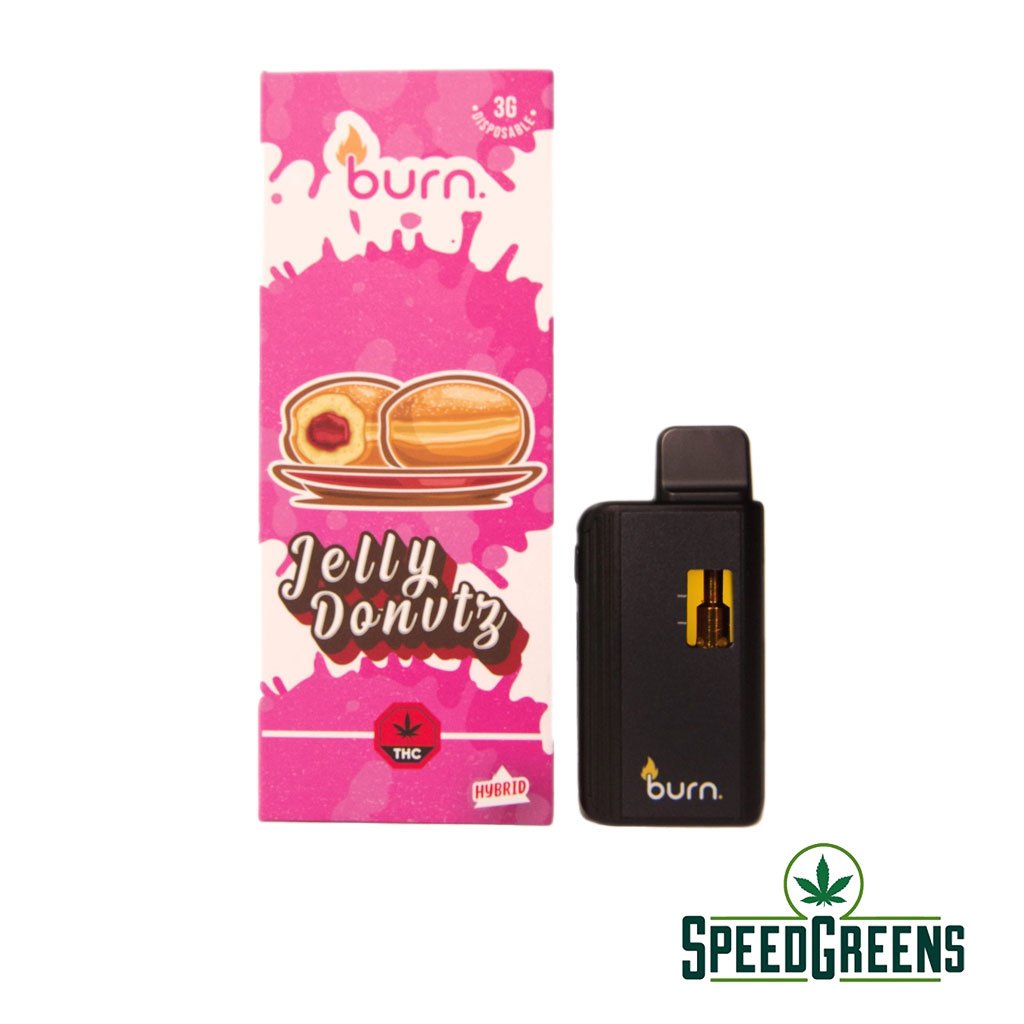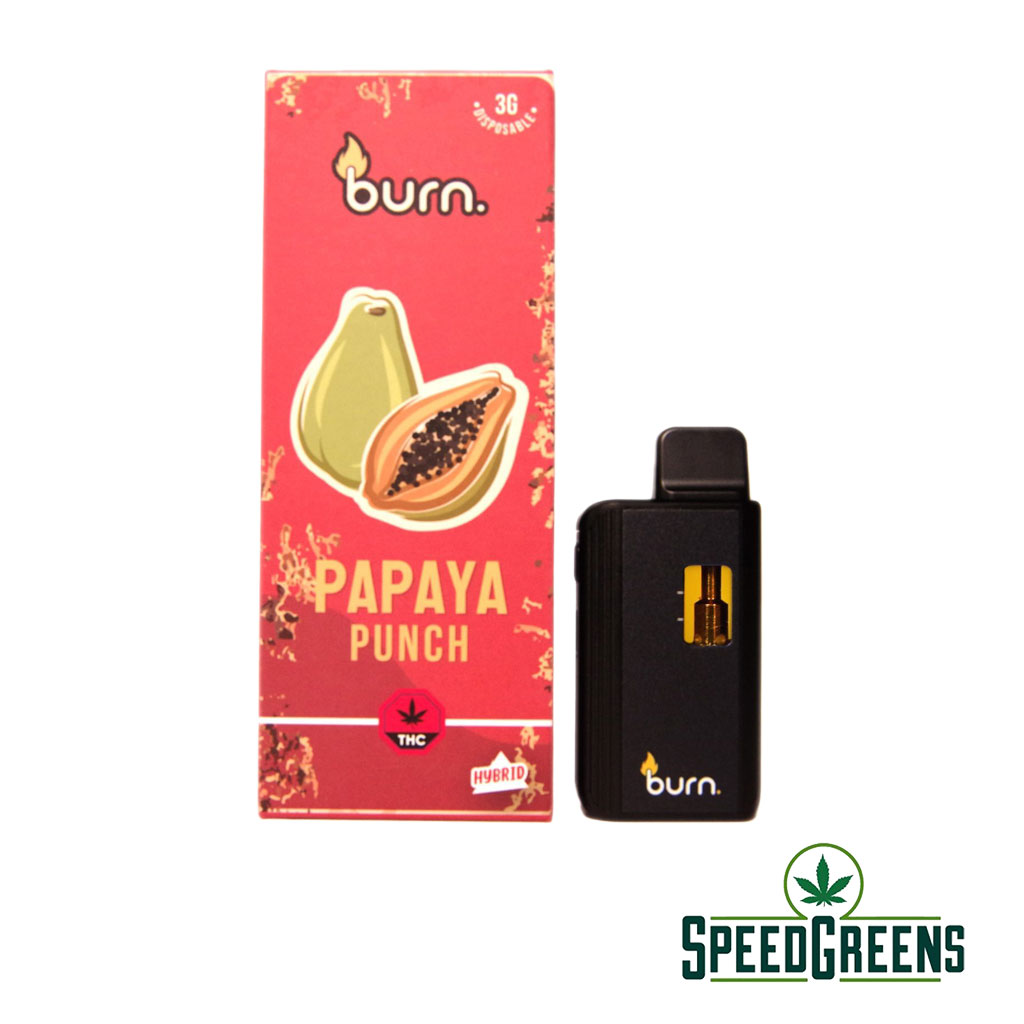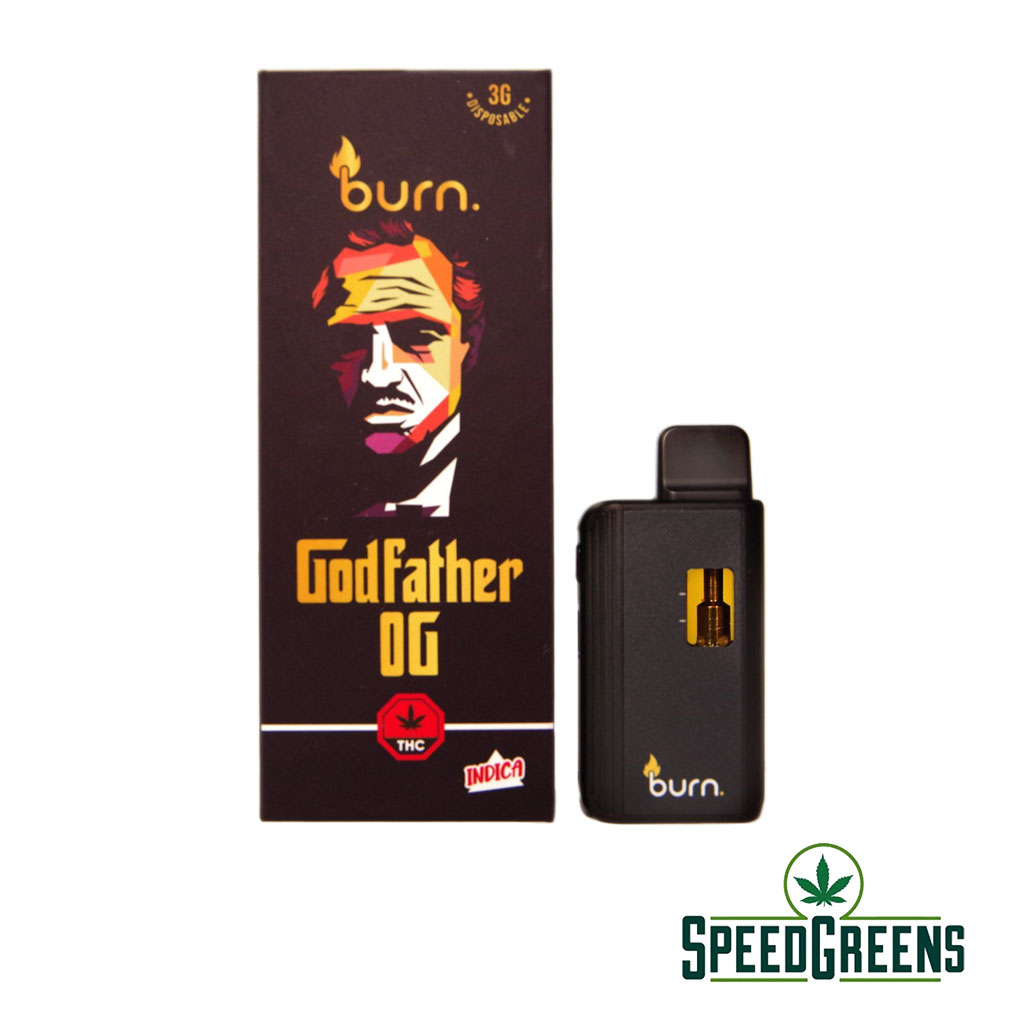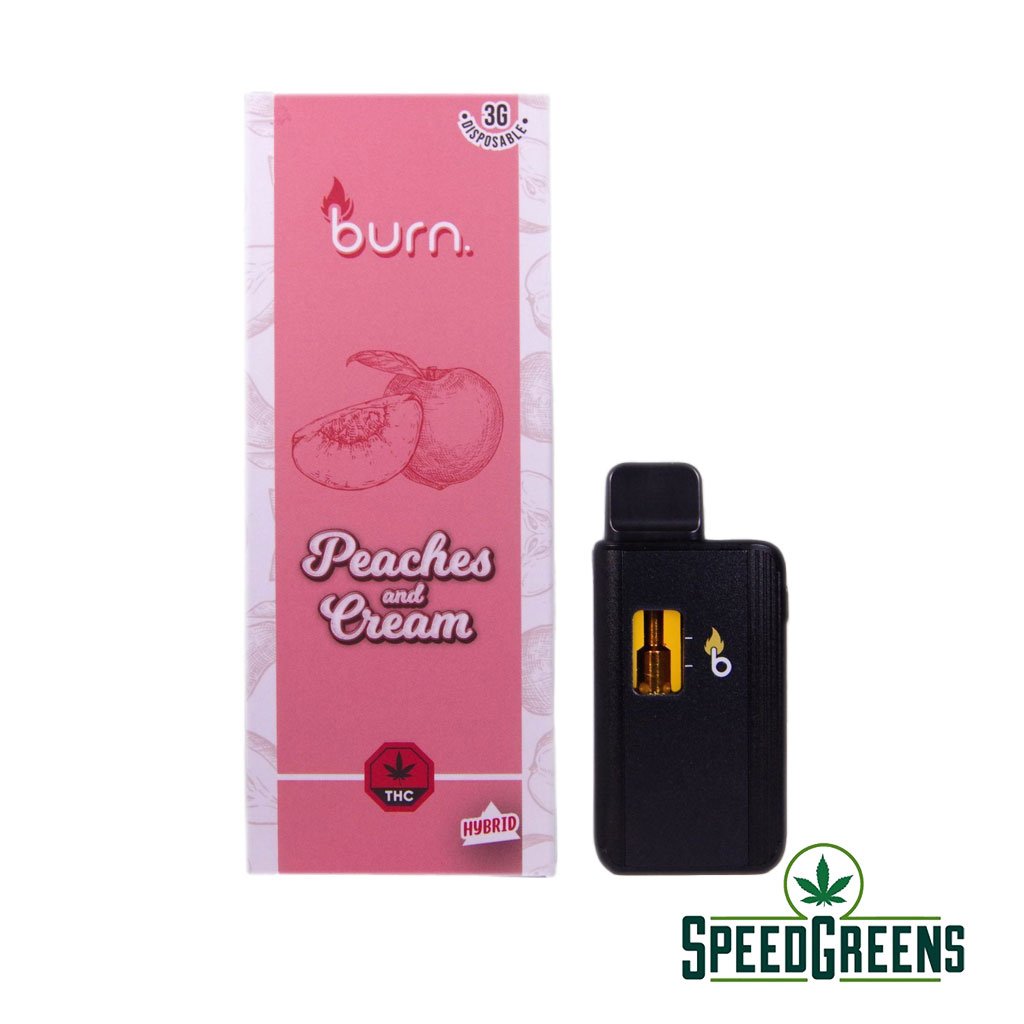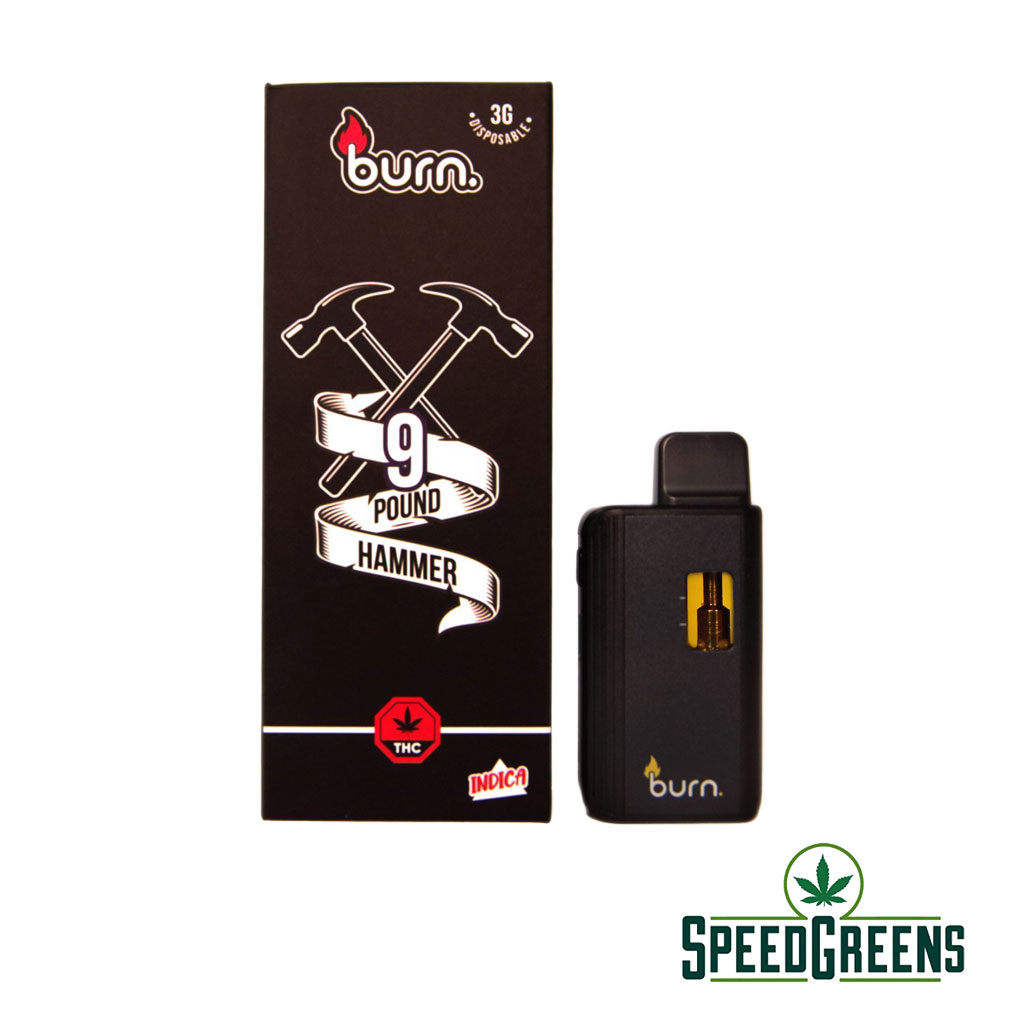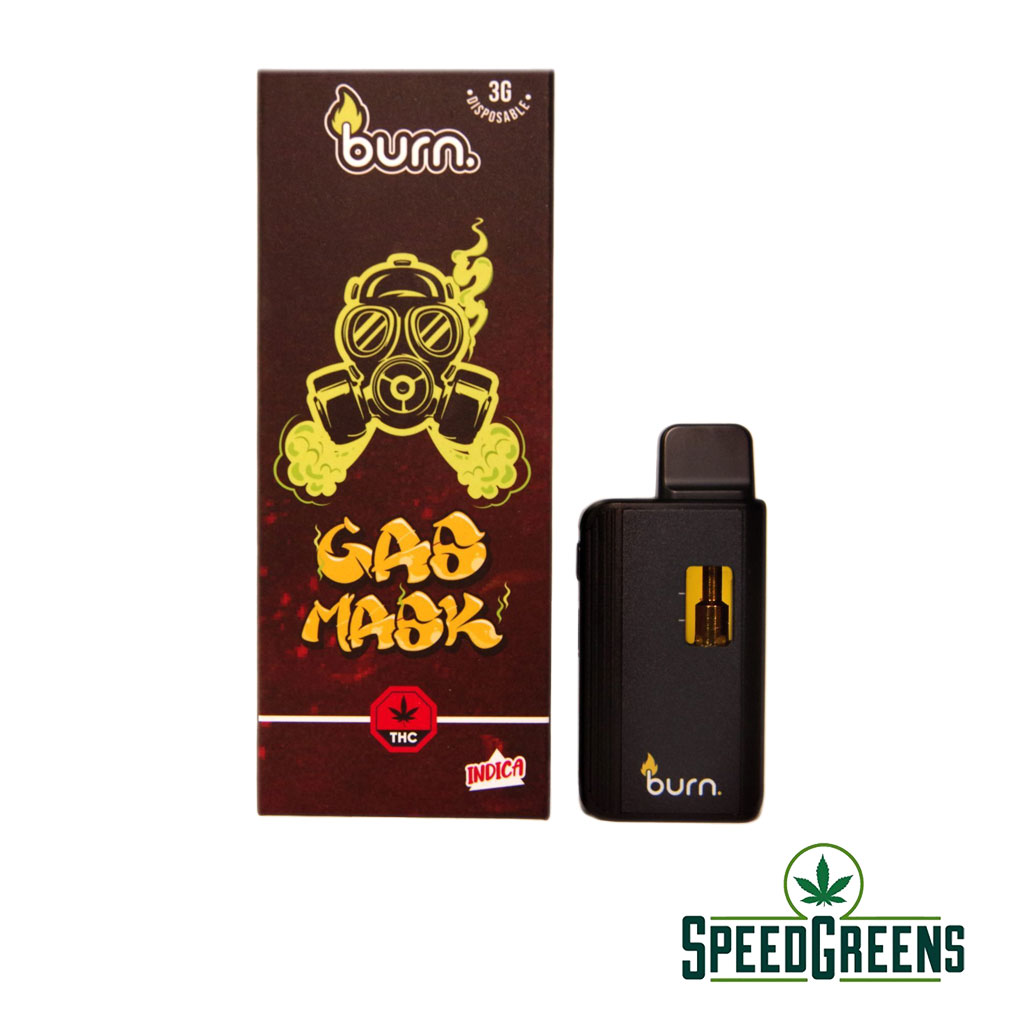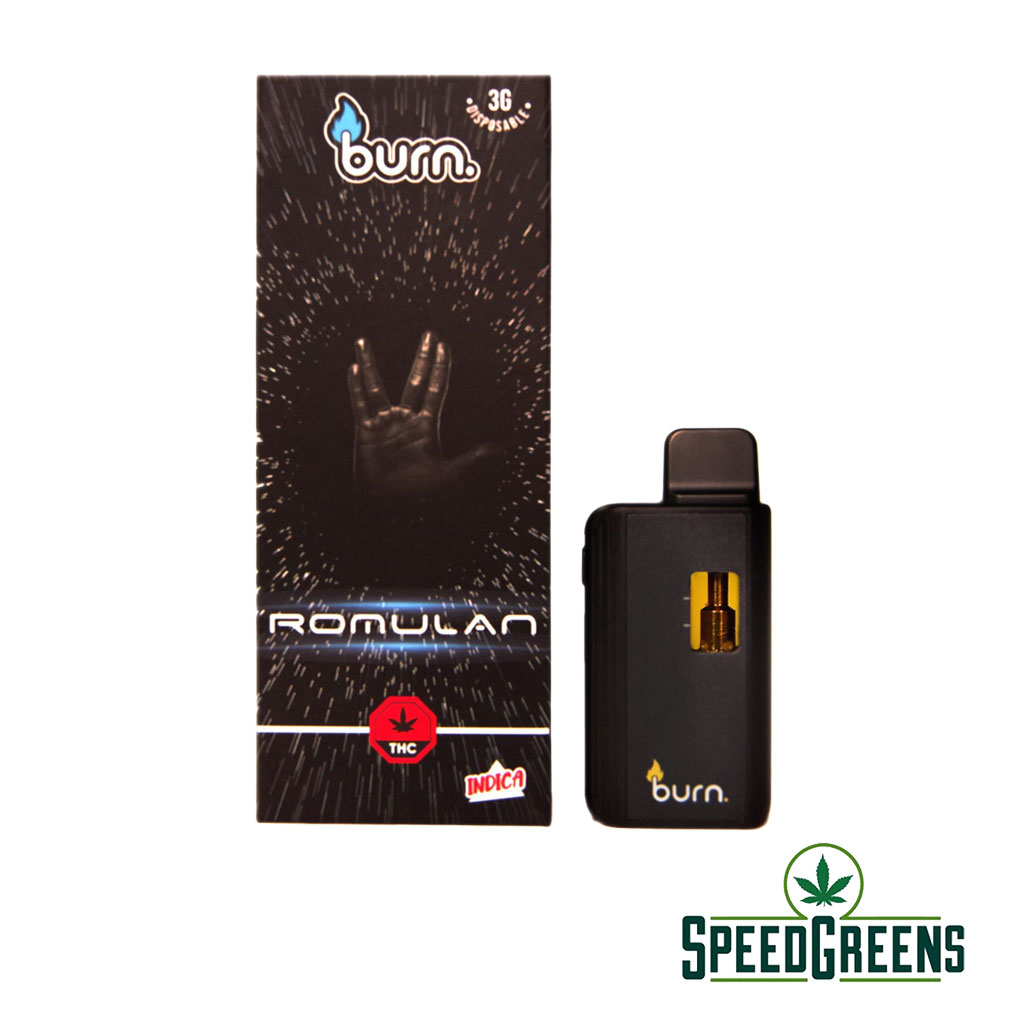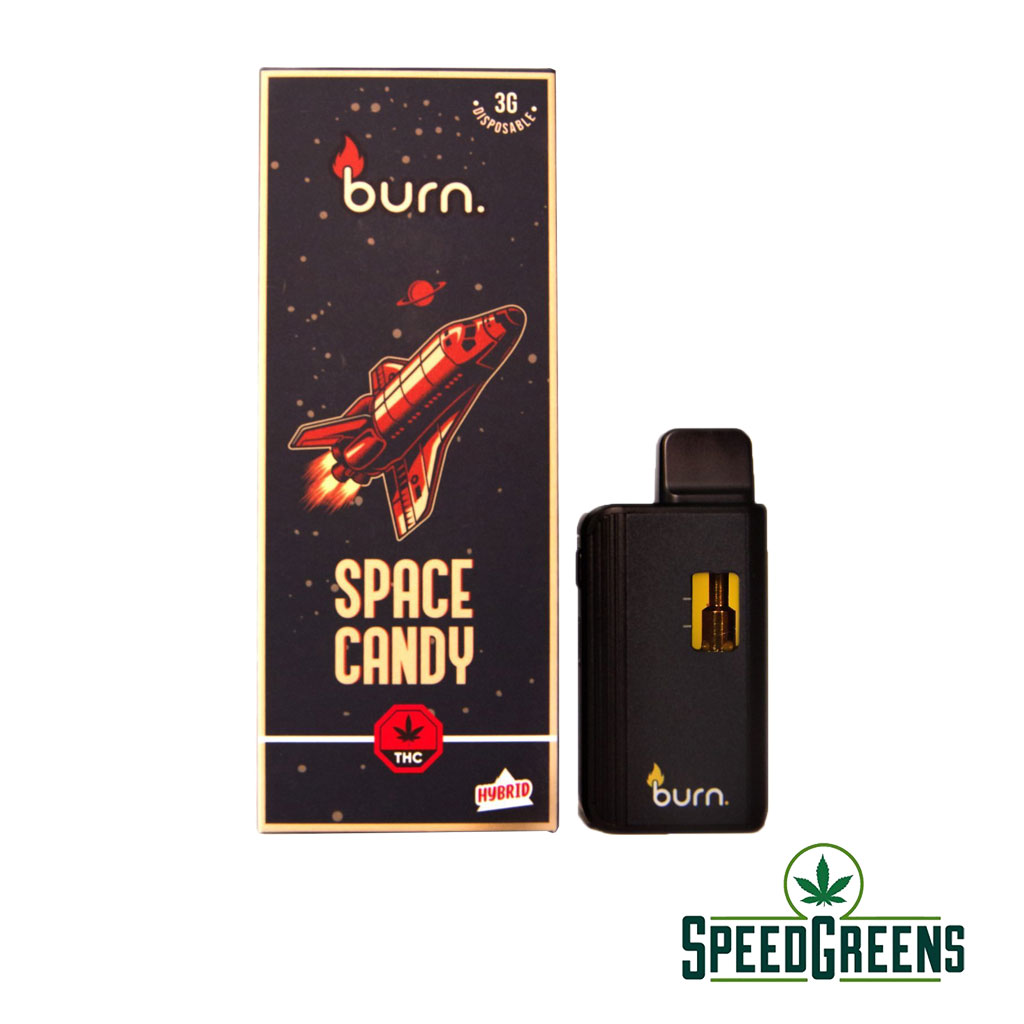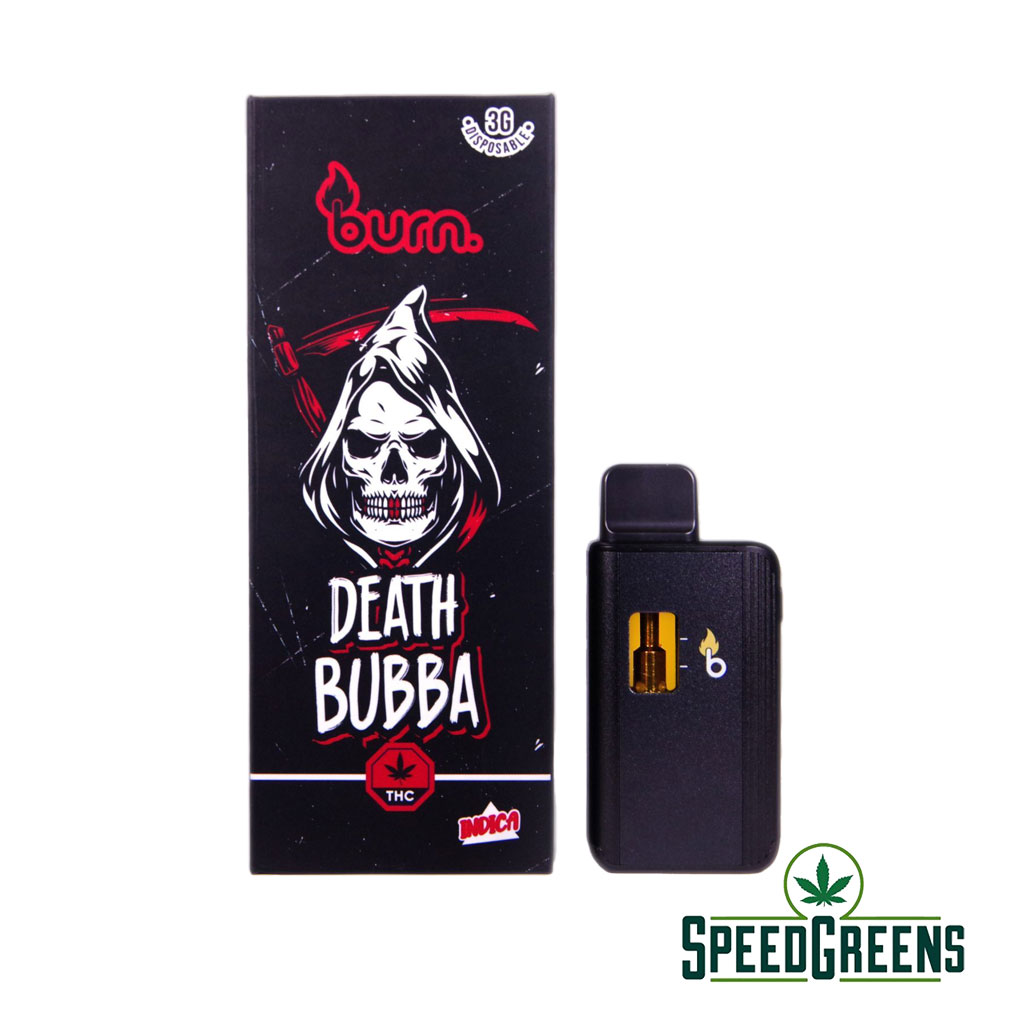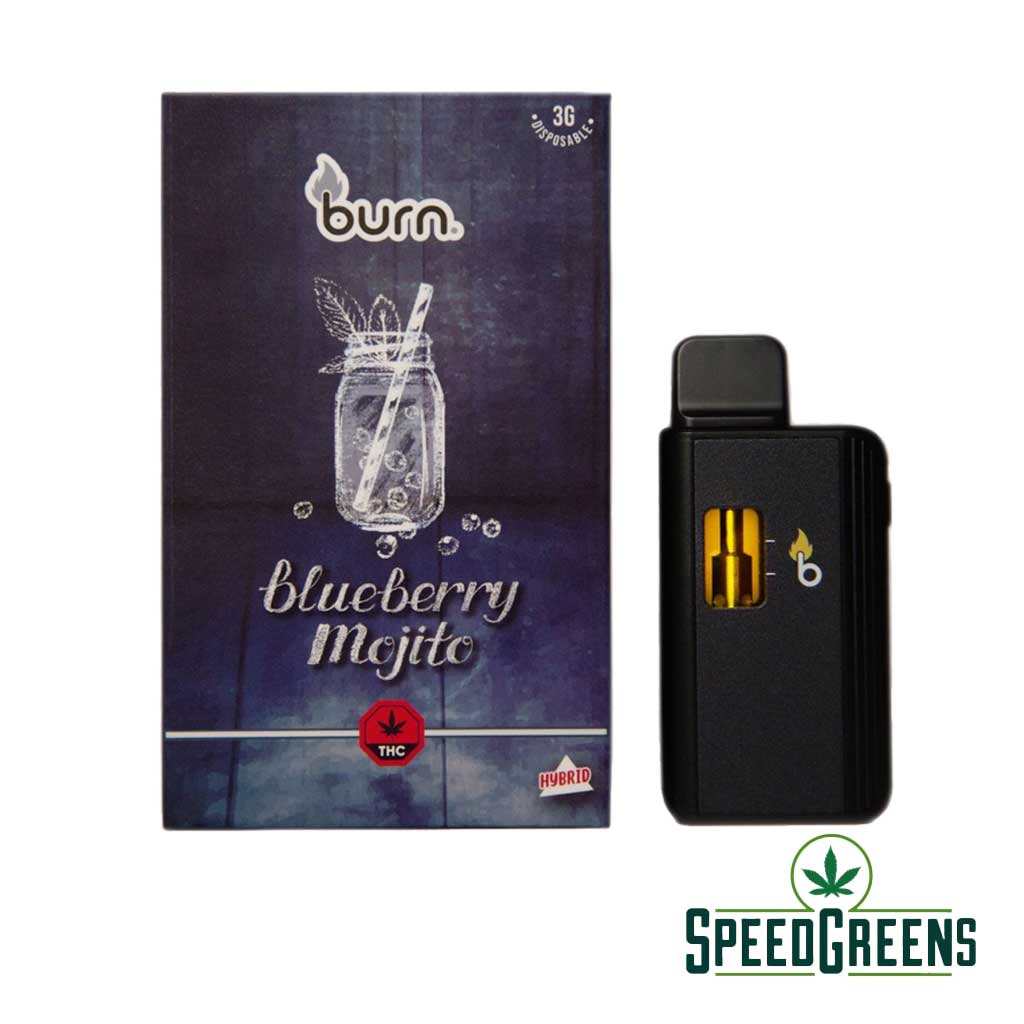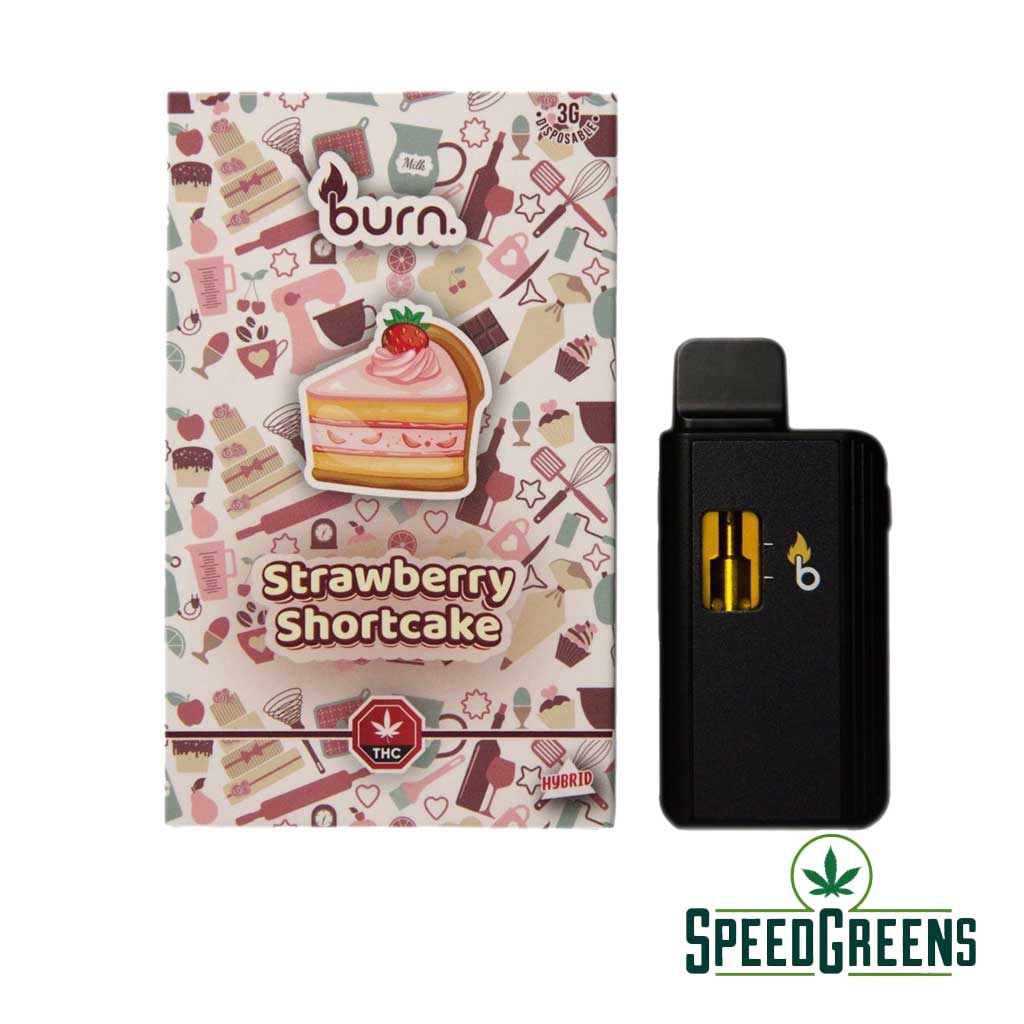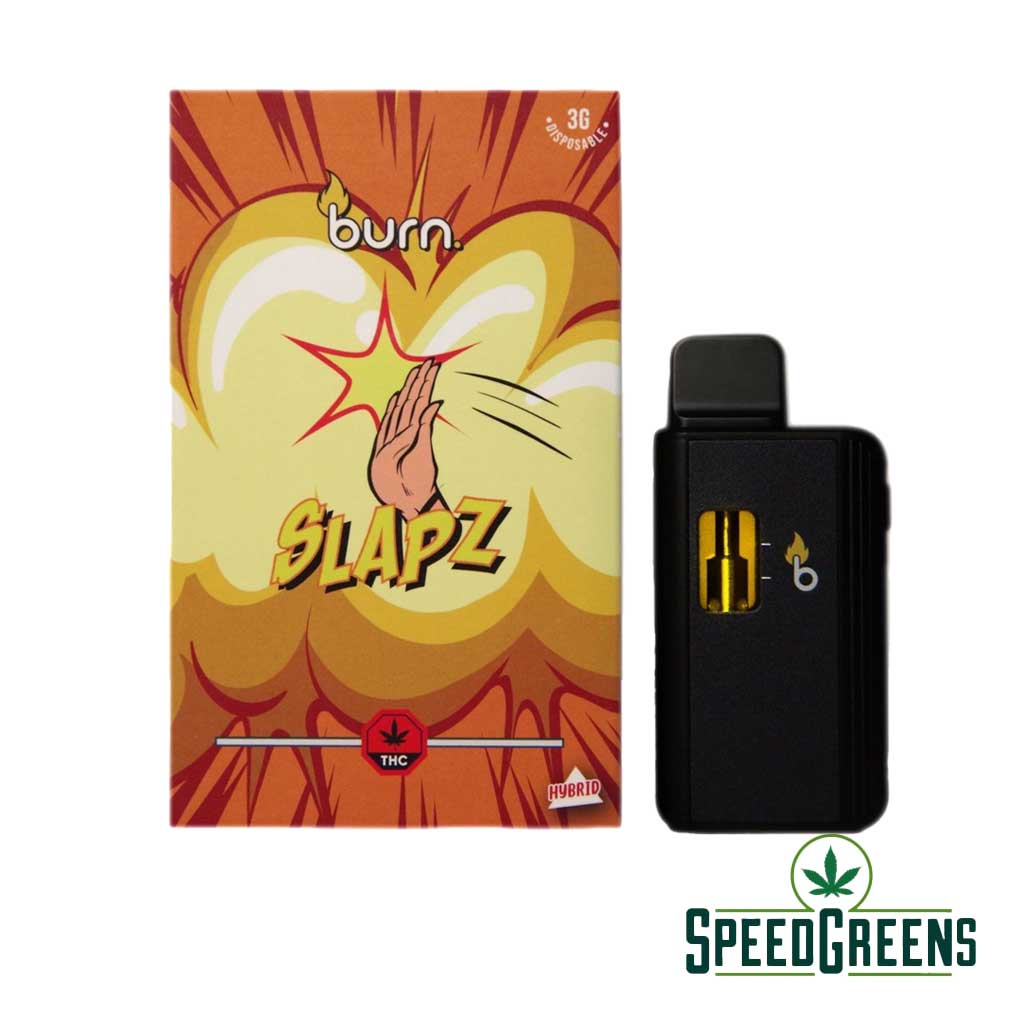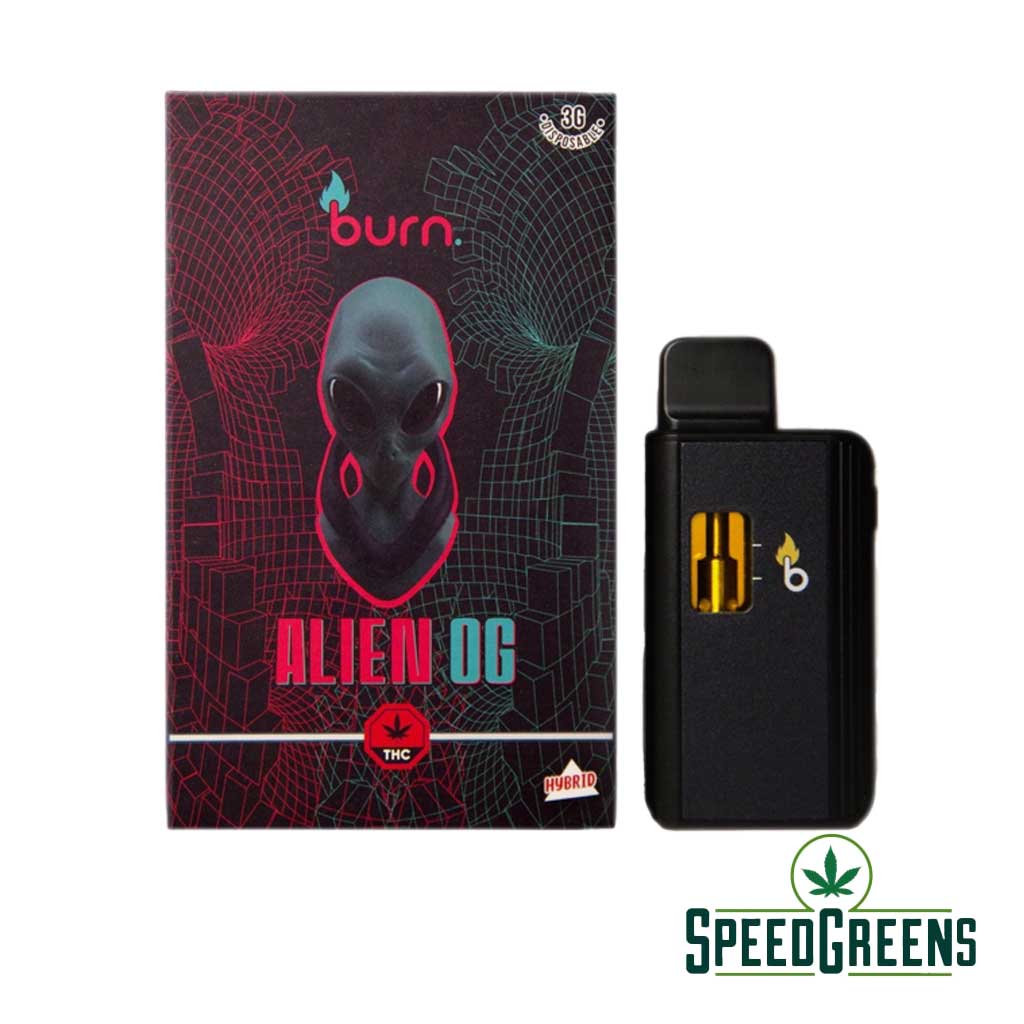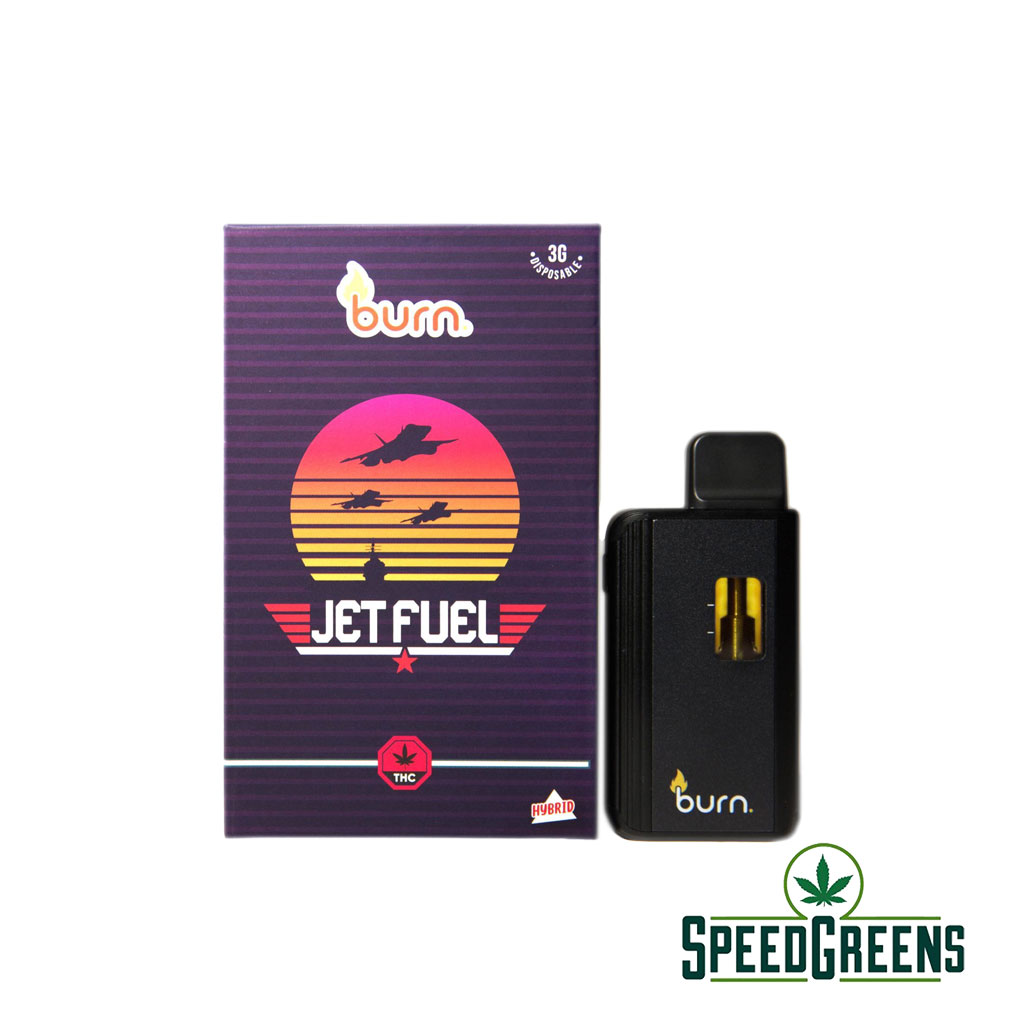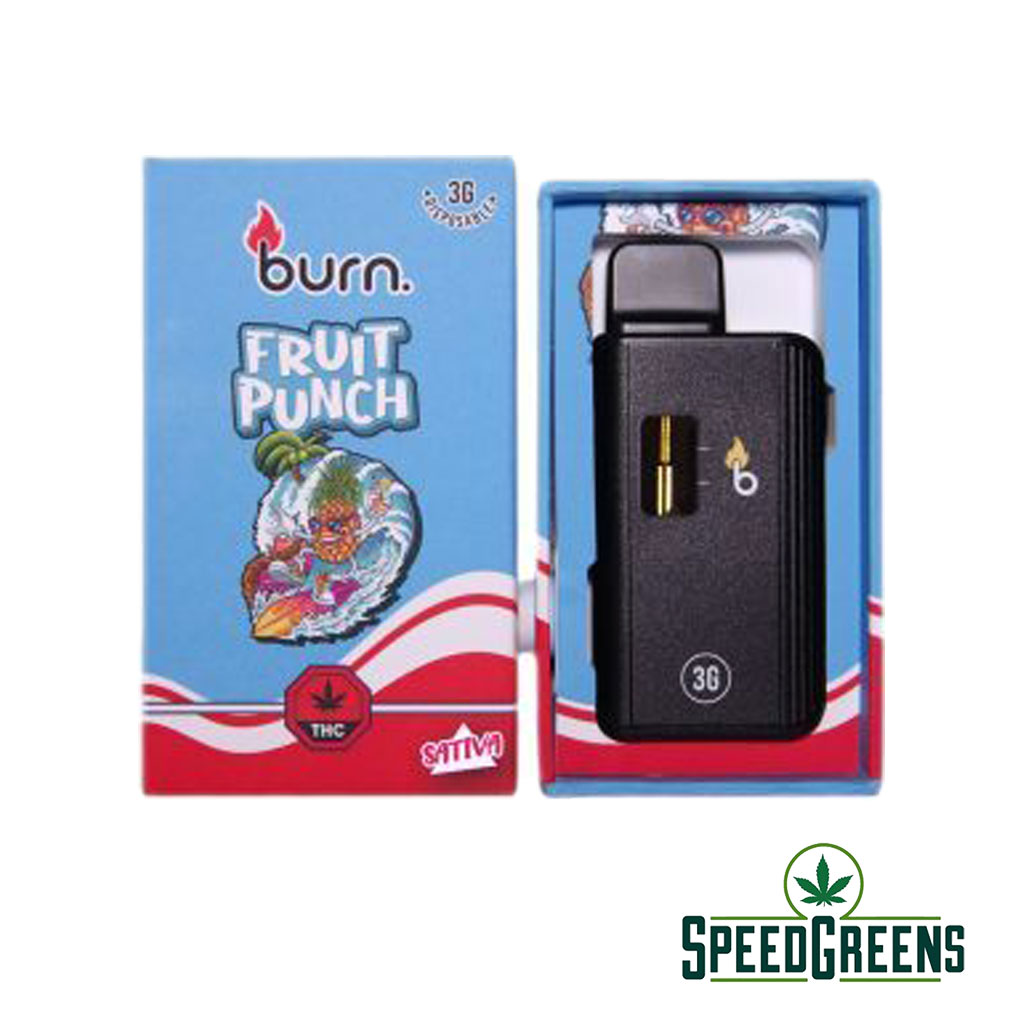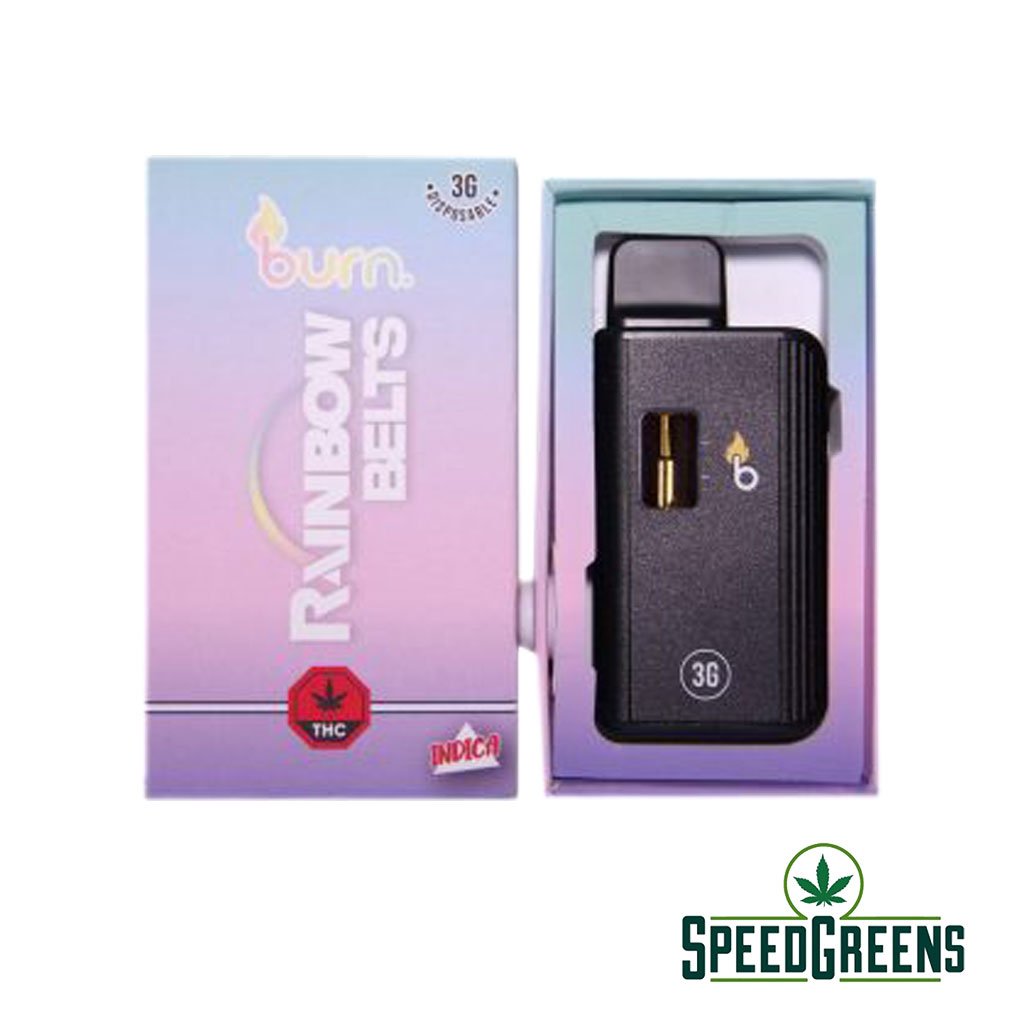 BURN Disposable Vapes (3g THC) *NEW STRAINS*
BEST PRICE

GUARANTEED SHIPMENT

DISCREET PACKAGING
Capacity: 3 Gram
Vitamin E Acetate free
Rechargeable Disposable battery
No PG, VG, PEG, or MCT!
Description
Refer a friend
Reviews (6)
A delicious weed vaporizer for cannabis convenience.  Small and Discreet.
If you're looking for a discreet escape, Burns Disposable Weed Vaporizer is just the thing you need. Having been in the industry for 25 years, you can be sure that you're getting the best smoking experience. It sources the best and most natural terpenes while keeping all the cannabinoids. If you want the best distillate cartridge selection in Canada, choose Speed Greens!
Weed vaporizers will ease your aches and pains
Use the weed vaporizer for fast relief from your stubborn problems
Weed vaporizers are a fantastic alternative to your rolled joints. Like rolled joints, you'll find that you still get all the physical and psychological comfort as usual. You can use it on temporary or chronic conditions; there's no stopping its potential. It works on inflammation, chronic pain, headaches, and migraines. If you have any rushing thoughts that cloud your judgment, you can use them for moments of anxiety, depression, and stress. Depending on the strain you purchase, you can get a boost of energy or use it to wind down for the night. Weed vaporizers are versatile for all lifestyles!
Discover the many features of weed vaporizers
These convenient cannabis products have plenty of effects you'll love
BRAND NEW!!!    BURN Disposable 3g THC vaporizers are ideal for consumers looking to experience the immediate and quick onset of effects. Compared to other forms of cannabis enjoyment, such as edibles or tinctures, inhaling sends the cannabinoids straight into your bloodstream with little to no downtime. You can take a couple of hits if you need a little energizing boost to feel focused and alert. Or you can toke a bunch before you go to sleep if you want a good night's rest. It's no surprise that weed vaporizers provide a sense of relaxation and comfort that many people enjoy.
These BURN flavours are incredible, highly recommend – SPEED GREENS TEAM
Learn if weed vaporizers are right for you
Safely heat your cannabis for a gentle marijuana experience
Slapz Strain:  The Slapz weed strain is breeder Exotic Genetix's cross of Runtz and Grease Monkey. Genetics from Zkittlez, Gelato, Original Glue, and GSC give Slapz a face-smacking odor and taste of skunk, diesel, and pine.
Alien OG Strain:  Alien OG, also known as "Alien OG Kush," is a hybrid cross of Tahoe OG and Alien Kush. First available as a clone in California's Bay Area and now in seed form from Cali Connection, Alien OG has the typical lemon and pine OG smell and flavor, and its intense high combines heavy body effects and a psychedelic cerebral buzz. Beginners and novices, be sure to take it slow with this heavy-hitter.
Strawberry Shortcake Strain: Strawberry Shortcake is an indica marijuana strain made by crossing White Wookie with The White. This strain provides euphoric effects that put your mind into a state of bliss. Strawberry Shortcake features a strong and hearty strawberry flavor that will have you craving more. This strain is ideal for night time use or during an evening when you have nothing of importance to do. Medical marijuana patients choose Strawberry Shortcake to help relieve symptoms associated with insomnia.
Blueberry Mojito Strain: Blueberry Cookies x Lime Mojito (Berry / Resinous / Floral) Berry and sweet, floral citrus flavours can be found in the Blueberry Mojito.  With this Indica, which combines exquisite euphoria with couch-locking relaxation, transport your mind to paradise.
Apple Sundae Strain: Apple Sundae is a marijuana hybrid created by mating Sundae Driver with Apple Juice. Apple Sundae is thought to have uplifting and calming effects. Pinene, the most prevalent terpene, has a character that smells sour and fruity and tastes like buttery apples. Patients who use medical marijuana claim to purchase Apple Sundaes when they have spells of persistent fatigue, sadness, and ocular pressure.
Jet Fuel Strain: The 303 Seeds hybrid marijuana strain Jet Fuel, also known as "G6," "Jet Fuel", "OG," "Jet Fuel Kush," and "G6 Kush," has uplifting effects that may reduce anxiety. With a THC content of 20%, Jet Fuel, the ultimate hybrid of some of the most well-known Diesel strains
Death Bubba Strain: Use Death Bubba marijuana when you have nothing important to do because of its semi-sedating effects, which have been known to lead to couchlock. Patients who use medical marijuana often select Death Bubba to ease stress and ease the physical discomfort brought on by chronic pain.
Peaches & Cream Strain: A Skunk phenotype with a flavour that lives up to its name is the Peaches and Cream hybrid. Peaches & Cream has a floral and lemony scent but a sweet fruity flavour that is enhanced by a light spice. This strain is a great option for focused work and resting after work because its heady pleasure gives way to creativity and positive moods.
9lb Hammer: This is an indica dominant hybrid strain that boasts an incredibly high THC level that ranges from 18-23% on average. The high is described by users to be immediately euphoric and pain relieving followed by a steady drift into an overwhelming state of sleepiness. 9lb hammer has a sweet grape aroma with a hint of earthy, sweet berry lime taste that intensifies with each exhale.
Gas Mask: Gas Mask is a hard hitting rare indica dominant hybrid strain with lasting effects that leave you feeling lethargic after a hit or two so it's perfect for those long sleepless nights. The aroma is of fresh cherries with a dank, skunky overtone.
Godfather OG: This is a popular indica strain made infamous for its sedative properties. It boasts high THC levels of 22-25% so consume with great caution. Godfather OG delivers piney and earthy flavors with pungent undertones.
Strawberry Cough: Infamous for its delicious flavor and head-spinning high, you should add this strain to your "must-try" list especially if you're a sativa lover. This strain will give you a brain boost and leave you feeling energized with a buzz of creative spirit. 
Jelly Donut: Donut lovers will love this indica strain. Jelly Donut is sweet with a citrusy fruity flavor with a lightly doughy and nutty exhale. The high has long lasting and blissful effects that dispel any bad vibes. You will feel a calming physical high throughout your body, leaving you relaxed and pain-free.
Papaya Punch: If you're planning a day where you can just sit back and relax then Papaya Punch is the perfect indica strain for you. The high starts off heady with a sense of blissful calm. It does lend a rush of sociability making it great for chill nights with friends, but turns into a sedating couch-locked effect that eventually turns into restful sleep.
Space Candy: This strain is perfect for users who are in search for an out of this world flavor and high. This is a balanced hybrid strain that's good for getting anxiety out of social situations by providing a good amount of giggles. 
Romulan: Float into outer space with the Romulan strain. Mostly known for treating anxiety, but can also treat pain, depression, and lack of appetite. Due to it's couch-locking effect, it's best used for quiet days/nights at home. 
Blueberry Donut Strain: The Blueberry Donut strain, also known as Berry Blue, is an indica marijuana strain made by crossing Purple Thai with Thai.
It was developed in the 1970s or 80s by DJ Short, a prolific breeder who's been dubbed the "Willy Wonka of pot." Blueberry is distinguished by an unmistakable fresh blueberry smell and taste that have made it an enduring favorite. It won top marks in the 2000 High Times Cannabis Cup for Best Indica and best strain overall.1
The strain has a THC content that ranges between 15% and 24%. The sweet flavors of fresh blueberries combine with relaxing effects to produce a long-lasting sense of euphoria
Jolly Rancher Green Apple Strain: Jelly Rancher Green Apple is a sativa-dominant hybrid weed strain made from a genetic cross between Very Cherry and Notorious THC. Jolly Rancher is 27.5% THC, making this strain an ideal choice for experienced cannabis consumers. Effects of Jolly Rancher's effects include feelings of happiness, Euphoria, and Focus. Medical marijuana patients often choose Jelly Rancher when dealing with symptoms associated with anxiety, depression, and pain. Bred by Humbolt Seed Company, Jelly Rancher features flavors like berry, apple, and citrus.
Watermelon Strain: Watermelon, also known as "Watermelon Kush" and "Watermelon OG," is an indica marijuana strain made by crossing two unknown parents. Watermelon produces relaxing effects, making it useful as a sleeping aid or appetite stimulant. As the name suggests, this strain has a distinct fruity watermelon flavor profile, reminiscent of grape with hashy undertones.
Rainbow Belts Strain: Rainbow Belts, also known as "Rainbow Belt," is an indica marijuana strain made from by crossing Moonbow with Zkittlez. The effects of Rainbow Belts are mostly calming. Consumers say this strain offers a euphoric high that leaves you feeling happy and relaxed. Rainbow Belts is 20% THC, making this strain an ideal choice for cannabis consumers with a high THC tolerance. Rainbow Belts has sedating qualities so it's best to enjoy this strain during the evening hours. The flavor and aroma of this strain may remind you of sweet and fruity candy. Medical marijuana patients choose Rainbow Belts to relieve symptoms associated with insomnia.
Fruit Punch Strain: Fruit Punch is a sativa marijuana strain made by crossing Skunk, Haze, and Northern Lights. Named for its swift hit of sweet, fruity, and tropical flavors, this sativa has something to offer in both taste and effect. Fruit Punch charges the mind with creative and social energy, so keep this strain in your stash jar for active days spent with friends or personal hobbies.
We Value Friendship, and It Starts with Sharing
Are you looking to provide your friends with the same benefits you enjoy?
Look no further! It only requires a simple step-by-step process that takes less than 5 minutes! You earn points that you can use in the shop, and they can benefit from the fantastic selection we provide. It's a win-win situation, so don't hesitate.
Go to "My Account" at the top of the page. If you haven't created an account, we highly suggest it! You can find the referral link section below your profile.

Input a page URL which you want to refer and click "Generate Referral Link."

It will generate a link according to the date of your request. You can also click the social links for Facebook, Twitter, or Whatsapp to create a link to those applications.
Copy the URL (or click on the "Copy Link" box beside the link) and share the link with family, friends, and loved ones!

When your friends and loved ones click the link, you will be awarded 625 Speed Pass Points (after a complete purchase), which you may use towards any of our products! Because your friends are doing you a favor, they can reap more benefits as they will receive a unique coupon code worth $25. This sign-up bonus will help them with more purchases in our shop! If you have any questions or concerns, let us know, and we will be happy to help.