By purchasing this product, you can earn points based on a percentage of cart total. You will come to know the earn points information once you add the product to cart.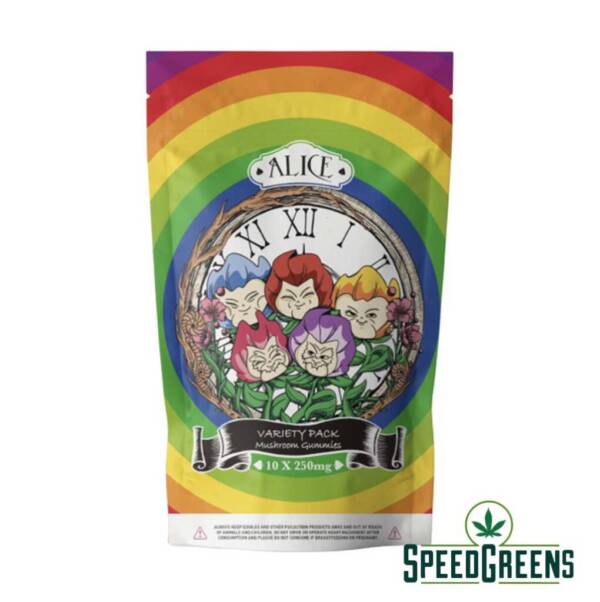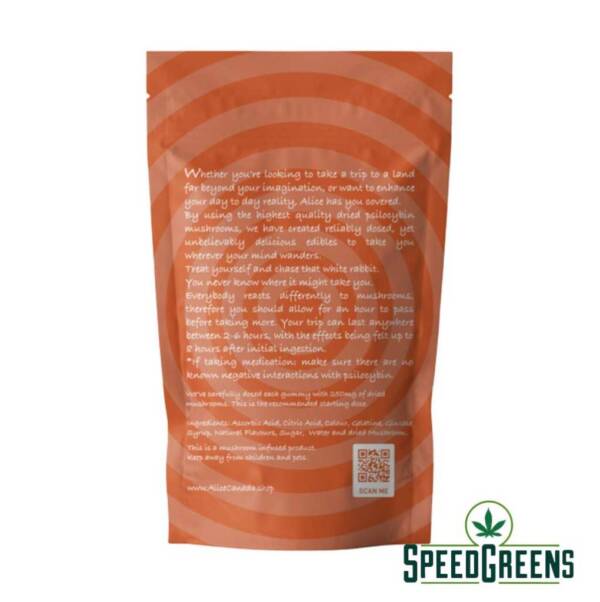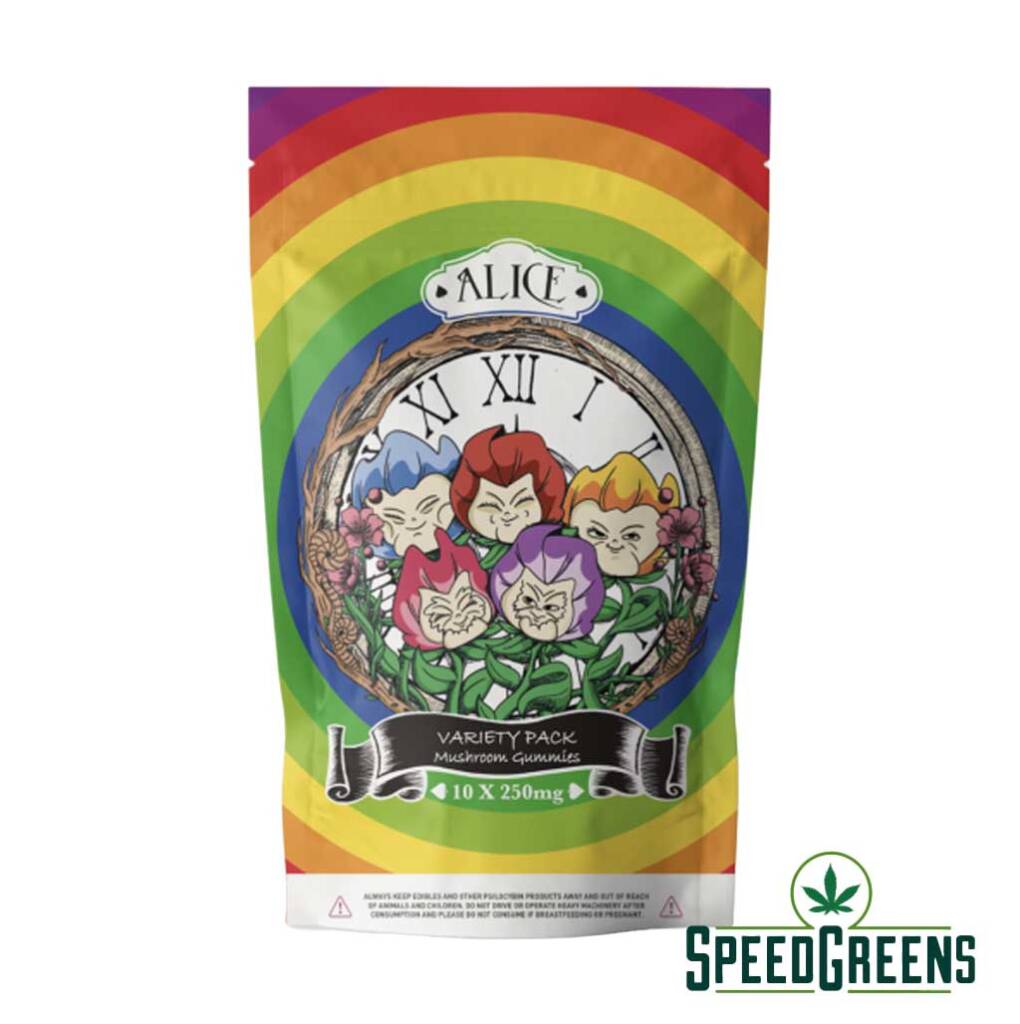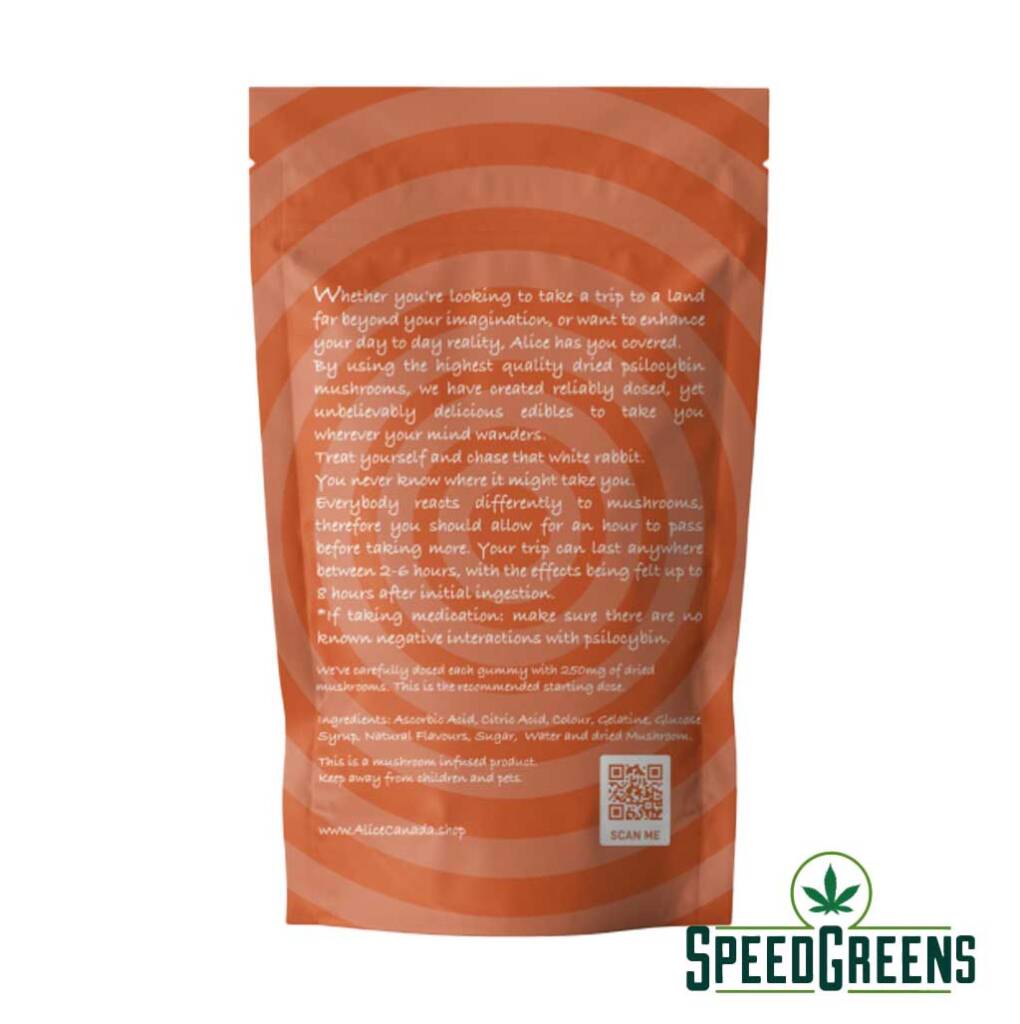 Alice Mushroom Gummy – Variety Pack (2500mg Golden Teacher)
BEST PRICE

GUARANTEED SHIPMENT

DISCREET PACKAGING
Whether you're looking to take a trip to a land far beyond your imagination or want to enhance your day-to-day reality, Alice has you covered. By using the highest quality Psilocybin Mushrooms, we have created reliably dosed, yet unbelievably delicious edibles to take you wherever your mind wanders.
Treat yourself and chase that white rabbit.
You never know where it might take you.
Everybody reacts differently to mushrooms, therefore you should allow for an hour to pass before taking more. Your trip can last anywhere between 2-6 hours, with the effects being felt up to 8 hours after initial ingestion.
Delicious mushroom gummies for your taste buds and overall system
Whether you wish to transport your mind into a different dimension or just level up your everyday life, Alice has you covered. It is consistently dosed, but wonderfully tasty edibles utilizing the best grade Psilocybin Mushrooms to transport you wherever your mind travels. Prepare for a trip down the rabbit hole – you never know where you'll end up.
Alice Variety Pack Mushroom Gummies contain some of our best seller flavors for a variety of fun and satisfaction.
These mushroom gummies are packed with great benefits for the body and mind
These shroom edibles are great for users who want a delicious way to experience the benefits
The flavor and texture of natural, dried Psilocybe cubensis mushrooms aren't particularly appealing, and many people experience a brief spell of nausea after eating them. These meals can be significantly more pleasant than dry fungus, with added sugar and natural tastes, and they are also less prone to cause nausea.
The goal of Alice Mushroom Edibles is to provide you with a tasty and delightful magical mushroom experience. They're now well hidden by delightful fruity flavors. The amazing benefits of Alice Variety Pack's mushroom gummies begin to set in after approximately an hour of eating (effects may differ per person). These chewy gummies will soon be your go-to for a life-changing adventure. However, the only way to find out is to give it a try. After all, you never know where the rabbit hole may take you.
Experience the rainbow with all your senses with these mushroom gummies
These mushroom gummies provide blissful effects that will ease your senses and mind
Because everyone's reaction to mushrooms is different, you should wait an hour before taking any more. The average trip could last anywhere from 2 to 6 hours, with effects lasting up to 8 hours following ingestion. These gummies offer intense euphoric experiences, as well as improved emotional stability and heightened senses. The severity of these shroom edibles effects is totally dependent on your tolerance and the number of pills you take. We recommend starting with half a gummy and waiting roughly an hour for newcomers. If you're not getting the desired results, try eating a whole gummy next time. Always remember to be patient while waiting for your trip to begin: it may take a little while to get going.
Go Ask Alice about our Alice Mushroom Gummies and its composition
Proper dosing is also essential when it comes to enjoying our fruity flavored gummies
Alice Variety Pack mushroom gummies is determined to take you to another planet. These delicious candies are packed with high-quality mushroom to give you a wonderful dosage in every mouthful. Magic mushroom edibles provide all-natural advantages that you won't get in your ordinary sugary sweets.
The 5-gram mushroom gummies from Alice Variety Pack tastes like all your favorite summer fruits. Alice mushroom edibles uses natural flavors to help perfectly conceal the mushrooms within. You won't even notice you're eating shroom edibles in your mouth–until the journey begins, that is.