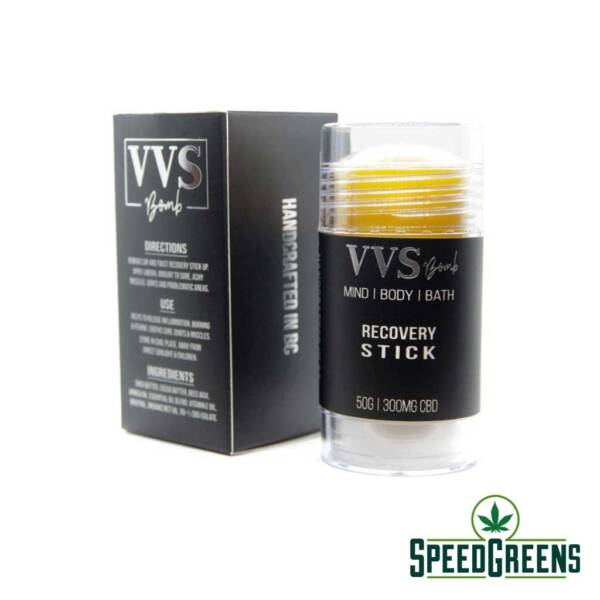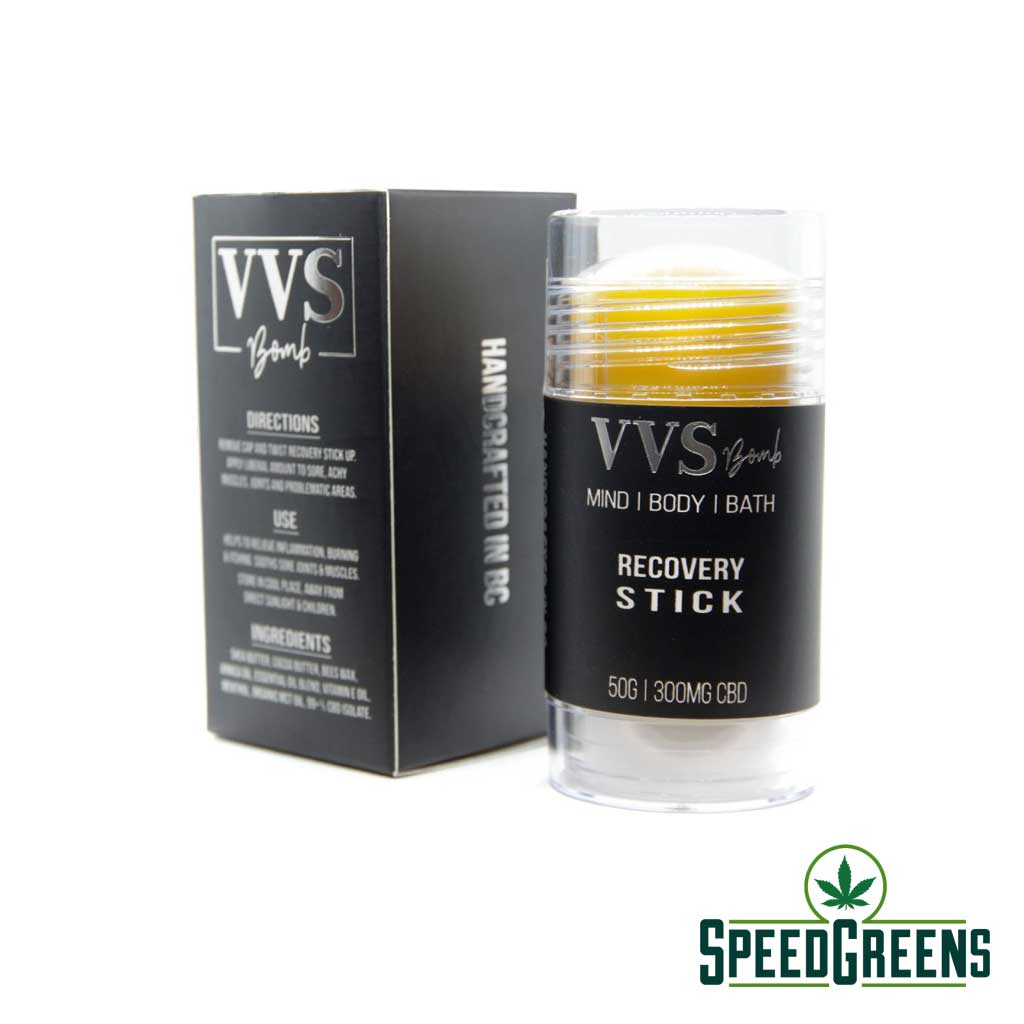 VVS Balm – Recovery Stick (300mg CBD)
BEST PRICE

GUARANTEED SHIPMENT

DISCREET PACKAGING
Do you have joints that give you trouble on a daily basis, but don't want to keep reaching for the pain pills? Give the VVS Recovery stick a try. This CBD topical is designed to help relieve inflammation, burning, and itching, while soothing sore muscles and joints.
Ingredients: Organic Shea Butter,
Cocoa Butter, Bees Wax, Arnica Oil, Essential Oil Blend, Vitamin E Oil, Menthol, Organic MCT Oil, 99+% CBD Isolate.
Made in B.C.
Receive in-stock notifications for this.
This recovery stick contains CBD for pain relief!
The VVS Recovery Stick rises to the challenge and serves as the ideal deodorant stick. Of course, the high CBD concentration not only makes you smell better, but it also cures your body. This toxin-free rehabilitation balm is made up of 99 percent lab-tested CBD and other natural components. This Recovery Stick will help with inflammation, joint aches, muscular pains, and other issues.
The VVS Balm offers the best CBD for pain and any ailments
Say goodbye to fatigue and other discomfort with the VVS Recovery Stick! Chronic pains are also no match.
The VVS Balm is a stimulant for both the mind and the body. This all-natural formula is packed with vitamins, minerals, and antioxidants. It promotes pleasant feelings, sensations, and good times. These all-natural concoctions will supply you with the vitamins and minerals you require to stay active throughout the day and night. You'll be back on your feet in no time, and you'll be ready for the next adventure. You may want to improve your quality of life if you have persistent pains, tiredness, or other debilitating disorders that manifest as pain. In this case, the new VVS Recovery Stick is an excellent choice!
This all-in-one balm contains a good dosage of CBD for pain
With a simple touch, you'll get to have therapeutic comfort and relief
This roll-on stick provides adequate therapeutic comfort with only a simple touch. Simply rub it into your skin, and you'll find that the area of your body becomes warmer. Depending on your condition, CBD may take longer to relieve your symptoms. At the peak of the experience, your symptoms should vanish. The VVS Recovery Stick is an excellent way to treat pain quickly and effectively while avoiding harmful side effects. It is not psychotropic because it does not contain THC. The side effects are all directed at your body. The VVS Recovery Stick provides a soothing amount of CBD for pain relief.
Beneath the balm lies the wonders of CBD for pain
CBD is a great aid to relieve any pain, and it's also an easy component for making balms and adding shea butter
A CBD balm is a balm that contains CBD oil. CBD oil is made by extracting CBD from the C. sativa plant, which is then combined with a carrier oil. CBD can be extracted from the C. sativa by manufacturers utilizing a variety of techniques, including supercritical carbon dioxide. The CBD oil can then be added to a balm. A balm is a skin care product that contains butters, waxes, oils, and active substances on the surface of the skin. Balms are similar to creams, however they don't have any water in them. Shea butter and beeswax are common balm ingredients. Choose from a large selection of CBD online in Canada!